15 Paid & Free Email Marketing Tools: Find Your New Favorite Tool for Email Marketing
Email marketing isn't just pressing "send". You need to strategize, write content, attract subscribers, automate drip campaigns, report results, and more. Luckily, there are plenty of paid and free email marketing tools to make your life easier — just check out this list of tools for email marketing!
1. EmailMarketingFX
Type: Email marketing software
EmailMarketingFX is our proprietary email marketing platform at WebFX.
We offer our clients a platform that is streamlined, convenient, and user-friendly – making it a great option for any company looking to employ an email marketing campaign.
This tool for email marketing allows you to create and customize everything from your content to design, and send emails to segmented lists in your target audience.
It also provides real-time reporting which allows you to see data like who opens each email and what actions they take after reading them.
EmailMarketingFX also allows you to set up drip email campaigns, which is helpful for when you want to create a schedule to automatically send your emails to your contact list.
2. MailChimp
Type: Email marketing software
MailChimp is a free email marketing software that allows you to create simple, customizable email newsletters.

It provides an easy solution for ecommerce companies that want to share their products in their emails, and can integrate with Shopify, Magento, and Woocommerce.
This free email marketing service also offers integrated Facebook advertising, marketing automation, and reporting to determine the success of your emails.
3. Litmus
Type: Email marketing software
Litmus is another multi-feature email marketing software that allows you to eliminate technical errors in your campaigns and send targeted content to your subscribers.

Litmus lets you test your emails on over 70 different apps and devices in one easy click, which can save you a lot of time in your analytics stage, by helping you to identify errors quickly
This email marketing tool also catches errors that might set you back in your email campaign, like missing links or lengthy load time.
The program also allows you to see what emails are opened, the location the user was when they opened it, and even what device they used to do so.
Lastly, this email marketing software provides email analytics that show data like open rate, forwards, and how many times an email was printed.
4. Hubspot
Type: Email marketing software

Hubspot earns a spot as one of the best email marketing services because this platform lets you:
Use a drag-and-drop editor to build custom emails
Target subscribers with personalized send times, subject lines, and calls to actions (CTAs)
Create A/B tests
Sync email marketing data to the Hubspot CRM
Access additional digital marketing tools, like for social media ads and lead generation forms
And more
Compared to some of the other best email marketing software platforms, Hubspot is more expensive — if your business needs to upgrade to a paid version. That's because Hubspot provides you with several different marketing and sales tools. The upside is that Hubspot allows you to create a product bundle based on your unique needs.
5. SendinBlue
Type: Email marketing software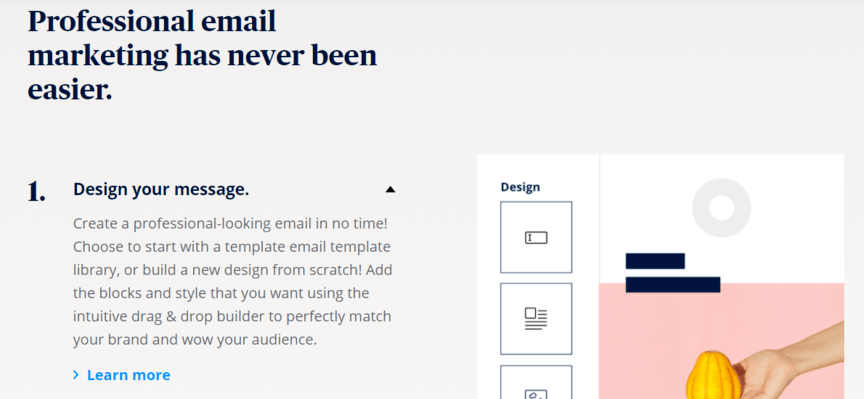 SendinBlue earns a spot on this list of the best email marketing tools because you can use SendinBlue to:
Build emails with zero coding experience thanks to a drag-and-drop builder
Personalize email communications with dynamic content and personalization tags
Have an unlimited number of subscriber lists and contacts
Create multiple subscriber segments based on behavior, demographics, and more
Get a send time optimization tool to maximize open rates and email engagement
Conduct A/B testing
And more
Like some of the other best email marketing services, SendinBlue offers a free version. This version provides free email marketing tools and unlimited contacts but comes with some limitations. All emails send with the SendinBlue logo, for instance, and you cannot access A/B testing. The free plan also limits you to delivering 300 emails per day. Paid plans from SendinBlue start at $25 per month.
6. Zoho
Type: Email marketing software
Zoho is another email marketing platform that allows you to send different emails to your audience to determine what content and layout works best.

You can test subject lines, email content, and more and then get reports on each email's performance, allowing you to determine exactly what combination of elements works best.
7. Campaign Monitor
Type: Email marketing software

Campaign Monitor is another contender for being the best email marketing platform because it lets you:
Access professionally-designed email templates or create one with a drag-and-drop builder
Build customer journeys based on user actions, sign-up locations, and more
Create subscriber segments based on user data, actions, and more
Develop unique sign-up forms to feature on your website
Get in-depth email marketing analytics for emails, segments, and users
Connect Campaign Monitor to Shopify, Salesforce, or WordPress
And more
Pricing for Campaign Monitor depends on your number of subscribers and starts at $9 per month.
8. Constant Contact
Type: Email marketing software

Constant Contact makes our list of the best email marketing services because you can use the tool to:
Automate welcome emails, birthday emails, and abandoned shopping cart emails
Promote products, coupons, and more from your ecommerce store with a Shopify integration
Add new subscribers via Salesforce, Excel, Outlook, social media, and more
Get real-time email tracking
Segment users into dedicated subscriber lists based on different criteria
And more
If you operate an ecommerce store, Constant Contact is probably one of the best email marketing services for your business. The software has integrations for multiple ecommerce platforms, including Shopify and WooCommerce so that you can promote products, coupons, and limited-time offers with zero work. Pricing for Constant Contact starts at $10 but scales based on your number of subscribers or contacts.
9. Moosend
Type: Email marketing software

Moosend gets a mention as one of the best email newsletter services because the tool lets you:
Build emails with a drag-and-drop builder versus HTML code
Choose from multiple customizable email templates
Get segmentation suggestions
Segment subscriber lists into hyper-targeted lists based on one or more factors
Track opens, social shares, unsubscribes, and more
Personalize email campaigns with dynamic content and personalization tags
Create various A/B tests, like for content, subject lines, and more
Moosend offers a free version of their platform, and paid plans start at $7 per month.
10. Tiny Take
Type: Email creation tool
Tiny Take is an app that allows you to capture screencasts of your website to include in your emails.
For example, you could let customers know about a new feature on your website, simply by taking a screenshot and including it in your monthly newsletter.

If you add a new product to your site, you could take a screenshot of its product page, and include it in your email along with a link.
This email marketing tool is a great way to keep your branding and design cohesive across your website and your emails.
11. The Noun Project
Type: Email creation tool
The Noun Project is a collection of icons that you can use in your emails to add some flare without overwhelming your design with full-sized photos.

There are paid and free options, and you can even change the color of the icons to match your brand.
12. Canva
Type: Email creation tool
Canva is one of the best free email marketing tools that you can use for your emails.
It allows you to create headers, footers, custom advertisements, and more to add to your emails – and the best part is, it's free.
Canva's user-friendly interface allows you to create visual content from graphics to banners that look like they were created by a professional designer. There is a collection of templates for common designs, and you also have the option of creating one from scratch.
13. Readability test tool
Type: Email content tool
One of WebFX's proprietary tools, the readability test tool, allows you to determine how readable your content is.

You can test it by direct input, which makes it easy to copy your email's body copy right into this free email marketing tool and get the results.
14. Grammarly
Type: Email content tool
Grammarly is another great tool for helping you create the best written content possible for your emails.

Though it's a paid tool for email marketing, for a low price, Grammarly can fix your spelling mistakes, suggest synonyms for easier readability, and even fix contextual errors.
15. Sublime text
Type: Email creation tool
Sublime text is a great application for editing code, which is useful if creating HTML-based emails.
This free email marketing tool keeps everything organized with color-coding, so that you can see the beginning and end of different elements in your code.
It's also extremely easy to keep a working hierarchy of your tags so that everything stays organized.
FAQs
Looking to learn more? Check out our FAQs:
What are email service providers?
Email service providers offer everything you need to create, send, and monitor your email marketing campaigns. But before you choose an email service provider, you should understand what they do and what services you should look for.
A typical email service provider will include email templates for your emails, a way to maintain your list of subscribers, an easy setup for sending your emails, and analytics for your campaign's success.
Before you choose an email service provider, you should do your research to make sure they offer all the services you want and require for your campaign.
What kinds of tools will I need for my email marketing campaign?
Though email service providers can deliver most of the functionality you need for your email blasts, some tools are extremely helpful in allowing you to custom-design certain elements of your email.
To create the best email marketing campaign, there are a few different tools that you'll need.
You'll need a tool that helps you with content, a tool for the technical parts of your email (like coding), and a tool to test how successful your emails are.
A combination of these tools can help you have the best possible email marketing campaign possible.
What should I expect from the best email marketing platforms?
If you invest in one of the best email marketing platforms available, you should expect the ability to:
Design emails, typically with a drag-and-drop editor that does not require HTML knowledge
Develop automated email campaigns, like for requesting a review after a purchase
Send emails in bulk
Create various subscriber lists and segments
Build A/B tests for sending times, subject lines, email content, and more
User personalization tags, like first name
Track the performance of emails, like their open rate, click rate, and more
Sync email data with critical marketing, sales, and analytics applications
While many of the best email marketing tools offer these features, they execute them differently. Different dashboards, as well as integrations with CRM software, can persuade you to use one tool over another.
Why use an email marketing service?
Email marketing services, especially the best email marketing services, offer a few benefits, including:
Automate the sending of bulk emails
Measure email performance
Create email designs without the help of a developer
Link email data with sales, marketing, and analytics applications automatically
And more
For many marketers, email marketing platforms make life easier. You can complete tasks faster, access data sooner, and make strategic decisions quicker. That's why it's worthwhile to invest in one of the best email marketing tools, whether it's EmailMarketingFX, Mailchimp, or another platform.
Ready to create an effective email marketing campaign?
If you're ready to start using email to reach and convert more of your target audience, WebFX can help. We're a full-service digital marketing agency, and we have years of experience creating effective email marketing campaigns from start to finish.
We have a full team of designers who can create custom graphics for your emails, and email marketers who know how to engage your audience with email campaigns.
We'll provide real-time analytics, so you can understand just how well your emails are performing at any given time, and improve them accordingly.
To get started, request a free quote online or call us at 888-601-5359.
Earn a 20% greater ROI with WebFX