Marketing Automation Pricing: Your Guide to Marketing Automation Cost
Marketing automation is a fantastic strategy that affords you the ability to keep track of valuable marketing data, capture important user information, and more — all while earning a high return on investment (ROI) for your company. But how much does marketing automation cost? On this page, we'll talk about marketing automation pricing to help you set aside enough marketing budget for one of the best marketing strategies available. If you'd like to speak directly with a specialist, give us a call at 888-601-5359! Otherwise, keep reading to learn more about marketing automation cost.
Marketing automation solutions pricing
So how much does marketing automation cost? Just like any marketing strategy, the cost of marketing automation services from different agencies will vary.
However, here's a baseline.
You will likely pay an initial investment for services, which can range anywhere from $2000 to $10,000 depending on the agency. This investment covers the initial setup of your marketing automation software.
From there, you'll likely be billed monthly for marketing automation services, and you could save some budget by paying annually.
Whichever way you choose to pay, you'll pay anywhere from $200 to $2000 per month, depending on the agency and what's included in a specific package.
Meet MarketingCloudFX:
One platform tracking countless metrics and driving stellar results.
Learn More About Our Proprietary Software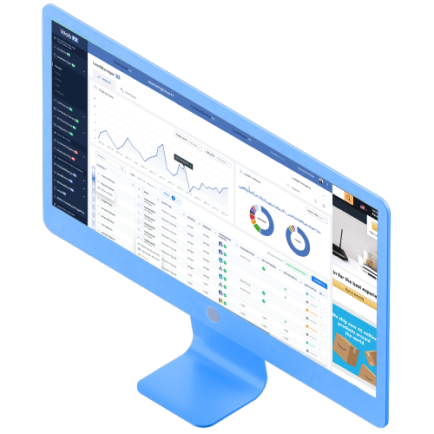 What determines the marketing automation price?
There are undoubtedly large gaps in marketing automation solutions pricing from agency to agency, but what causes such big variations?
Below are some variables that can affect marketing automation cost:
Implementation: Every agency has a different implementation process, and depending on how involved that process is, the price will fluctuate. For example, if you choose marketing automation for your email campaign only, the implementation will be a lot less significant than an option that includes automation for a variety of campaigns.
Support: If you're looking to have around-the-clock support on your marketing automation campaign, you'll pay more. Although most agencies offer basic support, if you want to up the ante to ensure that your campaign is properly running at all hours, the cost of your campaign will increase.
Additional advice and consulting: Marketing automation is only part of the puzzle. If you want to make the most of your campaign, you'll also want to lean on your chosen agency for marketing advice. Some agencies lump marketing consulting in with their marketing automation, but others don't. You'll find that most agencies will charge for their consulting services.
Additional features: If you want to experience all the bells and whistles of marketing automation, you can expect a higher marketing automation cost. Most plans start with the bare minimum and go up from there, so every additional feature likely comes with a price tag.
Number of contacts: If you're opting for marketing automation services for your email marketing campaign, the number of contacts you have will affect marketing automation price.
Third-party marketing automation solutions: If you choose to use third-party marketing automation platforms like Hubspot, Marketo, or Act-On, among many others, your marketing automation software price will increase.
Agency vs. software: You'll also see a difference in marketing automation cost when you compare working with an agency vs. using software on your own. You'll likely get more benefits from working with an agency since they can offer you advice and save you time, but you might pay a little more to work with them.
How to choose marketing automation software that makes the cost worth it
At this point, it's no secret that marketing automation doesn't come cheap. But the rewards you can reap from implementing it as a strategy are endless.
That said, when you choose a marketing automation agency or marketing automation software, you want to make sure it's worth the price you pay.
Here are some tips to help you choose marketing automation software that makes the cost well worth the investment.
Look at 10 different marketing automation agencies/software
The best marketing automation software on the market isn't always the best for you.
That said, you should take care to do your research and consider more than just a few marketing automation options. Just because there is a piece of marketing software out there that is "the best on the market" doesn't mean that it will fit your needs as a company.
Start by making a list of what you want to accomplish with marketing automation. Are you looking to increase the ROI of your marketing efforts? Improve consistency in your email newsletters?
Regardless of your goals, you want to keep them top-of-mind when researching different options. Keeping your goals in mind can help you weed out agencies that offer too many services for your needs (and charge more) and keep the options that align with your specific goals.
Do your research and take notes of what each marketing automation solution offers. Then, take note of the marketing automation software price.
You'll want to consider at least 10 different marketing automation options so that when you do select one, you can rest assured that you put in the time to choose the perfect option for your company.
Set a budget and stick to it
Like we mentioned earlier, marketing automation cost varies greatly. The variance in cost makes it even more important to set a budget and stick to it.
The cost variables allow you to stick to your budget since there are options for a variety of price points.
You should do your research ahead of time to ensure that the budget you set is realistic to the services you're interested in for your business. For example, it's unlikely that you can find a marketing automation plan that provides marketing automation for 100,000 email recipients for $100 per month.
Being realistic about your budget will save you frustration in the end, so be sure to put in the time to create a sensible one up front.
When it comes time to select a marketing automation strategy, be sure to stick with that budget or you could find your company hurting financially.
Take advantage of free trials
If you narrow down your list to a few marketing automation solutions, don't be afraid to take advantage of free trials.
Although you may have read up on a piece of marketing software, you'll never truly know how it works or if you enjoy the interface until you've used it firsthand.
Free trials can afford you this opportunity and help you decide on the best option among your top contenders. Just be sure that if you provide payment info up front for your free trial, that you set a reminder to cancel before you're charged monthly.
Call and talk about the software
A telephone call can provide you with a lot of useful information that you might not find online. Not only that, but you'll be able to ask specific questions about the software or how the agency provides marketing automation services.
You can ask questions like:
What clients have you worked with in the past?
Is this software beneficial for my industry?
How can I track (specific metric)?
How does reporting work?
Can I cancel my software subscription at any time?
What are your troubleshooting options?
A phone call will also give you the opportunity to get to know the people behind the software and make your decision easier when it comes time to choose.
What's included in WebFX's marketing automation pricing?
WebFX is the proud creator of MarketingCloudFX — a marketing automation platform like no other.
Our software's artificial intelligence (AI) is powered by IBM Watson and it draws on billions of data points that power strategic recommendations. It's integrated with Salesforce and Nutshell, among many others, and our mobile app delivers lead intel on the go.
So, what's included in our marketing automation software price?
Our MCFX marketing automation solutions include the following:
Setup of lead capture forms and lead reporting
Website call tracking
Website visitor company tracking
Web access and lead management system user permission tiers
Ability to set up drip email campaigns
Lead scoring
Prospect alerts
Search engine optimization (SEO) dashboards and reporting
And so much more
We can also help you with third-party marketing automation solutions from platforms like Hubspot and Marketo.
Our marketing automation pricing for MarketingCloudFX starts at $299 per month, or $99 per month for existing customers. Our next pricing tier is $599 per month, or $199 for existing customers, and our final Platinum pricing tier is $999 per month or $299 for existing customers.
If you're not sure that the cost is worth it, keep reading to learn more about our marketing automation software and why it's the best option on the market.
Ready to Grow? Get your FREE Quote Today!
"We measure our success by how much we WOW our clients."

Bill Craig
WebFX President
MarketingCloudFX features
MarketingCloudFX is our way of keeping clients at the top of the totem pole with smarter marketing.
Here's what you get when you opt for MarketingCloudFX:
LeadManagerFX
LeadManagerFX provides crystal-clear lead reporting that allows you to view information about leads that arrive on your website. Not only that, but you can also see what pages they visit and what campaigns drive phone calls.
Manage your leads and phone calls all in one place and enjoy getting your lead reports with real-time reporting.
CallTrackerFX
With CallTrackerFX, you can track phone calls and where they come from, listen to transcripts, record calls, and more.
You'll also have access to real-time data through Google Analytics.
EmailMarketingFX
If you've ever wanted to create high-impact email marketing campaigns that allows you to segment and track your strategy, you can do just that with EmailMarketingFX.
You also can integrate customer data from across MCFX to super-charge your lead generation efforts.
MetricsFX
With MetricsFX, you'll have a birds-eye view of how your site pages perform in search engines. You can track keyword rankings, changes in visibility, and so much more.
LeadNurtureFX
Nurturing your leads is one of the most important parts of any marketing strategy. With LeadNurtureFX, you'll deepen your brand's relationship with potential customers by helping to re-engage returning site visitors.
You canset up custom triggers to help move customers through your sales funnel.
ReviewBoostFX
Maximize the benefits of all your positive reviews and increase your number of testimonials.
ReviewBoostFX allows you to attract more customers than ever before, simply by monitoring what others say about your business, and harnessing the power of positive feedback.
VisitorRecorderFX
If you've ever wondered how users behave on your site, VisitorRecorderFX can help. You'll discover how new leads interact with your website, allowing you to improve user experience.
PersonalizeFX
With PersonalizeFX, you'll create a user experience unlike any other by serving site visitors exactly what they want.
Measuring the metrics that affect your bottom line.
Are you interested in custom reporting that is specific to your unique business needs? Powered by MarketingCloudFX, WebFX creates custom reports based on the metrics that matter most to your company.
Leads

Transactions

Calls

Revenue
Learn More

Rely on WebFX for your marketing automation software
When it comes to marketing automation pricing, we've got you covered. Our transparent pricing is live online so that you can determine if our software is a good financial fit for you.
If you have any questions about what each package includes, or want to know how one of the best marketing automation agencies can help you, feel free to give us a call at 888-601-5359 or contact us online today!