When you market your university to prospective students online, you're selling more than just a product or a service. You're selling an experience, typically one that will last for four to eight years.
For that reason, your digital marketing has to embody an experience of its own, and that starts with web design. If prospective students are met with a bad user experience on your site, they'll expect a similar experience from your physical campus.
To sell your school effectively, you need to have good academic website design. But how do you do that? What are some things you can do to improve your website?
To help you through this process, here are five simple web design tips for universities to help you improve your online marketing.
Read on to learn more, and then consider partnering with WebFX — the agency with over 25 years of experience — for more web design help! Just call us at 888-601-5359 or contact us online to get started today.
How to successfully brand your university website: 8 tips
Your university's website is a big deal — here's how you can brand it properly.
1. Brand your website
The first thing to get right when it comes to academic web design is branding. Your website shouldn't feel generic or bland. If you want students to attend your school, you need to evoke all the branding elements that make it unique.
If your university focuses on its age and tradition, use a design that conveys that feel — serif fonts, elegant shapes, and so on. If you want to seem fresh and modern, meanwhile, aim for a sleeker design.
Furthermore, make sure you integrate your school colors into the site. If your colors are orange and blue, don't make your website red and white.
2. Show student life
Since university marketing is all about selling the experience of attending your school, why not do so by showing off pieces of the experience itself?
All it takes is a camera and two legs to make this work. You can pick a day when classes are in session and make your way around campus taking photos of students as they go about their lives. They can be eating lunch with friends, studying, or just walking to class.
You can also choose specific groups and organizations to document on your site. Mississippi State University (MSU) does this with their "State Spotlight" page.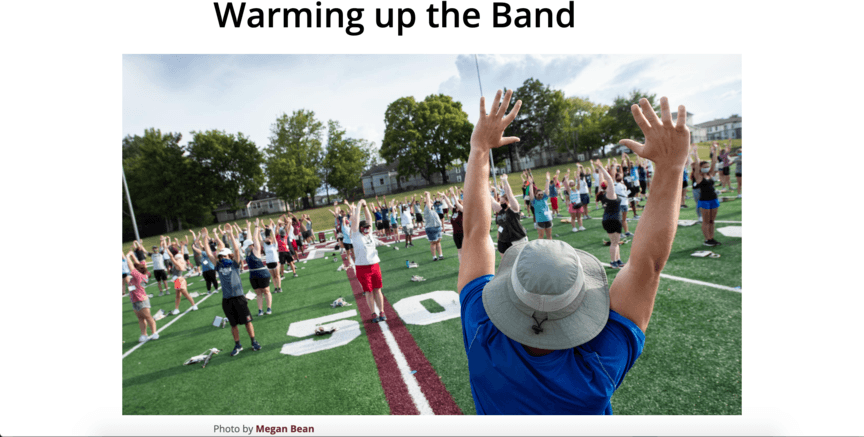 State Spotlight highlights a different group or event on campus every few days, from a Theatre performance of "The Commedia Robin Hood" to a marching band rehearsal. These snapshots offer prospective students a look at what their daily lives could look like at MSU.
3. Optimize page speed
Did you know that 53% of users will abandon a page if it takes more than three seconds to load? That means that if you want to keep people on your website, you need to ensure that it has a fast page load speed.
Ideally, you want all the pages on your website to load within one or two seconds. Otherwise, all your visitors will hit the back button. So how do you accomplish that?
You can do a few different things to make your pages load faster, including caching your pages and compressing all the images you use. Using a tool like Google Analytics, you can then keep track of your load speeds to see if they're where you want them to be.
4. Create infographics
Prospective students won't just come to your website for pictures. Particularly as they start to get more serious about their decision, they'll also come there for information.
When you have the opportunity, you can consider taking advantage of infographics to display information. Infographics arrange important information in a way that is both easily digestible and visually pleasing, as opposed to big blocks of text.
Auburn University offers just one example of this in action.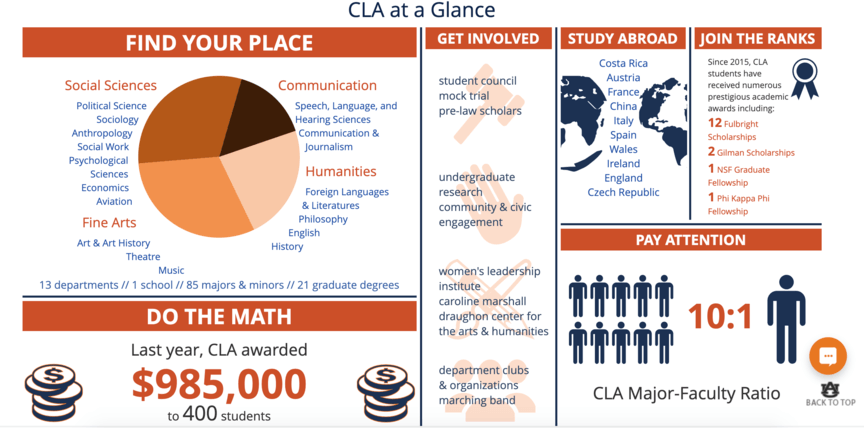 The homepage for Auburn's College of Liberal Arts (CLA) presents users with an infographic entitled "CLA at a Glance." It gives prospective students basic information about available majors, related organizations, and scholarship opportunities very quickly and efficiently.
5. Use responsive design
One of the best ways to put your website in front of users is to help it appear in relevant Google search results. When someone searches for something like "best universities in [your state]," you want pages from your site to appear in the results.
But even if you create a fantastic user experience on your site, it won't matter if you don't use responsive design. Google ranks sites based on their mobile format, so if yours is only optimized for desktop, it won't rank.
For that reason, make sure your website is formatted to look good and function properly on both a computer and a phone.
6. Produce videos
Infographics are so attractive because of the way they use visual design elements, but what if those visuals were moving?
Of all the university website best practices, few are more engaging than the use of video. Especially when a video starts playing automatically, it can be hard to look away from it. That makes it a great tool for marketing your university.
You can incorporate videos throughout your website. You can accompany your pages for specific clubs and organizations with informative videos about each group, and you can place videos on your homepage to promote the university as a whole.
The second of those options is what Queens University of Charlotte opted to do.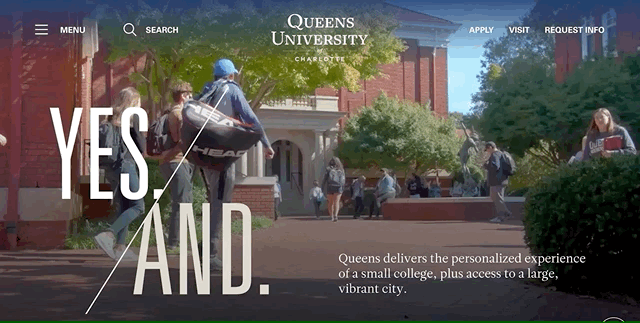 When you visit their homepage, you're immediately met with a full-page video promoting the university. Best of all, the video isn't filled with fluff. It's filled with shots of students engaging in various activities all across campus, providing a look into student life.
7. Display student testimonials
You can talk about your university all you want, but at the end of the day, the opinions your audience will trust the most are those of your current and former students. So why not incorporate some of those opinions into your academic website design?
When you get your students to talk about what makes your university great, why they love it there, and how it works, you create an incredibly valuable set of recommendations for your school. These testimonials can take any number of forms, from text blurbs to videos.
They don't always have to be outright testimonials, either. Sometimes, just having a student sound genuinely happy or excited when talking about a certain topic can be a recommendation in and of itself.
Baylor University does this well on their "Why Baylor?" page.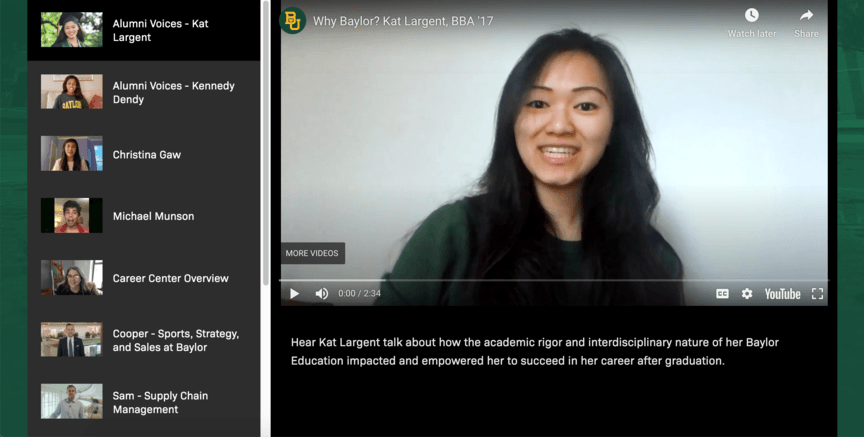 The page provides a series of videos from Baylor alumni about how much they loved their time at Baylor, and about how their Baylor education helped them in their careers. These recommendations from young professionals do a lot to promote the school's image.
8. Incorporate interactive elements
Last on our list of web design tips for universities is the value of interactive web elements. "Interactive" in the context of higher education website design essentially means that it changes in response to user behavior.
One example would be a pricing tool. You could have an interactive chart that allows prospective students to put in certain pieces of information — what scholarships they've received, what dorm they plan to live in, and so on — to see their estimated cost of attendance.
Not all interactive elements have to be tools, though. Interactive elements can be used for nothing more than visual effect. Something as simple as having images change appearance when you hover your mouse over them qualifies as interactive.
That's exactly what Boston University did with their academic website design.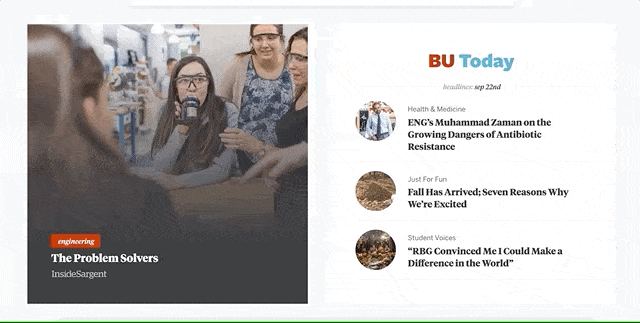 All the images on Boston's homepage, big and small, light up and zoom in when you move your mouse over them. It's a simple effect, but having the website respond to users — even in a way as subtle as that — is still enough to help keep them engaged.
Hear What It's Like to Work With WebFX!

"Our account manager is professional, skilled, and wonderful to work with. She takes the time to get us up to speed on best practices and adjustments she recommends so that we can get the most out of our monthly investment."
University
Get help with your higher education website design from WebFX
Looking to implement even more university website best practices, but not sure how to make them work? Don't worry — you don't have to do it alone!
WebFX's team of over 500 qualified digital marketing experts has the dedication and experience to give your university website all the vibrancy and appeal of your physical campus. We can optimize your site for everything on this list, from page speed to responsive design.
Just give us a call at 888-601-5359 or contact us online to learn more about our web design services today!