With 67% of prospective students using search engines as their first source of information for higher education institutions and 9 in 10 not knowing which school they wish to attend during their initial research stages, it's more important than ever to make sure that your website looks and operates to a high standard to show up within the top search results.
Unlike other industries, users looking for higher education information don't just stop at the homepage, but also navigate through sites to find admission and course information, student associations, and even details on what life is like on campus.
The choice of which higher education establishment to attend is one of the biggest that someone will make in their lifetime, so it's vital that these aspects are covered in detail to allow prospective students to make informed decisions. But 80% of education search queries end without conversion, so how can your website fight this trend? This is where an SEO for higher education campaign could really benefit your institution.
Keep reading if you want to learn more, and give us a call at 888-601-5359.
Here are 60 Education Industry Statistics to Gain More Insight
What Is SEO?
Search engine optimization, otherwise known as SEO, refers to the processes by which search engines such as Google and Bing determine website rankings in search engine results pages (SERPs). If your website is not up to the standard that the search engines expect, you may not show up within the first few pages of search results, meaning that your site is less likely to be clicked on by the right visitors. In fact, it may not even be seen by potential students at all!
This is why it is so important to have a strong SEO for your higher education campaign: it ensures that your site receives the most exposure possible to the right audience.
Conversion results for higher education are often slower than many industries. Such an important life decision needs careful consideration, with 44% of prospective students converting between 60 and 120 days after first looking on a higher education website, and many continuing to visit the site multiple times during this period to find out further information. This is why it is crucial for a higher education SEO campaign to be ongoing, as the timescale that individual users spend on the site may range from a number of weeks to a few months.
Hear What It's Like to Work With WebFX!

"Our account manager is professional, skilled, and wonderful to work with. She takes the time to get us up to speed on best practices and adjustments she recommends so that we can get the most out of our monthly investment."
University
How to use SEO to increase enrollment
In order to engage with prospective students and generate a greater number of applications, it's important to have a broad SEO campaign that encompasses a variety of features. Here are a few ideas.
Long-form content
Long-form content and blog posts, for example, are a great way to inform prospective students on various attributes of your school. Whether this is in the form of student testimonials, interviews with professors or even advice on how to survive your first semester, increasing the amount of content on your website is a fundamental part of an SEO campaign.
This content is highly shareable, often generating natural links across social media, which enables the search engines to recognize that your institution is both relevant and authoritative in SERPs. With 78% of applicants being influenced by these results, using SEO really can increase your enrollment figures and help you get the edge above your competitors!
Social media
Alongside this, maximizing visibility across social media networks is an ideal way to engage with potential students. Social media enables you to talk to prospective students in real time, answering their questions and directing them to your site.
Not only will this increase traffic to your site, but it will also enhance the user experience, allowing them to view your higher education institution as helpful and student-focused. Social media also gives you the opportunity to connect with other educational associations, whether this be governing bodies, academics, or schools that are encouraging their students to enroll at your institution.
Responsive web design
Having a mobile-responsive site is also particularly important with the growth of smartphone and tablet use, particularly amongst young adults, with a Google study finding that over half of prospective students used a mobile device to research higher education institutions.
Keyword targeting
Location keyword targeting may be another aspect that you should consider as part of your SEO campaign. Often, prospective students are looking at institutions outside their state, sometimes even their own country, so attempting to rank for keywords that are specific to your location can be beneficial in generating the most qualified leads, the students who will actually enroll, and also help your institution to rank highly even in the initial stages of an SEO campaign.
For example, "liberal arts school in Michigan" will be easier to rank for in comparison to just "liberal arts school." There is usually less competition for these slighter longer phrases, known as long-tail keywords. Taking advantage of these terms will be increasingly beneficial throughout the course of your campaign.
SEO: The most cost-effective way to reach potential students
An SEO for higher education campaign is the most cost-effective way to ensure that your institution is being shown to the most relevant searchers possible: those who are likely to apply for enrollment and become your future students.
SEO offers you the flexibility to determine which terms you'd like to go after in SERPs rankings, gives you the opportunity to see what your competitors are doing and generate unique, shareable content that will boost the authority of both your website and your higher education establishment.
Time to Level Up Your Sales
Our long list of services helps you grow every aspect of your business with marketing strategies that are proven to increase bottom-line metrics like revenue and conversions.
In the past 5 years, we've managed more than 12.9 MILLION transactions across our client base.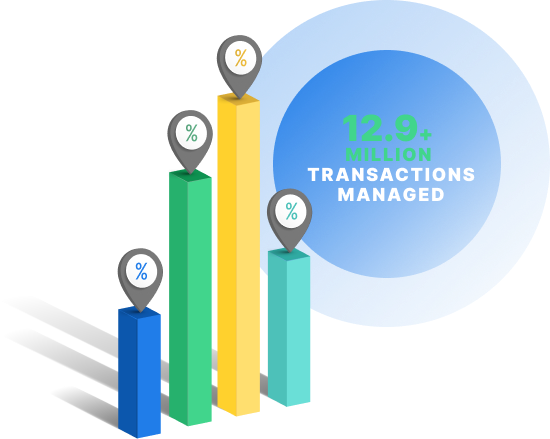 How WebFX can help you
As a full-service Internet marketing company, WebFX can provide you with an SEO campaign that can help you to rank above your competitors for higher education phrases, as well as increase the authority of your institution within the industry, whether for certain degree programs or location.
In addition to our SEO packages, we offer everything from a full website redesign to reputation management and more. We are here to help you make your business as successful as possible online.
Earn a 20% greater ROI with WebFX