Today, there are more options than ever for those pursuing higher education. While this is great news for prospective students, it's difficult for colleges and universities to reach them.
Fortunately, you have many digital marketing options to reach potential applicants where they spend lots of their time: social media.
These channels help your college or university connect with potential students, show them what sets you apart from your competitors, and encourage them to apply to your programs. And although you may be familiar with some of the more common online strategies, like SEO and PPC, social media marketing is an underutilized channel that lets you build relationships with your prospective students.
To learn more, keep reading, and give us a call at 888-601-5359.
Not happy with your social media engagement?
We've got just the blog post for you.
Read the Blog Post & Watch the Video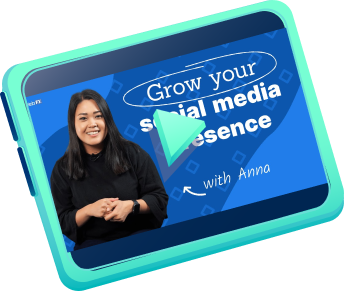 Why social media marketing matters for colleges
All digital marketing strategies get your college or university in front of potential applicants. Many of these strategies focus on reaching users as they research their options on search engines like Google.
With social media, however, you have the opportunity to reach prospective students where they already spend time online. Considering that 71% of adults with Internet access use social media, you can be sure that your target audience is on these platforms.
Beyond its large audience, though, social media's biggest advantage for marketers is that it engages potential applicants in a two-way conversation. Unlike traditional advertising channels, which simply let you broadcast information, social media platforms allow you to talk directly to possible students.
The casual nature of most social media platforms also means that you can use them to show an informal side of your institution. Since you need to convince potential applicants to spend a few years attending your institution, showing that side of you can go a long way.
Our digital marketing campaigns impact the metrics that improve your bottom line.
See More Results

WebFX has driven the following results for clients:

$3 billion
In client revenue

7.8 million
Leads for our clients

5.2 million
Client phone calls
Hear What It's Like to Work With WebFX!

"Our account manager is professional, skilled, and wonderful to work with. She takes the time to get us up to speed on best practices and adjustments she recommends so that we can get the most out of our monthly investment."
University
How to use social media to reach prospective students
There are many platforms available to social media marketers today, and all of them have their place in an effective strategy for colleges and universities.
They also require a slightly different approach to attracting and engaging prospective students.
Here are some of the most common platforms, with a few tips on how to use them for your college or university.
Facebook
As the most popular social network, Facebook is a great starting point for any social media marketing strategy. If you haven't yet set up a business page for your college or university, do that as soon as you can.
You can use Facebook to share news about your school, links to media coverage, information on your website, and photos of your campus.
Each of these posts has their place in your strategy, but in general, visual content tends to work better than text-only posts. So as you start using Facebook, prioritize photos, videos, and other visually interesting content.
Facebook is also a great place to highlight the achievements of your faculty and students. Did one of your professors recently publish new research in their field? Are your alumni advancing their careers with exciting new jobs? Sharing this information with potential students can build confidence in the quality of the education they'd receive at your school.
With every new post, your goals should be to inform and engage your audience. Ideally, some of them will leave comments and questions in return. This is where you have the biggest opportunity to connect with your followers.
Respond to all comments in a timely manner and include links to additional resources on your website where relevant. When you show prospective students that you're dedicated to answering their questions before they ever even set foot on campus, you leave a positive, lasting impression on them.
In addition to all the benefits Facebook offers for free, its advertising features are great for colleges and universities because of their advanced targeting options. You can select your audience based on age, location, interests, and behaviors, so you can be sure that your advertisements are reaching people interested in your institution.
Twitter
Much like Facebook, Twitter allows you to connect with your audience in a less formal manner than most advertising channels. But unlike almost every other platform, it requires you to do so in 280 characters or fewer per post (or "tweet").
As a result, Twitter's most common use is sharing links to interesting content. In the case of your college or university, these links could be to information on your own site, coverage of your school, student highlights, or faculty news.
Many of Twitter's users voice their opinions and ask questions, too. In this way, it's almost become an extension of many brands' customer service strategies — and your college can use it similarly.
If prospective students have questions about your application process or programs, they may take to Twitter to get quick, easy responses from you. And if you're there to answer them with helpful information, you establish a positive relationship before they even apply.
LinkedIn
LinkedIn is different from other social networks because it's specifically designed for professional use. While your prospective students may not yet use it regularly, it's a great way to boost your school's reputation in the professional world.
You can use it similarly as Facebook and Twitter, but with a focus on faculty and alumni achievements. This is an easy way to get employers interested in your graduates and an effective way to keep alumni in the loop about what's happening on campus.
Instagram
Because Instagram is a photo-based platform, it's excellent for sharing visual content related to your school. You can use it to post images of your campus, events, students, and anything else related to your programs.
Although it may not seem to offer many advantages over other social networks, it's important to note that 90% of Instagram's 500 million users are under the age of 35. It's one of the best places to be when you want to reach high school students between 17 and 19 who want to discover their next step in life.
74% of people use social media when making a purchasing decision.
Make their decision easy with a stellar social media presence. See how your brand can level up by requesting a no-obligation proposal today.
One of our experts will be in touch within 24 hours!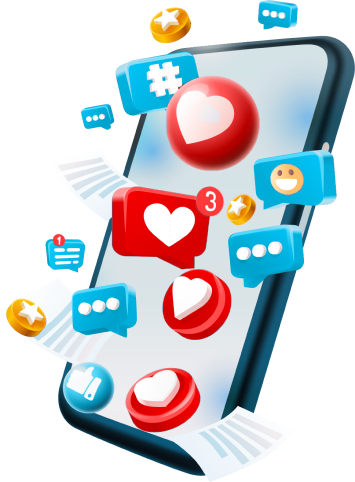 Social media marketing plans for colleges from WebFX
Platforms like Facebook, Twitter, LinkedIn, and Instagram can be extremely effective for reaching potential applicants, but doing so requires just as much planning and strategy as any other marketing channel.
At WebFX, we have years of experience creating custom social media marketing strategies for our clients, and we'd love to do the same for your college or university.
Contact us today for more information and a free quote!