Over 80% of people use search engines to research companies and products online. When people search for biotechnology products to help them lead healthier lives, they turn to search engines like Google to find the perfect product.
A search engine optimization (SEO) strategy helps your business stand out in the search results, so more users find your innovative products when they research online. So, if you want to learn more about SEO for biotech companies and how it can help your business grow, keep reading!
And then partner with one of the best SEO companies in the world: WebFX. At WebFX, our team has more than 25 years of experience helping biotech companies like yours. We can help you improve your search result rankings to drive more web traffic and revenue for your business.
Call 888-601-5359 or contact us online to learn more about how SEO services can help you get ahead of your competitors.
Independent research from Clutch has named WebFX the
top SEO company

in the United States.

Clutch has personally interviewed more than 250 WebFX clients to discuss their experience partnering with us.

Read More Clutch Reviews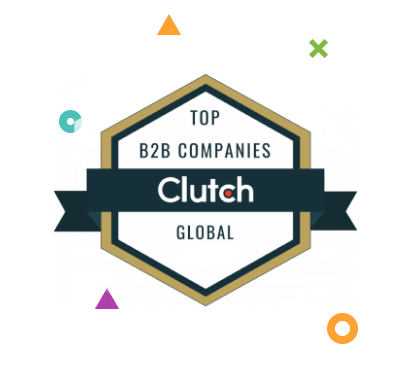 What is SEO for biotech companies?
SEO for biotech companies is a digital marketing strategy that focuses on your website's presence in search engine results pages (SERPs). It involves various techniques to help your site rank higher in the search results.
How can SEO for biotech companies help your business grow?
So, how can SEO for bioengineering help your business grow? SEO brings many significant benefits to your biotech company, including:
Driving more traffic to your website: When you invest in SEO, you help your website rank higher to get to the first page of search results. Boosting your rankings is essential because over 75% of people only click on websites from the first page of results. That means more users will visit your website if you're on the first page, increasing your traffic.
Boosting your online visibility: As you rank higher in the SERPs, more users discover your biotech company when they search for your products. Higher rankings can significantly boost your online visibility and brand awareness.
Gaining new clients and patients: SEO for bioengineering businesses helps more people discover your company online. As a result, more users will visit your website and convert into paying, loyal clients and patients.
So, if you're looking for one of the best digital marketing strategies to help you increase your revenue, SEO is a perfect choice.
4 best SEO strategies for biotech companies to boost search engine rankings
Are you ready to start increasing your search result rankings with SEO for bioengineering? We've got just the tips and tricks for you!
Here are the top four SEO strategies for biotech companies:
1. Improve your page load speed
People love fast websites. And search engines know that people want to visit websites that load quickly. That's why your page load speed is an essential search engine ranking factor you don't want to ignore.
If your website doesn't load quickly for users, they'll likely leave your site and visit a competitor's instead. When you improve your page load speed, you keep visitors on your website and encourage them to read your content and convert them into clients and patients.
As a result, you can send signals to search engines that visitors have a positive experience on your website, increasing your rankings.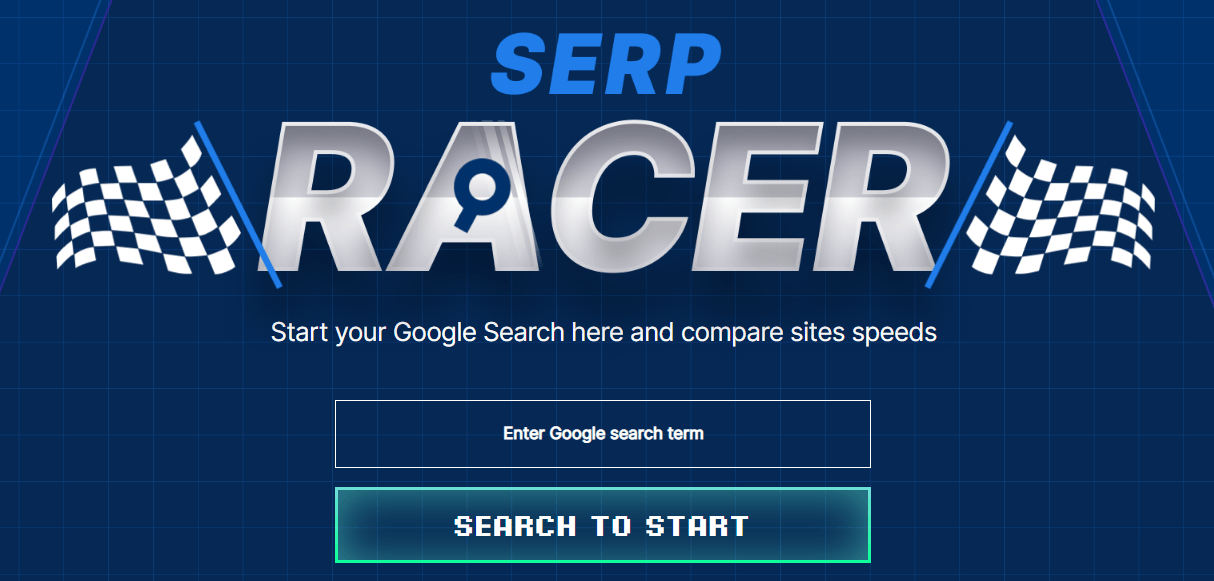 Top tip: Do you want to see how your website's current page speed measures up against your competitors in the search results? Use our SERP Racer tool to view if your website loads quicker than your competitors!
2. Make your biotech website mobile-friendly
Did you know that more than 50% of all Internet traffic comes from mobile devices? People love to use their smartphones and tablets to browse the Internet and research products.
With millions of users using mobile devices to research companies, search engines want to provide these users with the best experience. That's why ensuring that your website is mobile-friendly is a must.
Implementing responsive design helps you ensure that your website functions and displays correctly on various devices. Without responsive design, users will likely leave your website if it doesn't display properly on their mobile devices.
In fact, 52% of users are less likely to engage with a website that isn't mobile-friendly. So, if you want to boost your rankings in the SERPs and keep users engaged on your website, implementing responsive design is crucial.
Top tip: Not sure how to make your website mobile-friendly or don't have the time? Our responsive design services can help you create a beautiful website that displays and functions well no matter what device your visitors use!
3. Research biotechnology keywords
Next on our list of SEO strategies for biotech companies is to conduct keyword research. Keywords are the terms and phrases your target audience searches for online. For example, your audience might search for specific medications or general biotechnology products.
You can conduct keyword research to identify the best high-quality keywords your audience searches for online. When users search for these phrases, you want your website to appear as one of the first results.
Once you've identified the words and phrases you want to target, you can begin to insert these keywords throughout your website. For example, you can create specific pages, blog posts, or articles for those keywords.

Top tip: Not sure how to get started with keyword research? Then our easy-to-use tool, KeywordsFX, is for you. KeywordsFX helps you identify the keywords your potential clients and patients search for on search engines. Plus, you can use this handy tool to save and export your results for easy access later.
4. Create a company blog
Inserting keywords throughout your website enables you to rank higher in the search results when users search for those phrases. Creating custom content, like a company blog, is one of the best ways to insert more keywords on your website.
For example, suppose your biotech company sells specific medications. In that case, you can create blog posts about each one. You can answer your audience's questions and show them how these medications can solve their problems and help them live healthier lives.
As a bonus, creating a blog on your website can help you show off your expertise in the biotechnology industry. You can also share your blog posts on social media to encourage more people to read your content.
As a result, you can begin to build a reputation as an expert in the biotech industry, increasing your brand awareness and loyalty.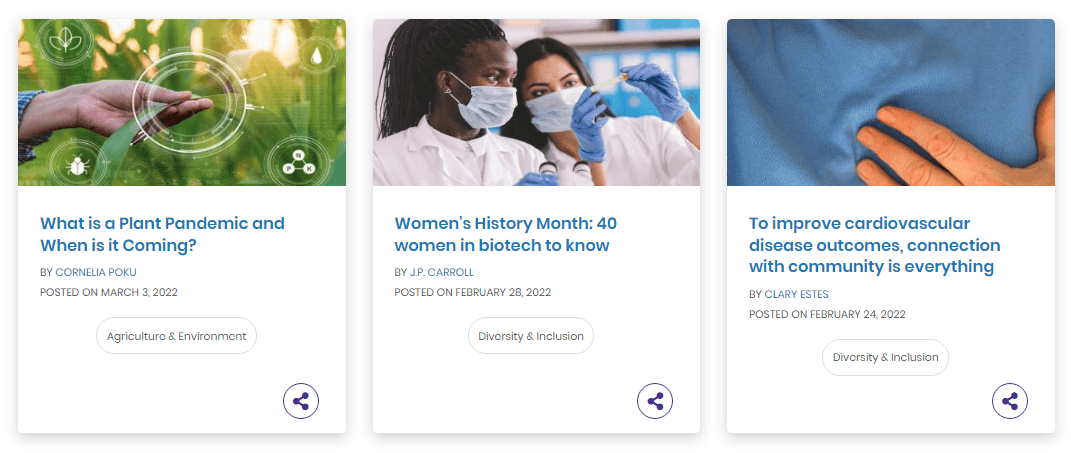 Top tip: Don't have enough time or resources to craft a company blog? Our expert blog writing services give you access to a team of award-winning copywriters. Our team knows how to create blog posts that rank high in search engines and pain your biotech company as an expert in your field.
These are real SEO results driven for a WebFX client.
You're next.
Learn More About SEO Services


260%
increase in organic revenue

198%
increase in organic transactions
150%
increase in organic traffic

3872%
increase in sessions from SEO
Outrank your competitors with SEO for biotech companies today
At WebFX, we know that implementing and managing an effective SEO strategy can be a tricky and time-consuming task. That's why we offer completely "done-for-you" SEO services so you can focus on your other business tasks.
Our team of over 500 SEO experts has already helped businesses like yours drive more than $3 billion in revenue. And we can help your biotech company achieve incredible results too.
Speak with one of our strategists today by calling 888-601-5359 or contact us online to learn more about how our top-tier SEO services can help your bioengineering business grow!
Earn a 20% greater ROI with WebFX