With the opioid crisis causing an increased need for rehab treatment, 2017 saw its fair share of third-party middlemen taking advantage of innocent clients and family members looking for rehab services in the United States.
Seeing this, Google banned ads that targeted a long list of rehab treatment keywords in September 2017. Scammers trying to steal money from those in need were effectively barred from placing ads, as were tons of legitimate treatment centers.
In early 2018, Google rolled out a solution that allows rehab centers to launch ads once again for extremely expensive rehab keywords, but only after becoming certified through LegitScript and Google itself. LegitScript Certifications are now the new standard for those in the drug rehab and treatment industry if you want to advertise with Google Ads.
If you're a rehab treatment center that needs to become LegitScript certified, learn more about the initiative and follow our step-by-step guide below.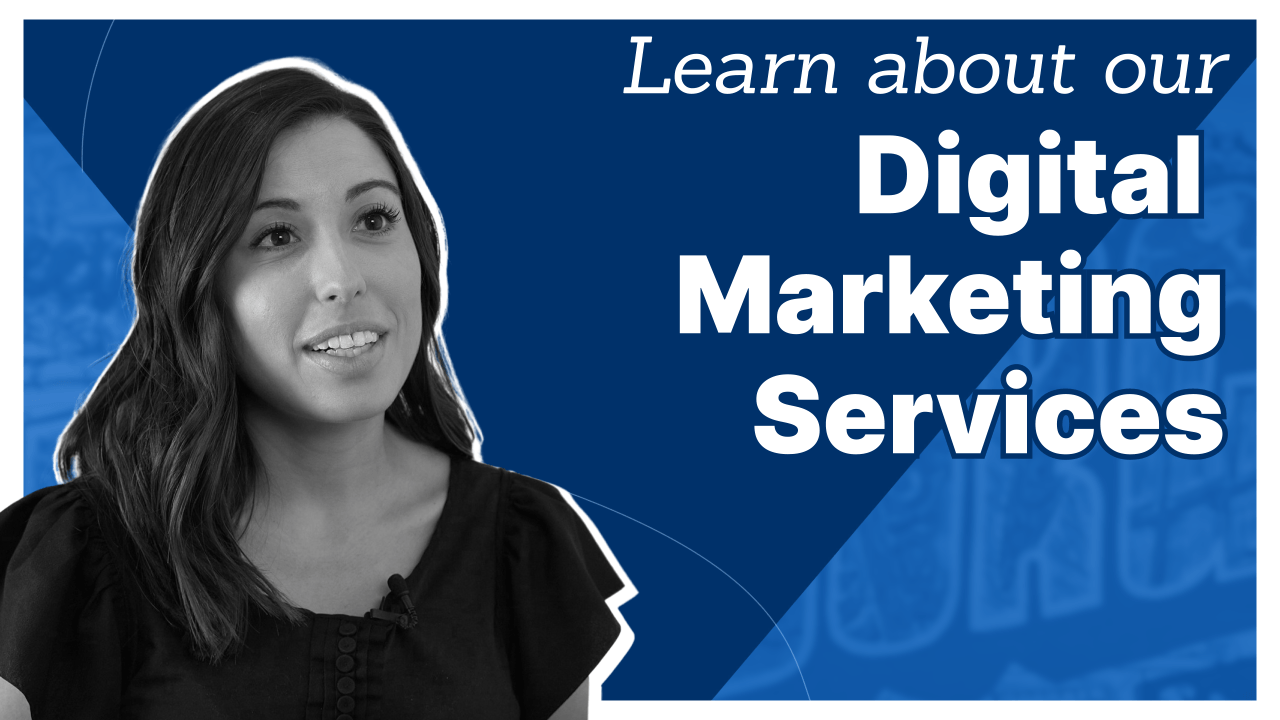 What does a LegitScript certification do?
Prior to rehab centers being required to have a LegitScript certification, anyone could rank for rehab center keywords. This means that there was essentially no screening process, as far as ads go, to determine what treatment centers were legit, and which were third-party scammers.
With a LegitScript certification, rehab centers are checked by both the LegitScript website and Google to ensure that they have the best intentions for users.
Here are some of the criteria that LegitScript uses to certify a treatment center:
Criminal background check
Medical/treatment license
Insurance verification
Written policies and procedures
$995 upfront cost
$1995 annual vetting charge
After LegitScript vets these treatment centers based on the criteria, they are deemed trustworthy and can once again rank for ads in Google. This gives them the opportunity to attract clients to their center and also be seen as a trustworthy, legitimate rehab center.

Hear What It's Like to Work With WebFX!

"WebFX has worked diligently to learn our business and has been successful and continuously upgrading search engine optimization results. Their passion for getting results shows."
Addiction Treatment Center
Do you need to get LegitScript certified?
If you're not sure if you fall in a category that requires a LegitScript certification, read on! We'll talk about what areas of the industry require the certification to advertise on Google Ads.
In-person addiction treatment
If you have a website, an app, or you provide information elsewhere about in-person drug or alcohol treatment, you'll be required to have the certification. In addition, if you facilitate in-person or online treatment, other than a private residence, you'll also need to be LegitScript certified.
Mutual support groups
If you have a website, an application, an online forum, or are a merchant that facilitates interaction between individuals that are not professionals but are engaged in the recovery industry, you'll be required to have a LegitScript certification.
Even if you don't offer the services, facilitating interactions will require you to become certified.
Crisis hotlines
You'll also have to have the LegitScript certification if you own an application, manage a chat feature, operate a call center, have a website, or use a telephone number that provides remote assistance for those seeking recovery.
How to become LegitScript certified
If you're a rehab center that is looking to become LegitScript certified, follow our step-by-step process below!
1. Go to the LegitScript application form
You'll want to start by visiting LegitScript's website and opening the form application. On this page, you can read about the LegitScript certification process, and learn what to expect as you apply.

2. Fill out the first form required
There are two forms required to become LegitScript certified. The first form simply determines your eligibility. It will also give you an idea of how much your application will cost to submit.
Before filling out the first required form, be sure to read through the terms and conditions. It's important to understand what services you'll be provided with, and what information LegitScript will need from you. You should not continue in the process until you've read through the entirety of the terms and conditions page that comes before the first form.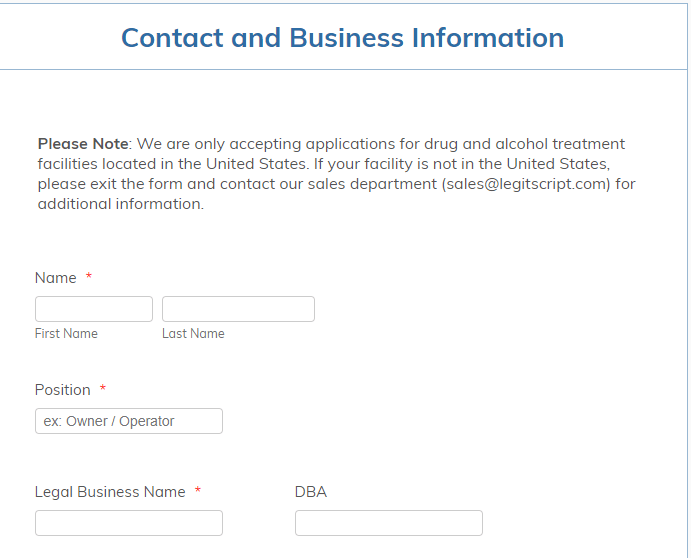 3. Fill out the second form
The second form will only appear after you've made your payment to LegitScript. This form asks you questions about your facility and will help determine if your treatment center has what it takes to become certified.
4. Look for initial evaluation questions from LegitScript
After you've filled out the two forms on LegitScript's website, they will send you a series of follow-up questions. At this time, they may also ask for requests for remediation. If you want to make the process go as fast as possible, it depends on your responsiveness to the follow-up questions you're given. Beyond that, there is no way to speed up the process from this point.
19 LegitScript certification standards
So, you've filled out your application, but how do you know if your application will be accepted? Here are some standards that LegitScript considers before accepting your application.
1. Compliance
When you apply for your LegitScript certification, you must obey state legal and regulatory licensing requirements for addiction treatment facilities.
2. Web content
LegitScript will check your website content to ensure that your physical address is provided publicly and that you have extensive explanations of the services provided. This is simply to ensure that you're a real treatment center that provides real services to your clients.
3. Qualifications
In order to prove that you're a real treatment center, LegitScript will require that the business owner, business leadership, employees, and all treatment staff provides their resumes. This proves that everyone working at your center has training in the addiction treatment industry. LegitScript's website also notes that on occasion, an on-site medical practitioner will be required.
We foster and form long-term partnerships so that your business has long-term results.
Over 90% of WebFX clients continue partnering with us into year 2 of their campaign.
Hear from Our Happy Customers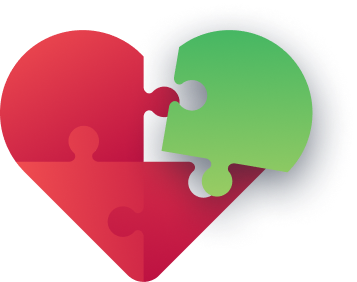 4. Professional setting
LegitScript must ensure that your addiction facility is a professional business and not a residential setting.
5. Facility disclosure
The LegitScript applicant must be sure to reveal all of their physical properties and corporate entities under its control, and also to which it refers clients. This ensures that LegitScript is aware of all properties and businesses associated with your treatment facility. In addition, all related properties will also have to follow these standards.
6. Privacy
HIPAA privacy laws must be followed by all applicants.
7. Medication-assisted treatment
All drugs recommended by the treatment center must be approved by the U.S. Food and Drug Administration. The center is not allowed to rely on things like designer drugs, unapproved drugs, or products that appear on LegitScript's "Red Flag" list.
8. Transparency
Any treatment center that isn't fully transparent with LegitScript during their application process will be denied.
9. Unapproved advertising
If a treatment center is found to be advertising on Facebook or Google without a LegitScript certification, it's understood that they're trying to get around the process of becoming certified, and their application is on grounds for denial.
10. On-site inspections
Anyone applying to become certified must agree that LegitScript can inspect their property and facilities at any time.
11. Co-ownership
If you're a co-owner of a lead generator, you could be on grounds for immediate denial. You are not allowed to have any relationship or affiliation with a lead generator.
12. Incentives
LegitScript applicants are required to disclose all incentives that they offer their patients in return for their services. If you do offer certain incentives, your application will likely be denied.
13. Business practices
Business practices are not allowed to provide offers that deceive or defraud patients or the public in any way, shape, or form.
14. Insurance
The LegitScript applicant must provide proof of insurance to operate a facility in order to be accepted.
15. Background and history
In order to be certified, you must provide LegitScript with criminal background checks of the applicant and key staff members. This includes any criminal or civil violations in addition to any litigation over the past 10 years.
16. Facility location
Applicants must provide lease information for the location of their facility.
17. Policies and procedures
Those wishing to become certified must provide their written policies and procedures that prove to LegitScript that they operate under best practices and truly want to provide their patients with the care they deserve. They must prove that they provide recovery and improvement treatment in addition to psychosocial therapies and specialized services.
18. Domain name registration
The LegitScript applicant must provide the URL of the treatment center and any other domains that it owns under the treatment center name.
19. Business registration
The treatment center must be registered as a corporate entity in the state that it offers services.
You're certified! Now what?
If your treatment center has just been LegitScript certified, and you're ready to advertise via Google Ads, WebFX can help.
We are a full-service digital marketing agency located in Harrisburg, PA, and we pride ourselves on our team of over 500 specialists who are all experts in their craft.
If you're looking to advertise your treatment facility on Google, WebFX can help set up the perfect PPC campaign for you.
Feel free to contact us online, or to speak with a strategist, give us a call at 888-601-5359!
We can't wait to help your treatment center flourish!
Earn a 20% greater ROI with WebFX