At your yoga studio, you're no doubt very passionate about what you do —helping people meditate and relax is your goal. But to drive people to come to your studio, they need to be excited about your business too.
And for that, you need a good digital marketing campaign.
There's no better place to start your online marketing than with search engine optimization (SEO). SEO can help you get your web content ranking in Google where people can discover your website.
But what goes into SEO for yoga studios, and how can you make the most of it? Below, we'll break down 10 tips for improving your yoga studio SEO.
Read on to learn more, and then consider partnering with WebFX — the agency with over 25 years of experience — for more SEO services. Call us today at 888-601-5359 or contact us online to get started!
Independent research from Clutch has named WebFX the
top SEO company

in the United States.

Clutch has personally interviewed more than 250 WebFX clients to discuss their experience partnering with us.

Read More Clutch Reviews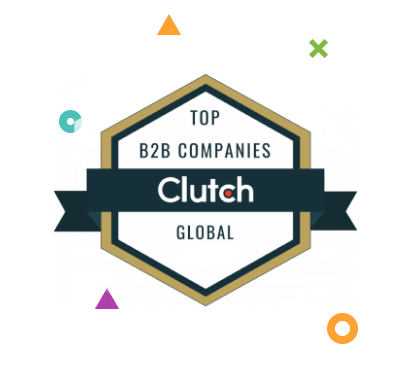 1. Target long-tail keywords
If you want to have success with SEO for yoga studios, start by choosing the right keywords. When it comes to SEO, some keywords reach more relevant traffic than others.
Ideally, you want to target plenty of long-tail keywords — that is, keywords that are longer and more specific in nature. Keywords that are too short, like "yoga," will likely have too much competition. Their search intent is also less clear, making them harder to target.
Furthermore, long-tail keywords tend to be more specific, which helps you understand and match user search intent.
Hear What It's Like to Work With WebFX!

"WebFX gets it done! They've done a great job working with our changing vision and goals, and their turnaround times are wonderful. All staff are professional, timely, and friendly."
Healthcare
2. Write content to match search intent
Before your content can start ranking in Google, you first have to create content to rank. The content you write should be informative and tailored to your industry. If you simply throw fluffed writing haphazardly onto the page, no one will be interested in it.
More than that, though, it needs to match user search intent. Whatever SEO keywords for yoga you target with a piece of content, consider what users are hoping to find when they search for those keywords, and write content to meet that need. Otherwise, your content won't get many clicks.
3. Improve readability
When you do SEO for yoga studios, you don't want to only focus on getting your content ranking, or getting people to click on that content.
Neither of those things will matter if your content provides a bad user experience once they get to it, so you need to focus on creating user-friendly content, too.
To keep users on your site, your content should have a high degree of readability. Among other things, that means you should avoid amassing enormous blocks of text that fills up every square inch of the screen.
Try to inject plenty of white space, and break up paragraphs with images or videos.
4. Optimize title tags and headings
The main bulk of your content isn't the only thing you can optimize for yoga studio SEO. You can improve your SEO through title tags and headings as well.
To start with, you can include your primary target keyword in the title tag. If you have an opportunity to use your secondary keywords as headings, that's also a great idea to help you rank in other relevant searches.
On top of that, make sure your title tag is juicy and compelling so that users will click on it. Using numbers and emotive adjectives ("5 Stellar Tips for…") is a great way to create this effect.
5. Harness the power of links
SEO for yoga studios is largely about improving the way Google views your website, and links are a powerful tool for doing so. There are two ways you can use links to optimize your web content.
The first way is to use plenty of internal links throughout your content. Internal links are those that link to other pages on your website. The benefit of doing this is that it keeps users on your site longer, prompting them to click from one page to the next to learn more.
The second way to use links is to earn backlinks. Backlinks are where external, third-party websites link to your content on their pages as a source of information. You can acquire backlinks by reaching out to respected yoga-related websites who might find your content useful to link to on their site.
Once you gain enough backlinks, Google will start viewing you as more reputable, and will rank you higher in search results.
6. Optimize images
As powerful as Google's algorithm is, it isn't yet smart enough to glean subjective meaning from images. That means the images in your content, no matter how informative or useful, won't contribute to your yoga SEO… unless you optimize them.
You can optimize your images for SEO by creating alt tags for each one you use that describes what it depicts. So, if you used an image of someone laying out a yoga mat, you could use the alt tag "person with yoga mat."
This optimization will allow Google to read it and take it into account for SEO. Furthermore, it improves accessibility for people with screen readers, which will improve your site's overall user experience.
7. Claim your Google Business Profile listing
When people look for yoga studios in their area, they turn to Google to help them find what they need. If you haven't claimed your Google Business Profile listing, you're missing a valuable opportunity to drive local traffic for your studio.
Your Google Business Profile listing appears in search results when people search for businesses in a specific city or using the phrase "near me." Claiming your Google my business listing enables you to appear in the local SEO 3-pack, which appears at the top for local searches.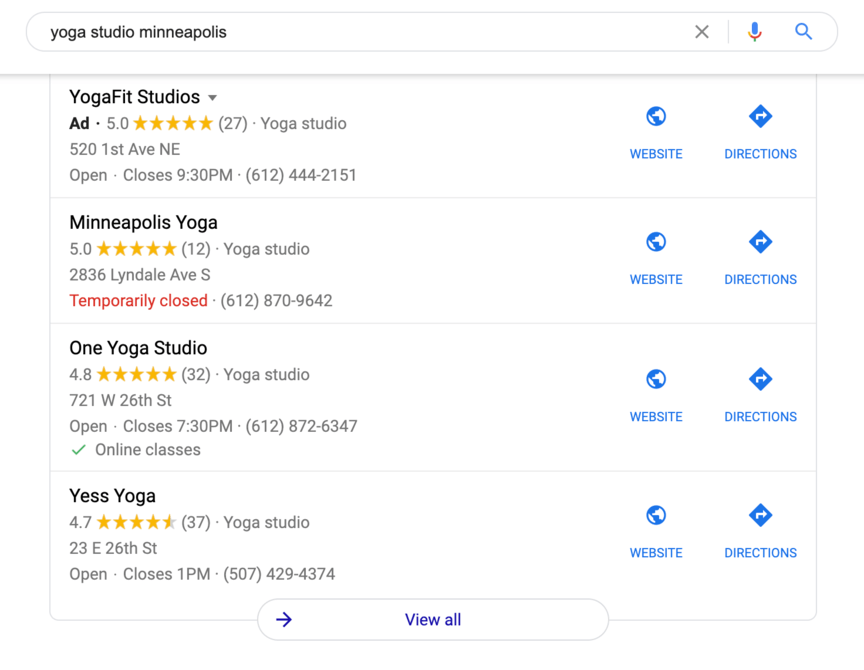 Your Google Business Profile includes your:
Location
Phone number
Hours of operation
A short blurb about your business and what you offer
Photos from/of your studio
Reviews from Google users
It doesn't take long to set up and gives you a much higher chance of appearing in local search results.
8. Increase page speed
For users to stay on your page, it needs to load quickly. Over half of users will abandon a page if it takes more than three seconds to load, and you don't want that to happen to you. Ideally, your page should load in one or two seconds.
Here are a few things you can do to optimize your page speed:
Cache web pages
Compress images
Minify your code
Limit your redirects
And if you're not sure if you have the technical knowledge to make these adjustments on your own, you can always invest in page speed services from a marketing company.
9. Incorporate responsive design
While you'll likely build most of your website using a computer, most users will probably access it on their phones. In fact, with over half of all Internet traffic happening on mobile devices, Google ranks content based on your site's mobile-friendliness.
If your site isn't optimized for mobile as well as for desktop, you'll struggle to rank. That's why it's important to implement responsive design, where you design your site to adapt and function well on both types of devices.
10. Track your performance
Once you've done everything else on this list to improve your yoga SEO, you'll want to make sure it's delivering the expected results. The best way to do that is to track site metrics using tools like Google Analytics and Google Search Console.

Both programs can provide valuable information on various metrics that you'll want to keep track of to see where you can improve. Here are some of the metrics to keep an eye on:
Traffic flow
Conversion rate
Get more yoga SEO help from WebFX
Once you've implemented the above tips, you should see significant improvement in your yoga studio SEO. But if you're looking to take it up yet another notch, WebFX can help.
Our team of over 500 experts has a deep knowledge of SEO that we can bring to your yoga studio. We can optimize everything from your page speed to your keyword selection and rocket your rankings to new heights.
To get started with our SEO services, just call us at 888-601-5359 or contact us online today!
Earn a 20% greater ROI with WebFX