Where do people go when they're looking for a veterinarian to take their furry, feathered, scaly, or otherwise non-human best friend to? In most cases, the Internet.
About 86% of people use the Internet to find local businesses, such as veterinary clinics. And, 80% of local searches convert, meaning the user completed a targeted action, such as scheduling an appointment.
Successful veterinary marketing requires meeting your potential patrons where they are — online. Internet marketing for veterinarians can help you create an online presence that connects you with people looking for a vet and gets results for your practice.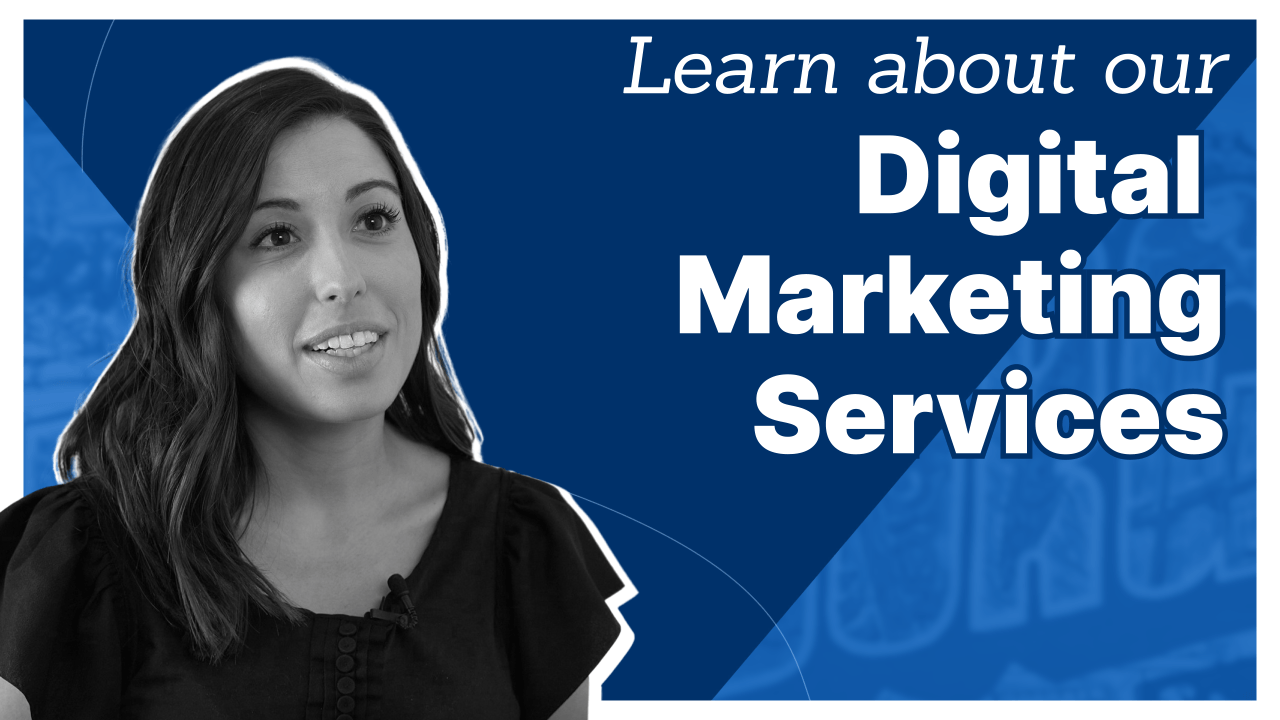 WebFX is an experienced, full-service digital marketing agency. We offer a variety of online marketing services, and our team of more than 500 experts is ready to create and implement a strategy that meets your needs.
To learn more about our services, contact us online or give us a call at 888-601-5359. To discover the top digital marketing strategies for veterinarians, keep reading!
Our digital marketing campaigns impact the metrics that improve your bottom line.
See More Results

WebFX has driven the following results for clients:

$3 billion
In client revenue

7.8 million
Leads for our clients

5.2 million
Client phone calls
6 Internet marketing strategies for veterinarians
When it comes to online marketing for veterinarians, what strategies should you focus on for your practice? Here are some of the top digital marketing strategies for vets:
Let's take a look at each of these strategies.
1. Web design for veterinarians
A well-designed website is the cornerstone of digital marketing for veterinarians. Your website is where people go to learn about your practice and potentially contact you or book an appointment for their pet. That's why professional web design is essential.
If your website doesn't look professional, is hard to use, or doesn't work right, people may click away, causing you to lose a potential new client. When people visit a website, 75% of their judgment of its credibility is based on design. People won't want to bring their pets to you if they don't think your practice is credible and trustworthy.
Your website needs to provide basic information about your practice and show visitors why they should trust you with their pet's health. People also need to enjoy using their website. Using it should be intuitive, and it should be easy to book an appointment.
Some of the elements you should include in your website to improve your veterinary marketing are:
A consistent style and color scheme
Easy-to-use navigation
Compelling copy
Calls to action (CTAs) that stand out and encourage visitors to take action
At WebFX, our team of award-winning designers can provide you with a site that has all of this and more. Learn more about our web design services.
2. Local search engine optimization (SEO) for veterinarians
Local search engine optimization (SEO) refers to strategies that help your business rank well in local search results for relevant keywords, increasing the quantity and quality of traffic to your site. For example, with the right local SEO strategy, your website will show up when someone in your local area searches "veterinarian near me" on Google.
Local SEO focus on searches specific to your geographic area. This strategy is a critical part of digital marketing for vets and helps you get clients from your local area to bring their pets to your practice.
Local SEO services can help your veterinary practice appear in the local SEO 3-pack, which means your clinic is one of the first results searchers see.
Local 3-packs show up at the tops of search engine results pages. They include a map with business locations and panels with information about three local businesses, such as their address, business hours, and contact information. Here's an example of a local SEO three-pack: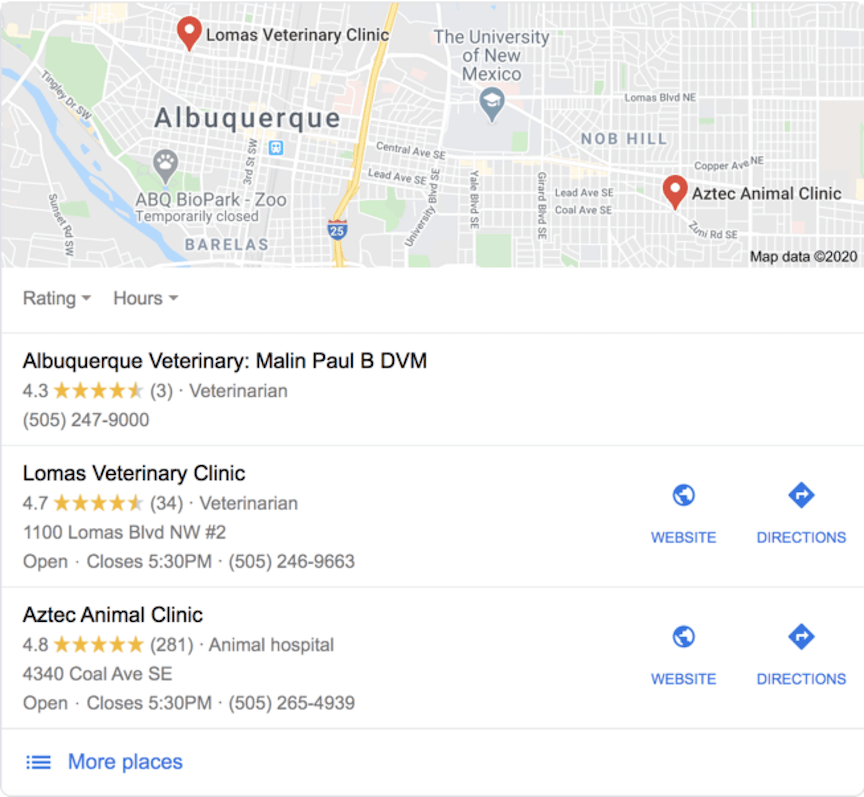 As mentioned earlier, 80% of local searches convert. Local searches often have high intent, which means users are ready to take action related to their search, such as calling your office or booking an appointment online.
So, how do you do local SEO? Here are some the most effective actions you can take:
Use keywords on your site that include location-specific terms, such as the name of your city or region.
Ensure listings for your business on sites like Google Business Profile and Yelp contain accurate information.
Monitor and respond to online reviews about your company.
With so many business listing and review sites out there, manually updating listings and monitoring reviews can be a time-intensive task. LocalFX, our proprietary local SEO management software, makes this work much easier.
LocalFX allows you to update and sync information across 100 directories and see the status of each of your listings. It can also alert you to new reviews and comments and help you easily monitor and respond to them. to learn more!
3. Pay-per-click (PPC) advertising for veterinarians
PPC ads are another Internet marketing strategy frequently used by veterinary marketing companies. These online veterinary ads can take the form of paid search result ads and display ads on other websites.
If you use search engines, you're probably familiar with PPC ads in search. These paid ads appear at the top of search results with the word "ad" attached to them.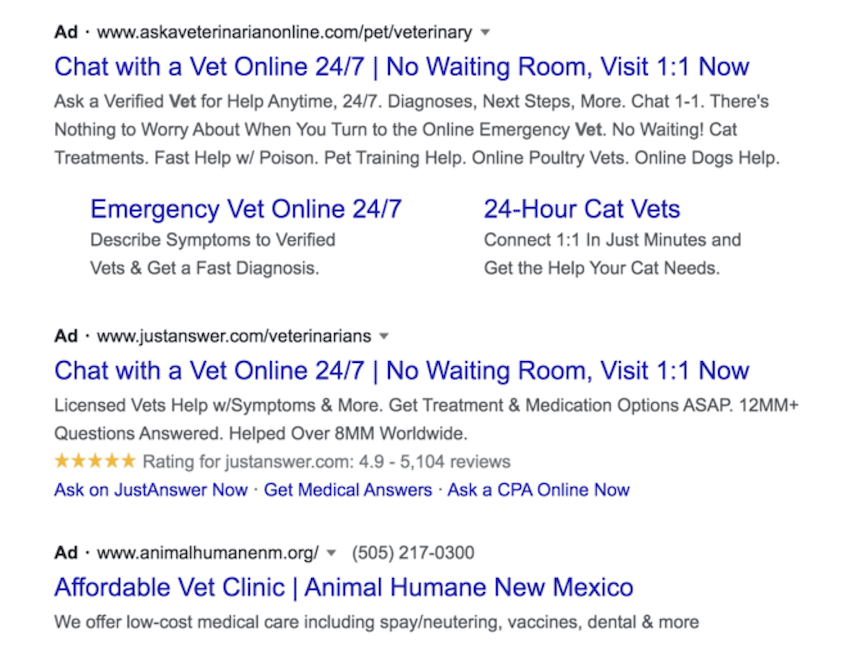 PPC ads are useful in Internet marketing for vets because they allow you to show up at the top of search results pages, even above the organic results. You can also target ads to specific audiences, such as people in your area who have recently visited web pages about getting a new pet.
PPC ads are also cost-effective since you only pay when someone clicks your ad, meaning you're only paying for leads that are likely to convert. These ads provide an excellent return on investment (ROI) — the average is $2 for every $1 spent.
To get the most out of your PPC ads, try these tips:
Create dedicated landing pages that are designed with specific conversions in mind
Use ad extensions to include more information in your ads and boost click-through rates
Improve your quality score to increase your ad's visibility
If you don't have the time to dedicate to building a PPC campaign, you can look for veterinary marketing companies to run your campaign for you. If you choose to hire a veterinary marketing company, partner with one that has experience running campaigns. For example, at WebFX, we've managed more than 650 PPC campaigns for our clients.
4. Email marketing for veterinarians
Email marketing is one of the best veterinary marketing strategies for building relationships with your audience and getting people to keep bringing their pets in for visits.
Create an email list and let people sign up on your website and in your office. You can then send various types of emails to your subscriber list.
You can send personalized emails, like welcome emails and appointment reminders. You can also use email to keep people up to date with the latest happenings at your clinic, provide tips for taking care of pets, or even just share entertaining animal-related stories, videos, and photos.
Email is a popular Internet marketing strategy in part because of the high ROI it offers. The average ROI for email marketing is $44 for every $1 you spend.
These tips can help you maximize your email marketing success:
Over half of emails today are opened on mobile devices. Make sure your emails look great on both desktop and mobile.
Create subject lines that entice users to open your emails. Try using strong action verbs and make your subject lines concise and personal.
Test various elements of your emails to determine what gets the best results.
Use an email automation program to make your email marketing more efficient.
EmailMarketingFX, our email marketing software, can help you make the most of your email marketing. It enables you to create mobile-friendly emails, test your emails, and automate parts of your email marketing process.
5. Social media marketing for veterinarians
Social media is an excellent veterinary marketing tool. It can help you stay connected with your clients and increase awareness of your practice among local pet owners. About 86% of people use social media at least once per day, so it provides you with a huge potential audience.
You have numerous options when it comes to which social media sites to use for online marketing for vets. Some of the top ones to consider are:
How do you know which sites to choose? One main factor is which sites your clients and potential clients use. Try surveying your current clients and researching the demographics of each platform's user base to find the right platforms.
You'll also need to consider what types of content you want to post, as different sites allow for different formats. Facebook, for instance, provides a variety, Instagram is highly visual, and YouTube offers videos.
Once you choose your platforms, come up with a social media marketing strategy. Start by defining your goals and then come up with a plan for using social media to meet them.
Here are a few strategies to consider.
Visual social media platforms, such as Instagram, YouTube, and Facebook, are excellent tools for digital marketing for veterinarians. People love sharing pictures of their pets on social media. Chances are they'll love it when you share pictures of their pets too! Posting pictures of pets that come in for a visit (with their owners' permission) can encourage people to engage with and share your posts, which helps spread the word about your clinic.
Here's an example of a Facebook post featuring a pet. The post is entertaining and also promotes the veterinary hospital. As you can, it earned the vet a substantial number of reactions, comments, and shares.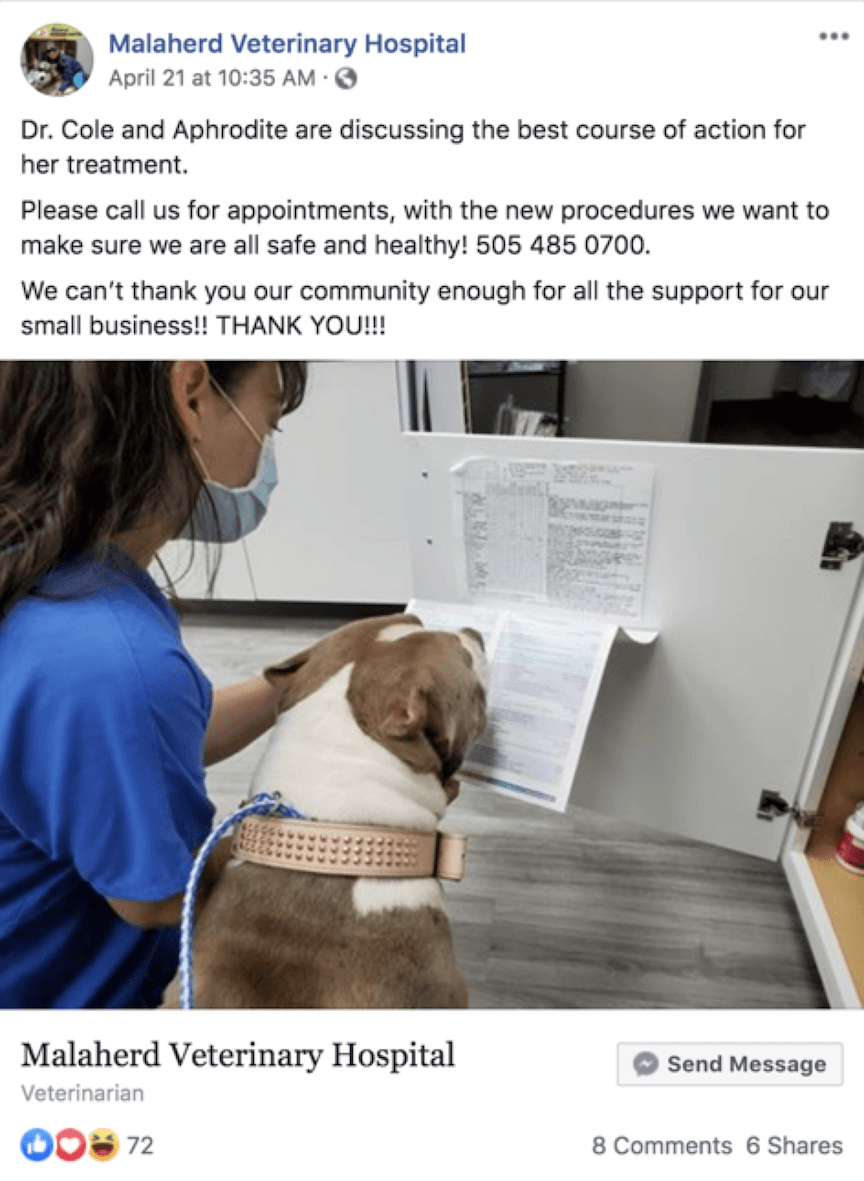 Social media is meant to be social, so engaging with your audience directly can improve your results. Respond to comments on your posts and messages as quickly as you reasonably can. When you write posts, include a question to encourage users to engage with you.
In addition to social media marketing, you can also run social media ads to help you reach even more people, including people that haven't heard about your practice yet.
Like with search and display ads, you can target your veterinary ads to specific types of users, such as people who like pet-related pages or people who recently visited your website. Social media ads also come in a variety of formats, so you can choose the one that most effectively communicates your message.
6. Conversion rate optimization (CRO) for veterinarians
Getting people to your website is crucial, but you also need those people to take certain actions once they get there. In online marketing for veterinarians, those actions might include calling your office, scheduling an appointment online, or signing up for your email list.
When someone takes that targeted action on your website, it's called a conversion. CRO is the process of improving your website to increase the number of visitors that convert.
So, how do you optimize for conversions? CRO services include:
Analyzing your site's usability: The more user-friendly your site is, the longer visitors will stay on it, increasing the chance of conversions. Improving your site's usability may include making your navigation more intuitive, improving your site's speed, eliminating technical errors, and more.
Improving your site's copy: CRO services may include ensuring your copy is easy to understand, free of errors, and helpful to users. This helps users have a positive experience on your site and enables you to direct them to convert.
Testing elements on your page: CRO involves testing various changes to your site to see how they affect your conversion rate, from buttons to sign-up forms. For example, you could try adjusting the size of a button on your site that says "Call Now" to see if increasing its size gets you more calls.
Hear What It's Like to Work With WebFX!

"Although we have only been working with WebFX for a short time, I have already received more communication and better ideas than all of the prior SEO companies I have used before combined. I'm looking forward to a long lasting relationship with WebFX."
Animal Hospital
Digital marketing for veterinarians with WebFX
At WebFX, we have more than 25 years of experience in online marketing and use a data-backed approach to get results. We've generated more than $3 billion in revenue for our clients over the last five years!
As a full-service digital marketing agency, our services include:
And more!
To learn about how digital marketing can help you grow your veterinary practice, explore our free resources or contact us to speak with a specialist today!
Earn a 20% greater ROI with WebFX