People love their pets, and that means that they want to keep them healthy. Many owners do this by searching for the best care in their area for their dogs, cats and other furry friends. As a veterinarian or other pet care professional, you surely care about animals and provide excellent services to your patients. But how do you stand out among the many animal hospitals and clinics?
Pet owners spent more than $15 billion dollars on veterinary care alone in 2015, and that figure doesn't even include what they spent on other pet-related products and services. Because of this, competition for providers is strong. The best way to overcome the competition and show pet owners that you are the right person to care for their animals is by employing a well-planned marketing strategy. There are many ways to advertise, but these veterinary clinic marketing ideas should help you get started online.
If you want to learn more, keep reading, and give us a call at 888-601-5359.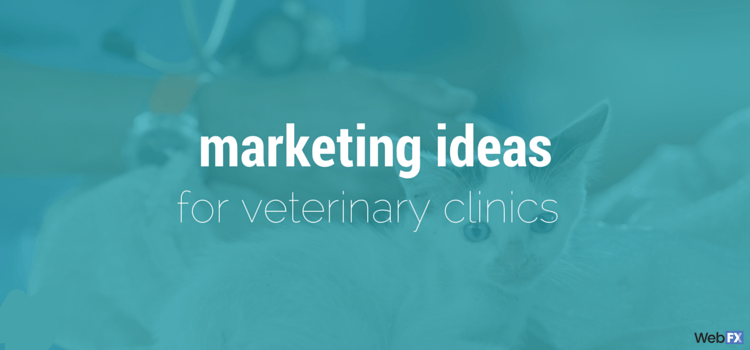 3 marketing ideas for your veterinary office

Your facility's web presence should begin with an up-to-date and informative website. Considering that many people turn to the Internet as one of their first sources of information, you want to make sure that they can easily find out what they need to know about your clinic. Your location, contact information, and pricing should be easy to locate, as well as answers to commonly asked questions.
In addition to providing the basics that people expect from your site, you can also implement SEO, PPC, and content marketing strategies to reach even more people.
1. Search Engine Optimization (SEO)
Search engine optimization (SEO), is one of the best ways to ensure that people can find your site in search engines. If someone is searching for "veterinary clinics" on Google, you can improve the chances that your business will show up in the results they see by using SEO.
Anyone searching for healthcare, including pet care, is likely going to want to find options nearby. Pet owners won't want to drive hours for care if they are seriously concerned about their pet's health, and local SEO can be a great way to attract customers in your area who want to see a physician as soon as possible. You can do this by putting the name of your city in your site's title tags, registering your business with Google, and claiming your business on sites like Yelp.
2. Pay-per-click advertising (PPC)
With pay-per-click (PPC) advertising, you can select which keywords and phrases you want to trigger your advertisements.
For example, you can set your ads to display every time someone searches for "vets in Harrisburg."
Then, if your bids are among the highest, your ads will appear at the top of the search results, above organic listings.
In addition, you'll only pay when people click your advertisements, so if nobody clicks your ads, you won't waste money trying to attract customers who never visit your site.
One of the major benefits of PPC advertising is that you don't have to wait for results. Unlike SEO campaigns, which can take weeks to start driving traffic to your website, PPC ads can start sending relevant traffic to your website the minute they are clicked to go live. If you're looking to quickly increase traffic to your website, PPC is a great option.
3. Content marketing
Another way to attract potential clients to your site is by creating and posting quality content. As a veterinarian, you are already an expert on pet care. The Internet offers many opportunities for you to use that knowledge to your advantage and attract attention from pet owners online.
Demonstrate your expertise by posting tips on animal care, writing a blog about current issues in the veterinary field, or creating how-to videos for common issues like applying flea medication. This kind of content can draw pet owners from all over the Internet to your site, and show them that you are not only an expert in your field, but also care enough about animals to share what you know.
In addition to purely informative content, you could also post entertaining pet-related material. Although pictures and videos of adorable animals you've cared for (with permission, of course), won't instantly bring in new clients, they can certainly generate traffic for your site. This will make more people aware of your business, which can pay off when those people need to find a veterinary professional.
Some of our client Successes
3 social media ideas for vets

In addition to your website, social media sites like Facebook, Twitter, and Instagram can be a great way to create interest and engage with your customers. And considering that there are 2.3 billion active social media users, there's a good chance that the people you want to reach are already there.
1. Animal photos
People love pictures of animals. If you regularly use social media, there's a good chance you see photos of people's dogs, cats, and other pets every time you log in. As a veterinarian, use that to your advantage. Take pictures of your four-legged patients (with permission) and share them with your followers. Their owners will likely love seeing their beloved pet get attention online, and other pet owners will enjoy them as well.
As an added bonus, posts that include images are more likely to be shared, retweeted, and liked. Pet photos not only make your customers smile, but can also spread awareness of your business.
The more active you become on your pages, the greater the chance that you'll be seen as the go-to clinic when a pet parent needs care for his or her animal.
2. Employee spotlights
Posting employee spotlights to your social media accounts gives visitors the opportunity to get acquainted with your staff.
You can add short bios of your veterinarians and office staff that include information such as their education, hobbies, areas where they practice, and photos.
This can help to establish trust with potential clients and encourage them to trust you with the care of their pets.
3. Support pet-related organizations
Although the primary focus of your social media accounts probably promoting your clinic or facility, don't be afraid to help other animal-related organizations. Local shelters, ASPCA sanctioned kennels, and groomers all provide services that do not compete with yours, and benefit animals in your community.
If these organizations are hosting events or running specials, help them out by sharing their posts or creating your own status or tweet. This will show your followers that you are invested in animal well-being, and not solely focused on getting clients and revenue. It can also generate goodwill between you and other animal care professionals in your community, which could lead to beneficial relationships.
4. Host contests
Another popular technique on social media is hosting contests. There are many ways to set them up, so take some time to think of something creative and original that will get people interested — besides quality prizes.
One contest that could work well for a veterinarian is a pet photo contest. As much as pet lovers might enjoy looking at other animal photos, they all secretly think that theirs is the cutest. Host a fun competition where owners submit photos of their pets, and then encourage your other followers to vote. This could be a great way to get people involved and offer an incentive for engaging with your business.
WebFX is your marketing partner
You don't have to spend a fortune to adopt veterinary clinic marketing ideas that will produce the results you desire, and these three ideas should help you get started. If you'd like some assistance putting them into practice, feel free to contact us! We're more than happy to help you build an online presence that will generate web traffic and revenue for your animal care business.
Call 888-601-5359 or contact us online today to see how WebFX can improve your online performance.