How do you get the word out about your funeral home and encourage people to choose your funeral home over others in your area? If you're not using digital marketing to accomplish these goals, you're missing out on a huge opportunity.
Why should funeral homes use digital marketing, and what services do funeral home digital marketing companies offer? In this guide, we'll discuss the top benefits of digital marketing for funeral homes and how funeral home digital marketing services work.
Keep reading to learn about Internet marketing for funeral homes, or contact us to talk with a specialist about our digital marketing services.
Our digital marketing campaigns impact the metrics that improve your bottom line.
See More Results

WebFX has driven the following results for clients:

$3 billion
In client revenue

7.8 million
Leads for our clients

5.2 million
Client phone calls
Benefits of digital marketing for funeral homes
Businesses across all industries, including funeral homes, can benefit from Internet marketing. Here are some of the top benefits of online marketing for funeral homes.
1. Access to a large audience
Nine in 10 U.S. adults now use the Internet, and 79% of Americans have purchased products and services online.
If you're not using Internet marketing to get the word out about your funeral home, you're missing out on a significant portion of the population.
2. Precise targeting
Digital marketing also allows you to reach precise audiences so that your marketing is more cost-efficient.
Traditional marketing tactics, such as television advertising or billboards, often involve spending a large sum of money to reach a broad audience. With digital marketing, however, you reach a highly targeted audience, resulting in higher conversion rates.
With pay-per-click (PPC) advertising, for example, you can target your ads to users based on their demographic characteristics, location, recent online activity, and more.
If someone searches for funeral homes using Google or other search engines, it's highly likely they're looking for funeral home services.
3. Flexibility
Internet marketing tactics also tend to be flexible. You can adjust your targeting, spending, and strategy as you go, enabling you to refine your marketing continually.
Smart digital marketing strategies involve running tests and carefully tracking results throughout your campaigns. You can then use the data you gather to improve your campaign's performance and efficiency.
4. Ability to easily measure progress
Digital marketing enables you to easily gather detailed data about your campaigns and measure their effectiveness. Tools such as Google Analytics and MarketingCloudFX automatically track website traffic, leads, conversions, and more.
With traditional marketing, it's typically more difficult to measure your campaigns' effectiveness. You don't know how your leads heard about you or what convinced them to contact you unless you ask them.
5. Results and return on investment (ROI)
Well-planned and well-executed digital marketing plans get results. Check out some of these digital marketing stats:
Check out our case studies to see the kinds of results we get for our clients!
Time to Level Up Your Sales
Our long list of services helps you grow every aspect of your business with marketing strategies that are proven to increase bottom-line metrics like revenue and conversions.
In the past 5 years, we've managed more than 12.9 MILLION transactions across our client base.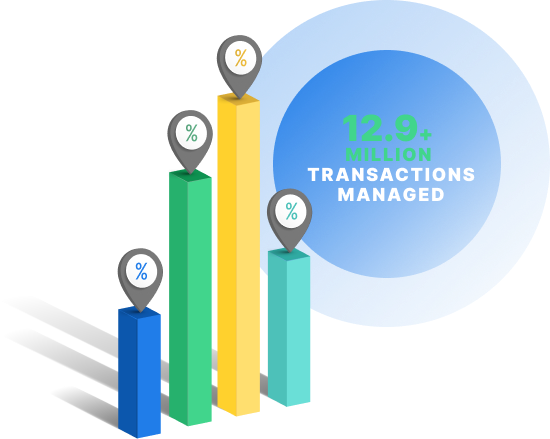 Hear What It's Like to Work With WebFX!

"WebFX did amazing work creating a new website for us on a tight schedule. They have taken the time to learn about our business and give us ideas of how to make our digital marketing better. We still have work to do with WebFX but overall very pleased."
Professional Service
Funeral home digital marketing services
Funeral home digital marketing companies like WebFX offer various services that can help your business find success online. Here are some of the funeral home Internet marketing services we provide at WebFX.
1. Search engine optimization (SEO)
SEO involves various tactics aimed at helping your website rank well in search results for relevant keywords.
These tactics include using keywords in your website content, improving your page speed, and earning links to your website.
Local SEO is especially useful for funeral homes. These SEO tactics help you show up in search engines for location-specific keywords, such as "funeral homes near me."
View SEO Plans
2. PPC advertising
PPC advertising is another useful strategy for funeral home digital marketing. It involves placing ads on search engine results pages (SERPs), social media sites, and other websites.
This Internet marketing method is useful for increasing your business's visibility online, since PPC ads appear at the tops of SERPs and other prominent locations online.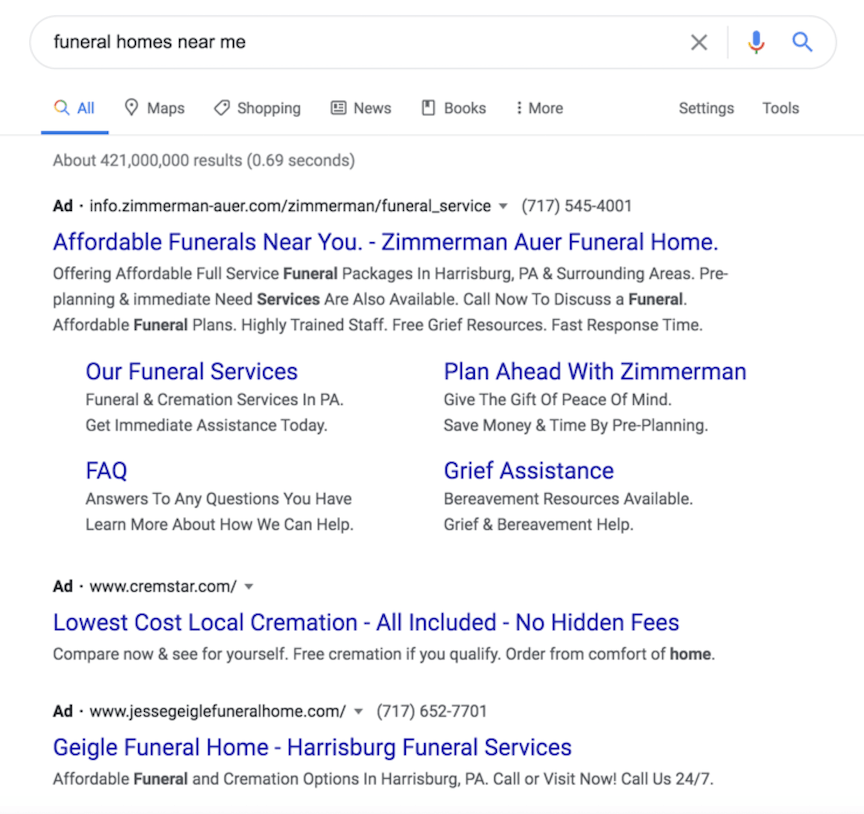 It's also helpful for encouraging people to contact you since 65% of high-intent searches, those in which the searcher is close to making a purchase decision, lead to an ad click.
View PPC Plans
3. Social media marketing
Digital marketing in the funeral industry can also involve using social media to connect with an audience and promote your services. Funeral homes may benefit from standard social media posts, social media ads, and using social media to interact with users.
An Internet marketing company can develop a strategy that helps you establish a presence on social media, engage users, and get them to contact you if they need funeral home services.
View Social Media Plans
4. Content marketing
Content marketing is often an important element in an overall digital marketing strategy. This Internet marketing method involves creating online content such as blog posts, videos, and ebooks.
This content helps educate people about funeral-related topics.
Through this education, readers develop a relationship with your brand and begin to view you as a helpful, authoritative resource. They're then more likely to contact you when in need of funeral home services.
Additionally, the content you create plays a vital role in your SEO and social media strategies. Each piece of content is a chance to rank in search, and you can share your content on social media to build your brand and increase engagement.
5. Web design and development
When someone visits a funeral home's website, they want it to look professional and be easy to use.
A professional-looking website inspires trust in your business. A user-friendly website keeps your website visitors from getting frustrated and makes them feel your funeral home is easy to work with.
Most of your other digital marketing efforts will aim to bring users to your website, so professional web design is crucial for digital marketing in the funeral industry.
View Web Design Services
Why WebFX?
Why choose WebFX as your digital marketing partner?
Full-service digital marketing
WebFX is a full-service digital marketing agency, so we offer a full suite of services, including:
When you get all your digital marketing services from one agency, your strategy will be more streamlined, better coordinated, and easier to manage.
Custom strategies
We'll get to know you and your business, your needs, your goals, and develop a strategy that's custom-designed for your business. We believe that custom-built strategies provide better results.
Excellent communication
You'll get a dedicated account manager who will be there to answer any questions you have and provide you with regular updates about your campaigns. We treat you as a partner and make efficient, friendly communication a priority.
That's a big reason our Net Promoter Score (NPS), a leading customer satisfaction metric, is 394% higher than the industry average.
Advanced technology
When you work with us, you'll also get access to MarketingCloudFX, our proprietary digital marketing platform.
MarketingCloudFX lets you track your digital marketing performance throughout your campaigns. It also uses artificial intelligence to provide strategic recommendations for improving your strategies.
Transparency
We offer transparent pricing on all our services and provide regular reporting on your campaigns' progress. With us, you'll know how much you're spending, where your money is going, and how much value you're getting in return.
Results
Our focus is on driving results for our clients. Over the last five years, we've generated 7.8 million leads and $3 billion in revenue for our clients, and 93% of clients say they're extremely satisfied with our results.
Learn more about online marketing for funeral homes
Interested in learning more about digital marketing for funeral homes and how WebFX can help you meet your goals? Call us at 888-601-5359 to speak with a specialist, or request a free quote online today!
Earn a 20% greater ROI with WebFX