If you run an in-home care business, you need to find a way to reach the people who will benefit the most from your services. Whether your target market is the individuals who need care or their families, digital marketing can help.
Read on to learn about the top five ways to use digital marketing, plus its benefits. Or, contact one of our strategists now to get help with your digital marketing efforts.
Our digital marketing campaigns impact the metrics that improve your bottom line.
See More Results

WebFX has driven the following results for clients:

$3 billion
In client revenue

7.8 million
Leads for our clients

5.2 million
Client phone calls
1. Search engine optimization (SEO)
SEO helps your in-home care business gain organic traffic online. With SEO, you're optimizing your website for search engine "crawlers," or bots that scan pages on the Internet to collect information and rank these webpages accordingly.
This strategy can have many moving parts, making it crucial to have a plan in mind for how you can tackle it. Everything from keyword usage to landing page optimization and user experience can influence your rank on search engine results pages (SERPs).
A subset of SEO is local SEO, which is where you specifically focus on the area(s) you serve. Instead of using broader keywords like "in-home care providers," you would use a keyword tied to your city or town, like "in-home care providers in Lancaster, PA."
Local SEO allows you to target the audience that is most likely to use your services. People who are generally researching in-home care might not care as much about location.
If users are preparing to look at options available in their location, though, local SEO helps them find you and determine how much they can trust you.
2. Pay-per-click (PPC) ads
While SEO is helpful, it takes time to start moving up the ranks for your target keywords. PPC ads allow your business to appear at the top of the search results as an ad. With PPC, you bid on keywords and pay when a user clicks on your ad.
Aim for keywords that could drive traffic to your website. Consider what types of topics your target audience would put into the search bar.
Like with local SEO, you'll probably find that local and long-tail keywords are better options for PPC ads. You also need to optimize the ads by accurately and clearly describing your business to establish trust.
To find relevant keywords easily, you can use a keyword research tool, such as KeywordsFX. You'll see which long-tail and local keywords are the top options for PPC ads.
Another tip to remember is about using negative keywords. A negative keyword is a phrase you would rather your ad didn't appear for. They are especially critical for small- and medium-sized businesses because they allow you to allocate time and money to the keywords relevant to your company.
3. Social media marketing
Social media has become a large part of digital marketing strategies for businesses across industries. Pick the platforms your target audience mainly uses — Facebook, Twitter, and Instagram are often great starting points.
You'll want to create a profile that represents your business. Use your in-home care company's name and logo and include your location and contact information.
Posting photos and videos is often a key part of your social media strategy. Explainer videos and tutorials can be useful for in-home care providers. Video testimonials are also a great way to improve your reputation.
Social media is an easy way to share updates and valuable information about your business, along with any promotions or giveaways. You can also post updates from your blog, host polls, and interact with customers directly through comments or direct messages.
4. Content marketing
Content marketing and blogging are beneficial methods of attracting attention and building authority. One go-to technique is answering questions your target audience asks. These queries might look like:
What's the best in-home care provider in Harrisburg, PA?

How do I choose the right in-home care provider?

Who can help my mother around the house when I'm busy?

What are the benefits of using an in-home care provider?
Your goal is to write a blog post that answers whatever questions your audience has. The suggested searches, related searches, and People Also Ask (PAA) boxes are helpful areas to generate ideas.
5. Google Business Profile
Google offers a unique feature called Google Business Profile. It's a free profile that allows you to give a brief snapshot of your business to users on Google.
This profile will most likely appear when a user conducts a local search, making it critical to optimize it. Use your Google Business Profile to show as much information as possible, including:
Business name

Address

Phone number

Website link

Hours of operation
Your profile can also show some reviews, photos, and other useful information. Fill out whatever you can to fully optimize your profile. Remember to update your Google Business Profile if you change something — like your hours of operation or contact phone number.
Benefits of digital marketing
Digital marketing provides numerous benefits for in-home care providers. Top advantages include:
Reaching a local audience:

Using the right keywords and local SEO makes it easier to reach people who will likely use your services because they live in the area you operate from.

Providing cost-effective marketing:

Digital marketing is one of the most cost-effective ways to reach people. SEO, content marketing, and social media are free. Even paid services to help you run them are affordable and often bring an increased return on investment (ROI).

Optimizing for your target audience:

Digital marketing strategies and trial and error allow you to learn more about your target audience and how you can best serve them. Data and analytics can ensure your campaigns reach the right groups.

Increasing your conversion rate:

Since digital marketing allows you to target specific audiences, you reach more people who would be more likely to be interested in your business. As a result, you have a higher chance of turning those people from prospects into clients.
Although these are some of the most prominent ways your in-home care company can benefit from digital marketing, it provides the opportunity for several others.
Meet WebFX:
Your world-class, tech-enabled marketing agency with over 1.6 million hours of combined expertise.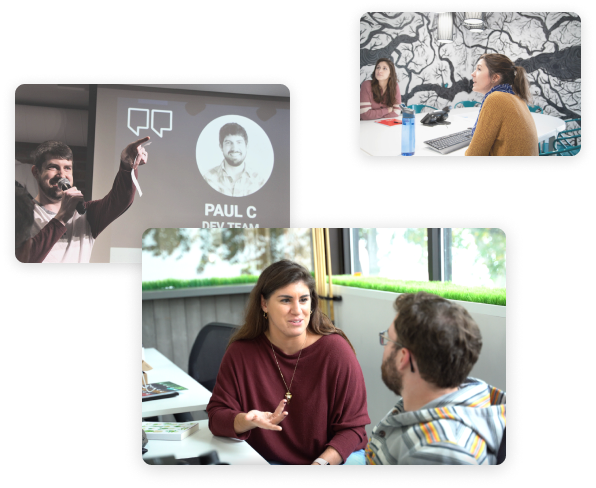 Reach your target audience with digital marketing services today
Invest in digital marketing to reap these benefits and earn more clients. At WebFX, we have a large team of marketers, copywriters, and strategists ready to help you grow your business.
Whether you need PPC, SEO, or help with social media, trust our team to help you shine with our digital marketing services. Call 888-601-5359 or contact us online to get started!
Earn a 20% greater ROI with WebFX