SEO is quickly becoming the most important marketing strategy for heavy equipment distributors.
Search engine optimization is the process of improving your website, so search engines like Google can read it, categorize it, and show it to people who want to find your business.
Surprisingly, it's also one of the best ways to generate new leads for heavy equipment companies.
But where do you start? Heavy equipment SEO isn't the same as flipping a switch (although that would be great).
It requires planning, patience, and creativity to get heavy equipment leads online. On this page, we'll talk about how to use SEO for heavy equipment, so you can start getting more leads as quickly as possible. If you'd like to speak with an SEO specialist, you can contact us at 888-601-5359.
Independent research from Clutch has named WebFX the
top SEO company

in the United States.

Clutch has personally interviewed more than 250 WebFX clients to discuss their experience partnering with us.

Read More Clutch Reviews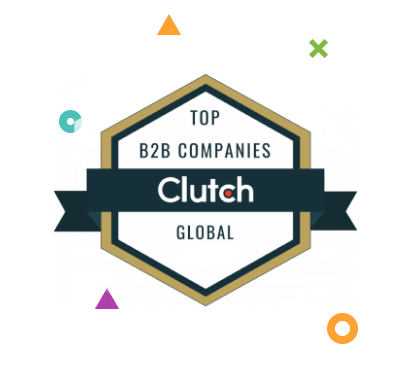 Heavy equipment SEO
SEO is just one part of a digital marketing strategy, but it involves several important steps to success. We'll cover them in order, so you can easily follow along and implement them on your site.
Step 1. Keyword research
Before you start SEO, you need to know how your potential customers research your industry.
The best way to do this is with keyword research.
Keyword research is the process of discovering the different words and phrases that your potential customers use to learn more about your industry.
In the heavy equipment industry, that could include phrases like "best backhoe loader," "price of cold planers," or "buy motor graders."
These keywords are important because they give you a better idea of what your potential customers want to know. You can bring them to your site and convert them into customers by targeting those keywords with original content.
Step 2. Content marketing
Content marketing is the process of writing blogs, shooting videos, posting photos, and creating graphics that relate to your industry.
For heavy equipment distributors, that means writing up details about the equipment you sell, posting high-quality photos of the equipment that's for sale, and even including a video that shows it in action.
On top of that, you can post your entire pricing catalog online that covers everything in your inventory or breaks it down according to equipment type.
Regardless of your choice, every piece of content you create for your site should target one keyword, so you can rank for that keyword in Google search results.
So let's say you want to move your inventory of used motor graders. Whether you have two or two dozen machines in your inventory, you can list them out on a page targeting the keyword "used motor graders."
Wheeler Cat, a Cat dealer in Utah, wanted to do that, so we made them a page that shows off what they have to sell.
After that, we wanted to make sure their customers could get all the information they needed on individual heavy equipment. In this case, that meant photographing the motor graders, posting the price, hours of operation, physical location, features, and condition.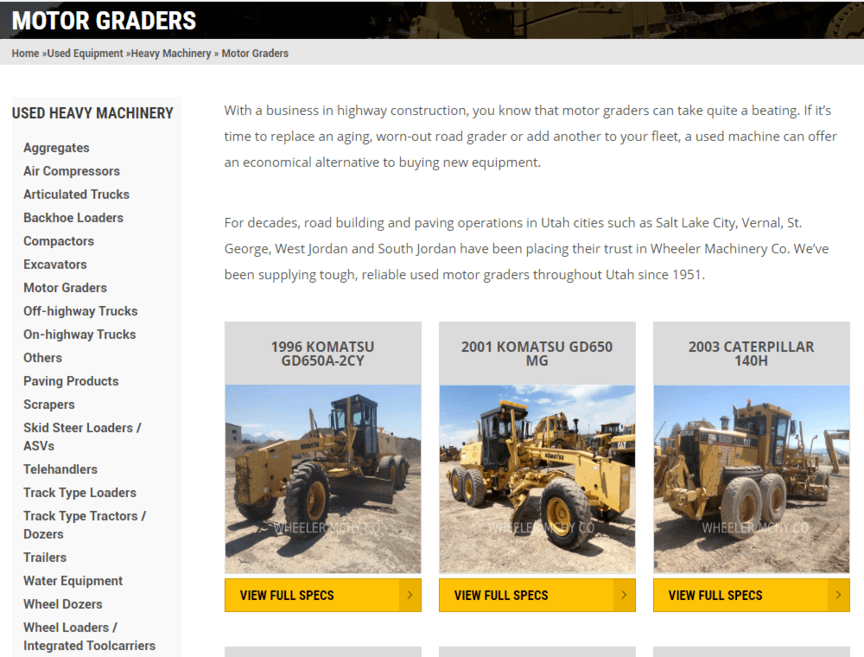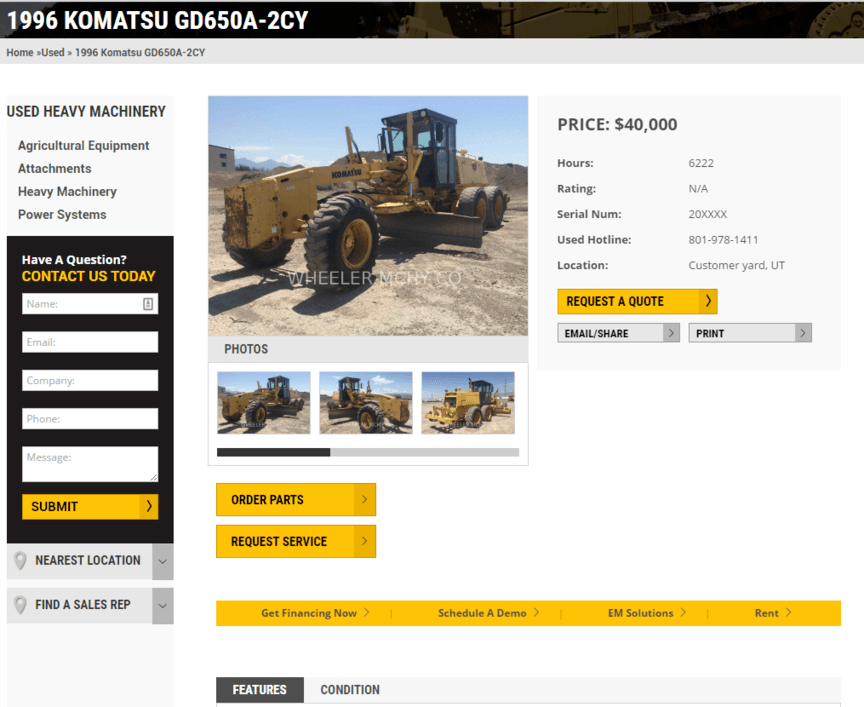 That's a lot for one page, but this kind of content is key to selling or renting your heavy equipment.
Since you're generating leads online, your customers can't actually see the equipment they're buying. That means it's up to you to show them as much of the product as you can to convince them to buy.
If you'd like to learn more about how we helped Wheeler Cat earn leads online, you can check out our portfolio.
Now that we've established the importance of content, let's go to the next step of a successful heavy equipment SEO strategy.
Step 3. Local optimization
Now that you have a full website with highly-targeted content, it's time to refine your customer audience.
For heavy equipment distributors, that means utilizing local SEO.
Local SEO lets you take advantage of search engines' geo-targeting features, so you can show up in searches for people near you.
This ensures that your online leads come from potential customers near you, instead of searchers across the country.
After all, a site visitor won't help your business if they can't come and actually buy a machine.
So let's say you operate outside Philadelphia and you want to get more business with city contractors.
You can start by creating a page of content targeting "Philadelphia construction equipment" or "Philadelphia heavy machinery."
But search engines like Google offer you a lot of other local options, too.
First, there's Google Business Profile. This program lets you create a Google page for your company that includes your name, address, phone number, and industry. Then, Google will start showing your business listing in searches from people nearby who want to buy from you.
Then, you can also add your business to Google Maps. This lets Google show your company's physical location, address, phone number, and other contact information to users right in Google search results. That means your potential customers don't even have to click on your site to get the information they need to buy from you.
For Wheeler Cat — a company with multiple locations — that local listing looks like this: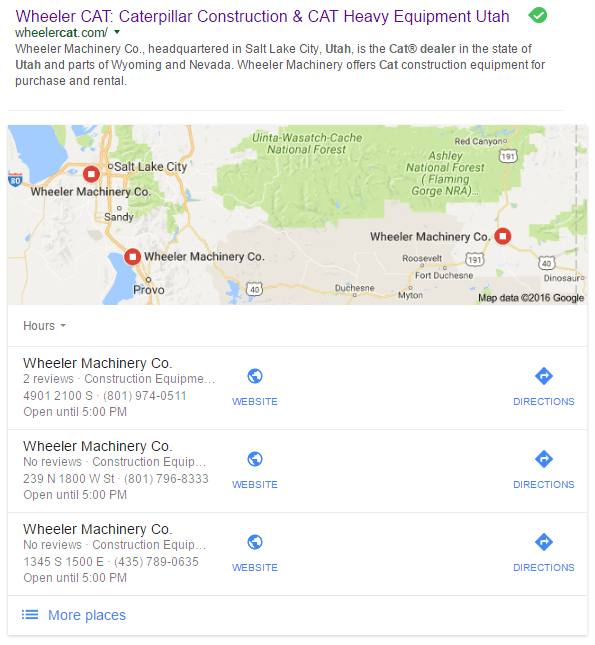 Google shows the organic search results for Wheeler Cat while also showing the physical locations of its branches in Google Maps. Then, it has links to the Wheeler Cat website, so users can click to it right away.
Users can also click on the DIRECTIONS button to have Google Maps direct them to the branch of their choice.
Better yet, that listing shows up for mobile users as well.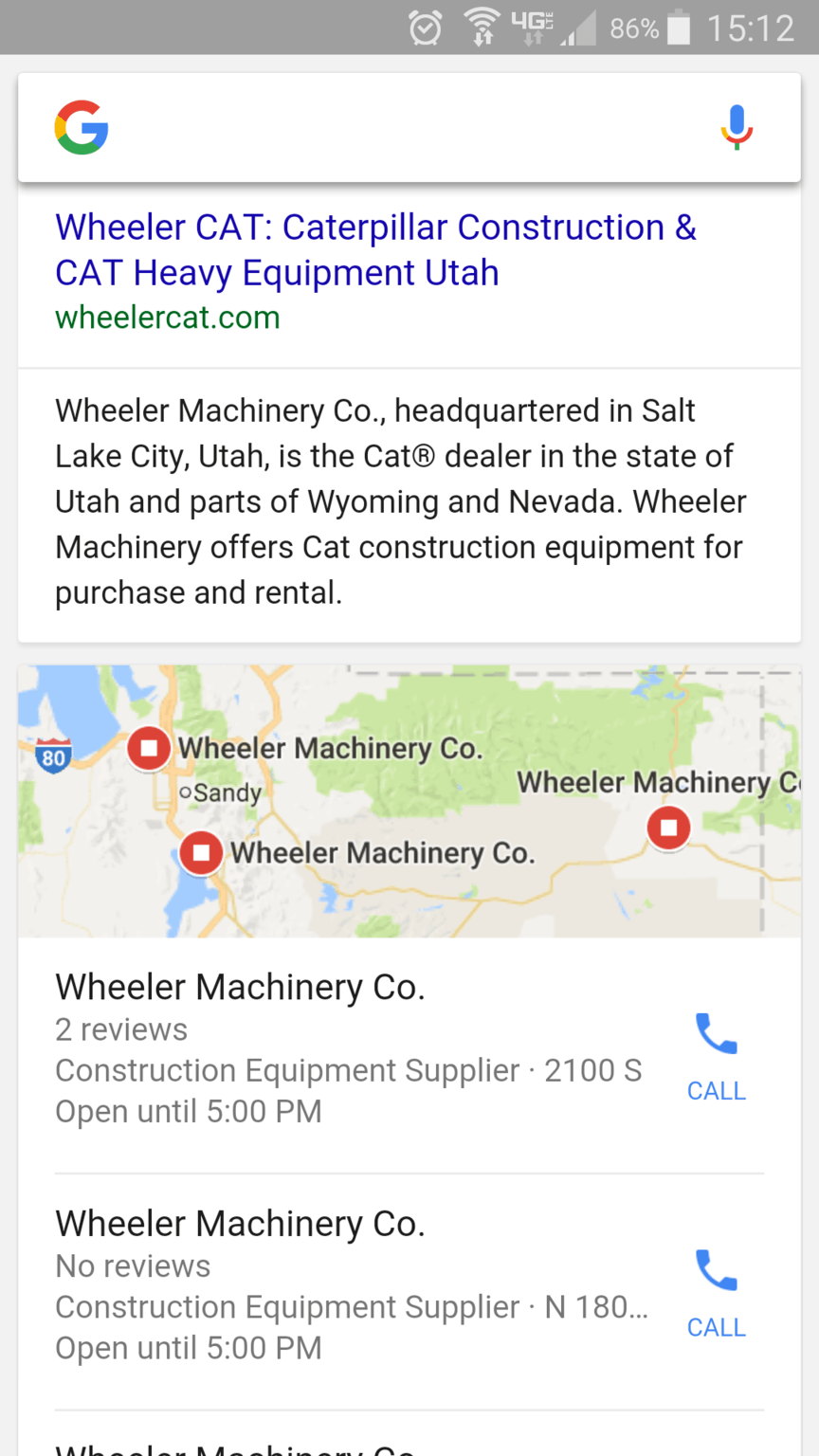 Mobile results like this are especially valuable because they let users touch a button and call your business right from their smartphones. It streamlines the sales process to be a well-oiled machine, which makes it even easier for you to get new leads with heavy equipment SEO.
Step 4. Nurture your leads
Once you start earning new leads from SEO, you have to nurture those leads just like any others.
But online leads work a little differently from regular leads.
There are lots of ways to nurture online leads, but the best way is email marketing.
Email marketing allows you to follow up with your leads, stay in their inboxes, and effectively sell to them.
Time to Level Up Your Sales
Our long list of services helps you grow every aspect of your business with marketing strategies that are proven to increase bottom-line metrics like revenue and conversions.
In the past 5 years, we've managed more than 12.9 MILLION transactions across our client base.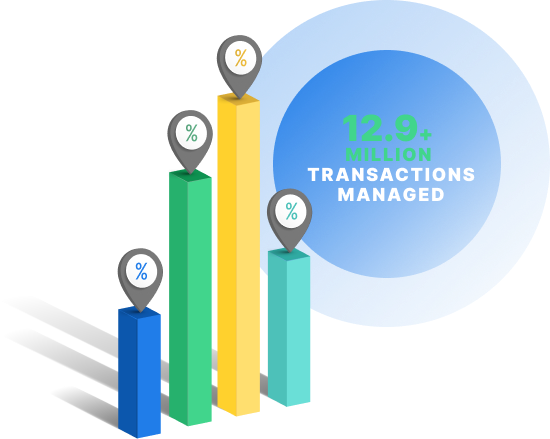 Hear What It's Like to Work With WebFX!

"Our website has experienced a significant increase in traffic since starting with Webfx. Our team is very impressed with the clicks we are experiencing with our Geo-Fencing campaigns and we look forward to seeing our monthly reports with the positive results."
Heavy Equipment Dealership
WebFX is an SEO agency for heavy equipment
At WebFX, we have a full team of experienced Internet marketers who know how to sell heavy equipment. We have more than a dozen Cat clients alone, and we've helped all of them get new leads online.
Contact us today to start selling your heavy equipment online!
Earn a 20% greater ROI with WebFX