Is your solar business' conversion rate to your liking? Calculate it below to find out.
Conversion Rate
Calculator
With online marketing for solar companies, your business can use paid and unpaid channels, like search and social, to build a competitive solar marketing strategy that drives sales.
Keep reading to learn more about using digital marketing for your solar company, as well as the five best solar marketing strategies for small and large businesses today.
If you need help with solar energy marketing, WebFX has a dedicated team of 500+ experts who will create an impactful digital marketing strategy specific to your solar company. Browse our online marketing services or call 888-601-5359 or contact us online today for your free evaluation!
5 Trusted solar marketing strategies
Learn about the best solar marketing strategies for businesses to use, as well as how these strategies benefit your solar energy marketing plan.
#1. SEO
Search engine optimization (SEO) is the process of improving your website so that it shows up more often in search engine results.
SEO is the foundation of any Internet marketing strategy for solar companies. There are thousands of searches every day for search terms like "residential solar cells" and "solar providers in my area."
Those queries show that people are looking for more information on your services, and they might even be ready to buy. That means they're just inches away from becoming customers — you just have to make sure they can find your site.
To do that, you need to optimize your site for search engines. Code your website efficiently, add essential HTML tags, and even use Schema markup to help search engines understand what your site is about.
You can also build links to your site from other websites, which search engines see as "votes of confidence" that say you're a trustworthy source of information.
With a streamlined website and lots of external links, you can begin dominating search results for the keywords that matter most to your industry.
But there's still one ingredient missing. Your site can be as streamlined as you want, but your site still needs to offer something to your visitors.
That's where content marketing campaigns come into play in solar marketing.
Earn a 20% greater ROI with WebFX
#2. Content marketing
Content marketing is the process of adding text and visual elements to your site, so visitors can find information they want.
Content marketing most commonly takes the form of a blog, which you can easily update with new information on your company, industry trends, and more.
It also includes creating handy guides for customers who want to know every detail of your services. You can also create infographics that break down data, videos that show off your facilities, and photos of your products.
The ultimate goal of content is to provide a great user experience for the people who come to your website. Interested visitors are more likely to become paying customers since they know and trust your business.
Content also establishes you as an authority in your industry. As a solar provider, you're in an excellent position to discuss any issue related to the topic.
In addition, content involves creating new pages – all of which have the potential to show up in search engine results. The more content you create, the better chance you have of getting qualified traffic to your site.
Finally, content gives other websites a reason to link to yours. If you create an outstanding infographic, for example, you can get lots of links from different sources online. This helps increase all of your pages' rankings in search engine results.
Content marketing goes hand-in-hand with SEO, which makes it an essential solar marketing strategy, because all your content should be optimized to make it successful.
Once you have content that informs readers and looks good to search engines, you'll enjoy more visitors just from the power of your website alone.
#3. Social media marketing
Social media marketing is the practice of promoting your business on popular networks like Facebook, Twitter, and LinkedIn.
Social media is especially valuable to solar companies because of the popularity of sustainable and alternative energy right now. Millions of people are on board with the idea of having their own electrical supplies — they just need to know the details to get started!
Social media lets you do exactly that. You connect with people who have a natural interest in your company, then you build relationships with them to encourage them to become customers.
This solar marketing strategy is also a great way to keep in touch with your previous customers, ensuring they got quality for their dollar and increasing the chances that they'll recommend you to others.
Facebook and Twitter also give you excellent opportunities for customer service. People who may not know how to get in touch with you can write directly on your wall or tweet at you for more information, which lets you follow up with them immediately.
This may sound like an informal way to serve your customers, and you're right — but it's a powerful relationship-builder for your company.
When it comes to an investment like solar power, customers want a provider they can trust. You build trust with them when you connect with them via social media, especially when you answer their questions, provide customer solutions, and post about your industry.
#4. Reputation management
Reputation management is the practice of improving your company's public image in search engines.
This solar energy marketing strategy is one of the more abstract ideas in Internet marketing, but it works exceptionally well for solar providers.
The key behind reputation management is search saturation. That means locating the search terms that people use to look up information about your industry, building content about those search terms, and publishing it through multiple outlets.
Those outlets could include your own website, press release websites, social networks, and more. The goal is to get as much information out there as possible to show search engine users that you're a knowledgeable, reliable, and tech-savvy business.
This strategy is perfect for businesses that have recently been the target of bad press, too. Publishing original content — which include the same search terms as the bad press — can push that negative content out of the first page of SERPs, which is the only page most people look at in searches.
So if you want to control your online reputation, you can strategically target the keyword that makes you look bad, so your potential customers will see a positive, honest representation of your company.
Earn a 20% greater ROI with WebFX
#5. Conversion rate optimization
Conversion rate optimization (CRO) is the process of finding the best possible way to turn site visitors into paying customers.
CRO is a precise, careful strategy that requires a lot of patience and critical thinking. It's extremely useful for digital marketing for solar, though, because it helps you build a better user experience and website.
The process works like this:
Find an element of your site you want to improve
Test different versions of that element over the course of several months
Track the impact on conversion rates
Find the version with the best conversion rate
Use that version on your site
The "element" that you test can be virtually anything, including on-page text, colors, buttons, images, videos, interactives, and more. No element is too minor, and all have the potential to make a huge impact.
The more conversions you get, the more leads you have for your business. That translates to more revenue, future growth, and a stronger company overall.
Time to Level Up Your Sales
Our long list of services helps you grow every aspect of your business with marketing strategies that are proven to increase bottom-line metrics like revenue and conversions.
In the past 5 years, we've managed more than 12.9 MILLION transactions across our client base.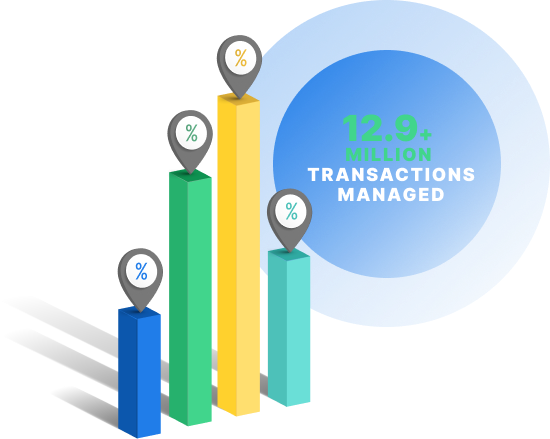 Hear What It's Like to Work With WebFX!

"I have used several SEO and internet marketing companies in the past and WebFX seems to have a more comprehensive approach to online marketing. Their customer service is outstanding and they are very professional to work with."
Solar Energy Contractor
Increase your leads, sales, and revenue with digital marketing
Get professional solar marketing help
At WebFX, we know the solar industry because it's booming in Central Pennsylvania and beyond. More residential and corporate customers are getting solar panels installed at their homes and facilities to save money in the long run — and that means your business has a lot of profit potential in the future.
We'll make sure you get the customers you need to grow your solar business. Contact us today to start promoting your solar business online with solar marketing!