Solar energy is a relatively new but quickly-growing field.
It had its biggest year yet in 2022, but the fact that most consumers are still somewhat unfamiliar with its advantages can make it difficult to market. A lot of consumers just don't realize they have the option to switch, or don't know what it entails.
This makes it an ideal industry for digital advertising. Pay-per-click (PPC) advertising is one of the most effective solar advertising ideas because of its reach, cost-effectiveness, and results.
How much more effective, though, you ask? PPC visitors are 50% more likely to purchase from you than organic visitors on your site, which is why solar energy advertising is becoming a go-to strategy.
Keep reading to learn more about using PPC for solar power advertising, and how you can create a strategy to start generating qualified leads.
P.S. WebFX has a dedicated team of 500+ experts who will create an effective and impactful PPC campaign strategy specific to your solar company. You can call 888-601-5359 or contact us online!
Traffic attracted through PPC advertising yields 50% more conversions than organic advertising.
Are you leveraging PPC in your marketing efforts? Let's get started.
View the Guide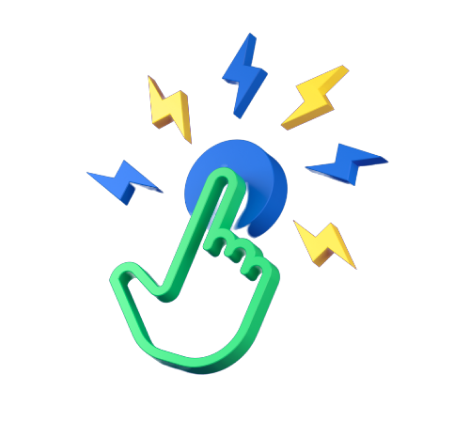 What is PPC?
PPC is a form of solar advertising that allows you to place advertisements in search engine results for specific words and phrases. Advertisers place bids on specific keywords, then when users search for those keywords, the advertisers with the highest bids earn a place in the results.
The ads are ranked based on both bids and the quality of the results relative to the search query, but the advertisers only pay if a user actually clicks on their ad. This makes PPC an extremely cost-effective model.
Each ad is made up of a title, link, and two lines of text. The goal is to get viewers to click on the link, which will take them to your website and start them on the process of becoming a lead.

Hear What It's Like to Work With WebFX!

"I have used several SEO and internet marketing companies in the past and WebFX seems to have a more comprehensive approach to online marketing. Their customer service is outstanding and they are very professional to work with."
Solar Energy Contractor
3 examples of solar energy advertising
Curious about how you can use PPC ads for solar energy advertising? Get inspired with these three examples of PPC ads from companies in the renewable energy sector.
1. Solar California
This PPC solar advertising ad targets users looking to switch to or purchase solar energy.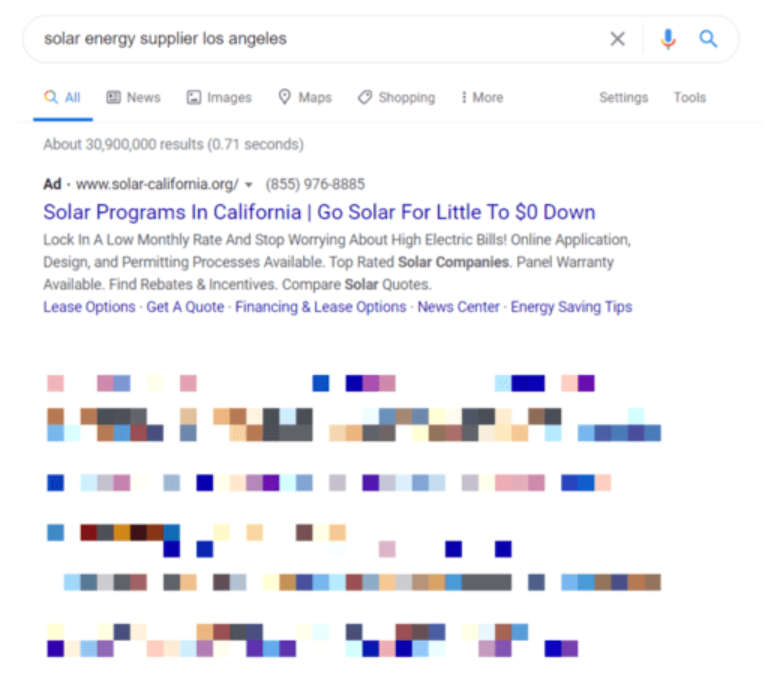 2. KC Green Energy
This PPC solar ad focuses on reaching users looking for a solar panel installer.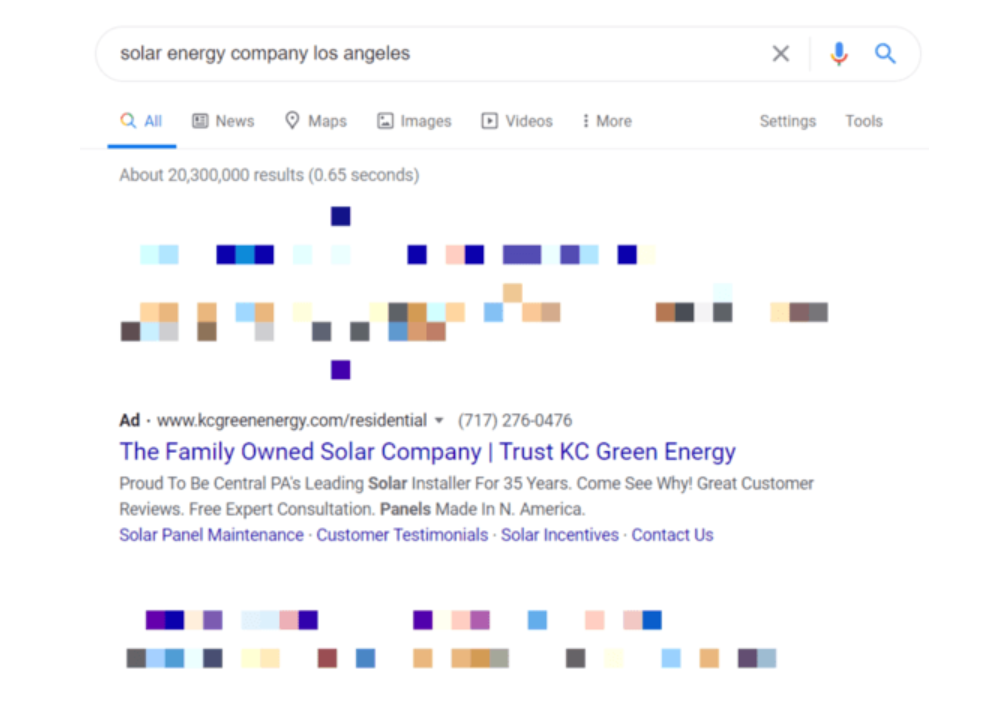 3. Trifecta Solar
This PPC solar ad aims to reach users looking for a solar panel installer, as well as a company capable of offering more custom solutions.
Why focus your solar energy advertising strategy on PPC?
Before a consumer makes the decision to purchase something, they often conduct some online research. Since switching to solar energy or installing solar panels can be a relatively complex decision and an expensive purchase, this is especially true for your industry.
Potential buyers often visit search engines as the first step in their research process, so ranking at the top of search results can be extremely beneficial. For newer companies competing with larger utilities, this can be especially useful, because you may not otherwise be able to outrank the larger companies in the field.
PPC for solar companies allows solar businesses with smaller budgets than their competitors to get in on the action, too. Since you only pay for actual clicks, there is little upfront risk involved. Plus, if one ad performs much better than another, you can stop the lower performing campaign immediately.
If you discover a solar PPC ad that works exceptionally well, you can easily put more money into it, so that you maximize your campaign results. You can also funnel more money into ads whenever it's convenient for you. For example, you could increase your PPC spending when you find that your employees have more open appointments for installations than usual.
Good agencies have more than 50 testimonials.
Great agencies have more than 100 testimonials.
WebFX has over 1000+ glowing client testimonials.
See What Makes Us Stand out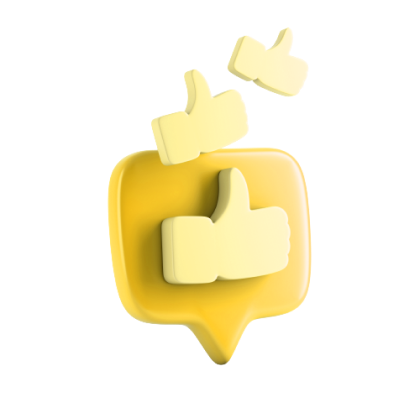 3 tips for your solar PPC advertising campaign
Launching your first PPC campaign can be challenging, but the three tips below can help you start generating results with solar power advertising.
1. Choose specific, long tail keywords
In order for a solar PPC campaign to work, you have to choose the right keywords. Your keywords should be relevant to your business, specific, and, most importantly, things that your potential customers will actually search.
To help you determine what phrases to use, you can brainstorm keywords related to your services, then use keyword research tools to expand your list.
You'll want to choose keywords that are specific and include long, descriptive phrases. These are called long-tail keywords.
You could use shorter, more general phrases like "solar power" or "renewable energy," but they'll be expensive, because many other advertisers are trying to rank for them. They won't necessarily get you the traffic you want, either, since they're so general.
A better choice would be something like "rooftop solar panel installation in Albuquerque." This will be cheaper, because it's less common, and is more likely to attract traffic from users who will actually become customers (provided, of course, that your company services the Albuquerque area).
2. Optimize your landing pages
Although a perfect keyword is crucial, it's only the first step. For a PPC ad to really generate leads, it needs to bring visitors to a landing page that encourages them to move through the conversion funnel.
This is the process each visitor takes from potential customer to paying customer. Its basic levels are awareness of the product, interest in the product, desire for the product and, finally, taking an action such as making a purchase or signing up for an email list.
For a landing page to successfully move someone through the funnel, it should include a call to action that clearly lets the visitor know what you want them to do. It should also be uncluttered and optimized across devices, because an unattractive website that doesn't load will make people click away.
3. Analyze and revise regularly
Once you've got your campaign up and running, come back to it periodically and determine its strengths and weaknesses. Which ads were clicked on the most? Which ones had the biggest return on investment? Then, keep what worked and change what didn't.
Monitoring services like Google Ads can help you to track your campaigns' progress. You'll find that some ideas worked well, while others didn't.
What works may even change over time. It's all part of the ever-evolving process, but keeping close tabs on your marketing will help you stay on top of everything.
Get more leads from solar advertising with PPC
The solar industry is still a growing one, but companies who take advantage of online channels like PPC for solar advertising have a chance to get ahead of the curve and convert consumers who are still in the research phase into customers.
If you're considering launching a PPC campaign for your solar company, WebFX can help. Our account managers have years of experiencing creating and managing effective PPC campaigns for hundreds of clients, and we'll do the same for you.
Contact us today to speak with a strategist and learn more about how our PPC services can help your company grow!
Earn a 20% greater ROI with WebFX