As homeownership increases — it's hit an all-time high of 64 percent in the U.S. — the demand for cabinets has also increased. In fact, the most common home improvement projects are for bathrooms and kitchens, two rooms shaped by their cabinetry.
That growing demand provides your business with the opportunity to improve its revenue, client base, and reputation. It's only a matter of promoting your unique selling points, as well as reaching your ideal client.
How do you do it? Internet marketing.
With WebFX as your partner, we'll research, strategize, and launch a digital marketing campaign that drives valuable traffic to your website and delivers the revenue you're after.
Keep reading to learn more or call 888-601-5359 (you can also contact us online) to chat with one of our strategists about our digital marketing packages!
Our digital marketing campaigns impact the metrics that improve your bottom line.
See More Results

WebFX has driven the following results for clients:

$3 billion
In client revenue

7.8 million
Leads for our clients

5.2 million
Client phone calls
How can Internet marketing help your cabinet company?
For cabinetry manufacturers today, it's essential to invest in Internet marketing. With our experienced team, as well as innovative strategies that we tailor to your company's goals and standards, you can expect several measurable results, including:
Increased website traffic
By bringing valuable, relevant traffic to your website, you're improving your chances of converting visitors into customers. As a cabinetry manufacturer, for instance, you can showcase your products and direct viewers to a certified dealer near them.
Some critical factors that increase your website traffic include keywords, content, and off-page signals. While you can control the content you create and the keywords you use, outside websites affect your off-page signals.
A website including a link to your recent blog post, for instance, is an example of an off-page signal.
To demonstrate the impact of digital marketing on your website traffic, consider what our experienced team did for Green Diamond Builders, a full-service construction company for residential and commercial homes.
In a 90-day period, our team increased the organic search engine traffic of Green Diamond Builders by 298 percent, providing them with a number of qualified leads. As a part of that campaign, we implemented those critical factors, like relevant keywords and engaging content.
Boosted conversion rate
In addition to driving relevant traffic to your website, digital marketing for cabinet manufacturers also focuses on converting that traffic via conversion rate optimization (CRO). Our team assesses several aspects of your website, looking for natural opportunities to encourage viewers to become customers.
To demonstrate that aspect of Internet marketing, consider our work for Empire Cat — we doubled their conversion rate. That provided them with the opportunity to increase their revenue, plus hit new growth milestones.
Improved revenue
Like any business, your goals focus on providing your company the chance grow, generating more revenue and opportunity for the communities that you call home. While digital marketing contains several tools, they all focus on the overarching goal of improving your profits.
Already, we've generated almost $500 million in revenue for our clients in the last 12 months.
In today's competitive market, it's essential to bring digital marketing into your strategies. Otherwise, it becomes too easy for competitors to outrank your business and too hard for shoppers to find yours — and that's what our team works to resolve and prevent.
Time to Level Up Your Sales
Our long list of services helps you grow every aspect of your business with marketing strategies that are proven to increase bottom-line metrics like revenue and conversions.
In the past 5 years, we've managed more than 12.9 MILLION transactions across our client base.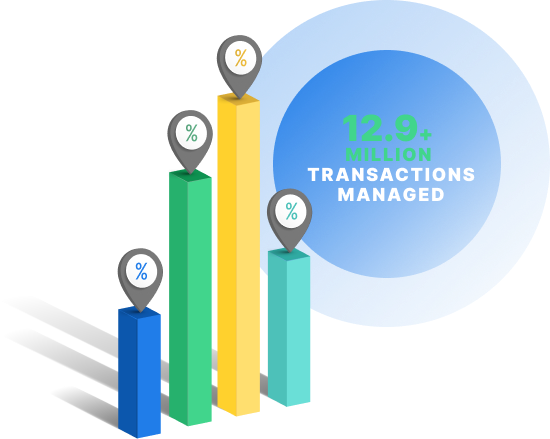 Hear What It's Like to Work With WebFX!

"WebFX has taken our PPC and SEO strategy to the next level. They always provide thoughtful ideas to further our brand awareness."
Cabinet Company
5 Internet marketing strategies that work for cabinet manufacturers
During our decades of experience as a trusted partner of leading cabinet manufacturers, we've found several Internet marketing strategies to work with success, delivering measurable and actionable results that help your company.
Here are five of the best digital marketing strategies for your cabinet manufacturing business:
1. Search engine optimization (SEO)
A critical component of any Internet marketing strategy is search engine optimization (SEO) — in fact, for generating revenue online, it's essential. The idea behind SEO is that you're optimizing your website for search engines, like Google.
A few techniques for accomplishing that include:
Keyword research
When you conduct keyword research, focus on finding relevant words or phrases that your target audience uses when searching for products you may offer, like kitchen or bathroom cabinets. Then, incorporate them into your website's content, such as your titles, headings, and meta descriptions.
Link building
Content leads to link building but focuses less on product pages and more on your active blog. If you're sharing engaging and timely articles, for example, that encourages external or outside sites to share or link to your content. That action contributes to your SEO ranking.
Page speed
Another factor is page speed. If your website requires several seconds to load, that diminishes the user experience — and this is a challenge for your cabinet manufacturing company, as images are essential to your website. A one second improvement to your page speed, however, increases conversions by seven percent.
That's why it's essential to optimize not only the content of your pages but also their load times.
2. Pay-per-click advertising (PPC)
Another tool for promoting your cabinetry company online includes pay-per-click marketing (PPC), which lets you advertise to targeted audiences. The PPC feature that many businesses benefit from is that you only pay for the clicks you earn, so it's a cost-effective option.
As well, when users come to your site via a PPC ad, they're 50 percent more likely to purchase your product than an everyday organic visitor. So, if you're thinking about bringing PPC into your cabinet manufacturing company's digital marketing plan, aim for specific, long-tail keywords.
Why?
Less competition, but more value. A search like, "kitchen cabinets," is quite broad and generates results from big-name companies, like Home Depot, which places an immense challenge on your company to rank.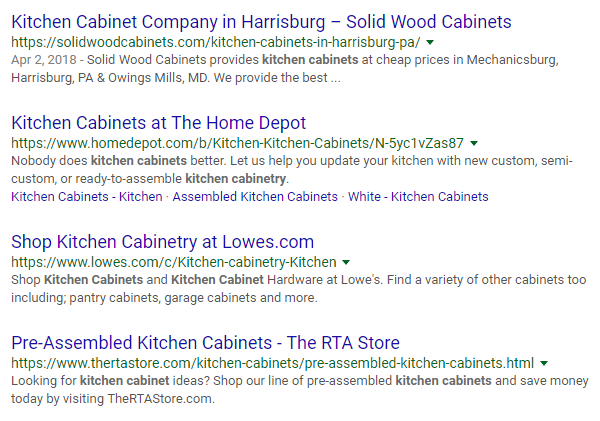 In comparison, "cherry wood kitchen cabinets with black granite," is a long-tail keyword that specifies what the user wants in explicit detail. If you offer those kinds of cabinets, that's an excellent opportunity and keyword phrase to optimize for, letting you earn valuable and qualified leads.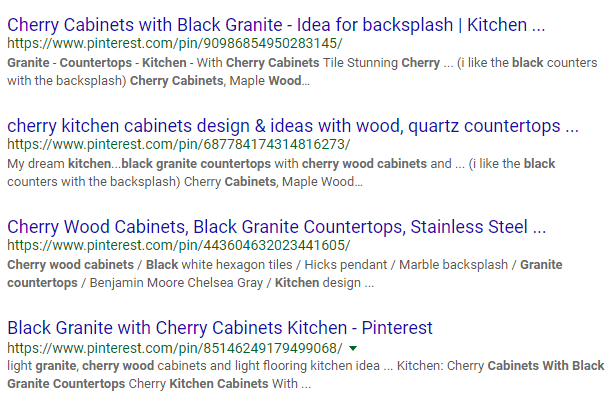 An excellent example of how our team applied long-tail keywords to PPC advertising is Tabor Design Build, a residential contracting company. In a year, our PPC campaign increased the click-through-rate on their PPC ads by more than 1000 percent.
3. Social media marketing
The growing importance of social media marketing in business, even manufacturing, is undeniable. It's an excellent tool for your company, as well as your approved dealers, providing you the means to connect with clients and influencers, receive feedback, and respond to potential dissatisfaction.
As well, platforms like Instagram, Pinterest, Facebook, Twitter, and even LinkedIn offer you another marketing outlet. Emphasize your role as an industry leader by sharing posts from your website's blog. Or, highlight your newest products by posting photographs and videos.
If you incorporate social media into your digital marketing plan for your cabinet manufacturing company, remember to invest in social media platforms relevant to your audience and appropriate for your business.
At WebFX, our talented team of social media specialists works with a variety of platforms, including LinkedIn, Instagram, Facebook, and more. Plus, they take the time to research your audience and discover their preferred platforms, maximizing your investment and returns.
4. Content marketing
For shoppers today, content marketing is beyond valuable. In fact, as a form of inbound marketing, it generates 54 percent more leads than traditional approaches. So, what does content marketing mean for you, as a cabinet manufacturer?
It means producing engaging and relevant content, like a blog post, ebook, or white paper, for your audience. It's essential, however, that you develop content that's worthy of shares and links from external sites, which our content marketing strategists specialize in to improve your success.
In fact, they bring more than 150 years of combined experience to the table.
5. Email marketing
Today, email marketing is one of the most effective digital marketing strategies available. In fact, for every $1 your business invests, you can earn up to $44 — that's a 4400 percent return on your investment, and one our team's ready to help you receive.
That said, several techniques go into creating a successful email marketing campaign, including:
Growing your list of subscribers
Segmenting your subscribers
Personalizing your emails
Creating your email content and subject lines
Delivering your emails at the best times
Optimizing your emails for mobile devices
Tracking your email performance
With our tailored plans, we ensure we launch a performance-driven email marketing campaign for you.
Need a trusted partner for your digital marketing?
At WebFX, we let our results speak for themselves. With our hands-on approach to digital marketing, as well as our complete suite of Internet marketing services, we've continued to exceed our clients' expectations for more than 25 years — as demonstrated by our testimonials!
If you're looking for a digital marketing company that your business can trust, we're it. We see you as a partner, not an account number, and that's a belief that our team embodies every day, whether they're chatting with you, researching your competition, or analyzing the latest results of your campaign.
With a client retention rate of 91%, it shows too.
Chat with us today at 888-601-5359 or contact us online to get started!
Earn a 20% greater ROI with WebFX