Did you know that 49 percent of organizations don't have a defined digital marketing strategy? If you're part of this 49 percent, you're missing out on great opportunities to reach people interested in hiring a private investigator. A strong digital marketing plan will help you connect with more clients and boost your revenue.
It's time to put your sleuthing skills to work by investigating digital marketing strategies.
On this page, we'll provide you with three awesome digital marketing strategies to help you gain more clients. If you want to learn how you can obtain more leads for your business with digital marketing, call us today at 888-601-5359 or contact us online to speak with a strategist.
Let's get started!
Our digital marketing campaigns impact the metrics that improve your bottom line.
See More Results

WebFX has driven the following results for clients:

$3 billion
In client revenue

7.8 million
Leads for our clients

5.2 million
Client phone calls
1. Use search engine optimization (SEO) to drive traffic looking for private investigators
Ninety-three percent of all online experiences start with a search engine. When people search online for private investigators, you want your business to appear at the top of search results.
Search engine optimization (SEO) will help you rank higher in search results and drive more qualified traffic to your website.
To start using SEO, choose the keywords you want to target. In other words, you'll need to identify the terms people search online to find private investigators like you. Keyword research will provide you with a list of keywords you can target to reach more qualified customers.
Then, you can target those keywords on your site and create custom copy to address them.
When conducting keyword research, you'll want to focus on long-tail keywords — phrases with three or more words. Long-tail keywords are better for your SEO campaign because they attract more qualified traffic.
If someone searches a long-tail keyword like "private investigators in Harrisburg, PA," you can deduce that they are looking to hire a private investigator in the Harrisburg area. However, if someone searches a more generic phrase like "private investigators," it's harder to figure out what they want to find. For instance, they might be researching how to become a private investigator, looking for more information about what a private investigator does, or trying to hire a private investigator.
Aside from keyword selection, there are other crucial aspects of SEO. Factors like optimizing page speed, cleaning up code, and earning backlinks all impact your site's performance.
SEO is one of the best methods for driving valuable traffic to your site. People interested in finding a private investigator will find your site easier and check out your business.
With programs like MarketingCloudFX, it's easy to manage your SEO campaign. Call us today at 888-601-5359 to speak with a strategist to find out how MarketingCloudFX can help you achieve your SEO goals!

Hear What It's Like to Work With WebFX!

"WebFX did amazing work creating a new website for us on a tight schedule. They have taken the time to learn about our business and give us ideas of how to make our digital marketing better. We still have work to do with WebFX but overall very pleased."
Professional Service
2. Attract clients interested in private investigators with pay-per-click (PPC) advertising
Pay-per-click (PPC) advertising is a valuable method for attracting leads that are ready to hire a private investigator. These paid ads appear at the top of the search results, above the organic listings. They're tagged with the word "ad" to indicate paid content.
Like SEO, these ads operate on keywords. You'll want to focus on long-tail keywords because they produce the best results for your business. Long-tail keywords have less competition, which leads to a lower cost-per-click (CPC).
You want a lower CPC because it means you can get more clicks for your campaign. When you enable more clicks, you create an opportunity for your business to obtain more valuable leads.
Once you have your keywords selected, you'll bid for your ad's placement. This is done through Google Ads. You'll set your maximum bid, which is the amount you're willing to pay each time someone clicks on your ad.
Your maximum bid and quality score will determine your ad's placement. Once you have your placement, you'll launch your campaign. From the moment you launch your campaign, you can monitor your campaign's success.
PPC makes it easy for you to see how well your campaign is performing. You can track metrics like clickthrough rate (CTR), impressions, and conversions in the dashboard of Google Ads. This will help you find out what you're doing well and how you can improve your PPC campaign to earn even better results.
If you're looking for a cost-effective digital marketing method, PPC is the answer. Whether you want to spend $200 or $2000, you set the amount that works best with your budget. It's important to note, however, the amount you choose will affect your campaign's success.
PPC is a great method that helps private investigators connect with potential clients. You'll attract people you know are looking for your business. It's beneficial to helping you put your business in front of people who are looking for it.
3. Content marketing
As a private investigator, you have knowledge and experience that is valuable. Why not share some of that information with your audience? With content marketing, you can share helpful information with your audience to build their trust in your business.
Content marketing helps you establish yourself as an authority in your field. When you share your knowledge, your audience trusts that you know what you're doing.
There are many forms of content delivery. This includes blogs, videos, infographics, and ebooks. You'll want to choose formats that appeal to your audience the most.
Once you know your format, you can think of topics. If you aren't sure what topics to cover, try conducting a quick Google search. Go to the "People Also Ask" section and see what questions people ask about certain topics.

For instance, when you search "private investigators," questions like "How much does a private investigator cost?" and "Can a private investigator wiretap your phone?" come up.
From this information, you could create a blog post about how much private investigators cost or create a video about what a private investigator can do. It's a great starting point to help you create valuable content that answers important questions for your audience.
Content drives leads to your page. People conduct searches looking for valuable information. When they find your blog post or video, they check it out.
After they check out your content, they'll look at the rest of your site. This is where they'll start to build brand recognition and become familiar with your business.
Some leads may not convert right away, but they will remember your business. When they're ready to hire a private investigator, they'll remember your helpful information and choose your business over your competitors.
Content marketing adds value to your business' digital presence. You'll reach leads you may not reach through other methods. It's a successful way to obtain leads interested in hiring a private investigator.
Investigate a digital marketing plan from WebFX
Digital marketing doesn't have to be a mystery. With a plan from WebFX, we have the knowledge and expertise to help private investigators attract valuable leads.
We're a full-service digital marketing company that offers a variety of marketing methods to help you reach clients. Our team of 500+ experts will help you create a customized campaign that works for your business. With more than 25 years of experience, we know how to create campaigns that drive results.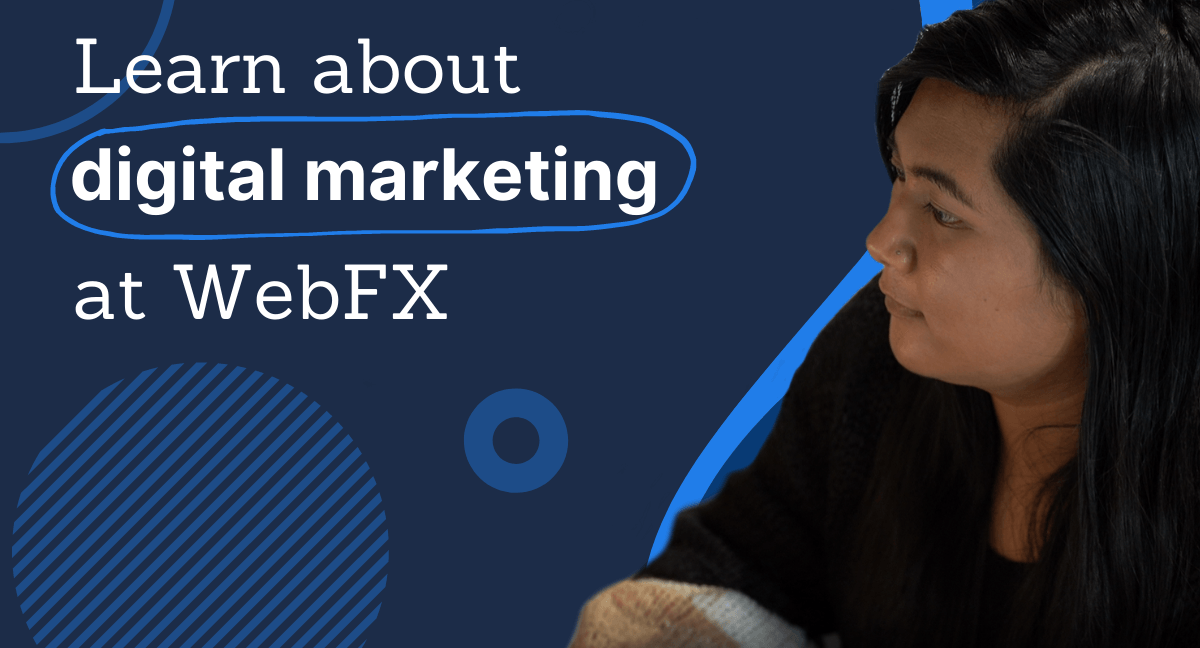 If you're looking for a digital marketing company that will drive valuable results for your business, look no further than WebFX. To date, we've driven over $3 billion in sales and over 7.8 million leads for our clients.
Our clients love the work we do for them. In fact, we have over 1020 client testimonials that attest to the awesome work we do for them. Check those testimonials out to see what it's like to partner with a top digital marketing company like WebFX!
Get started today
If you're ready to obtain valuable clients through digital channels for your private investigation business, contact us online or call us today at 888-601-5359 to speak with a strategist.
We look forward to helping your business grow!
Earn a 20% greater ROI with WebFX