If you own or manage a hotel, you have a deeper relationship with your customers than people in other businesses. Even for a short stay, they rely on you for advice about dining, entertainment, and accommodation of their needs.
Since you're expected to be a reliable source of information, what better way to reinforce this reputation than with content? Numerous studies have shown the value of content in most marketing strategies. It's a great way to build customer loyalty, increase engagement and strengthen your branding position. It's also an excellent way to supplement marketing, operations and customer service.
If you've never considered content marketing before, now is the time to start. Today, we're offering you some helpful tips on hotel content marketing, and some ways that you can start content marketing for your business, whether you run a luxury hotel or family motel chain. If at any time you'd like to speak with a professional, feel free to contact us at 888-601-5359.
Why is content marketing for hotels beneficial?
Prospective guests have a lot of questions about your hotel, but they can't always get answers in traditional marketing messages. In fact, consumers are trusting traditional ad messages less and less. Content marketing can restore trust in your hotel because it's based more on educating readers than on selling to them.
That's one reason to implement a content marketing strategy for your hotel. There are several others, which you can learn about below.
Content gives you a competitive edge
Content should answer questions, entertain, or provide valuable information to its viewers. When your hotel produces content that informs and entertains, prospective guests begin to rely on your insights when it comes to travel—and eventually trust your hotel to make their next trip more enjoyable.
This can give you a big edge over the competition, especially if they're not offering any kind of advice, online content, or custom features. Not only does it make you look more engaged, content can help with your search engine rankings (commonly called your site's SEO, or search engine optimization), which in turn makes your hotel more visible than others in searches.
Content lowers the costs of marketing
Even for a luxury hotel, ad costs can be extremely prohibitive. What's more, the waning influence of sales and marketing campaigns makes advertising less effective and profitable. Consumers are now much less likely to respond to printed advertising or direct mail than they may have been in the past.
With quality content, your hotel can introduce itself to travelers, build relationships, and generate new leads and bookings—all for a fraction of the cost of traditional marketing.
Content can offer better reputation management
Not every guest will walk away happy. Guests may complain about poor room service, hidden charges, or rude employees.
If you're regularly producing quality content, though, your website gets the upper hand. Fresh content and sites with hundreds of pages rank higher in search engines, so your positive messages will outperform negative ratings, and be more likely to show up in a search for your hotel's name.
In addition, having an actual reputation management campaign in place can boost the effectiveness of your content in terms of helping your hotel have a high-quality reputation.

Hear What It's Like to Work With WebFX!

"All of my interaction with our account manager has been so positive. I worried about the amount of money I was spending and she has made it worth my while. I understand there is a team behind her as well but I have been so impressed. Her responsiveness is outstanding."
Real Estate Rental
How do I create a content marketing strategy for my hotel?
As you can see, content marketing accomplishes far more than simply filling up rooms. It also makes those rooms in demand by tourists, business travelers, or whatever clientele you want to attract.
The next question is how to develop content that attracts your target audience. Answering this question starts by defining a content marketing strategy that is right for you.
Every hotel has a different look and feel, so no two content strategies will be alike. If yours is going to succeed, it has to reflect your property, target guests, and unique blend of accommodations and services. Only your marketing team knows what that is, but these steps will help you put your plan in place.
Set your goals
What exactly do you want to achieve with content marketing for your hotel? More reservations? More returning guests? A competitive advantage?
This is the first question you need to ask (and answer). This is because it affects every other aspect of your strategy. For instance, if your goal is to increase bookings, focus on content with special discounts and incentives. If you want to position your hotel as a luxury property, develop content for upscale professionals.
Choose the right channels
Your potential guests are online, but they're not everywhere. One common mistake among content marketers is assuming wide reach leads to better results. In fact, this approach can cost more over time because you spend too much time on ineffective channels and too little time on the most profitable.
The best strategy is to focus more energy on fewer channels. For example, instead of blogging, developing infographics, being on social media, and developing custom videos, you could spend the same amount of time writing articles for your hotel website and see better results.
The right channel depends on your target audience. Families will visit sites like TripAdvisor for information on your city. Business travelers may spend more time on LinkedIn, so they would read content there. Know where your guests go and create content for those sites.
Select relevant topics
Potential guests who are browsing the Internet will show you the relevance of your content by how often they read and share it. But what topics are important to your guests? There are several ways to find out.
One way is to visit several travel sites and find out what kinds of questions travelers are asking. Another is to keep track of what your own guests are asking and build content that provides the answer.
For example, if you notice that "where's the best place to have a business dinner in this area?" is a common question, you could write a page answering that topic, with links to the websites of the restaurants you recommend.
Create new content as often as you can
If you commit to a hotel content marketing strategy, devote significant time to it. Studies show users are more engaged with sites that produce content on a regular basis.
Of course, the right level of frequency depends on how much content you can provide. As a general rule, you need to post blog content once a week and on social media at least once a day.
If you run out of topic ideas, consider repurposing content for a different site or social media channel. For example, you can use an article you've already written as the basis for a social media post, or write a blog post based on a review on another website with photos that you found really compelling. (Just remember to get permission first!)
Measure your efforts regularly
Most content marketing strategies begin with an assumption of what will work. They all need an analytics program to show them what actually works. Have a system in place for measuring clicks, views, shares and other important metrics.
Doing this usually requires using a program like Google Analytics. Google Analytics is free, but the challenge is usually in figuring out how to use it. You might consider hiring an expert to monitor the success of your content marketing, report on your metrics, and make recommendations for you.
Get more bookings with content marketing for hotels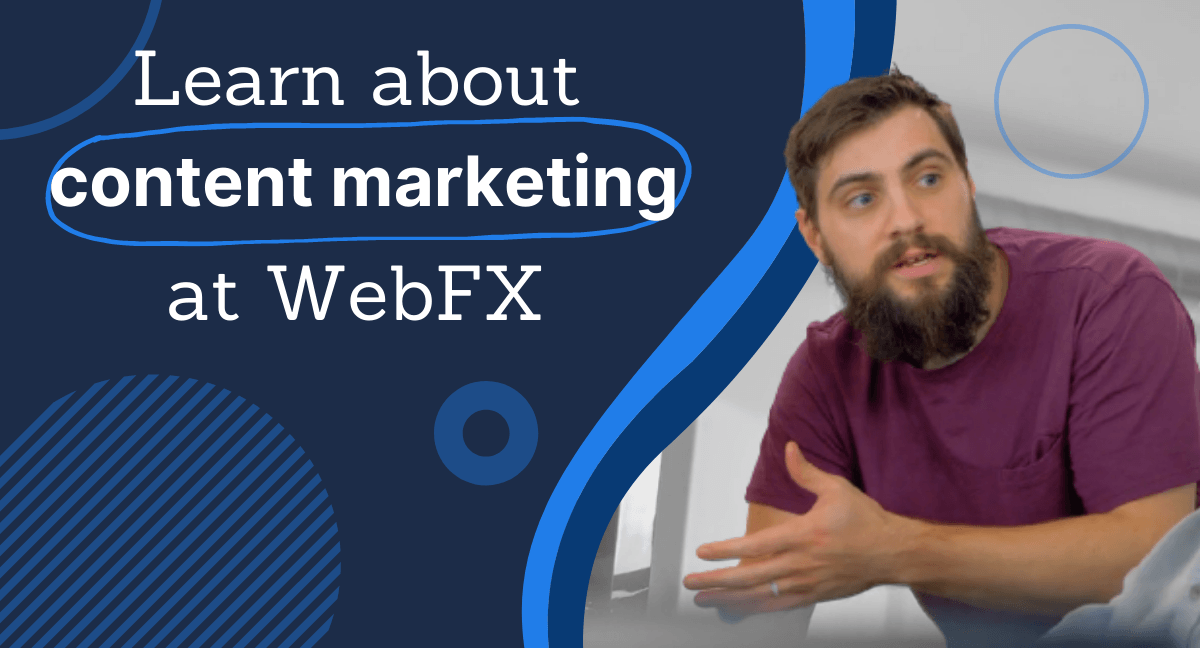 Guests stay in your rooms because you know how to make their business trips or vacations more satisfying. Hotel content marketing is a great way to highlight this expertise. Instead of constantly using hard sales tactics to book rooms, why not try content marketing instead?
If you're ready to try content marketing for your hotel or luxury chain, but think you might need a little help kicking things off or creating new pieces, we can lend a hand. WebFX is a leading Internet marketing and content marketing firm that has helped more than 1020 clients find success online—and we're standing by to help you, too.
Just give us a call or contact us online today to talk to a content marketing expert about your needs. We'll create a customized quote just for you. We can't wait to hear from you!