Email marketing is one of the most effective marketing strategies business-to-business (B2B) companies can implement today.
In fact, you can earn $44 for every $1 spent on an email marketing campaign — that's an impressive 4400% return on investment (ROI)! With numbers like that, it's a no-brainer why more than 89% of marketers say email marketing is their primary strategy.
If you're looking to drive more revenue with email and need some inspiration to help you get started, we've got you covered.
Keep reading to check out the six best B2B email marketing examples of 2023. Here's a quick overview of the types of emails we'll cover below:
P.S. Sign up for our newsletter, Revenue Weekly, for even more advice about how to implement a revenue-driving email campaign! Our subscribers get email marketing tips, and tricks sent straight to their inbox for free from our award-winning experts!
6 best email marketing examples of 2023
Check out 6 best examples of B2B email marketing below:
1. B2B drip campaign example- Zapier
If you're looking for one of the best B2B email marketing examples, look no further than this email from Zapier.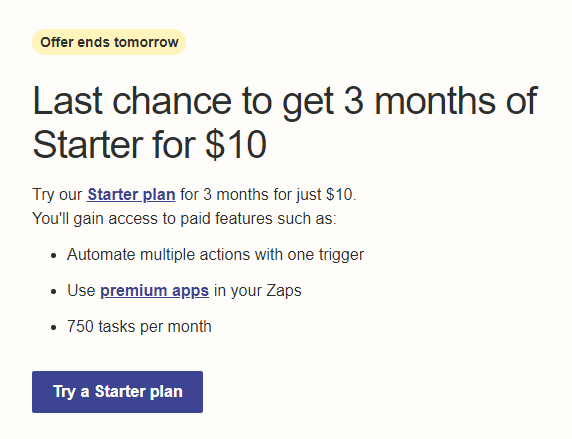 Zapier is an automation tool that helps you save tons of valuable time by automating your tasks and processes.
In this example, Zapier sends a series of emails to users who signed up for their trial. Once the free trial ends, Zapier sends a few weekly emails with offers and discounts on their software.
Sending this series of emails is an excellent way for Zapier to remind users that their free trial has ended and that they'll need to purchase the software to continue using it.
By offering time-limited discounts, Zapier can encourage more users to continue using and paying for their software, making these emails one of the most effective B2B drip campaign examples.
2. B2B personalized email example – Microsoft
Prospects love personalized content. It shows them that your business understands their unique needs and interests. Plus, creating personalized emails helps you increase your conversions by over 10%!
Let's look at one of the best B2B personalized email examples from Microsoft.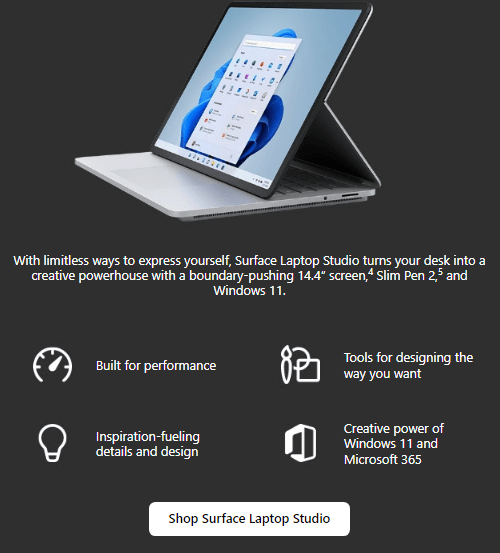 The tech company loves to tailor their emails towards their prospects and current customers' interests. Based on your browsing and purchasing habits, Microsoft sends an email with personalized recommendations for products you and your team will enjoy.
By sending personalized emails like this one, you can send your prospects product and service recommendations that they'll be interested in, boosting your sales and conversions.
3. B2B automated email example – Adobe
Sending automated emails is an excellent way to stay in touch with your prospects and clients with little effort on your part.
Here's a B2B automated email example from Adobe: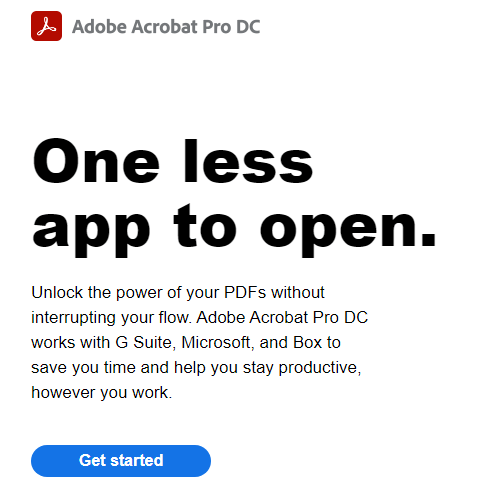 In this example, Adobe automatically sends an email after a user purchases the Adobe Acrobat Pro DC. In this email, Adobe informs their customer about additional Adobe Acrobat Pro DC features to ensure the user gets the most out of the product.
By sending automated emails like this one, Adobe regularly communicates with their customers, which helps them build long-lasting relationships that turn into brand loyalty.
It also informs users about additional features they might not have been aware of before. As a result, the user will have a more positive experience with the product and will likely continue to use it in the future.
4. B2B business update email example – Grammarly
Next on our list of the best B2B email examples is this business update email from Grammarly. Grammarly Business is a popular grammar checking and productivity tool that helps entire teams write with higher quality and clarity.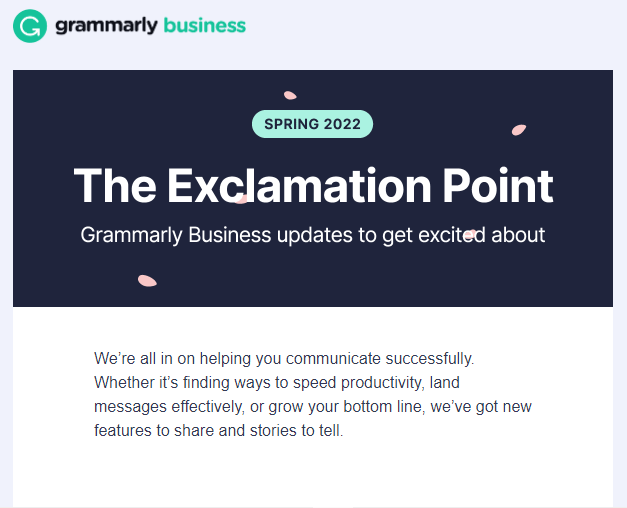 In this email, Grammarly provides updates about their company and new product features for their current customers.
Sharing business updates with your email subscribers is an excellent way to stay in touch with your current leads and prospects. It also helps you nurture your leads by providing them with more information about your business and the products and services you offer.
When you share business updates with your audience like Grammarly, you can inform your prospects about new products, services, and features. As a result, you encourage more leads to convert into clients and build brand loyalty with your current customers.
5. B2B content marketing email example – Trello
If you're still searching for inspirational examples of B2B email marketing, look no further than this example from Trello. Trello provides an excellent project management platform for companies and individuals.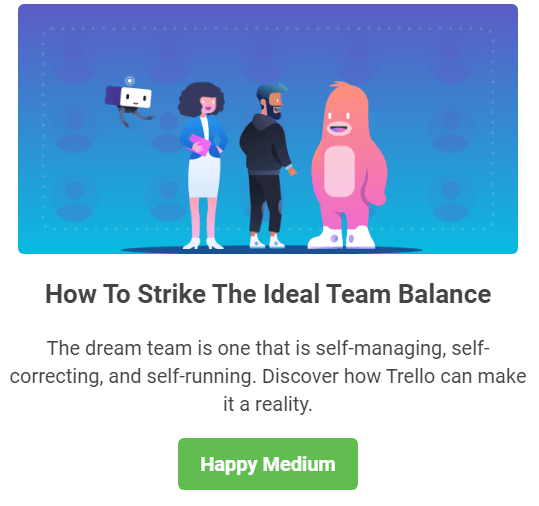 In this email, Trello expertly shares content from their blog with their current customers and email subscribers.
Creating custom content like blog posts, guides, and videos is one of the best ways to show off your industry expertise and provide prospects with answers and solutions to their problems.
And sharing your content with your email subscribers, like Trello does, helps you get more eyes on your content.
As more prospects read your content, they'll learn more about your business and services. As a result, you can generate more leads and conversions for your company.
6. B2B welcome email example – PayPal
Next on our list of the best B2B email examples is this welcome email from PayPal. PayPal enables businesses and individuals to make payments, purchase products, and more.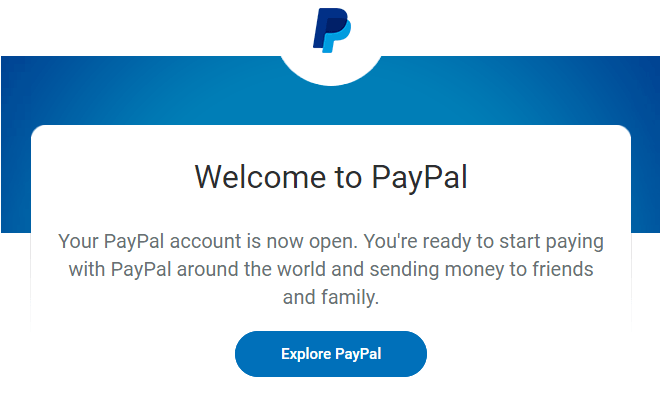 In this email, PayPal introduces themselves to brand new customers by sending a warm, welcoming email.
Sending welcome emails like this one from PayPal is a great way to make your email subscribers and current clients feel valued.
A welcome email is one of the first interactions your email subscribers and potential clients will have with your business.
It's essential to welcome your prospects and clients after they subscribe or invest in a product. It helps you pave the way towards building stronger relationships that turn into conversions and loyal customers.
WebFX specializes in B2B client success.
Wheeler Machinery Co., saw 82% higher average time on site after partnering with WebFX for SEO, CRO, web design and development, and website content services.
See Case Study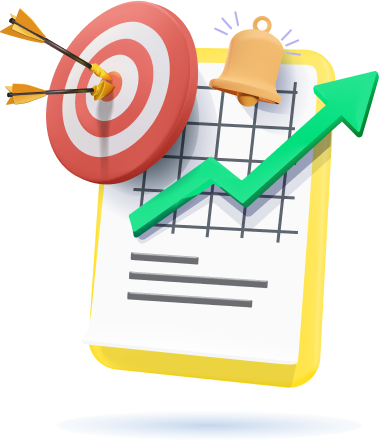 Bring these B2B email marketing examples to life with WebFX
Are you ready to drive more conversions and revenue for your business with email marketing but not sure how to get started? The email marketing experts at WebFX can help!
Our B2B email marketing agency specializes in crafting personalized, revenue-driving email campaigns that nurture leads and encourage them to convert into loyal clients.
Ready to get started with your custom email marketing campaign? Chat with one of our strategists by calling 888-601-5359 or contact us online to learn more about how our B2B email marketing services can help your business reach new heights!
How is your website's SEO?
Use our free tool to get your score calculated in under 60 seconds.
WebFX Careers
Join our mission to provide industry-leading digital marketing services to businesses around the globe - all while building your personal knowledge and growing as an individual.