When you sell your products through online marketplaces, it's crucial to take advantage of every opportunity to reach people interested in your products. With these online marketplaces, you can advertise and promote your products to help reach more qualified leads. If you're looking to advertise products on Alibaba, we're here to tell you how to do it!
Keep reading to find out how to advertise on Alibaba and alternative ways to sell more products through the platform! P.S. Want to get the latest tips and tricks for marketing your business online? Join 200,000+ savvy marketers by subscribing to Revenue Weekly!
Partner with a team of ecommerce masters!
WebFX campaigns have delivered more than 12,936,451 ecommerce transactions in the last 5 years

Read the Case Studies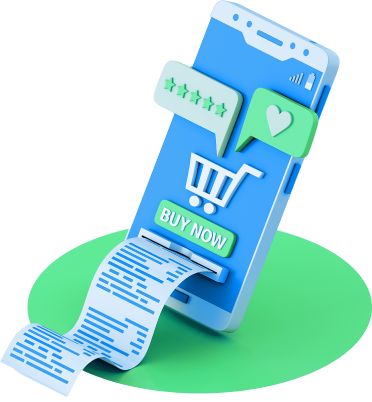 Advertise on Alibaba: How to advertise your products
So, what are your options to advertise on Alibaba?

With Alibaba, there is only one option for advertising your products: Keyword Advertising. Keyword Advertising is an advertising option that's only available to Gold Suppliers, which is the premium membership of Alibaba.
You can use this advertising option to target people based on their geography, click history, and more. It's a great way to help your products appear higher in more relevant searches so that you can attract more customers. With this option, you target specific keywords related to your products.
When your listings appear in search results, you'll only pay when someone clicks on your product listing.
Where can my products appear for Keyword Advertising?
When you do Keyword Advertising on Alibaba, it's essential to understand where your ads appear. Alibaba offers four placements where your ads show up:
The first five positions on the first page of search results
The ten positions to the right of the search results
The top four positions below each page of search results
The top ten positions on the first page of app search results
What are the benefits of Keyword Advertising?
So, what are the benefits of using Keyword Advertising to promote your products? Here are four big perks to advertising through Alibaba:
Better positioning: Keyword Advertising allows you to get ideal placement for your product listings on the Alibaba website and mobile app. This positioning will enable more people to find your products at the right time and increase exposure for your business.
More effective targeting: When you advertise products on Alibaba, you can reach more qualified leads for your business. You put your products in front of buyers who are most likely to buy, which helps increase sales for your business.
Only pay when people click: Alibaba only charges you when people click on your promoted product listing. As a result, you're paying for the most qualified leads who were interested enough in your products to click on your listing.
Control over your budget: With Keyword Advertising, you have control over your budget. You can set the budget you desire, so you don't have to worry about breaking the bank to advertise on Alibaba.
How to sell more on Alibaba: Alternative ways to market on Alibaba
As you can see, the only option to advertise on Alibaba is through Keyword Advertising. That doesn't mean, however, that you can't promote your products in other ways! Here are five alternative ways to help you market on Alibaba effectively:
1. Integrate keywords
One way to advertise products on Alibaba is to help your products appear in more relevant search results, so more people find them. Alibaba enables you to add keywords to your product listings so you can appear in relevant search results. You can only add three keywords for your product listing, so you'll want to choose wisely.
You'll want to focus on popular terms that your audience searches often. For example, if you're selling a bill counter, your primary target keyword is "bill counter." You could also use keyword variations like "Money detector" or "Money counter" as additional keywords.

Using this keyword feature is a great way to market on Alibaba and help more qualified leads discover your products.
2. Create a storefront
If you want to advertise products on Alibaba, create a storefront for your business. Your storefront is where you can create a multi-page dedicated store for people to sift through what you offer. Your storefront offers you the opportunity to implement your brand's unique style into your selling page.
You can help shoppers get to know your brand, which can ultimately help you earn conversions. When people are familiar with your brand, they're more likely to choose you when they're ready to convert.
3. Create product showcases
If you want to know how to sell more on Alibaba, try creating product showcases. This feature is available to Gold Suppliers. Product showcases enable you to display your most popular products for shoppers, which can help you increase sales for your business.
You can create a product showcase by going to:
My Alibaba > Products > Products Showcase >Select Products
Creating a showcase is a great way to attract buyers' attention and get them to check out your best products. It's a great way to help you earn more sales for your business.
4. Build relationships
One of the best ways to advertise products on Alibaba is to build relationships with customers. It's not a direct form of marketing, but it's a powerful method that can help you sell more on Alibaba. Building relationships is a great way to earn loyal customers who continually come back to buy products.
So, when you get inquiries from potential buyers, make sure to respond. Engage with these messages and market your products to these customers. If people try to negotiate price, be sure to work with them while also marketing the value of your products.
When you prioritize building relationships, you create opportunities to market your products to interested customers and nurture them towards conversion.
5. Use the Request for Quotation feature
The last feature you can use to advertise on Alibaba is the Request for Quotation (RFQ) feature. RFQ is a forum where buyers can submit product requests through Alibaba rather than reaching out to individual suppliers. Then, suppliers can view these requests and determine if they fit the bill.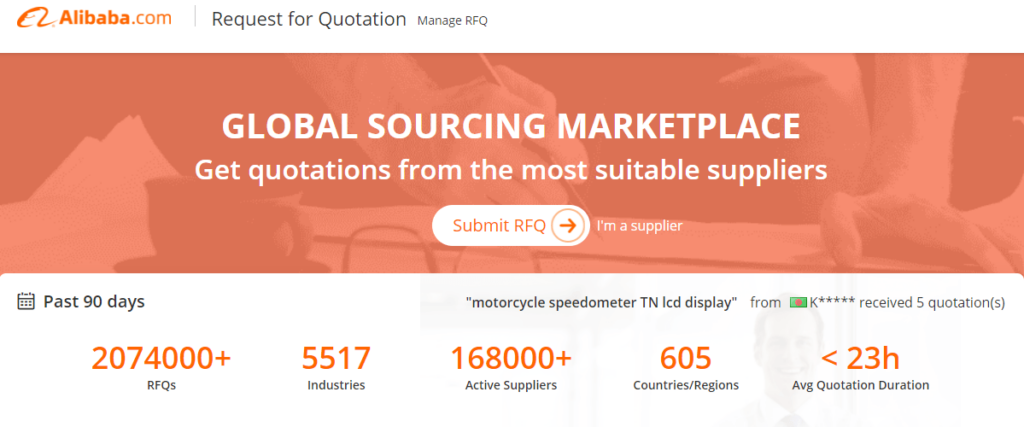 If you look at these requests and find you can fulfill one, it's an excellent opportunity for you to reach out to these leads and market your products. It's a great feature because it allows you to go to buyers rather than waiting for buyers to come to you.
Ready to advertise on Alibaba?
Alibaba is an excellent place for your business to advertise your products to interested prospects. But if you aren't sure how to start advertising through Alibaba, WebFX can help.
We have a team of over 500 marketing experts that can help you advertise on Alibaba. We know how to help ecommerce businesses sell products. In the past five years, we've driven over $3 billion in revenue and managed over 12.9 million transactions.
You can feel confident we'll help you sell more products through Alibaba. Ready to drive more revenue and sales for your business? Contact us online or call us today at 888-601-5359 to speak with a strategist about our ecommerce marketing services!
How is your website's SEO?
Use our free tool to get your score calculated in under 60 seconds.
Get posts by email
Join 200,000 marketing managers and subscribe to Revenue Weekly!
"*" indicates required fields
WebFX Careers
Join our mission to provide industry-leading digital marketing services to businesses around the globe - all while building your personal knowledge and growing as an individual.