Switching from traditional marketing channels to online ones can be a difficult process, but it's a smart move if you want to reach new customers. And thankfully, you don't have to do it all at once. Instead of discontinuing your current advertising methods entirely, you can gradually shift your budget towards similar online strategies.
Then, once you begin to see results, you can determine whether or not to move more of your budget to the online channel. I've already discussed how you can start to roll TV spend into YouTube, and today I'll cover another traditional marketing channel: Radio. So if your company currently runs ads on radio stations, keep reading to learn how you can use some of your budget to test the advertising options on Pandora and Spotify.
Video: Spotify & Pandora Ad Pricing
Emily Carter compares advertising pricing on Spotify and Pandora.
Evaluate your existing radio ad strategy
The first step in making the shift to online radio advertising is evaluating your current marketing strategy.
So before you do anything else, make sure you have the answers to the following questions:
What is your monthly/yearly budget for radio advertisements?
How much of your budget is allocated to production (vs. airtime)?
Do you have an in-house ad production team or a production agency?
How well is your current strategy working?
Do you have a way of measuring ROI?
These questions will help you get a good idea of your current strategy, as well as how much room you have in your existing budget. Having this information on hand will also help you gauge the success of your online efforts by comparison.
Research your options on Pandora and Spotify
Once you have an idea of where you are with your current radio strategy, it's time to research your online options. There are many streaming services that offer advertising space to businesses, but two of the most popular are Pandora and Spotify.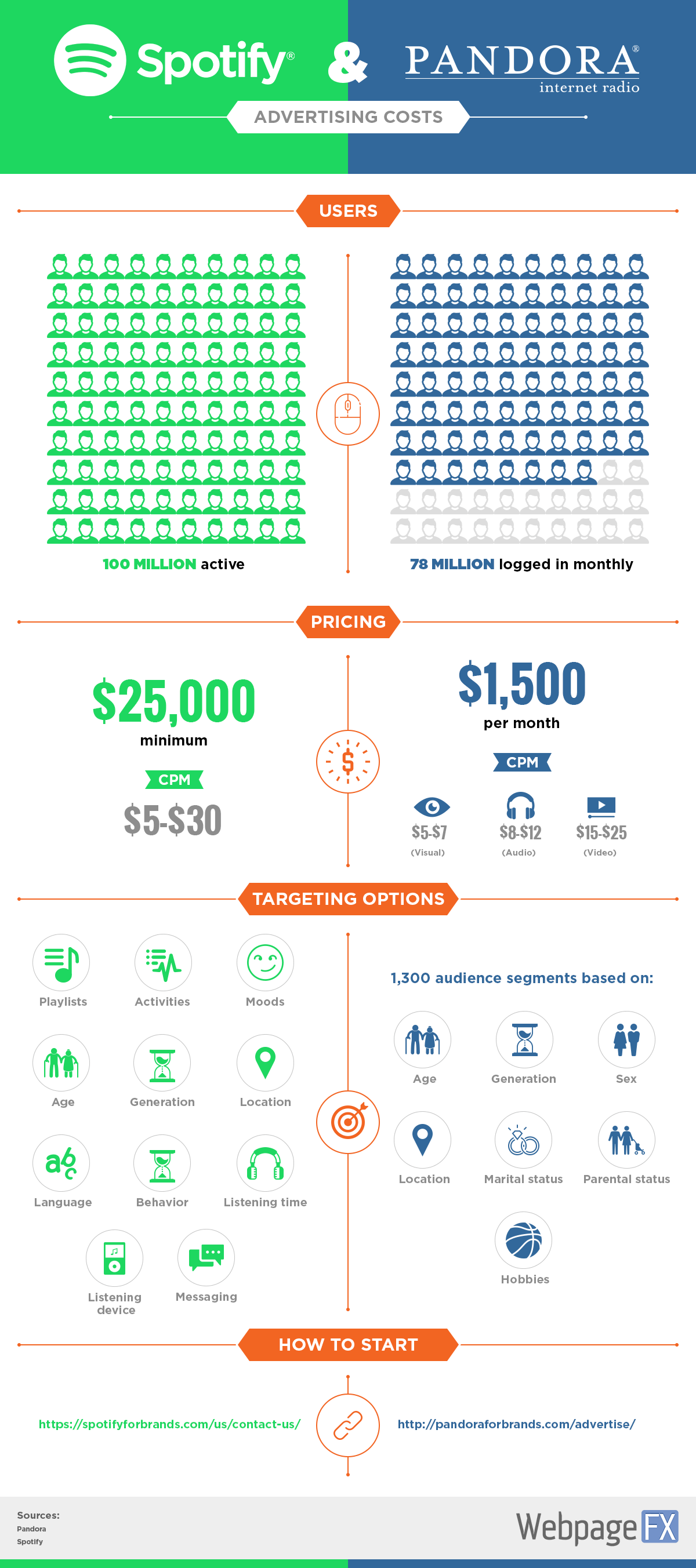 Here's what you need to know:
Pandora
With over 78 million monthly visitors, Pandora remains the largest worldwide music streaming service.
This means no matter who your target audience is, there's a strong chance that at least some of them use Pandora. On Pandora's advertising page, they list a variety of advertising options, in terms of both device and media type.

This means that if you advertise on the platform, you can choose whether you want to reach users on their desktop computers, smartphones, tablets, vehicles, or any combination of devices.
You can also create ads in audio, display, and video format, or you can make brand stations for your company and sponsor Pandora's pre-made stations. Much like any online advertising platform, Pandora's targeting options are more advanced than traditional radio stations. Instead of choosing to advertise to the audience of an entire station, you can target by age, gender, and location – along with, of course, music preferences.
The downside is that unlike most online advertising channels, you can't create and launch campaigns yourself. Instead, you have to contact Pandora and work with their team to get your ads up and running. If you're used to traditional advertising, this is nothing out of the ordinary – but for someone experienced with do-it-yourself platforms like Google AdWords, it can feel like a hassle.
Spotify
With 75 million active users, Spotify isn't too far behind Pandora.
And in terms of advertising, they offer similar options. If you choose to advertise on the platform, you have a choice of audio, video, and display ads, as well as sponsored sessions, homepage takeovers, mobile interstitials, leaderboards, and branded playlists. Spotify also offers a variety of targeting options.

Of course, the targeting on these platforms still isn't as advanced as the options you'd find on Google AdWords or social media – but they beat traditional radio by a long shot. And much like Pandora, you'll need to get in touch with a Spotify to start running ads.
Decide how to budget for Pandora and Spotify ads
After you're familiar with the options available on Pandora and Spotify, you'll need to contact one – or both – to get started. Unfortunately, neither platform offers transparent pricing on their site, but you can request a media kit from Spotify here, and from Pandora here.
From there, you can discuss your pricing options with a sales rep. However, it's important to note that Spotify currently has a minimum spend of $25,000 per campaign – so if your company does not have that kind of budget, the platform isn't an option at this point in time. If it does, you can expect CPMs ranging from $5 – $30.
If you're unfamiliar with online advertising, cost per milli (CPM) refers to the amount you pay per thousand views of your ad. So if, for example, an ad with a CPM of $10 reached 10,000 users, you'd be charged $100. With Pandora, basic packages start at about $1,500 per month and have an average CPM of $5 – $7 for visual ads, $8 – $12 for audio ads, and $15 – $25 for video ads. So if you have a smaller advertising budget, this could be the better option. Either way, I recommend that you set a budget before speaking with a sales rep from Pandora or Spotify.
And ideally, that budget should be a set percentage of your existing radio spend. So if you currently spend $10,000/month on radio ads and want to roll 25% of your spend into online channels, you'd keep $7,500/month in radio ads with $2,500 in online ads. Then, after your campaigns have been up and running for a few months, you can compare the leads and revenue generated between the two and decide whether advertising on Pandora or Spotify is the right choice for your company.
Does your company advertise on Pandora or Spotify?
Does your company have experience advertising on Pandora or Spotify?
Were your campaigns successful? Let me know in the comments below!
WebFX Careers
Join our mission to provide industry-leading digital marketing services to businesses around the globe - all while building your personal knowledge and growing as an individual.