SEO vs. SEM: What Is the Difference Between SEO and SEM?
Search engine optimization (SEO) and search engine marketing (SEM) are two of the most popular advertising buzzwords in the world. When it comes to SEO vs. SEM, it can be easy to confuse the two and what exactly differentiates them from one another. Below, we'll take a look at what each of the abbreviations and marketing channels means and how they work together.
There are many acronyms in the digital marketing space but SEO and SEM are two of the most common — and often confused! Are they interchangeable? What one is right for your business? What do they stand for? These are all common questions businesses have who are looking into search marketing.
What is the difference between SEO and SEM?
The difference between SEO and SEM is subtle. While SEO focuses on appearing higher in organic search results using strategies like on-page and off-page SEO, SEM uses paid advertising and other marketing strategies to increase a website's position and visibility in search results.
[Table] Your cheat sheet to SEO vs. SEM
SEO (search engine optimization) refers to the practice of refining your website to make it perform better in search engines like Google.
SEM (search engine marketing) refers to marketing activities involving search engines, like SEO and pay-per-click (PPC), local listings on search engines, and more.
Get a complete summary of SEO vs. SEM in this table:
| | SEO | SEM |
| --- | --- | --- |
| Traffic Cost | Free | Typically paid |
| Marketing Type | Inbound | Outbound and Inbound |
| Time To Results | Long term | Short and long term |
| Included Channels | SEO | PPC, SEO, Display, Local & more |
| Targeting | No | Yes |
SEM vs. SEO: What is SEO?
At its core, SEO is the practice of making your website as easy-to-use as possible.
When you do that, Google and other search engines will notice that your site provides value to your visitors. Then, they'll start ranking you above your competitors in search results.
That boost in your ranking will attract more users who will have a great experience and show search engines that you're a valuable and helpful resource in your industry.
This cycle continues as you work on your site, particularly when you follow SEO best practices.
What are some SEO strategies or techniques?
SEO involves a ton of different activities — both on your site and around the web.
These activities typically fall into two categories: on-page SEO and off-page SEO:
On-page SEO: On-page SEO refers to optimization efforts that happen on your website, like updating a title tag, publishing a new blog post, or improving page speed. You have complete control when it comes to on-page SEO.
Off-page SEO: Off-page SEO refers to optimization efforts that happen off your website, like conducting outreach, optimizing social media profiles, or sharing content. You have some control when it comes to off-page SEO, but not a lot.
A few key SEO action items typically include:
Optimizing page titles and meta descriptions
Keyword research and analysis
Site and server optimization
Content creation and optimization
With these practices — and others we haven't listed — you tell search engine users exactly what to expect from your page and then deliver with your body text, multimedia, and other site elements.
This shows your visitors that your business is savvy and in-tune with the needs of your customer base.
In other words, you demonstrate your company's value to those who may not have known about you before. And if they did know about you, then you prove that you're an excellent resource on any question they have for your industry.
That establishes trust, and that trust makes it easier for your website visitors to convert into full-paying customers.
SEO isn't a once-and-done task, though. You have to maintain your rankings, especially as competitors crop up and try to steal your spot in search results.
It's also important that you expand your SEO strategy over time so you can build off of the progress you established your first time around.
With that in mind, SEO is a process. It takes time, patience, and hard work, but the results are worth the effort.
Now that we've checked out SEO, let's take a look at SEM.
WebFX SEO Checker
Site Speed Analysis
Content Grade
URL Optimization Check
Page Link Audit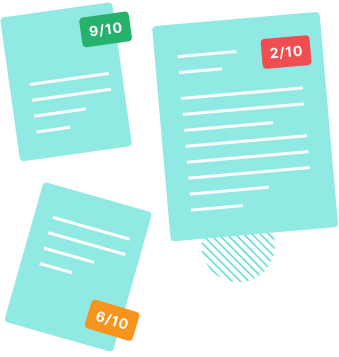 SEM vs. SEO: What is SEM?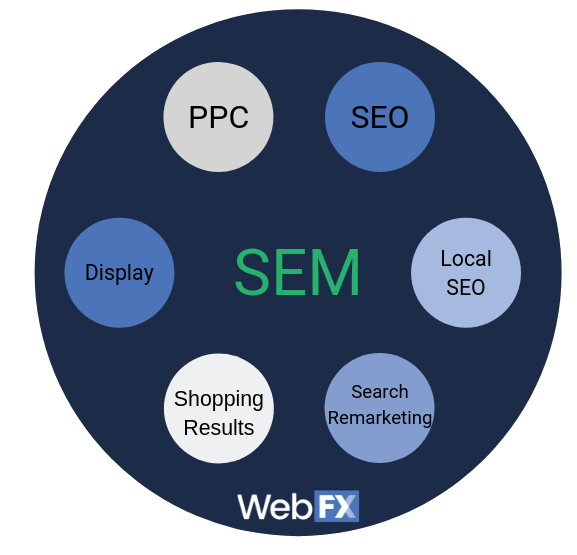 SEM is a general term that includes SEO along with a variety of paid advertising strategies conducted within search engines.
Five popular SEM strategies include:
PPC
Local SEO
Display Advertising
Shopping/Product Advertising
Remarketing
Often, companies cherry-pick the SEM strategies they'd like to use to fit their specific needs. A company that just started its website might concentrate on branded search advertisements and PPC to get an early foothold online, while a company that's been online for 10 years may focus on converting its existing traffic with CRO.
What are the advantages of SEM?
One key advantage of paid strategies within SEM is that they can have an immediate impact. You are in total control of PPC campaigns: who sees your ad, how much you pay, when your ads are displayed, and much more.
A wide-ranging SEM strategy is great for businesses who want highly targeted campaigns across a large audience. You can craft unique advertising messages to different groups of people across a variety of mediums.
Most companies will be fine only using a few strategies, though. Small, mid-sized, and even large companies don't usually need to use every SEM strategy at once.
Another key part of SEM's appeal is that it's so cost-effective. When you partner with an agency, you may pay a few hundred or thousand dollars for the service you get.
The payoff is huge, though. It's also completely trackable through the use of analytics software.
That gives SEM a big advantage over traditional marketing. SEM is more affordable, cost-effective, and trackable than something like a billboard or television commercial.
While you can continue using traditional advertising with SEM, many companies find that they can just use SEM and succeed just fine.
For the companies that want to go really big with their marketing, it's always an option to use SEM and traditional advertising together.
Which is better, SEO or SEM?
SEO and SEM each offer benefits that your business shouldn't ignore.
If you can only choose one, pick SEO.
SEO provides a reliable and effective strategy for earning your company website traffic, leads, and revenue. Plus, SEO is generally more cost-effective than SEM, which almost always uses paid advertising. Even though digital advertising is economical when it comes to price, it can become costly when it's your sole resource for driving traffic, leads, and sales.
For the best results, build an SEM strategy that includes SEO. This kind of strategy gives your business a diverse and comprehensive approach to marketing yourself online, which can lead to more traffic, leads, and sales from multiple channels, including search, paid, and social.
Together, SEM and SEO work better.
Is SEO or SEM right for you?
Wondering whether SEO or SEM is right for you?
The answer to that question depends on the goals of your marketing campaign.
In a perfect world, you'd have a fantastic, high-performing SEO strategy for your website that is part of a broader SEM campaign.
You'd also have PPC campaigns targeting dozens of key demographics, hyper-focused local ads reaching people near your brick and mortar locations, and an advanced, AI-powered remarketing campaign serving personalized product recommendations to visitors coming to your site from search.
It's possible to have a finely tuned digital marketing campaign that includes elements of SEM.
That might not be realistic for all businesses but getting started with two of the more common SEM channels like SEO and PPC is a great place to start. You can begin reaching your market through paid and unpaid channels within search and start reeling in new business and growing your company!
Not sure exactly where to start with SEO and SEM? Give us a call!
We've spent the past 20 years working in SEO and SEM and our web strategy experts would love to learn more about your business.
Contact us today online or by phone, 888-601-5359, to plan your SEO or SEM campaign!