If you're looking into how to grow your business through online channels, you've probably heard of search engine optimization (SEO) and search engine marketing (SEM). Both help you get traffic via search engines, but what's the difference between SEO vs. SEM?
The main difference between SEO and SEM is that SEO is an unpaid strategy, while SEM is a paid strategy. With SEO, you focus on bringing organic traffic to your website. In comparison, with SEM, you focus on capturing both paid and organic traffic to your site.
Keep reading to learn more about the difference between SEM and SEO, plus discover which strategy will help your business achieve its unique goals. For even more marketing advice, check out Revenue Weekly!
What is the difference between SEO and SEM?
The difference between SEO and SEM is subtle.
SEO focuses on optimizing your website to appear higher in search results so you can capture more organic traffic. SEM focuses on using SEO and paid strategies, like pay-per-click (PPC) advertising, to bring more organic and paid traffic to your site.
SEO vs. SEM: Comparing the differences & similarities
Now that we've answered the question "what is the difference between SEO and SEM," we want to compare the two strategies and answer questions, like "How much does SEM cost?" and "How long does SEO take?" Get answers to these questions (and more) below:
How much do SEM and SEO cost?
Pricing for SEM and SEO depends on several factors, including:
Aggressiveness
Scale
Industry
And more
In most cases, though, your average mid-sized business will invest the following into SEO and SEM:
Keep in mind, your company may invest a different amount depending on your industry, goals, and overall marketing strategy. That doesn't mean you should ignore these numbers. Instead, use them as a reference when building your budget.
How long do SEO and SEM take to work?
SEO and SEM have distinct differences when it comes to how long SEO takes and how long SEM takes:
SEO: Around three to six months
SEM: Instant, or as soon as your ads launch
A variety of factors can affect your turnaround time for results.
For example, your SEM campaign may not deliver results right away. Instead, you may need a few weeks of advertising data to improve your targeting to increase your conversion rates. Or, your SEO campaign may need even more time due to building backlinks or fixing issues from an SEO audit.
Which is better, SEM or SEO?
We've already talked about the difference between SEO and SEM, but which one is better for your marketing campaign?
What are the benefits of SEO and SEM? SEO and SEM each offer benefits that your business shouldn't ignore. Ideally, you should use both.
If you can only choose one, though, pick SEO.
SEO provides a reliable and effective strategy for earning website traffic, leads, and revenue. Plus, SEO is generally more cost-effective than SEM, which almost always uses paid advertising.
Even though digital advertising is economical when it comes to price, it can become costly when it's your sole resource for driving traffic, leads, and sales.
For the best results, build an SEO strategy that includes SEM. This kind of approach gives your business a diverse and comprehensive approach to marketing yourself online, leading to more traffic, leads, and sales from multiple channels, including search, paid, and social.
Together, SEM and SEO work better.
When should I use SEO vs. SEM?
While SEO is the preferred choice in many cases, some situations benefit more from SEM vs. SEO.
For example, you should use SEO when:
You can wait three to six months to start seeing traffic, leads, and online sales
You want to use a digital marketing strategy that isn't dependent on having a monthly ad spend
You have the time and resources (or your SEO agency does) to manage SEO proactively
In comparison, you should use SEM when:
You need to generate traffic, leads, or sales immediately
You want to have a presence in high-competition search results without the wait of SEO
You have the time, resources, and budget to manage your ads weekly
Overall, choosing between SEM and SEO depends on what you want and how fast you want it.
SEO: Everything you need to know
Get a complete breakdown of SEO now, including answers to:
For personalized recommendations on how to earn more SEO traffic, enter your URL here. In 60 seconds, you'll receive an SEO report that includes actionable advice based on your site's existing SEO.
What is SEO?
At its core, SEO is the practice of making your website as easy to use as possible.
When you do that, Google and other search engines will notice that your site provides value to your visitors. Then, they'll start ranking you above your competitors in search results.
That boost in your ranking will attract more users who will have a great experience and show search engines that you're a valuable and helpful resource in your industry.
This cycle continues as you work on your site, particularly when you follow SEO best practices.
How does SEO work?
SEO involves a ton of different activities — both on your site and around the web. These activities typically fall into two categories:
On-page SEO: On-page SEO refers to optimization efforts that happen on your website, like updating a title tag, publishing a new blog post, or improving page speed. You have complete control when it comes to on-page SEO.
Off-page SEO: Off-page SEO refers to optimization efforts that happen off your website, like conducting outreach, optimizing social media profiles, or sharing content. You have some control when it comes to off-page SEO, but not a lot.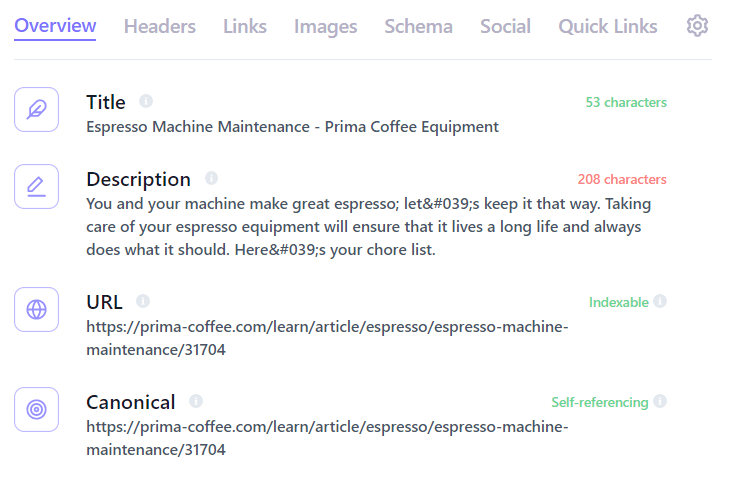 A few key SEO action items typically include:
Optimizing page titles and meta descriptions
Keyword research and analysis
Site and server optimization
Content creation and optimization
With these practices — and others we haven't listed — you tell search engine users exactly what to expect from your page and then deliver with your body text, multimedia, and other site elements. This shows your visitors that your business is savvy and in-tune with the needs of your customer base.
What are the advantages of SEO vs. SEM?
The advantages of SEO over SEM include:
SEO builds trust
SEO demonstrates your company's value to those who may not have known about you before. And if they did know about you, then you prove that you're an excellent resource on any question they have for your industry.
That establishes trust, which makes it easier for site visitors to convert into full-paying customers.
SEO requires zero ad spend
Compared to SEM, which often focuses on paid strategies that demand a monthly ad spend, SEO requires zero ad spend. Your business can invest in SEO each month by producing content, conducting outreach, and optimizing existing pages, and then get traffic from that investment throughout the year.
SEO works 24/7
When it comes to SEO and SEM, SEO works for your business 24/7. That's because SEO drives traffic to your website every day of the week. In comparison, SEM requires an ad spend to run and depending on your ad settings, your ads may only run on specific days and times.
What are the disadvantages of SEO vs. SEM?
The disadvantages of SEO over SEM include:
SEO requires maintenance
SEO isn't a once-and-done task, though. You have to maintain your rankings, especially as competitors crop up and try to steal your spot in search results.
It's also important that you expand your SEO strategy over time so you can build off of the progress you established your first time around. With that in mind, SEO is a process.
It takes time, patience, and hard work, but the results are worth the effort.
SEO takes time
Companies must practice patience when it comes to SEO. Since SEO doesn't deliver immediate results, many businesses must wait three to six months to see increases in rankings, traffic, and sales. SEO is worth the wait, but if your company needs immediate results, you may want to use SEM instead.
Now that we've checked out SEO, let's take a look at SEM.
SEM: Everything you need to know
Get a complete breakdown of SEM, including answers to questions like:
What is SEM?
SEM is a general term that includes SEO and a variety of paid advertising strategies conducted within search engines.
Five popular SEM strategies include: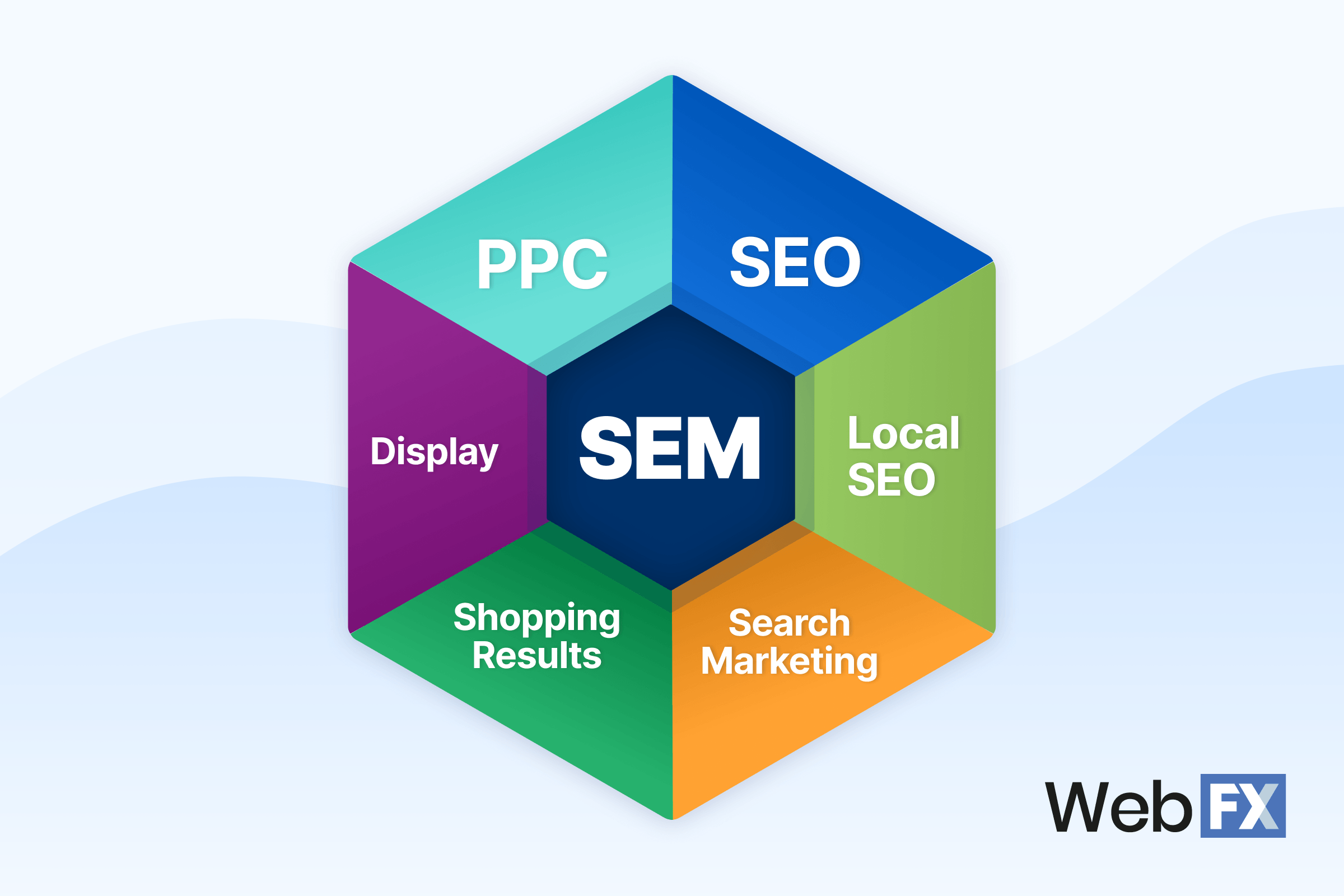 Often, companies cherry-pick the SEM strategies they'd like to use to fit their specific needs.
A company that just started its website might concentrate on branded search advertisements and PPC to get an early foothold online, while a company that's been online for 10 years may focus on converting its existing traffic with CRO.
How does SEM work?
Like SEO, SEM operates on several different tactics, including:
If you plan to use SEM vs. SEO, research the different ad platforms, like Google Ads, Microsoft Advertising, and Facebook Advertising. That way, you can learn how they grade and deliver ads so you can optimize your ads for the best performance.
What are the advantages of SEM vs. SEO?
Some of the advantages of SEM over SEO include:
SEM creates an immediate impact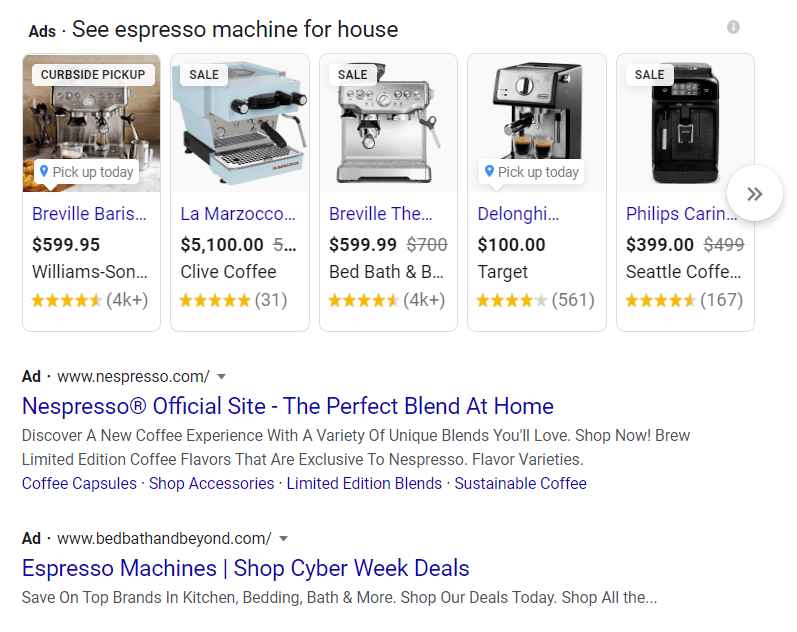 One key advantage of paid strategies within SEM is that they can have an immediate impact. You are in total control of PPC campaigns: Who sees your ad, how much you pay, when your ads are displayed, and much more.
SEM delivers targeted ads
A wide-ranging SEM strategy is great for businesses who want highly targeted campaigns across a large audience. You can craft unique advertising messages to different groups of people across a variety of mediums.
Most companies will be fine only using a few strategies, though.
Small, mid-sized, and even large companies don't usually need to use every SEM strategy at once.
SEM serves as a cost-effective strategy
Another key part of SEM's appeal is that it's so cost-effective.
When you partner with an agency, you may pay a few hundred or thousand dollars for the service you get. The payoff is huge, though. It's also completely trackable through the use of analytics software.
That gives SEM a big advantage over traditional marketing.
SEM is more affordable, cost-effective, and trackable than something like a billboard or television commercial. While you can continue using traditional advertising with SEM, many companies find that they can just use SEM and succeed just fine.
For the companies that want to go really big with their marketing, it's always an option to use SEM and traditional advertising together.
What are the disadvantages of SEM vs. SEO?
Some of the disadvantages of SEM over SEO include:
SEM requires a monthly ad spend
Besides the cost of developing and managing your SEM campaigns, you must also set aside funds for running your ad campaigns — or your monthly ad spend. If you don't have a monthly ad spend, your ads don't run, which can lead to a sudden (and instant) drop in traffic, leads, and sales.
SEM targets bottom-of-the-funnel users
While companies like the ready-to-buy mindset of bottom-of-the-funnel users, limiting yourself to this section of the buying funnel can make you miss out on valuable top- and middle-of-the-funnel users.
With SEO, for instance, you can capture and nurture those users into your next buyer. When it comes to SEM, it offers your business a fast way to earn some revenue.
However, the challenge is that SEM requires a constant investment of your time and money to deliver that revenue, which can cut into your return on investment.
Related resources
[Table] SEO vs. SEM comparison
SEO (search engine optimization) refers to the practice of refining your website to make it perform better in search engines like Google. SEM (search engine marketing) refers to marketing activities involving search engines, like SEO and pay-per-click (PPC), local listings on search engines, and more.
Get a complete summary of SEO vs. SEM in this table:
| Factor | SEO | SEM |
| --- | --- | --- |
| Traffic Cost | Free | Typically paid |
| Marketing Type | Inbound | Outbound and Inbound |
| Time To Results | Long term | Short and long term |
| Included Channels | SEO | PPC, SEO, Display, Local & more |
| Targeting | No | Yes |
Is SEO or SEM right for you?
Wondering whether SEO or SEM is right for you? On this page, we've answered questions like "what is the difference between SEO and SEM," "what are the benefits of SEO and SEM," and more. But if you're still on the fence about which strategy to use, you're not alone.
The answer to that question depends on the goals of your marketing campaign.
In a perfect world, you'd have a fantastic, high-performing SEO strategy for your website that is part of a broader SEM campaign.
You'd also have PPC campaigns targeting dozens of key demographics, hyper-focused local ads reaching people near your brick and mortar locations, and an advanced, AI-powered remarketing campaign serving personalized product recommendations to visitors coming to your site from search.
It's possible to have a finely tuned digital marketing campaign that includes elements of SEM.
That might not be realistic for all businesses but getting started with two of the more common SEM channels like SEO and PPC is a great place to start. You can begin reaching your market through paid and unpaid channels within search and start reeling in new business and growing your company!
Looking for an all-in-one SEO audit tool? You've found it.
SEO Checker provides data on key metrics to give you:
Complete SEO score

Content Grade

Site Speed Analysis

and more.
Get started with SEM and SEO — and make it easy — with WebFX
Not sure where to start with SEM and SEO? At WebFX, we've spent the past 25 years working in SEO and SEM and our search engine marketing agency would love to learn more about your business.
Contact us today online or by phone, 888-601-5359, to plan your SEO or SEM campaign!
WebFX Careers
Join our mission to provide industry-leading digital marketing services to businesses around the globe - all while building your personal knowledge and growing as an individual.