With over 182 million subscribers, Spotify is a valuable platform for helping you reach people while they listen to their favorite tunes and podcasts. With Spotify advertising, you put your business in front of listeners and help them discover your brand.
In this post, we'll cover everything you need to know about Spotify advertising, including:
Keep reading to learn more about Spotify advertising!
And to get the latest tips and tricks for advertising on platforms like Spotify, subscribe to Revenue Weekly, our bi-weekly newsletter!
4 Spotify ad options
When you think of advertising on Spotify, you may think it's limited to audio ads, but that's not the case. There are numerous Spotify advertisement options for you to consider. Here's a breakdown of each:
1. Audio ads
As expected, audio ads are one of the most popular forms of Spotify advertising. These ads play in between songs. Listeners are often served a few of these audio ads in a row before they return to their music.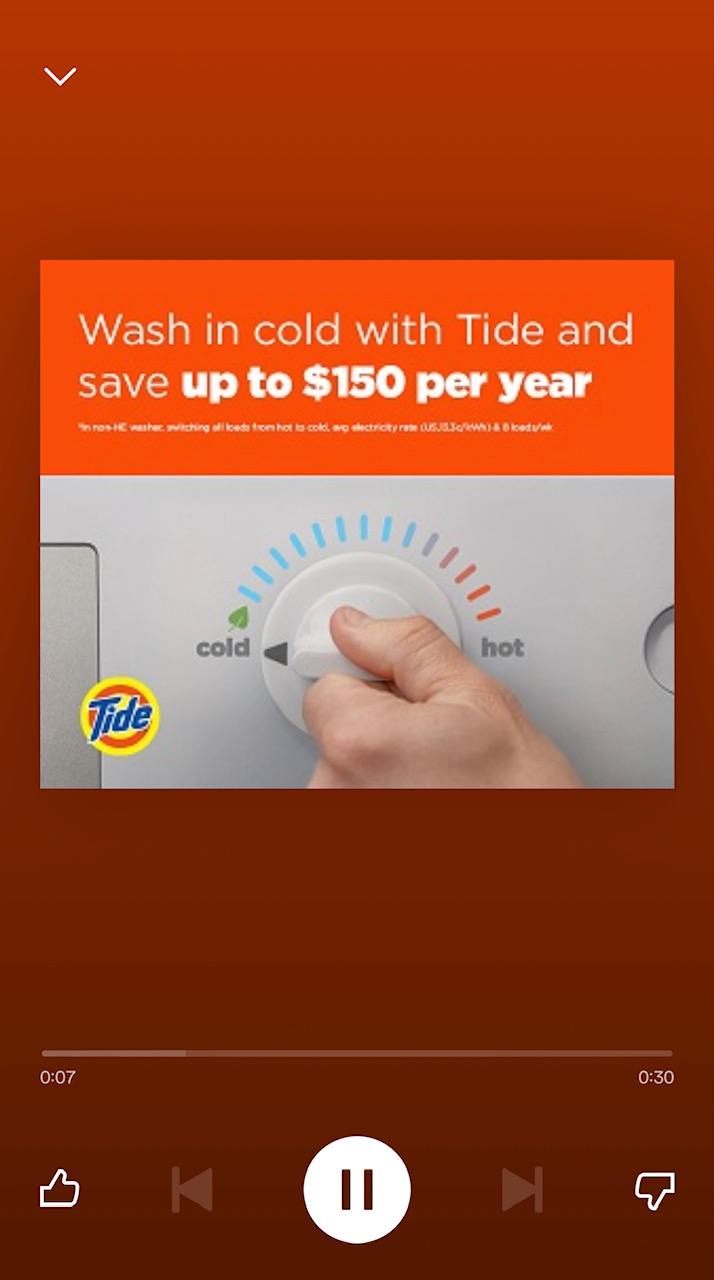 These ads play on all devices and at any time throughout the day. They're a great option if you want to reach your audience directly as they're listening and prevent them from skipping your ads.
Whether on desktop or mobile, these Spotify ads are accompanied by a visual element that helps enhance the message of your ad.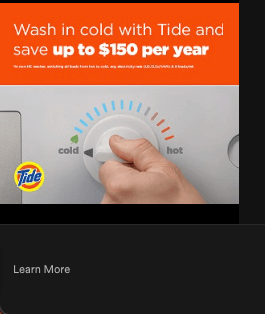 2. Video ads
Video ads are another type of Spotify advertisement you can run. With Spotify video ads, listeners see ads as they browse through the service and look for music and podcasts.
Spotify only delivers these ads when someone directly engages in the app or music player. It ensures that your audience sees your video and you get your message across.
3. Podcast ads
As the name suggests, podcast ads are advertisements that play during a podcast. You set up these ads using the Spotify Audience Network, which enables you to deliver your ads through suitable podcasts.
With this advertising option, you can have Spotify handle your advertising. All you do is deliver an idea to Spotify, and their team will create the script, record the voiceover, and produce your ad for no additional charge.
4. Custom experiences
The last type of advertisement you can run is a catch-all category that includes multiple Spotify ads –– this category is known as custom experiences.
With custom experiences, you can choose from one of the categories within this ad type, or you can contact Spotify to create something more unique that isn't listed.
Some custom experiences you can create include:
Sponsored playlist ads: Sponsored playlist ads enable you to sponsor a musical playlist owned by Spotify. You can attach your brand's name and branding images to the playlist to help build brand recognition and engagement.
Display overlay ads: Display overlay ads appear when someone returns to the app to make an immediate impact. These ads are clickable and can help drive traffic to your website.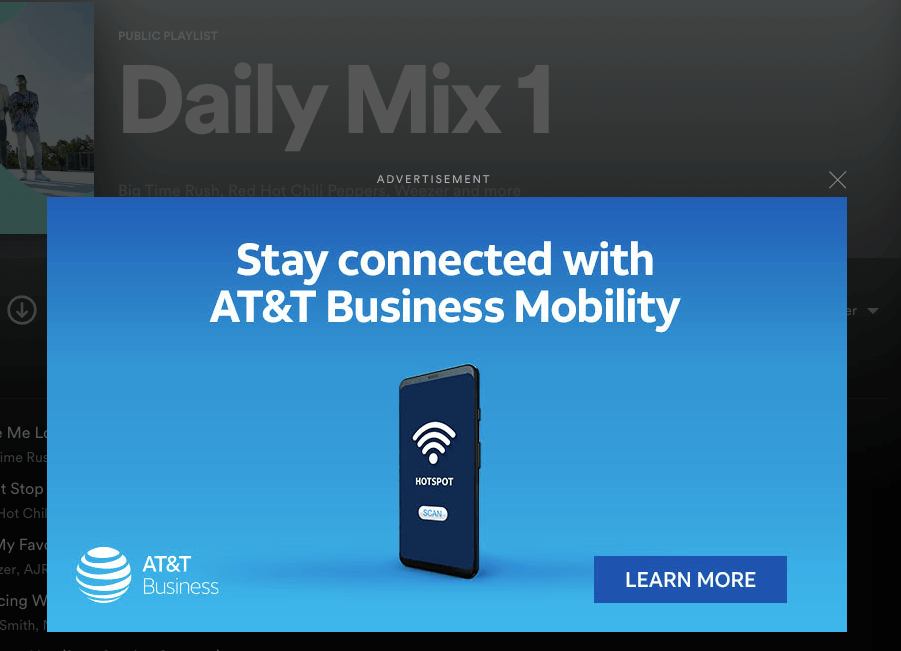 Homepage takeover ads: Sometimes, you need to make a significant impact with your ads, and, if that's the case, homepage ads are a great option. These ads enable you to take over Spotify's homepage on the desktop for 24 hours to boost clicks and conversions.
Display leaderboard ads: Leaderboard ads appear at the bottom of the Spotify desktop player and look like a Google banner ad. These ads only appear when Spotify is in view of the user and last 30 seconds.

Cost of Spotify ads
Now that you know what type of Spotify ads you can run, you may wonder how much it costs to run Spotify ads.
The cost for Spotify ads for small businesses starts at $250. With $250, you can use Spotify's self-service ad studio to help you easily create your ads.
Spotify operates like other advertising platforms –– you set a budget and pay for the interaction with your ad, whether you choose impressions or clicks.
How much you pay for those actions depends on your ad type and who you're targeting.
How to advertise on Spotify in 6 easy steps
Ready to launch your first Spotify advertisement? Here's how you can do it in six easy steps:
1. Create your account
Before you run Spotify ads, you need to create an account through Ad Studio. You'll input all your essential information like your name, business email, and country.
After creating your account, you'll see a dashboard where you can select to launch a new ad.
2. Choose your objective
Once you create a new Spotify advertisement, you'll set your campaign objective. The objective tells Spotify what you're promoting and aiming to achieve with your promotion.
Spotify gives you three options for your objectives:
Promoting a brand, product, or organization
Promoting artist's music on Spotify
A concert or artist merch
Generally, you'll choose the first objective for your Spotify ads.
3. Select your ad format and platform
After you set your objective, the next step to complete with advertising on Spotify is choosing your ad format and platform.
As we mentioned above, you can choose numerous ad format options.
With the platforms, it's recommended that you choose all platforms. You can get granular, if you prefer, and select whether you want your ads to appear on iOS, Android, or desktop.
4. Set your budget and schedule
After you determine your format, you can set your budget and schedule. You'll set a start and end date for your ad to run, including the time.
You'll also choose your budget amount. Spotify has pre-set amounts for $1000, $2500, and $5000 that you can choose. You also have the option to set a custom amount if you want to spend more or less than the pre-set options.
Spotify also allows you to set a budget limit, so you don't overpay for your ads. With this budget limit, your ads will stop displaying once you've hit the limit.
5. Determine your target audience
The next step you'll need to follow to start with advertising on Spotify is determining your target audience. Spotify gives you multiple options for reaching people interested in what you offer.
You can target people based on:
Location
Age
Gender
Identity
Music tastes
And more
Spotify also offers additional targeting options that include:
Interests: Target people based on what they're interested in on Spotify, like podcasts or playlists they recently listened to on the platform.
Real-time context: Target people based on specific moments dictated by the playlists they listen to on the platform.
Genres: Target people based on the song genre they heard before your ad.
6. Create your Spotify ad
Once you have all your specifications set up for your Spotify ads, the next step is to create the ad content. At this step, you'll upload your video or graphic. If you're running an audio ad, you'll upload your audio along with a companion graphic.
You'll also choose your ad's call to action (CTA) to tell your audience what you want them to do after seeing or hearing your ad.
Spotify provides a preview of how your ads will look and sound so that you can adjust and deliver a better ad experience.
After you complete this step, you can launch your first Spotify advertisement!
4 quick tips for creating Spotify ads that drive revenue
Up to this point, we've covered what types of Spotify ads you can run, the cost of Spotify ads, and how to create your first one. Now it's time to add some best practices to your wealth of knowledge about Spotify advertising.
Here are four quick tips to help you nail your Spotify ads:
1. Create a high-quality visual
To run Spotify ads successfully, you need to use a high-quality visual. Even if you're running an audio ad, you need an accompanying visual to go with it. You must make these visuals high-quality, so your audience sees your ad as authentic and trustworthy.
A grainy, stretched, or hard-to-read ad won't drive your desired results. Focus on making an ad that's clear and visually appealing for your audience.
2. Monitor your ads
If you want to see success with Spotify advertising, you must monitor your ads. You don't want to launch your ads and never take a second look at them. It's crucial to monitor ad progress to see if your investment drives the results you desire.
What metrics you monitor depends on your goals. For example, if you're aiming to increase sales, you'll want to track your conversions.
By monitoring your ads, you'll have a clearer picture of what's working and what's not, so you can make adjustments and improve.
3. Consider letting Spotify take the wheel
If you're feeling overwhelmed trying to figure out how to advertise on Spotify, you don't have to do it on your own. You can allow Spotify to take control of your ad campaigns and create them for you –– all you need is an idea.
This option is great if you aren't sure how to run a successful Spotify ad. You can have the Spotify experts take your idea, create an ad, and launch it.
Alternatively, if you want more control over your ads but still need help, you can partner with an advertising agency like WebFX.
4. Refine your targeting
The last tip we'll cover regarding Spotify ads is refining your target audience. When you start with your ads, you want to keep your audience broad to understand better who's interested in what you offer.
As you continue running your campaigns, you'll gather data about your audience and learn more about who they are. As a result, you can refine your campaigns to target these audiences directly with relevant ads.
Ready to launch your Spotify ads?
Spotify advertising is an excellent method for you to use to help your business reach prospects as they listen to their favorite tunes, but it's not the only place where you can run advertisements. You can use many platforms to run paid ads, and WebFX can help you create your campaigns on them.
We offer services like social media advertising and pay-per-click (PPC) advertising to help you get your ads in front of more qualified prospects. With a team of over 500 paid advertising experts, you can feel confident we'll help you launch successful ads.
Contact us online or call us at 888-601-5359 to speak with a strategist today!