Social media is one of the best ways to reach current and potential clients. Not only does it allow you to stay top of mind with your customers, but it also allows you to provide them with beneficial information and reach far beyond just your follower list.
If you're a sign company that's interested in attracting more customers, a social media campaign is a great option.
On this page, we'll talk about the different social media platforms available to sign companies and how you can use each to promote and market your unique company.
If you'd like to speak with a social media expert, feel free to give us a call at 888-601-5359 or contact us online to learn more about our social media services.
74% of people use social media when making a purchasing decision.
Make their decision easy with a stellar social media presence. See how your brand can level up by requesting a no-obligation proposal today.
One of our experts will be in touch within 24 hours!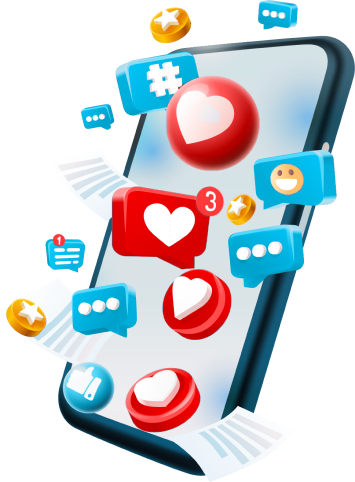 Why is social media important for sign companies?
Social media is one of the most important ways to advertise your sign company to a huge audience very quickly. Posts have the ability to spread like wildfire on social media, so it's a no-brainer to advertise your sign company on social platforms.
Here's the scoop on some different social media platforms and how you can use them to connect with your audience, and one of the best benefits of utilizing social media – increased reach.
Social media platforms expand your reach
Your friends and followers can see everything you post and share on your profile. Your posts will become available on your followers' pages when you post them, and they'll be able to like, share, comment, retweet, and more based on the platform.
Here's where indirect marketing comes into play, and how it's extremely beneficial on social media. When one of your friends on Facebook likes or shares one of your posts, their friends can see your content. That means that when your friends interact with your content, it becomes visible to an entirely new audience (their friends).
The same is true for Twitter. If one of your followers retweets your content, it is visible to their followers.
This is why it's so beneficial to utilize social media marketing, because it allows you to reach a huge audience in very little time.
If you're interested in how much it'll cost to have one or more accounts managed by WebFX, try our custom social media strategy calculator! Our team of social media experts are dedicated to helping your sign company achieve success. If you have any questions, contact us today, or read on to find out how to start your own campaign!

Hear What It's Like to Work With WebFX!

"I am very happy with the service and the rate we are climbing the ratings. This is a company that understands the SEO game enough to give you the competitive edge you need against your competitors."
Full Service Sign Company
What social media platforms should sign companies use?
Some social media platforms work best for different industries. Here are some social platforms that we recommend for sign companies.
Facebook
With 2.23 billion monthly users, it's no secret why Facebook is one of the best platforms for marketing your sign company.
There are tons of opportunity to advertise, share beneficial information, and even talk with your current and potential clients.
Facebook is home to an ad platform that allows you to target your most qualified audience by their location, demographic, and more. This super targeted advertising means that you never waste money because all of your ad spend goes into ads that are extremely effective.
Posting on Facebook is also extremely beneficial to your sign company because you can choose to post links to your website, beneficial information from industry leaders, videos, photos, and more.
Here are some post ideas for your sign company's Facebook account:
Links to your website:One of the best ways to use Facebook is to provide users with links to your website. This gives them the one-way ticket to your products and services, and once they're there, they'll stay for a while if your website is designed well.
Beneficial company information:What kinds of signs to we offer? What can each sign help to accomplish? By providing information that benefits and informs your customers, they'll be more likely to see you as a leader in your industry. They'll also turn to you when they want someone who knows what they're talking about.
Specials and promotions:Facebook is a great place to post about any promotions or specials you might have going on. Be sure to provide the dates the sale is going on and the specifics.
Pictures of custom orders:If you really want to attract new clients, try posting pictures of some of your most attractive work. Do you have a client that was super satisfied with an order? Ask for permission to post and share their sign on Facebook.
Besides posts, you can also use Facebook as a sort of customer-service platform. Facebook Messenger is a great way to connect with previous, current, and potential clients, prove that you're responsive, and answer any questions or complaints that may arise.
Instagram
Instagram is a strongly image-based social media platform, which makes it great for sharing images of your signs.
It's not just images, though. You can type captions, send direct messages to your clients, and even create ads as well. However, since it's an image-based platform, you'll benefit from taking advantage of visuals!
When you market on Instagram, you can also share videos as a post, or as part of your story. When you post a video to your story, it will expire after 24 hours, but when you share it as a post, it'll be available on your page forever!
Here are some post options for Instagram:
Custom sign images:Use the image-heavy platform to show off some of your best designs. It's a great option to take a photo of the specific client with the sign to add some personality. You can even tag that client (with their permission), and ask them to repost it — garnering your sign company even more views.
Promos:Do you have a promotion on custom signs going on later in the month? Instagram is a great place to post about your upcoming sale by creating a custom image with a free design program like Canva. You can post a link to your website in the description where customers can learn more about the promotion.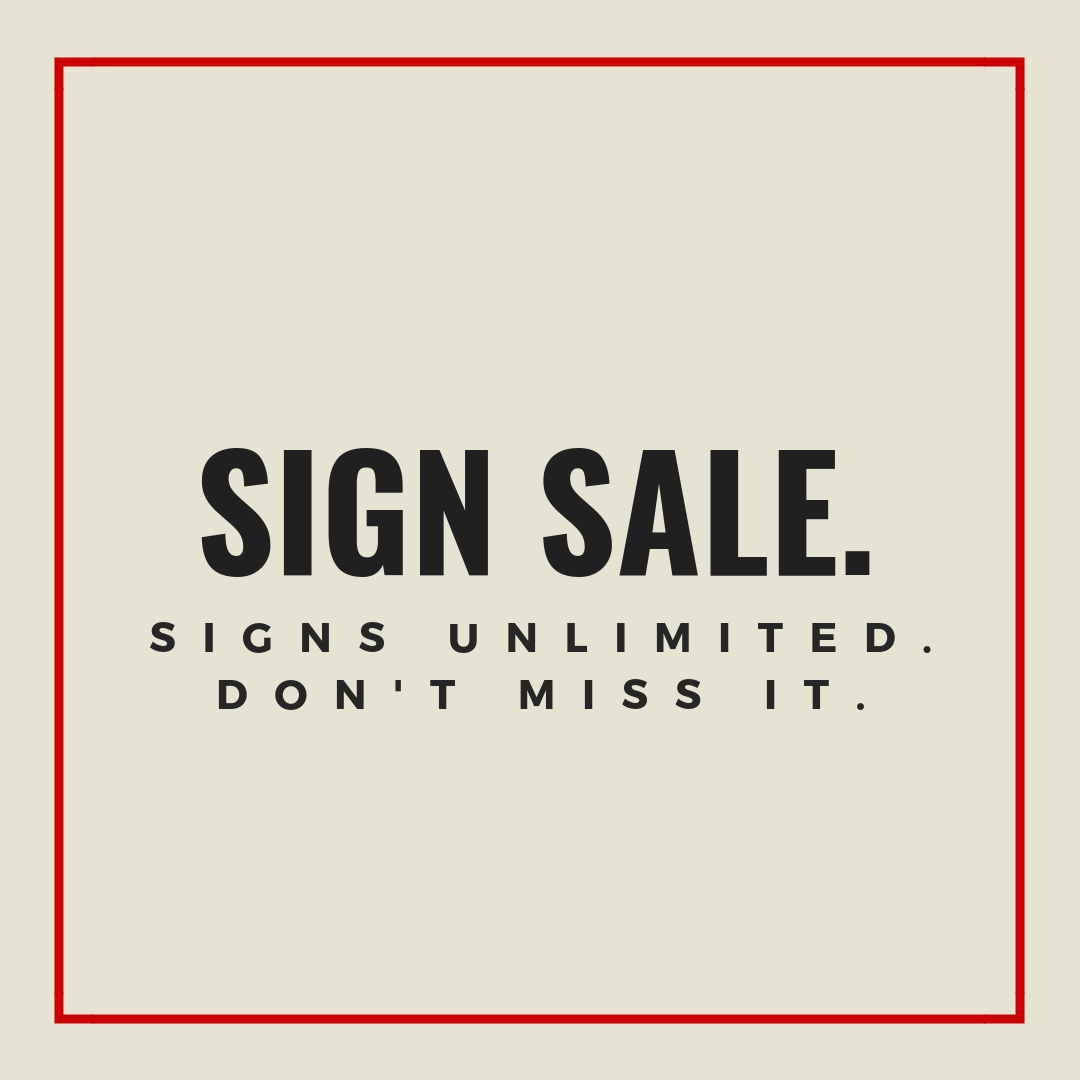 Ads:Instagram is another great platform for social media ads. There are many options as far as style goes. You can implement a carousel ad, which rotates between images, a video ad, or an image ad. You can even post ads to your story! When a user clicks on one of your ads, they'll be taken to a landing page where they'll be prompted to take the next step. This is a great way to get users to convert.
Are you interested in a social campaign for your sign company?
If all the benefits of being on social media sound exciting to you and your sign company, WebFX can help you construct the perfect social media campaign.
We have a full team of social media specialists who know the ins and outs of every social platform available. At WebFX, we offer social media services for Facebook, Instagram, LinkedIn, Twitter, and Pinterest. The choice is yours!
Fill out a free quote form online, or if you'd like to talk more in depth about your potential campaign, feel free to contact us at 888-601-5359. We can't wait to speak with you!
Earn a 20% greater ROI with WebFX