Social media is one of the fastest-growing channels you can use to market your business. With over 2.3 billion users active on social media, it only makes sense to promote your franchise on some of the busiest sites on the Internet.
A franchise social media strategy, however, comes with several challenges.
Whether you're a franchisor or franchisee, bringing your brand to life on the world's biggest social media platforms requires experience, time, and dedication. It also requires immense coordination between a franchisor and franchisee.
Keep reading to learn more about these strategies, plus tips for success. If you're looking for professional help with social media for your franchise, contact us online or call us at 888-601-5359 to see how our award-winning agency can help!
Not happy with your social media engagement?
We've got just the blog post for you.
Read the Blog Post & Watch the Video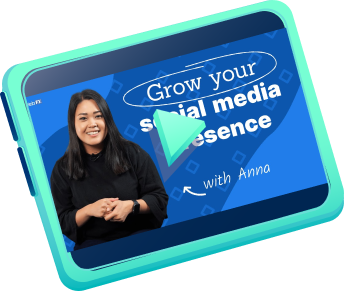 What is a franchise?
A franchise describes any business that allows people to buy-in to the franchise and open a location or branch in the name of that franchise. This location or branch uses the franchise's name and logo, plus receives support from the franchise.
Some examples of franchises include:
McDonald's
Subway
Rita's
H&R Block
Ace Hardware
When talking about franchises, as well as franchise social media, you will hear the following terms:
Franchisor: The franchisor owns the franchise itself. If you're talking about a franchise like Subway, for example, the franchisor is Doctor's Association Inc. For reference, this name came about because one of Subway's founders has a doctorate degree.
Franchisee: The franchisee owns a franchise location, but not the franchise itself. In exchange for owning a franchise location, the franchisee must pay an onboarding and setup fee, as well as a percentage of their profits or revenue to the franchisor.
Learning about the role of the franchisee and franchisor makes it easier to understand the challenges that come with franchise social media marketing and advertising. These two parties must coordinate and collaborate to deliver a seamless and on-brand experience to users.
Social media for franchisors
If you're curious about franchise social media from the franchisor's perspective, read this section!
3 social media challenges that franchisors must solve
As a franchisor, you have several challenges when it comes to social media, including:
1. Building a franchise social media guidebook
As a franchisor, you have a well-known brand to lead and manage, and social media emphasizes this challenge. You must establish a brand voice across platforms like Twitter and Facebook, plus help franchisees match this voice if they manage dedicated social accounts for their locations.
Accomplishing this goal often requires a social media guidebook that covers:
Tone
Voice
Images
Responses
Content
And more
While one of the most significant challenges, building a handbook can have a tremendous impact on your franchise's social media efforts. You can help franchisees build successful social media accounts, plus strengthen your franchise's core social media profiles.
2. Developing a franchise social media strategy
In addition to creating a social media guidebook, you also need to build a social media strategy.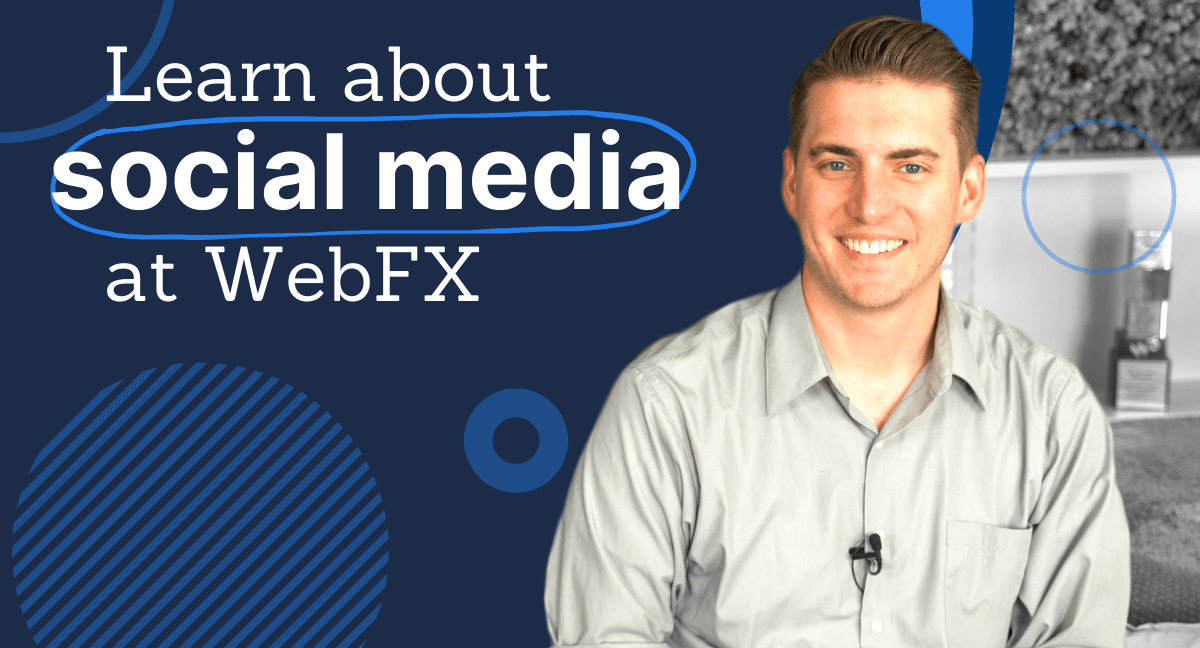 Depending on your franchise, this strategy may extend to your franchise locations. For example, your franchise may ask franchisees to not create social media profiles for their different locations. Instead, you lead all your social media efforts, including promoting franchisee locations.
Even if your franchise allows franchisees to have dedicated social media profiles, you may develop strategy guidelines. These guidelines can help franchisees set up successful profiles and strategies by recommending tactics or sharing best practices.
Either way, creating a strategy requires time and research.
3. Determining the total return on investment
Franchisors also need to think about their return on investment (ROI) from social media. While you may have zero trouble tracking the performance of your social media accounts, monitoring the performance of franchisee accounts poses a challenge.
Tracking the ROI of franchisees is imperative, especially if your franchise gives them marketing funds.

Compared to other marketing channels, social media's ROI is more difficult to track too. That's because social media can deliver hard-to-measure returns, like increased brand awareness or foot traffic. If a franchisee doesn't set up tracking measures, it can make monitoring social's ROI even more difficult.
If you want to counter this challenge, your team will need to create a process for tracking your ROI. You may even invest in software that tracks ROI, like MarketingCloudFX, to make your life easier and your data accurate.
How to launch a franchise social media marketing strategy
Are you ready to create or improve your franchise's social media marketing strategy?
Get started with these three steps:
1. Develop branding guidelines
First, you want to create your brand guidelines. Launching your social media strategy without instructions will cause headaches for your team, as well as franchisees. That's why you cannot skip this step — it's critical to your success.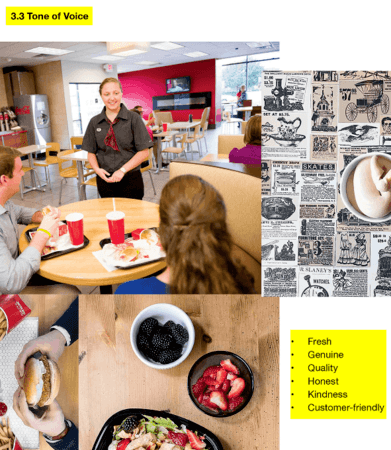 When developing your brand guidelines, answer these questions: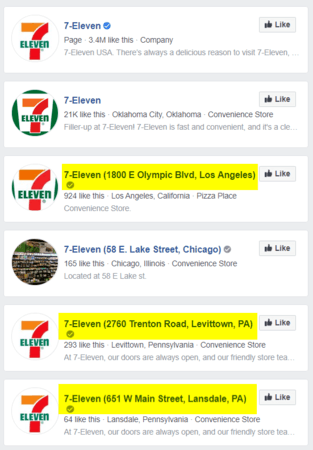 Is there a preferred profile picture or cover photo for social media accounts?
Are franchisees allowed to create dedicated social media profiles for their locations?
What is the naming policy for franchisee social media accounts?
How will the franchisor's social media accounts support franchisee social media accounts?
Who do we want to reach and interact with via social media?
What content should the franchisor and franchisees share?
What image guidelines, like colors, illustrations, or pictures, should accounts follow?
What kind of tone or voice should social media accounts use?
How should the franchisor or franchisees respond to user comments, questions, and requests?
Are there branded hashtags that should feature on specific posts or social media platforms?
Who can franchisees contact with questions or concerns?
As you build your brand guidelines, you will probably find new questions to answer. If you like, you can poll franchisees to learn about some common questions they have when it comes to using social media for their locations.
2. Create S.M.A.R.T. goals
Next, you want to develop specific, measurable, actionable, realistic, and timely (also known as S.M.A.R.T.) goals for your social media efforts. Depending on your franchise, you may even provide recommended goals to franchisees.
A few examples of some S.M.A.R.T. goals for franchise social media campaigns include:
Earn 1000 new Facebook followers in two months
Boost social media website traffic by 5% in six months
Generate 50 new email sign-ups in three months
When creating your goals, customize them to your business and long-term aspirations. If you're focusing on improving client retention and customer loyalty, for instance, you may emphasize email sign-ups more than new follows.
3. Establish a social media strategy
Once you know what you want to accomplish with social media, you can start building a plan.
For example, if you're looking to attract new followers on Facebook, you may create a strategy that includes advertising on Facebook. Or, if you're trying to earn more website traffic, you may develop custom landing pages and content for social media visitors coming to your site.
If you're working with franchisees on their social media strategies, remember to customize your overall goals to their needs. Their location, for example, may serve an older demographic while another place reaches a younger age group.
It's also helpful to remember that you can always change your strategy.
If you see a technique that isn't working, you can update it. For example, you may discover that solely posting organic content isn't enough to reach your goal for new followers. In response, you adapt and launch an ad campaign to support your efforts.
With these three steps, you can guide your franchise's social media strategy to success.
74% of people use social media when making a purchasing decision.
Make their decision easy with a stellar social media presence. See how your brand can level up by requesting a no-obligation proposal today.
One of our experts will be in touch within 24 hours!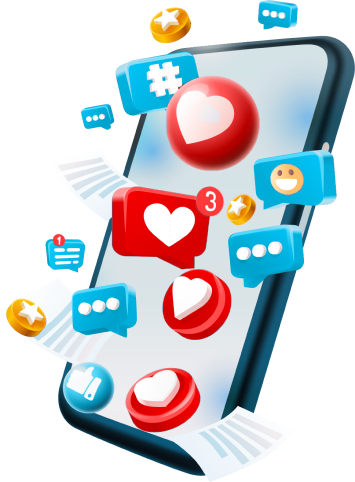 5 tips for franchise social media success as a franchisor
Are you looking for some additional guidance on how to set your franchise up for social media success?
Try these five tips:
1. Use your brand's mission statement to guide your efforts
Managing the social media presence of a franchise at the corporate level is a massive responsibility. That's why creating brand guidelines is often an enormous (and even intimidating project). Using your company's mission statement, however, can help you create those guidelines.

Use them as a reference for establishing your tone, shared content, and more.
2. Set a realistic budget
Whether advertising or marketing on social media, you want to create a realistic budget for your franchise and franchisees. Research the average costs of marketing and advertising on social media and then develop your budget.
With a realistic budget, you can drive the results that your brand wants to see from social.
3. Experiment with different social media platforms
Many franchises choose to stick with only one or two social media platforms – typically Facebook and Twitter.
However, if you are looking to get the maximum benefits for your company from social media, you should test out as many platforms as possible. This means that even if your in-house team isn't sure how to use Instagram for marketing, find someone to do some research, figure it out, and get posting!
Some overlooked social media platforms include LinkedIn, Pinterest, and YouTube.
Though there may be such a thing as too much posting, there will never be such a thing as making yourself known on as many social media platforms as possible. It's good marketing!
4. Advertise and market yourself on social media
Getting results from social media with only organic content is a massive challenge due to the algorithms powering this platform. If you want to improve your presence on social media, reach your audience, and achieve your goals, then create a budget for advertising on your most valuable platforms.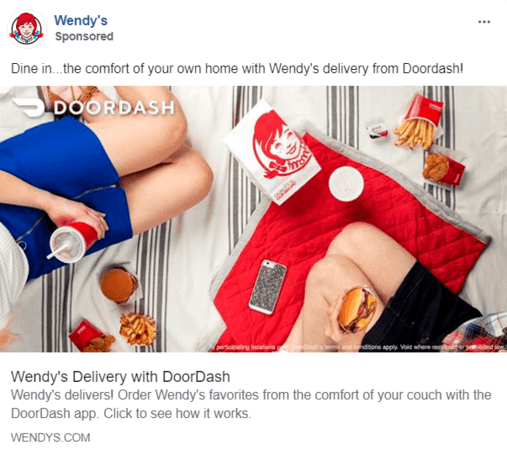 Social media ads can help with brand awareness, store visits, app downloads, and more.
5. Embrace your franchise's quirks
Be as real as you can to the world on the other side of your computer screen. Don't hide who your company is – people want to know you!
For example, if your company is famous for a certain tone or sense of humor, it should translate to your social media posts. Social media acts as a place to give your brand some personality, and that's an opportunity you don't want to miss out on.
When you are genuine and honest in showing the world just what your company looks like, quirks and all, they will be more willing to get to know you better and enjoy your unique company.
Being unique is also a great way to build brand awareness!
Social media for franchisees
If you're curious about franchise social media as a franchisee, read this section!
3 social media challenges that franchisees see
As a franchisee, you have a few different challenges, including these three:
1. Standing apart from other franchise locations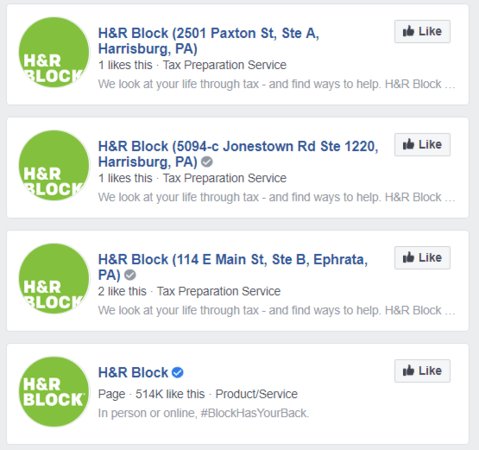 While franchises serve the same brand, they also compete against one another. Depending on your location, you may have several competitors. On social media, this competition becomes obvious when users search for a franchise near them, like 7-Eleven or H&R Block.
You can make your franchise location stand out, however, by encouraging reviews from customers and attracting likes. These are both trust signals. For users, these trust signals indicate that if they're going to visit any franchise location, they should visit yours.
2. Competing with other local franchises
Franchisees must also compete with other franchise brands. A franchise like Wendy's, for instance, will compete against franchises like Burger King and McDonald's. They may even face-off against non-franchises, like a local burger joint.
Emphasizing the following factors, however, can help you stand out:
Brand
Quality of service
Customer satisfaction
Exclusive offers
Events
If you deliver a better customer experience than your competitors, you can count on word-of-mouth recommendations to send more foot traffic to your location. Earning reviews on social media can also help you capture and preserve those recommendations.
3. Managing a social media strategy
Compared to the franchisor, franchisees have fewer resources. You may not have a dedicated marketing team, for instance, to handle your social media strategy. Instead, you must find and invest the time into social media.
Social media, however, can quickly demand most of your time, like with the following tasks:
Finding content to post
Posting content
Responding to comments
Troubleshooting user issues
Managing social media ads
And more
If you want your franchise social media strategy to succeed, you need to commit. Logging into your social media accounts occasionally results in an inactive account, which can lead to dissatisfied customers looking for assistance since more than 65% of users use social media for customer service.
How to launch a franchisee social media strategy
Are you ready to start your franchise location's social media strategy? Get started with these steps:
1. Review your franchise's social media policies and guidelines
Before you begin creating social media accounts or developing a franchise social media strategy, check your franchisor's social media policies. Depending on the franchise, they may request that franchisees not create location-specific social media accounts.

If your franchisor does allow location-specific social media accounts, they may offer guidelines.
Read and review these guidelines because they can help you launch a professional, on-brand account. The recommendations may even include suggestions for brand voice, customer interactions, and more. All this information can result in a solid foundation for your social media strategy.
2. Research your local competitors
Next, investigate your local competitors. These competitors may include:
Franchisees within the same franchise
Local businesses
Franchisees from a different franchise
Depending on your service, you may even contend with online companies. A business like H&R Block, for example, must compete with companies like QuickBooks, TurboTax, and more. Understanding how they approach social media, however, can help you build a stronger strategy.
3. Set some realistic goals
Once you've reviewed your franchisor's guidelines and researched your competitors, you can start creating your strategy and goals. Like any franchise social media strategy, you want to aim for S.M.A.R.T. goals.
That doesn't mean you can't set ambitious goals, only that you should set ambitious yet realistic goals.
For example, you may want to earn more followers than your nearest competing franchise, but recognize that you can't complete that goal in a month. Instead, you extend the goal to three months, making it ambitious, but more realistic.
4. Build a social media strategy
With your goals created, you can start building your social media strategy. If you're new to social media, research the basics to learn how to create a social media strategy that supports your goals, like earning likes or website traffic.
A few questions you'll want to answer when developing your social media plan include:
How often will we post?
What kind of content will we post?
How often will we log in and check for comments?
How will we respond to comments, questions, or negative customer experiences?
Will we advertise too?
What kind of reporting system will we have?
Answering these questions before starting your social media efforts will help you launch a cohesive campaign. It'll also save you time, as you'll know the answer to questions ahead of time, like how to respond to a customer with a bad experience.
5. Create a management schedule
Finally, you'll want to create a plan for managing your social media presence. If you're like most franchisees, you don't have a dedicated marketer to lead your social media strategy. It's you and your core team.
For the best results with social media, work with your team to develop a management schedule. Maybe, for instance, on Monday, Wednesday, and Friday, you monitor your social media accounts for comments and questions. Or, you oversee all your social media ads.
Creating a schedule for managing your social media will make a tremendous difference in the performance of your strategy. It'll also make the process easier for you and your team. Plus, it'll help you build a relationship with your target customer.
3 tips for franchise social media success as a franchisee
Are you looking for ways to improve your social media success as a franchisee? Use these three tips:
1. Use social media tools like Buffer
Taking advantage of free and paid social media tools can help your franchise make the most of social media. With a tool like Buffer, for instance, you can schedule social media posts, analyze post performance, and even respond to post comments.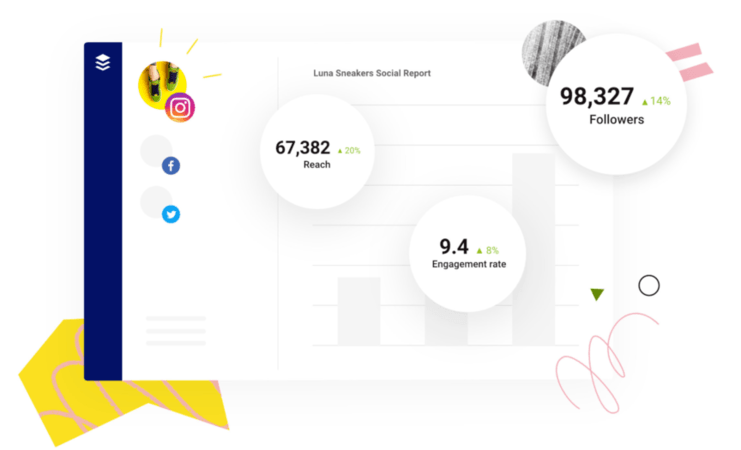 2. Get involved in the local community
Nurturing a relationship with your local community can also help your franchise's social media strategy. When you support and participate in charity events, it makes your franchise a part of the neighborhood. That involvement can result in not only new followers but also more foot traffic at your location.
You can even highlight your participation via social media with posts and relevant hashtags.
3. Limit how often you post
Social media is a great way to drive traffic to your site and to set visitors on the path to conversion. However, one thing that can quickly kill the productivity of social media is posting too frequently.
If someone's newsfeed is a never-ending stream of posts from your company, they will not only unfollow you, but the consideration to utilize your franchise will likely decrease. Most social platforms are designed for occasional updates, not constant advertisements.
4. Build a genuine relationship with your audience
One of the main objectives of social media is to be social and connect with other users. You should be doing just that for your franchise!
You want to ensure that your branch is reachable, reliable, and able to be contacted by always responding to comments and messages in a timely manner. When these things go seemingly unnoticed, potential customers will think you are either lazy or unavailable.
Be sure to also put your social media information on your website and at the end of your marketing materials on other channels, like email newsletters. This lets your potential customers know that you are available through many different outlets.
5. Hire a social media agency
Choosing to work with a social media agency can also make franchise social media simpler. With an agency, you don't have to worry about leading your strategy or initiatives. An experienced strategist does it for you, which lets you focus on running your franchise.
How to coordinate franchisor and franchisee social media strategies
For franchisors and franchisees, social media brings several challenges, including coordinating the two entities. Your business, however, can take proactive steps to make working with a franchisor or franchisee easier.
A few strategies include:
Share information with one another, from your guidelines to your goals
Make critical information, like brand and posting guidelines easily accessible
Provide report templates to make information sharing and reporting easier
Arrange routine conferences to share successful strategies and tips
All these tips focus on communication. When you maintain consistent communication and information sharing, you make it easier to develop, implement, and manage a successful social media marketing and advertising strategy.
Start your franchise's social media strategy today
Social media platforms, from Facebook to LinkedIn, offer your company instant access to its target audience. Whether you want to share promotions, build relationships, or get customer feedback, you can do it with social media — and WebFX can help.
Our social media agency offers franchise social media management services for both marketing and advertising. As your partner, our award-winning team (and your dedicated WebFX account manager) will provide you with a custom strategy, monthly reports, and impressive results.
Contact us online or call 888-601-5359 to learn more about our social media services for franchises.
Earn a 20% greater ROI with WebFX