Did you know that the average user spends 28% of their Internet time on social media?
Social media platforms are an excellent opportunity for you to advertise to people interested in your business. By looking at social media ad examples, you will see the different types of ads you can create to "wow" your audience across different social media networks.
On this page, we'll look at the four most popular social media platforms and the best examples of the ads they offer your business.

If you need help getting started with social media advertising, contact us online or call us today at 888-601-5359 to speak with a strategist about our customized social media advertising campaigns that grow businesses.
Facebook ad examples
First, let's look at Facebook ads.
This platform is one of the most popular social media networks for advertising. It is the second most popular company in terms of digital ad spend in the U.S. Facebook ads are great for helping you showcase your products or services and building your brand.
Let's look at three social media ad examples for the different Facebook ad formats.
1. Image ads
Image ads are one of the most common types of Facebook ads. These social media ads are simple but effective at reaching the right people. Let's take a look at an example of an image ad.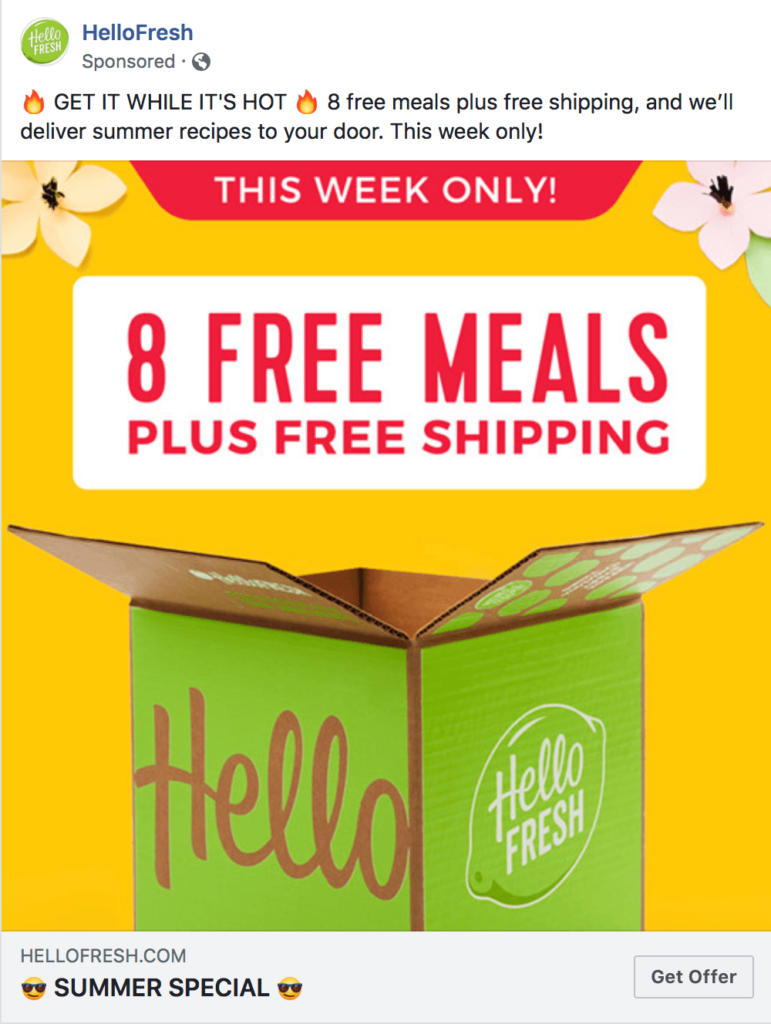 With this ad, the photo is extraordinarily bright and stands out on the page. Users will immediately see HelloFresh offering free meals and free shipping. It's a limited-time offer, which entices users to take advantage of the sale while it's happening.
This ad also includes a call to action (CTA) that fits with the message. It says, "Get Offer." People who click on the CTA visit a page that shows the different plans they can choose from to complete their order.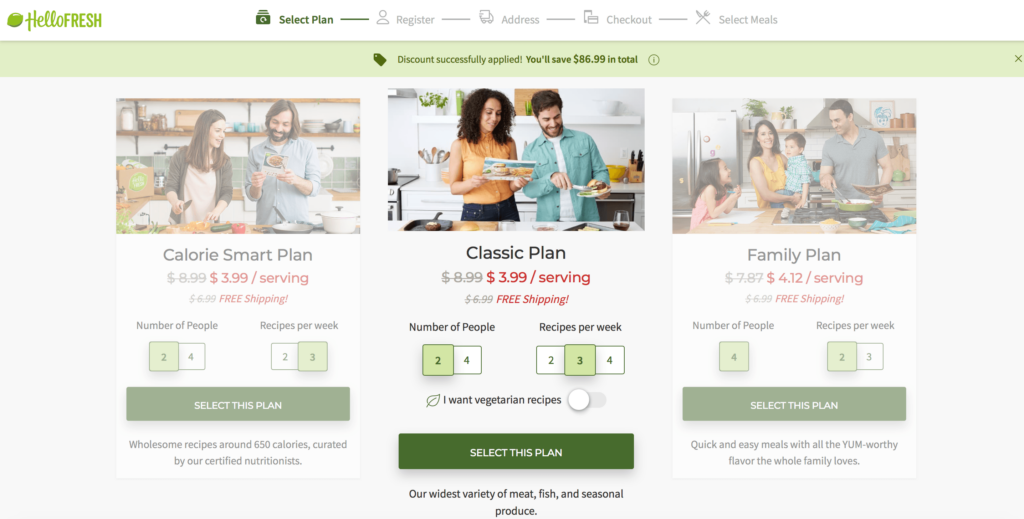 This ad is a basic example of what you can expect with an image ad on Facebook.
2. Video ads
Video ads are an excellent format for paid social media ads. These ads engage users and get them to pay attention to your ads. It's also great for providing an abundance of information quickly.
Check out this Facebook ad example: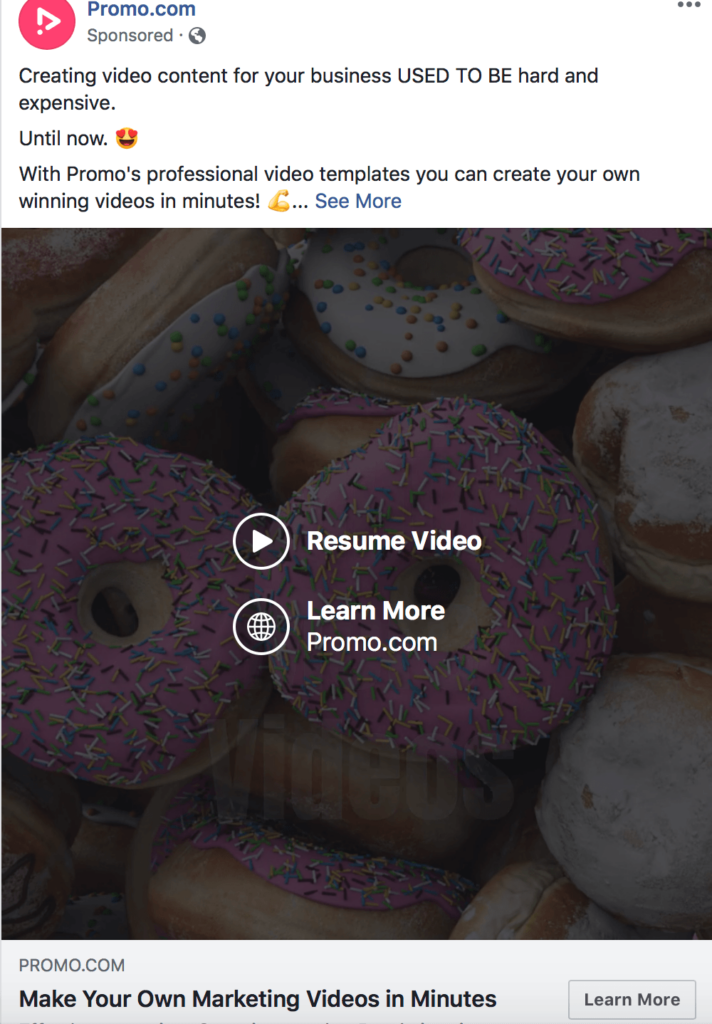 In this video ad, Promo created a short video showcasing one of the types of videos they created on their site. They have a CTA attached to the ad that allows people to learn more about their services. It's a simple ad that highlights the perks of creating videos on their platform.
3. Carousel ads
Carousel ads are an excellent option for showcasing multiple products. You have many slides you can use to upload products so your audience can shuffle through them to look at their options. You can also use one large image and span it across different cards.
Let's take a look at one of the social media ad examples that use the carousel ad format.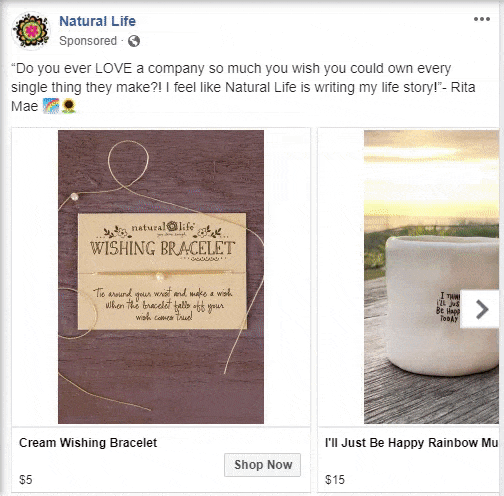 In this Facebook ad example, Natural life features a variety of their products. Each card has a "Shop Now" CTA so that users can get more information about each product.
Before each CTA, there are titles for each product. You can use this ad as a way to market multiple products or provide more information.
Twitter ad examples
Twitter is another excellent platform for advertising to your audience. There are three ad formats you can use for your Twitter ads.
Promoted Tweets
Promoted Tweets are the most common ads you will see on Twitter.
They typically feature a photo or video and share relevant information with the viewer.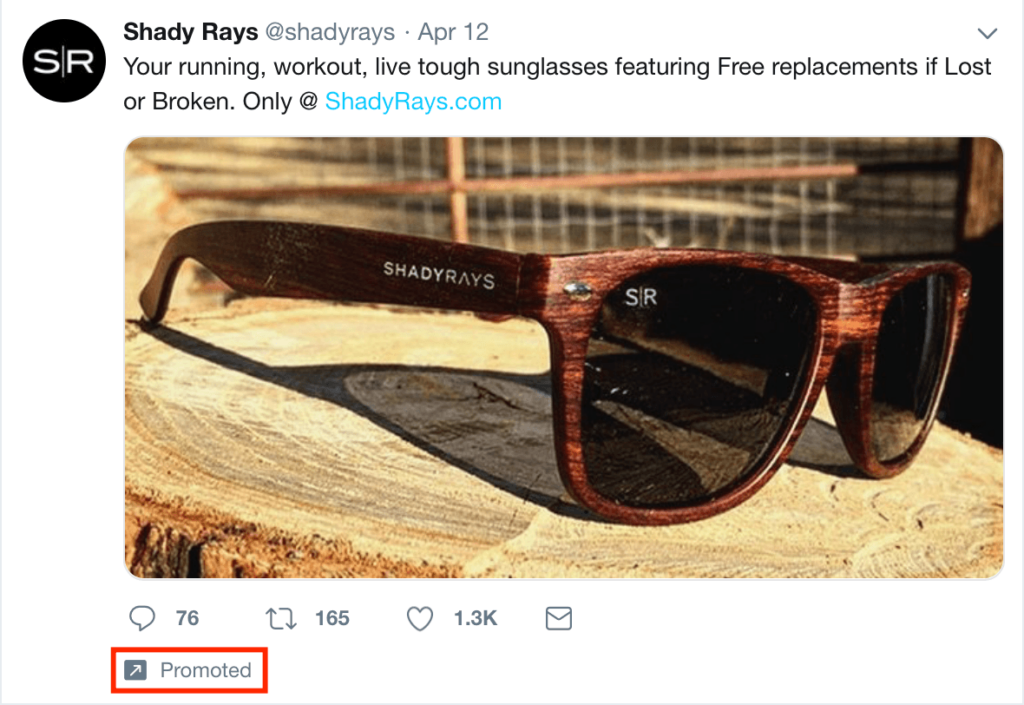 In this example, Shady Ray promoted their sunglasses by sharing a picture and short description with their audience. The summary highlights the positive features of their product and gets people to visit their website.
Promoted Accounts
Promoted Accounts are an excellent way for your business to connect with people who may want to follow your company on Twitter.
These ads are simple, but effective, at helping people find your account.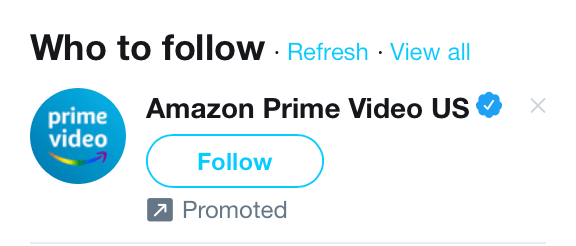 In this example, Amazon promoted its Amazon Prime Video U.S. account to get people to follow them.
This ad targets people in the U.S. who use Prime Video. If you're looking to gain more brand exposure and followers on your account, Promoted Accounts is the answer.
Promoted Trends
Twitter users commonly use hashtags on the site.
You can promote your hashtags to build brand awareness and get them to use your hashtag. It's also a great way to get users to click on the hashtag, learn what it's about, and find out more about your business.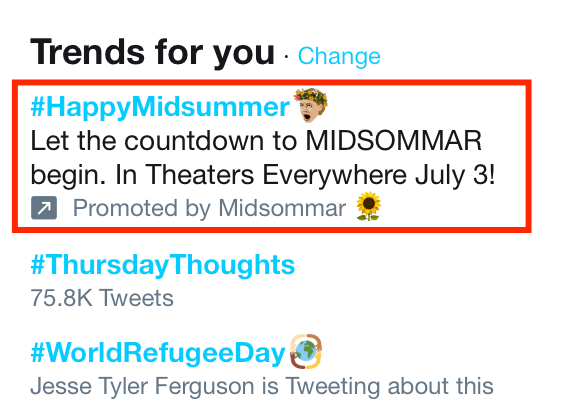 This Twitter ad example showcases a Promoted Trend.
This hashtag promotes a movie coming to theaters, but it's also a relevant hashtag that people can use in their social posts. It's a great example of a Promoted Trend that gets people to engage. It's important to note that, unless you have a sizeable budget, you may not be able to use Promoted Trends.
This advertising option costs upwards of $100,000. It's great to know this option is available, but you'll want to focus on the other two Twitter ad formats to get the most out of your Twitter advertising budget.
Instagram ad examples
Instagram ads are an extremely effective way to reach new leads. These are visual ads that engage your audience and get them to learn about your brand. Let's dive into a few social media ad examples for the different Instagram ads available.
Photo ads
Photo ads are a great way to engage your audience and get them interested in products or services.
It's a basic ad format that catches your audience's attention. Let's take a look at an Instagram ad example that uses a photo ad.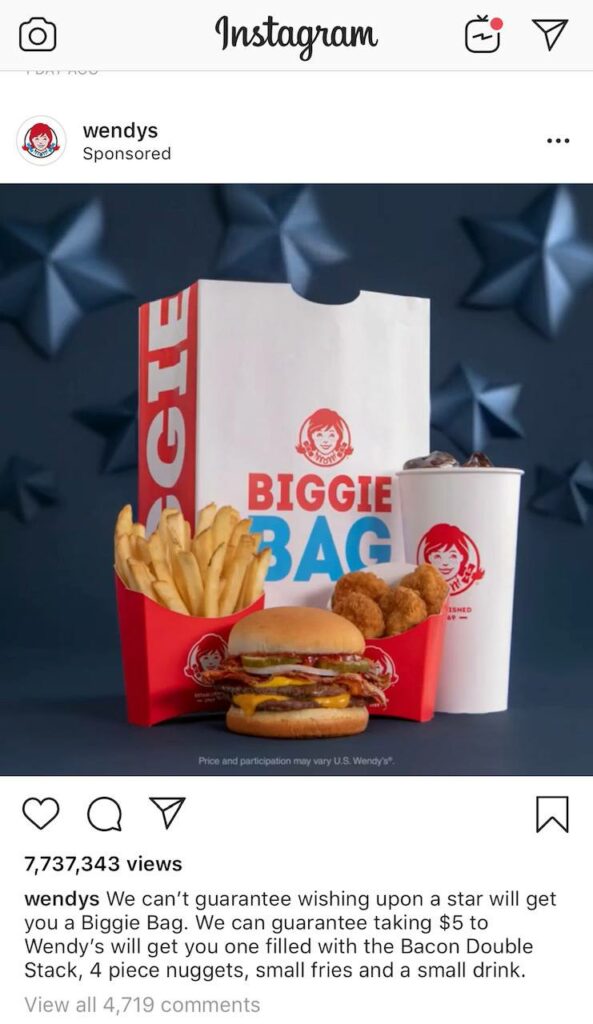 In this example, Wendy's is promoting their Biggie Bag by sharing a photo of the bag and what people can expect inside.
It's a simple ad that drives their message home to viewers. This ad entices users to want to get what's in the bag.
Video Ads
Video ads are extremely popular on Instagram's site. These ads automatically play when a user scrolls over them.
It's a great way to showcase your products or services a little more in-depth to your audience.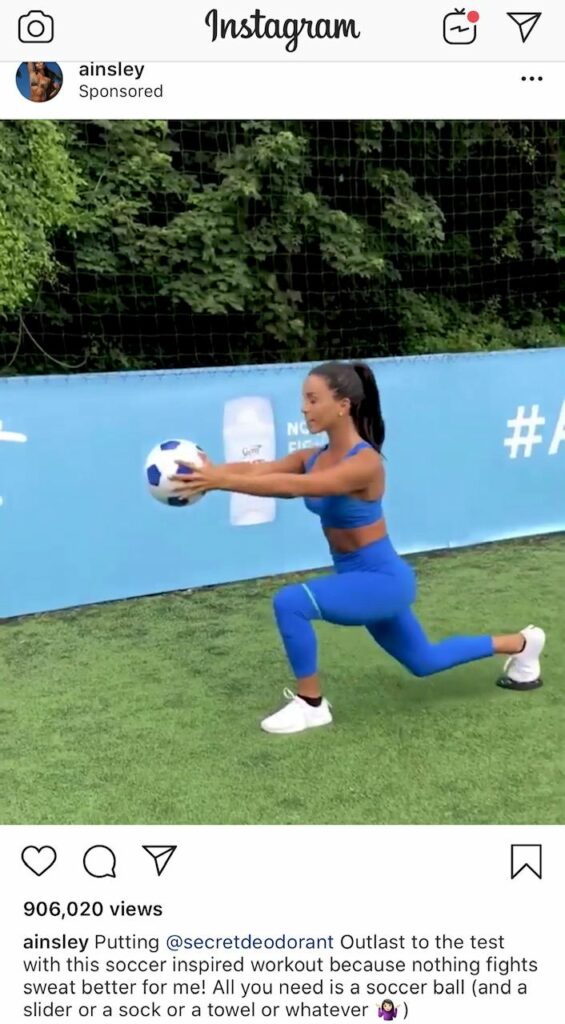 In this social media ad example, the focus is on a soccer player working out with Secret deodorant. The ad promotes Secret's product and shows how it can stand up to a hard workout.
It's an engaging video that gets people to learn more about the company's products.
Stories Ads
Ads in Instagram Stories appear when users click through different people's stories. These ads are an easy way to reach people as they browse through content.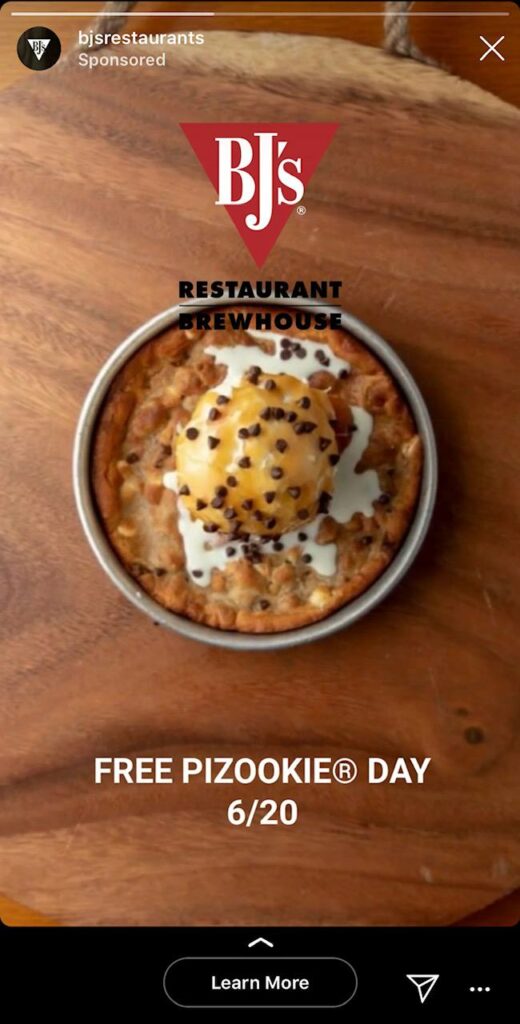 In this ad example, BJ's Restaurants created an advertisement for their Pizookie day.
This ad entices people to check out the offer and learn more about free Pizookie day. It's a great example of how you can use Instagram Stories ads to engage your audience.
Carousel Ads
Like Facebook carousel ads, Instagram carousel ads allow you to showcase multiple products to your audience. These ads are great for promoting products or highlighting all the benefits of one product.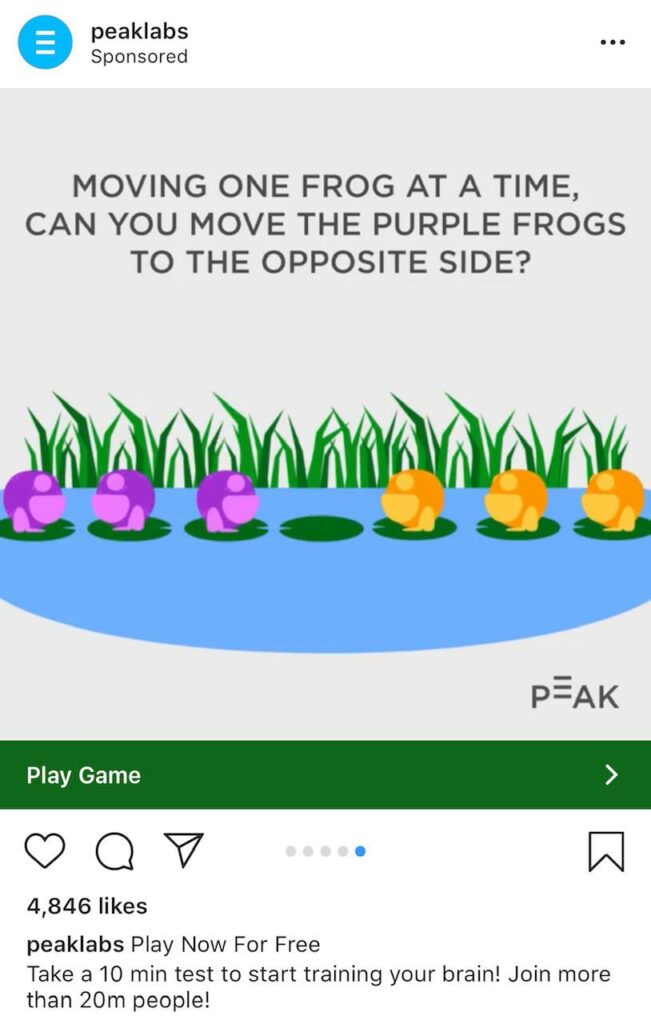 In this ad example, Peak Labs showcases their game and the different types of tests you can take to train your brain. You can keep swiping through their ad to see the various offerings. It's an effective ad for engaging their audience and getting them to play the company's game.
LinkedIn ad examples
LinkedIn is a great social media platform for networking and reaching professionals whether you're posting ads or posting LinkedIn videos.
Your LinkedIn ads allow you to connect with new people that aren't following your business on social media. This professional network is also useful for earning new leads looking for companies like yours. Let's take a look at the three types of paid social media ads you can use on LinkedIn.
1. Sponsored Content
Sponsored Content is the most common ad format you will see on LinkedIn. These ads appear in the feed, just like any other LinkedIn post. Let's look at one of the social media ad examples that are a Sponsored Content ad.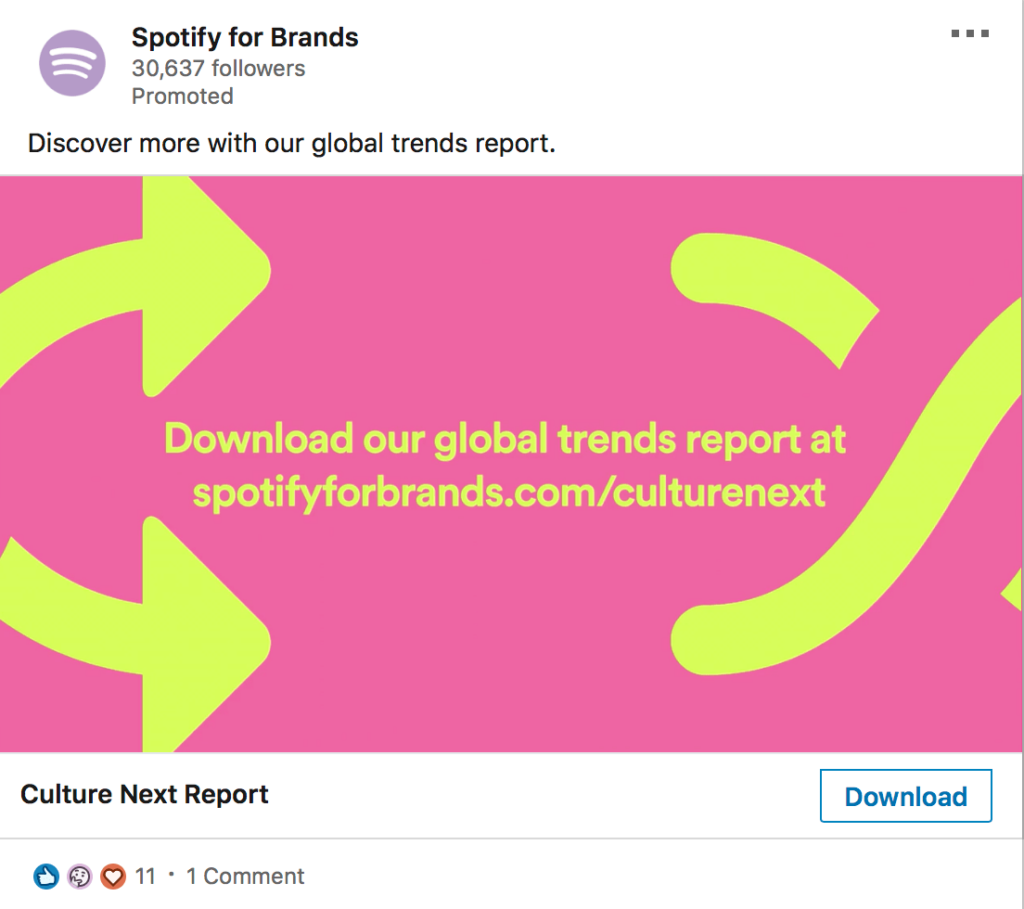 This ad focuses on Spotify's services for brands, specifically their global trends report. The ad features a video that details their global trends report and how it can benefit businesses looking to learn more about how users engage with Spotify on a worldwide scale. This video ad is an example of the type of ad you can create through LinkedIn.
2. Sponsored InMail
Sponsored InMail is a great way to get your message directly to your audience.
This sponsored content appears in a user's LinkedIn inbox. When you use Sponsored InMail, you ensure that your message reaches your audience, rather than hoping they see your ad in their feed.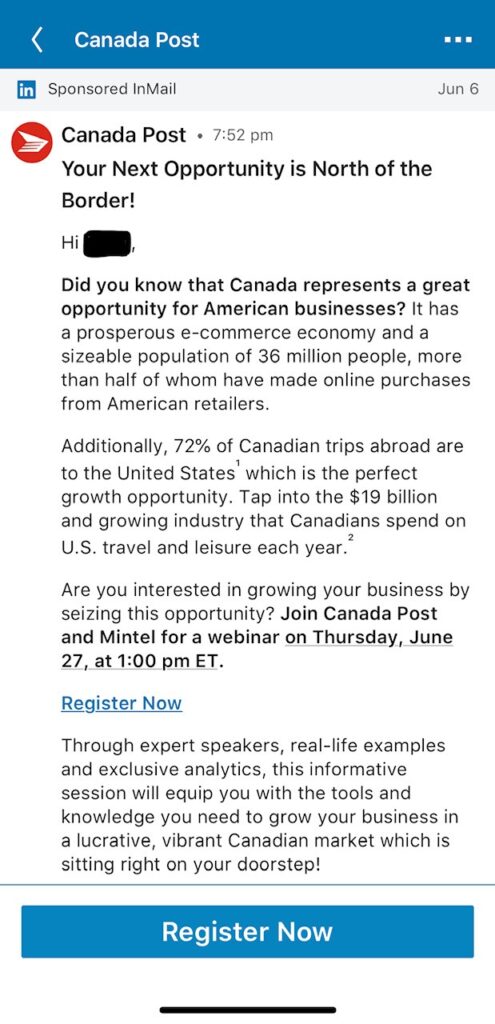 In this social media ad example, Canada Post reached out to people about their webinar for growing the business owner's company in Canada.
This ad presents compelling statistics on why someone would want to consider doing business in Canada and how this webinar will help companies tap into the Canadian market. It's informative and integrates a CTA button that gets people to register for the event. Sponsored InMail is an excellent option if you're trying to reach people directly with your message.
3. Text Ads
LinkedIn Text Ads are a simple way to advertise to prospective leads. These ads appear on the sidebar of the LinkedIn homepage when viewed on desktop. They are simplistic ads that include a small photo and a blurb of text.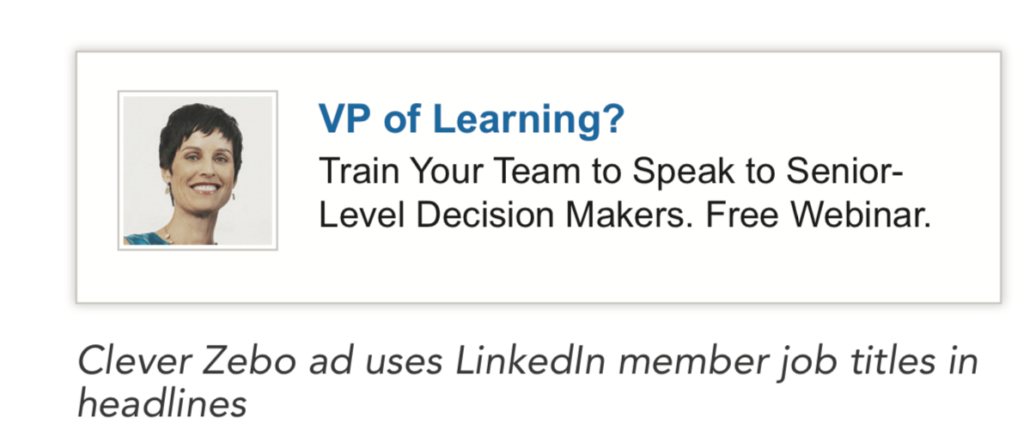 This photo is a social media ad example of text ads. It's simplistic, but it provides all the necessary details and targets professionals interested in learning how they and their team can speak and communicate with higher-ups. The ad offers this information through a free webinar.
It's a highly targeted ad that is simple but effective.
Need help creating social media ads that work?
After looking at all these social media ad examples, you can see the possibilities that wait for your business. There are numerous options for ads that you can use to help your company reach new people and grow. How do you figure out which ad format is best, though?
If you want to start by creating ad designs yourself, check out our video on how to create social media graphics.
If you'd rather focus on the daily operations of your business, we have a team of over 500 experts knowledgeable in social media ads. We'll help you choose the right platform for your advertisements and make recommendations on which ad type will work best for your business. With over 1020 client testimonials that attest to the remarkable work we do, you can count on us to deliver a campaign you'll love.
If you're ready to start creating social media ads that will help you reach new leads for your business, contact us online to speak with a strategist about our comprehensive social media advertising plans that help you grow your business.
How is your website's SEO?
Use our free tool to get your score calculated in under 60 seconds.
Get posts by email
Join 200,000 marketing managers and subscribe to Revenue Weekly!
"*" indicates required fields
WebFX Careers
Join our mission to provide industry-leading digital marketing services to businesses around the globe - all while building your personal knowledge and growing as an individual.