To grow your co-op online, you need to be where your audience is. No matter your industry, your customers likely use social media, so you'll want to leverage social media marketing to reach your audience better.
But knowing where to begin with social media is challenging — which platform should you choose and how do you create content that engages your audience?
If you're asking yourself those questions, you've come to the right place! This page will outline everything you need to know about social media for co-ops, including why and how your co-op should add this strategy to your digital marketing toolkit.
Ready to become a social media expert? Keep reading!
And if you want more advice on using social media marketing for your business, download our free guide! You'll receive lots of beginner-friendly tips to improve your social media presence.
4 benefits of using social media for co-ops
You might be wondering whether social media for co-op businesses is worth it. When used as a tool in a larger digital marketing strategy, co-op social media brings many benefits, including:
1. Building brand awareness
To grow your co-op, you must build brand awareness nationally and within the communities your co-op members operate. The best way to accomplish this goal is by ensuring your brand is present where your audience spends their time.
When you and your co-op members use the right social media platforms, you get in front of your audience as they scroll and interact with brands like yours. With 74% of social media users following brands, you have an incredible opportunity to grow your audience on social media!
2. Building audience relationships
Social media is a two-way marketing medium that prioritizes engagement. As a result, it's one of the best platforms for building relationships with your customers.
Why does relationship-building matter to your business? Customer-brand relationships build loyalty, and retaining customers costs less than acquiring new ones. Loyal customers are also more likely to become brand fans and recommend your brand to others — a win-win!
3. Receiving audience feedback
Because of social media's two-way nature, it creates an excellent opportunity to hear from your customers. Many people comment on companies' social media posts to express satisfaction — or dissatisfaction — with their recent experiences with the business.
Use these comments to improve your customer's experience and engage in relationship-building customer service.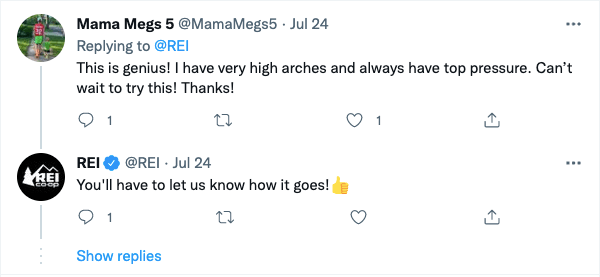 Plus, you can run surveys and ask questions on social media. Users expect to see brands and influencers asking for their engagement, making social media a perfect opportunity to learn more about your audience.
4. Monitoring brand sentiment
Brand sentiment analyzes what people say about your brand and how they feel about it, whether positive, negative, or neutral. While brand sentiment includes brand mentions from anywhere online, social media is one of the most prevalent places.
When you use social media, you equip yourself to stay on top of need-to-know developments about your brand, both good and bad, so you can respond quickly and effectively.
Top 7 social media tips for co-ops
Now that you know why you should use co-op social media, you might wonder how. If you're ready to take advantage of these incredible social media benefits for your brand, watch the video below and check out these seven social media tips for co-ops:
1. Choose your platforms strategically
You have limited time, so ensure you spend it wisely by choosing the right social media platforms.
The right platforms depend on your business, industry, and target audience. While there is no one-size-fits-all answer to which sites your co-op should use, ask yourself the following questions to help you choose:
Who is my target audience, and which platforms do they use?
What types of content do people on this platform enjoy seeing?
How often am I expected to post on this platform?
Which platforms do my competitors use?
These questions will help you determine which platforms might be more lucrative for you. A critical tip for any company on social media is not to over-extend yourself. You need to post consistently, and if you're on too many platforms, you'll have difficulty keeping up with the platforms' demands.
2. Ensure your members understand your branding
Across all social media platforms and profiles, you want to provide your users with a consistent experience.
If your co-op members run individual social media accounts, ensure they understand your branding. You might provide them with a brand style guide with elements like your brand voice, colors, and messaging guidelines.
Keep the guidelines clear enough that your followers experience a consistent brand, but not too detailed that your members get overwhelmed or don't have the freedom to post authentically on their accounts.
3. Post creative and valuable content
Like anywhere else, you should use social media to provide your audience with valuable content, but you'll also want to get creative. Social media is overflowing with great content, so use fresh, exciting content to make your co-op stand out.
Think about what your audience wants to see, and consider the many types of social media content you can post — from stories and videos to photos and text-based posts. Depending on the platform, the options are endless.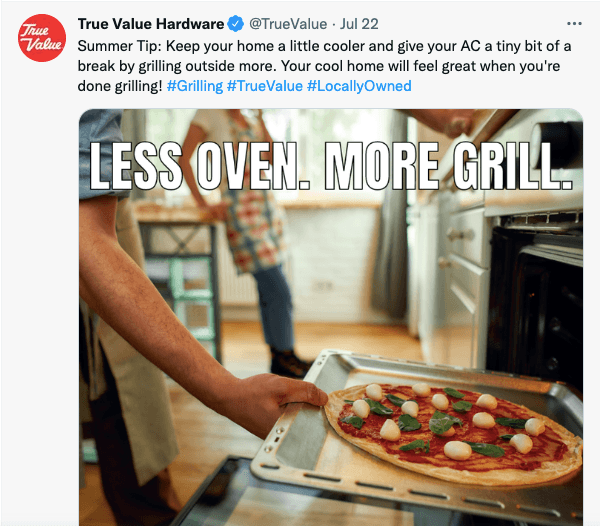 Need inspiration? Get involved in your industry's community on your platforms of choice and see the types of content your audience interacts with most often.
4. Engage with your audience authentically
The key to social media success is authenticity. Users want to interact with brands that feel genuine, so ensure you stay true to your brand as you post and respond to your followers.
As a co-op, you'll want to give your members the freedom to post as they see fit. Your audience will notice if your members post content you've outlined in stark detail, so try keeping your social media guidelines loose enough to provide guidance without being too restrictive.
5. Stay consistent
Anyone looking to succeed on social media must post consistently. When you post consistently, you keep your brand top-of-mind and gain the favor of many social media algorithms.
To enable your co-op members to post consistently, choose your platforms wisely and provide resources to empower your members to engage regularly. You can also try using a social media scheduling tool like Buffer or Hootsuite to stay on top of your content calendar.
6. Experiment with new features
Social media changes constantly, and the platforms are always rolling out new features. Don't hesitate to experiment with new content types or features that allow you to engage with your audience in fresh ways!
Social media is highly adaptable, which gives you ample room to experiment. But remember to test and measure consistently to see which new features or content types drive the best results for your business.
Social media metrics you might track include engagement metrics like:
Comments
Likes
Saves
Shares
Reposts
Follows
Depending on your social media goals, you might also track metrics like profile views or click-through rates (CTR) for links.
7. Know when to use paid ads or organic content
On social media, you can post organic content and paid ads. While some businesses stick to organic content only, many also include paid ads in their strategy. Using paid social media ads allows you to cut through the surplus of content and get your post seen by more people.
Consider when running ads will benefit your company, such as to increase brand awareness or promote a limited-time offering. To choose the most strategic mix, you'll want to understand the benefits of running social media ads and set clearly defined goals for your social media accounts.
74% of people use social media when making a purchasing decision.
Make their decision easy with a stellar social media presence. See how your brand can level up by requesting a no-obligation proposal today.
One of our experts will be in touch within 24 hours!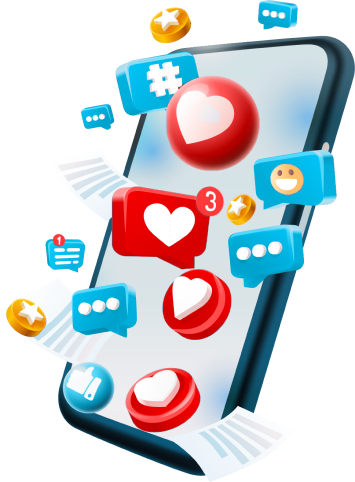 Learn more about our social media services for co-ops
Read these tips for using social media for co-ops and wondering where you'll find the time to manage your social media accounts on your own? Partner with WebFX to have your social media marketing handled for you!
Our social media services for co-ops include organic and paid social media marketing. We've created over 165,000 social posts for clients, and our services have grown one client's social media to over 10,000 followers.
Do you want your co-op to be next? Call us at 888-601-5359 or request a free proposal online today!
Earn a 20% greater ROI with WebFX