How Much Does It Cost to Advertise on Twitter?
Twitter advertising costs depend on your ad type, which includes promoted tweets, promoted accounts, and promoted trends. Promoted tweets cost $0.50 to $2.00 for each action. Promoted accounts cost $2 to $4 for each follow. Promoted trends cost $200,000 per day. Keep reading to learn more Twitter ad prices and how to launch a cost-effective campaign for your business!
Are you ready to learn more about how much Twitter ads cost? Keep reading, then, because this pricing guide covers how much Twitter advertising costs, what factors influence Twitter ad pricing, and how to launch a Twitter ad campaign. And if you want to learn how to add Twitter advertising to your marketing budget, use our nifty (and free!) guide!
Or, if you'd like help launching Twitter ads, plus optimizing your Twitter ad costs, contact us online or call us at 888-601-5359 today! Or, browse our social media advertising services to learn how we've helped our clients earn more than $3 billion in revenue in the past five years.
Growing your social presence with WebFX is a walk in the park.
"WebFX allows growing your social media platforms to be stress-free! They are knowledgeable and adapt to your company needs!"
Learn More About Our Social Media Services

How much does Twitter advertising cost?
Twitter advertising pricing depends heavily on your ad type. You can choose from three ad types on Twitter: Promoted tweets, promoted accounts, and promoted trends. While promoted tweets cost $0.50 to $2 per action, like a retweet, follow or like, promoted accounts cost $2 to $4 per follow. Promoted trends, in comparison, cost $200,000 per day.
| TWITTER AD | TWITTER AD COST |
| --- | --- |
| Promoted tweet | $0.50-$2.00 per action |
| Promoted account | $2-$4 per follow |
| Promoted trend | $200,000 per day |
Twitter advertising costs: Promoted tweets
What are promoted tweets?
Promoted tweets are tweets you've already posted that you use as sponsored content. It's a great way for your business to capitalize on tweets that have a high performance. These are original tweets that you posted to your timeline that you promote to appear in the timelines of people who don't follow your business.
This allows you to target a large audience of people that you think will be interested in your business. It helps your tweet appear in front of more users and attract them to your page. This helps you reach people you couldn't normally reach organically.
Promoted tweets operate on an auction system where you place bids. Your business is charged based on engagements. These engagements include clicks, replies, retweets, and favorites. If someone takes one of these actions, it costs your business money.
How much does it cost to promote a tweet?
The cost to promote a tweet ranges from $0.50 to $2.00 for each first action. The average falls around $1.35 each time someone clicks, replies, or retweets your tweet.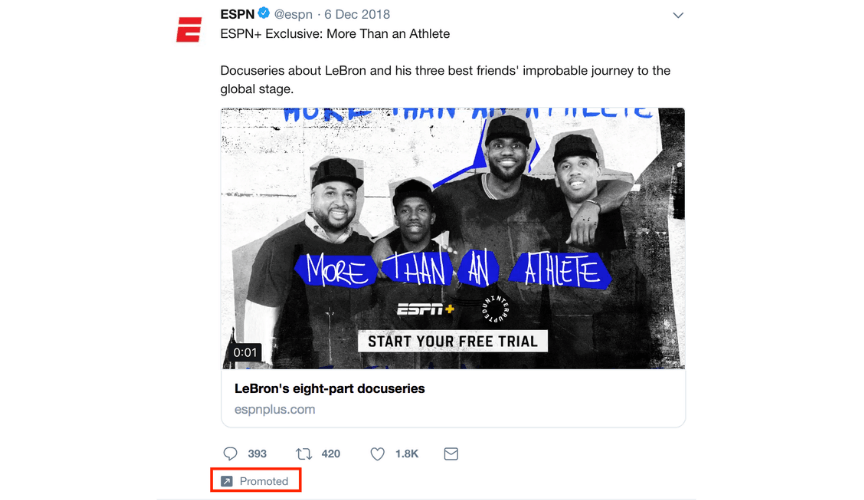 Twitter advertising costs: Promoted accounts
What are promoted accounts?
Promoted accounts are paid ads that promote the entirety of your account. Users that aren't following your business will see a promoted tweet that features your account. It's a great way to help you gain new followers and grow your brand awareness.
When you run your campaign, you can target a specific audience to reach people who would be interested in your business. These ads will appear in timelines, the Who to Follow section, and the search results.
Similar to promoted tweets, promoted accounts operate on a bidding system. You determine the bid amount based on how much you're willing to pay for each new follower.
How much does it cost to promote an account?
The typical cost of running a promoted accounts advertising campaign costs falls between $2-4 per follower.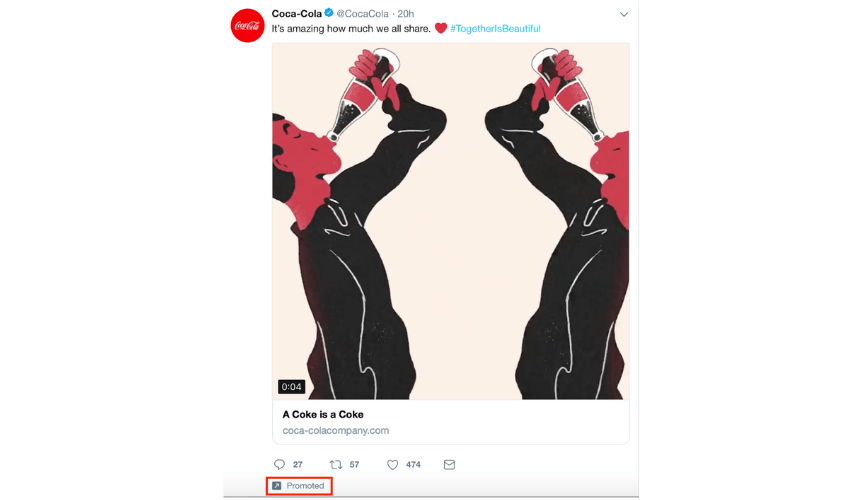 Twitter advertising costs: Promoted trends
What are promoted trends?
When you go onto your Twitter newsfeed, you'll see a bar on the left-hand side that says, "trends for you." In this section, there are hashtags and topics that are trending currently on Twitter. Many of these trends are based on your interests, who you follow, and your location.
Promoted trends appear at the top of the trends list. They're tagged with the word "promoted" to indicate paid content.
Like the other ad formats, you must place a bid to get featured on the promoted trends list. The biggest difference between promoted trends and the other ad formats is the cost.
How much do promoted trends cost?
Promoted trends cost $200,000 a day. For a small to mid-size business, this probably isn't a feasible option. Promotional trends are more suitable for larger companies with a bigger social media marketing budget.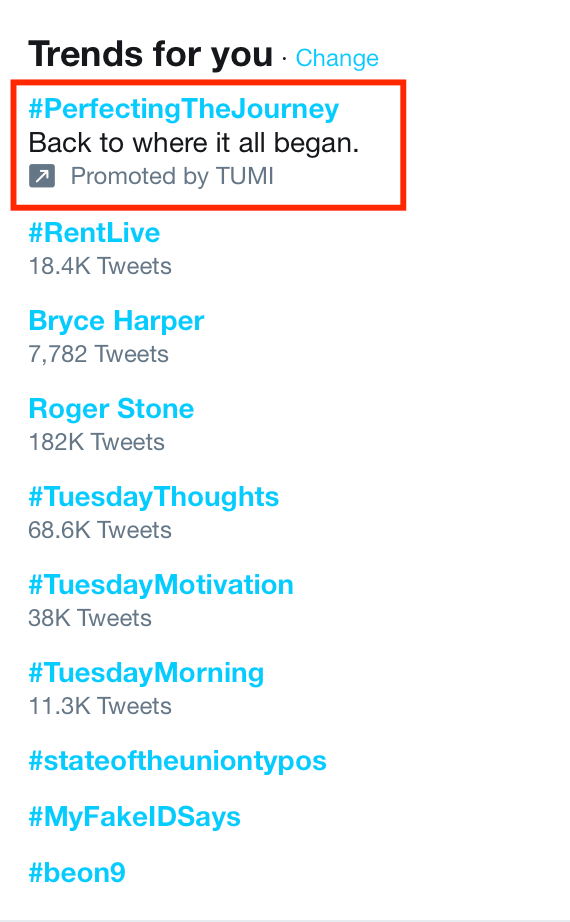 Factors that affect Twitter advertising costs
Regardless of which type of ad you run, the cost you pay for your Twitter ads depends on a few factors:
Quality score: While Twitter ads run on an auction system in which you select your bid, the site also considers your ad's quality and relevance when choosing whether to show it.
Competition: When Twitter chooses to show your ad, you're charged relative to your competitors' bids. This means if your bid is $1 higher than the second-place competitor, you'll only pay $0.01 more than that competitor's bid.
Billable actions: Based on your campaign objectives, each ad will have its own billable actions, which determine when you pay for an ad. For example, if you run a campaign with a billable action of link clicks, you'll only pay when someone clicks your link.
Bid type: On Twitter, you can choose between three bid types. With automatic bids, Twitter chooses your bid to auto-optimize your campaign performance. With maximum bids, you set the maximum amount you're willing to pay for each billable action. With target bids, you set a target average bid and Twitter optimizes your ads to achieve it.
What additional Twitter advertising costs can I expect?
When you run a Twitter ad campaign, you expect to pay the cost of running the campaign. Depending upon who runs your campaign, you will incur additional Twitter advertising costs.
In-house team
If you want to keep your marketing efforts in-house, it will cost you the amount to pay an employee. This includes costs like salary and benefits. This Twitter ads pricing factor is something you must consider and see how the cost spans out over time.
In addition, you may invest in Twitter Promote Mode. This mode costs $99 per month. It's an automated program that runs your promoted Twitter ads for you.
This program enables you to focus on creating valuable tweets that you can promote. It will automatically take the first 10 tweets on your account and promote them, as long as they pass the quality filter.
Twitter Promote Mode is best for businesses that want an automated, always-on advertising solution. If you constantly want to run promoted tweets but don't have time to dedicate to it, Twitter Promote Mode is the solution.
This mode helps you drive results too. On average, you can reach up to 30,000 additional people and gain 30 new followers a month. Twitter Promote Mode allows you to target a select audience and engage them with valuable content.
It doesn't require any extra effort, either. You just market your brand how you would normally, by tweeting updates, links, and media, and Twitter does the rest. This mode allows you to run both promoted tweets and accounts.
If you're running your campaign in-house, this is an additional, monthly cost you'll want to consider. You may not have the time to constantly run ads, so you'll need to rely on an automated program to run them for you.
Freelancer
Aside from an in-house team, you can also hire a freelancer. Freelancers typically work as you need them to help with your campaign. Some work at a project rate, but most work on an hourly rate.
The hourly rate for a freelancer often depends upon their experience:
Three or less years of experience: $15-$50 per hour
Three to five years of experience: $50-$100 per hour
Five or more years of experience: $120+ per hour
Each time you need a freelancer, you can expect to pay one of these hourly rates. This is something you must consider when you hire a freelancer because it can end up being more expensive if you need more work.
Social media marketing company
Your last option is to hire a social media marketing company. A social media marketing company will manage your campaign for your business. You won't need to worry about running your campaign or managing a freelancer.
The cost of hiring a social media advertising company varies based on each company and the number of social networks you need. Generally, businesses spend $4000 to $7000 per month for professional social media management.
While agencies cost more than freelancers, hiring a social media marketing company means you don't need to worry about running your campaign. You can rely on experts to handle your campaign and worry about running your business.
View our Twitter advertising services
How to get started with Twitter ads
Now that you know more about Twitter advertising pricing, you can start your campaign. Here are six steps to start creating a Twitter ads campaign.
1. Determine your budget
First and foremost, you must determine your budget. This is an important part of starting any advertising campaign. If you want to run a successful campaign, you must know how much you can spend on a campaign.
You must look at your overall digital marketing budget and see how much money you're allotting for other strategies. Once you know your budget for social media advertising, you can determine how much you can spend on an advertising campaign.
2. Decide your campaign goals
Once you have your budget set, the next step is to determine your campaign goals. What do you want to achieve with your social media advertising campaign? It's crucial that you know what you want to achieve so you can set your campaign up for success.
Here are a few campaign goals you can set:
Website visits: If you want to direct people to your website, you can set this is a goal. Every time someone clicks on your ad, you will be charged. All other engagements are free of charge.
Earn followers: When you want to grow your business, it is best to set a goal to gain followers. You will pay for every follower your account gains through your advertising campaign.
Engagement: If you're looking to build brand recognition, you can set a goal to boost engagement. You will be charged for every interaction with your ad, whether it's a click, retweet, like, or follow.
App installs: If you're looking to get more people to download your app, you can focus your campaign on earning downloads. You'll be charged each time someone clicks on your ad to download your app.
Video views: If you're running a video ad, you can focus your campaign on earning video views. You'll be charged each time someone views your video.
Determining your campaign goal will also determine which ad type is right for your business. A promoted tweet will work better for trying to earn website visits, but a promoted account ad will be better for earning followers. When you know your goal, you can choose the right ad for your campaign.
3. Determine bid amount
As stated previously, Twitter ads operate on a bidding system. When you're ready to run an ad, you must set your bid amount.
There are three bidding options for your business:
Max bid: You choose how much an engagement is worth to your business. When you set a maximum bid, you won't pay the full amount every time.
Automatic bid: Twitter will auto-optimize your bid amount according to campaign objectives.
Target bidding: Target bidding is only available if your campaign goal is to earn website visits or followers. With this option, Twitter optimizes your bid to achieve the average daily cost that meets or beats your target bid.
Once you determine your bid set up, you're one set closer to launching your campaign.
4. Choose your tweet
The next step is to choose the tweets you want to feature in your ads. If you want to give your audience the right first impression, it's best to choose ads that will build brand awareness and earn your business new leads.
You have the option to choose a tweet that you've already created, or you can opt for creating a new tweet specifically for your ad. It's up to you to decide what type of ad will work best for your campaign.
5. Set target audience
When you run a Twitter advertising campaign, an important step is to set your target audience. You want to ensure that you're reaching the right people at the right time.
Twitter allows you to target people based on information like demographics, gender, age, location, language, and more. You can go even further, and target people based on a country, metro, or postal code.
There is also an option to upload your own list of people. You can use this list to retarget people you know are interested in your business or to create a target audience that is similar to your known follower base.
6. Launch your campaign
Once you have all the perimeters set up for your campaign, you will launch it. Once it is launched, you can start monitoring your campaign's performance to see how you can keep improving it. This will help you drive better results with your Twitter advertising campaign.
74% of people use social media when making a purchasing decision.
Make their decision easy with a stellar social media presence. See how your brand can level up by requesting a no-obligation proposal today.
One of our experts will be in touch within 24 hours!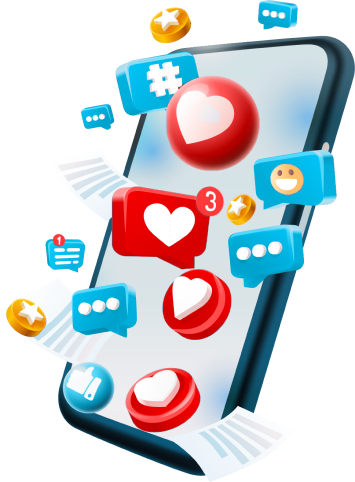 Optimize your Twitter ads cost with WebFX
Twitter provides you with the opportunity to reach people interested in your business. If you want to continue to grow your business through social media, Twitter is a great resource to help you. At WebFX, we have years of experience creating Twitter advertising campaigns for our clients.
We're a full-service digital marketing company that specializes in social media advertising. We have a team of over 500 experts that will bring their knowledge and expertise to your campaign. We'll help you create a Twitter advertising campaign that works for your business.
If you're looking for a company that drives results, look no further than WebFX. In the last five years, we've driven over $3 billion in sales and over 7.8 million leads for our clients. We focus on creating campaigns that help our clients grow their business.
Don't believe us? Just ask our clients! Check out our 1000+ client testimonials that attest to the awesome work we do for them.
Get the best return on your Twitter advertising costs
If you're ready to start setting up a Twitter advertising campaign, contact us online or call us today at 888-601-5359 to speak with a strategist.
We look forward to helping your business reach new heights!