Any business that wants to be successful needs to have a positive reputation and well-known brand. You may be the best chiropractor in the world, but that won't help you if people don't know your practice exists.
rnTo increase your client base and drive revenue, you need to have an effective marketing strategy for your business.
When it comes to healthcare, people want to feel as informed and reassured as possible that they've chosen the best practice. So how do they find the information that will help them make this choice? By searching online.
When most people decide they're in need of a product or service, they research their options on search engines like Google.
If you're not promoting your practice online, you're missing out on potential patients. On this page, we'll explain why it's necessary for your business to have a digital marketing strategy and what you can do to create one.
Questioning the quality of your SMB's PPC performance?
Get your FREE PPC audit from WebFX today!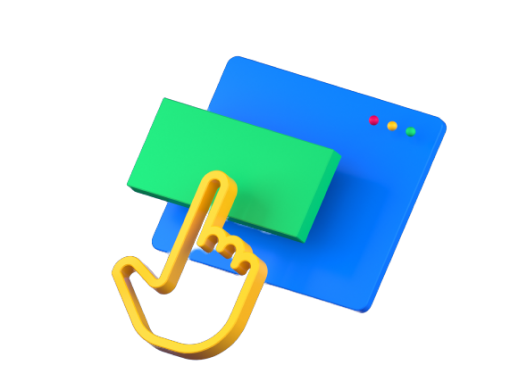 Why does chiropractic PPC matter?
Pay-per-click (PPC) advertising is one of the most accountable types of advertising you can use. This is because it lets you set a budget for what you're willing to spend and only pay when someone clicks on an ad and visits your website.
You can run PPC ads for specific keywords and phrases users search, and they show up above regular search results for those keywords. Below, you can see an example of one of the coffee mugs.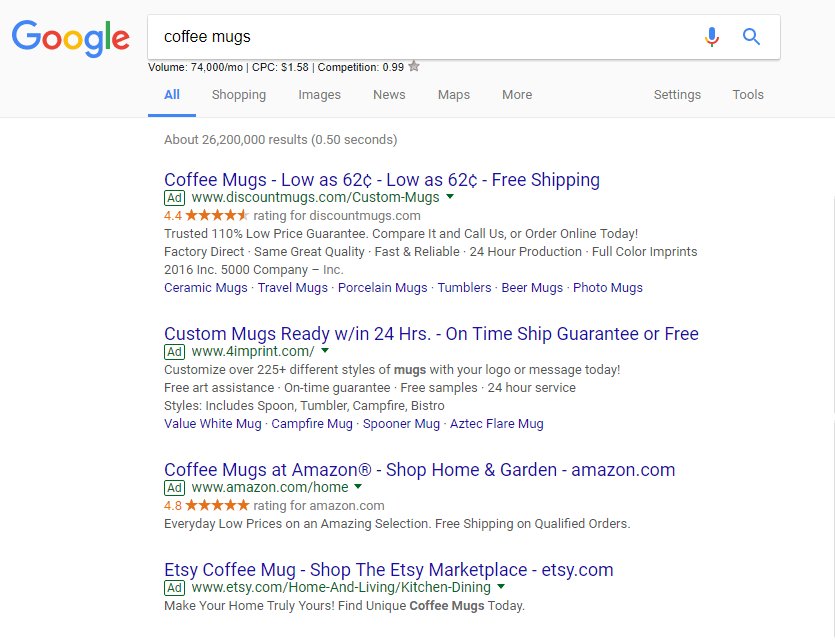 There was a time when traditional marketing methods, like radio ads and direct mail, were the best option for chiropractic practices. Today, those methods just don't produce the same results they once did.
People respond to online ads because they show up as they're actively searching for information.
Using online marketing means that you don't have to wait for people to hear your ad being played on the radio or worry that they won't tune in at the time it's on. With PPC, you reach them as they're researching services like yours online.
At WebFX, we have years of experience creating effective PPC campaigns that have increased website traffic by 95% and increased conversion rates by 37%. We know what it takes to increase your business's ROI and make the most of your PPC budget. Contact us today to learn how WebFX can help you create PPC ads to improve your online marketing and reach more patients.
Use our proprietary keyword research tool,
KeywordsFX

, to help you find high-quality keywords for content and PPC campaigns. Identify Top Keywords for Free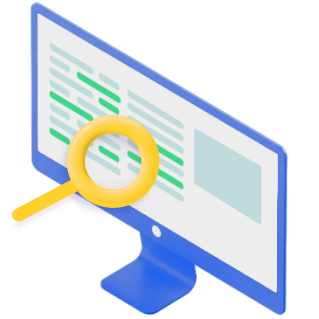 Hear What It's Like to Work With WebFX!

"WebFX has completely transformed my practice. With their support, I have expanded my practice significantly and grown exponentially. I could not have expanded to this degree, nor this quickly had it not been for the incredible efforts provided by WebFX and my team."
Healthcare
PPC for chiropractors
Your industry is competitive, and you're constantly trying to win the attention of new clients.
When a person is in need of a chiropractor, the first thing they typically do is search for one online. But how can you compete for them to choose your practice over others? It's crucial for you to put yourself in front of potential patients the second they use a search engine.
The only way to increase revenue and grow your client base is to outperform your competitors in search engine results. To do so, you have to be able to outrank them.
PPC ads allow you to start producing leads and increase your brand recognition immediately, and can increase your brand awareness by 80%.
If you're like most chiropractors, your main marketing goals are to generate new clients and increase your revenue. And given that businesses earn almost $3 for every $1.60 they spend on PPC, it can certainly help you reach those goals.
PPC ads also provide feedback quickly, so you can determine what is working and what is not. You can track how many people click on your ad, how long they remain on your site after clicking, and how often each ad leads to people choosing your services.
PPC platforms give you the ability to instantly stop an ad if you find that it is not getting the results you want, so you will never spend money that is not worth your time when running a PPC campaign. Traditional marketing does not provide this same luxury. When you run a traditional marketing campaign, you are spending money regardless of whether your target audience is responding to it.
An increasing number of consumers use search engines to determine which businesses they visit for all of their needs, and since earning placement in the results costs less and has a better ROI that traditional advertising, it could be an effective solution for your chiropractic practice.
Using PPC to attract new patients
Think about what you would do if you needed a chiropractor and lived in New York City. If you're like most people, you'd go to Google and search for something along the lines of, "New York City chiropractor."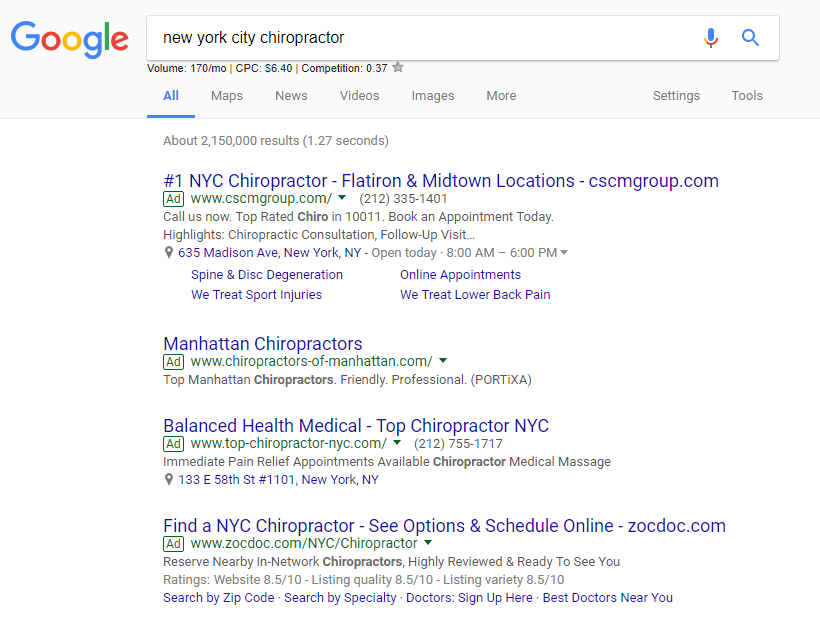 Then, you'd likely click on one of the practices that appears in the top results. Why? Because it's fast, easy and convenient.
This idea applies across the board with consumers. Using PPC ads in connection to location puts your practice directly in front of customers that are looking for a service convenient to where they are. This is especially important when you consider that 33% of searches on Google are related to location.
PPC platforms like Google Ads allow you to reach specific customers that are likely to convert based on location. You can use it to target potential clients who are actively searching for your services, and maximize the results you get from your marketing efforts.
Results we know firsthand
There are many agencies that can claim they know how to create successful PPC ads, but getting real results requires more than just experience and certifications.
At WebFX, our PPC clients have seen significant improvements in their results after working with us, and the following clickthrough rate increases are just a few examples of our work:
Cadd Words – 1,000% over 90 days
TUV – 436% over 30 days
Switchname – 300% over 14 days
And after a PPC campaign overhaul, Ceramcor's PPC ROI increased by 38,293%. These are just a few examples of the results we've generated, and we'd love to do the same for your practice.
Are you ready to create effective PPC campaigns for your practice?
If you want to start reaching more new patients, we can help. WebFX is a leading Internet marketing agency with a team of over 500+ experts in SEO, PPC, and other online digital marketing strategies.
Don't miss opportunities to develop strong brand recognition and loyal patients – let WebFX assist you in marketing your practice online. Contact us today to start growing your practice!
Earn a 20% greater ROI with WebFX