There are more than 70,000 chiropractors in the United States, and about 2500 new chiropractors enter the workforce every year. As more chiropractors open practices, it's more important than ever to ensure your practice stands out and connects with potential patients.
Today, the majority of people research healthcare providers online before booking an appointment, so a strong online presence is an excellent way to stand out and grow your practice. Internet marketing for chiropractors can help you create that presence.
On this page, we'll tell you why you need chiropractic marketing and provide you with seven marketing strategies for chiropractors to help you get started!
Contact us for more information about our digital marketing services, or keep reading to learn about the best Internet marketing strategies for chiropractors.
Our digital marketing campaigns impact the metrics that improve your bottom line.
See More Results

WebFX has driven the following results for clients:

$3 billion
In client revenue

7.8 million
Leads for our clients

5.2 million
Client phone calls
Why use online chiropractic marketing?
The Internet plays a central role in how people find information, products, and services today. More than 70% of people research a company online before deciding to convert. As a result, people will use the web to find your chiropractic practice.
The vast majority of consumers conduct research online before booking an appointment, and 90 percent will research before booking even if referred by another healthcare professional.
Because of this, chiropractors need a strong online presence that gives potential patients the information they need. Digital marketing helps provide the right information to people when they need it.
Online marketing also provides an excellent return on investment (ROI). Pay-per-click advertising (PPC), which we'll discuss in detail later, has an average ROI of $2 for every $1 spent. Email marketing, which we'll also discuss later, has an average ROI of $44 for every $1 spent.

Hear What It's Like to Work With WebFX!

"WebFX has completely transformed my practice. With their support, I have expanded my practice significantly and grown exponentially. I could not have expanded to this degree, nor this quickly had it not been for the incredible efforts provided by WebFX and my team."
Healthcare
6 marketing strategies for chiropractors
So, how can online marketing for chiropractors improve your marketing strategy and help you reach potential new patients? Here are seven of the top digital strategies used by chiropractic marketing companies.
1. SEO for chiropractors
SEO refers to strategies used to increase the quantity and quality of traffic to your site from organic search results. These strategies help increase your site's rankings in search results for terms relevant to your industry.
Search engines are valuable channels people use to research healthcare providers, so you should always include SEO as part of your marketing strategies for chiropractors.
SEO involves a wide variety of tactics aimed at helping search engines understand your site and making your site more useful to visitors. These strategies include:
Local SEO is another vital consideration when it comes to digital marketing for chiropractors.
Local SEO is similar to standard SEO, but it focuses on people in your geographical area. This SEO strategy is important for chiropractors since you want to reach potential patients who live close enough to come into your office.
Local SEO services include:
Optimizing your Google Business Profile listing
Building local citations
Targeting location-based keywords
Here's an example of local search results for chiropractors, powered by Google Business Profile.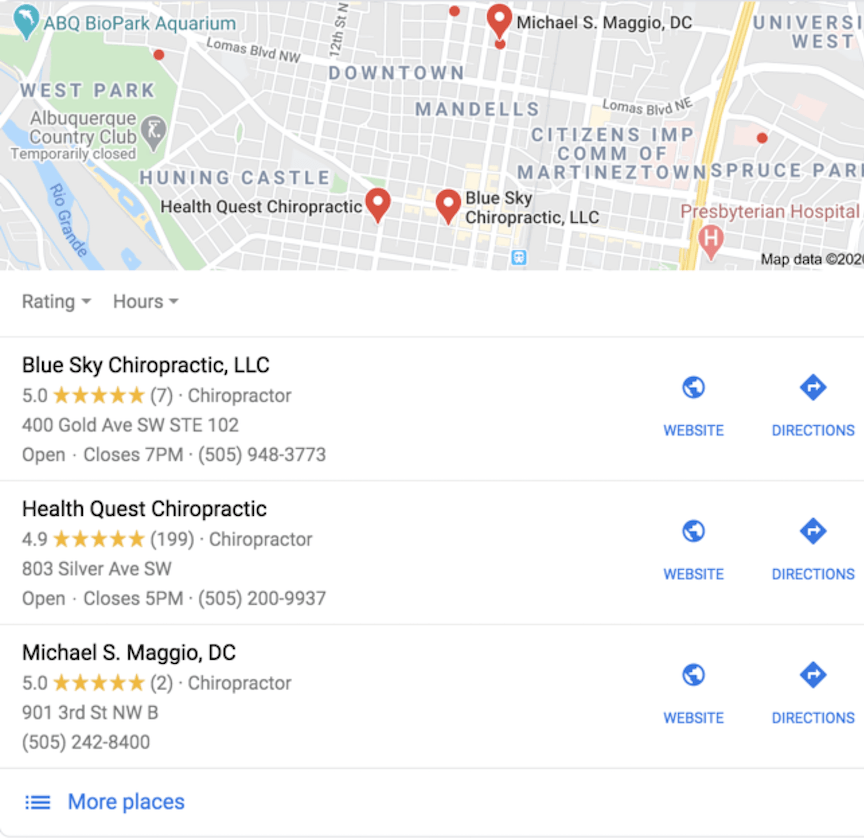 2. Pay-per-click (PPC) advertising for chiropractors
PPC ads are an excellent way to increase awareness of your practice and encourage potential or past patients to book an appointment. PPC ads can take several forms, including paid search results and display ads on websites.
With PPC ads for search, you can bid on relevant keywords, including location-based keywords, so that your site shows up at the top of the search results page. Here's an example of some paid search results for the search "chiropractors near me."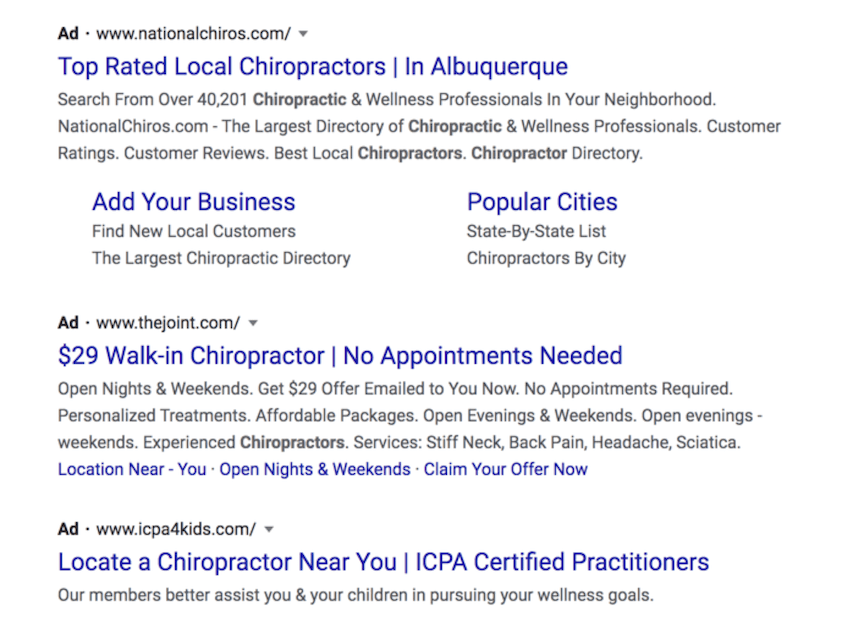 Another benefit of PPC ads is that you only pay when someone clicks your ad. You're putting your money towards leads that are more likely to convert.
PPC ads work via an auction process. Taking Google Ads as an example, if you want to display an ad to users that search a certain keyword, like "best chiropractor in Nashville," you would place a bid on that keyword.
When a user searches "best chiropractor in Nashville," Google will launch an auction process. This process compares various factors such as each advertiser's bid, the quality of their ad, and their ad's relevance to the search.
Through this process, Google determines which ads to display and in which order. It then calculates how much each advertiser will pay per click. This process happens in a fraction of a second.
Google then displays the ads at the top of the search results. When someone clicks on your ad, you pay the determined price, and the ad takes the user to a landing page on your site. You should design this landing page to encourage the user to convert.
3. Web design for chiropractors
Your website is at the center of all of your Internet marketing efforts. It's where potential patients go to learn about your practice and book appointments. For your online chiropractic marketing strategy to be successful, you need a website that gets visitors' attention and drives conversions.
Professional web design services can provide you with a custom website that's:
Professional-looking: Your site should have a consistent, professional-looking style that matches your brand's personality. A high-quality site design makes your business appear more trustworthy.
Easy to use: Making your site easy to navigate and use enhances user experience. It also keeps visitors on your site longer and makes it easier for them to convert.
Secure: Having a secure site protects you and your site visitors and increases trust in your practice. Also, users likely won't want to stay on your site for long if it isn't secure.
Mobile-friendly: More than half of Internet traffic now comes from mobile devices, so it's essential that your site looks great and works correctly on mobile.
4. Social media for chiropractors
Internet marketing for chiropractors also involves using social media platforms to connect with potential patients. Social media platforms are an excellent way to build your brand and engage with potential and current patients.
You can build a social presence on multiple platforms, including:
Social media posts are an excellent tool for connecting with patients, increasing brand awareness, and driving leads. You can create content that gets them to engage on your page and helps your practice build relationships.
For example, you might share daily health and wellness tips on Twitter, which will promote regular engagement with your audience and position you as a useful health and wellness resource.
You could also post photos of your staff on Instagram with a caption that helps your followers get to know them. This kind of content adds a human element to your practice and helps you build relationships with your patients.
Social media is also a great place to share your blog posts, updates about your practice, and interesting chiropractic news. You can also use it to answer questions from patients and potential patients. The ways you can use social media are nearly endless!
In addition to social media posts, digital marketing for chiropractors may also include social media ads.
Social media ads allow you to expand your reach even further and can be a valuable part of your social media strategy. You can target more qualified leads and help them find your practice by running ads that appear in these users' newsfeeds. From photo ads to video ads, you have numerous options to catch your audiences' attention.
5. Email marketing for chiropractors
Creating an email list is an excellent way to keep in touch with your current patients and encourage potential patients to book an appointment.
Email marketing's high ROI is a major reason it's so popular. In fact, email marketing generates 50% more sales than other lead generation methods.
You can use your email list to keep subscribers updated about the latest news at your practice, provide them with health-related information, and more.
How can you create a successful email marketing campaign? Check out the following tips:
6. Conversion rate optimization (CRO) for chiropractors
When people visit your website, are they booking appointments or taking other actions that move them closer to becoming patients? CRO helps increase the percentage of visitors to your website that convert.
Your conversion rate is the percentage of site visitors that complete a targeted action, such as booking an appointment. To calculate your conversion rate, divide the number of conversions by your total website traffic. You can also use a conversion rate calculator to make it easier.
CRO services involve analyzing your site and making improvements to increase the conversion rate. You'll investigate how users interact with your site and test changes to see how they affect conversions. You can then finalize updates to your site based on the resulting data.
For example, you may conduct a test and find that people often try to book an appointment online but then leave the site before completing the booking. This behavior might indicate that the online booking process is too confusing, too long, or not working correctly.
You could then test various changes to the online booking process to see how they affect conversions and keep the most effective updates.
Good agencies have more than 50 testimonials.
Great agencies have more than 100 testimonials.
WebFX has over 1000+ glowing client testimonials.
See What Makes Us Stand out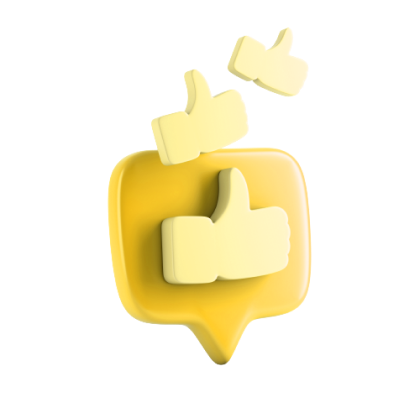 Let's create a winning online chiropractic marketing strategy
WebFX has more than 25 years of experience in online marketing. We're a full-service digital marketing agency, so we offer:
We have more than 1020 testimonials from clients across a variety of industries and a client retention rate of 91%. Why? We drive results — our data-backed digital marketing strategies have generated $3 billion in revenue for our clients over the last five years.
To learn more about digital marketing and how it can benefit your chiropractic practice, contact us online or call us today at 888-601-5359 to speak with a strategist!
Earn a 20% greater ROI with WebFX