What can a digital agency do for your medical marketing strategy? Get the answer in our video!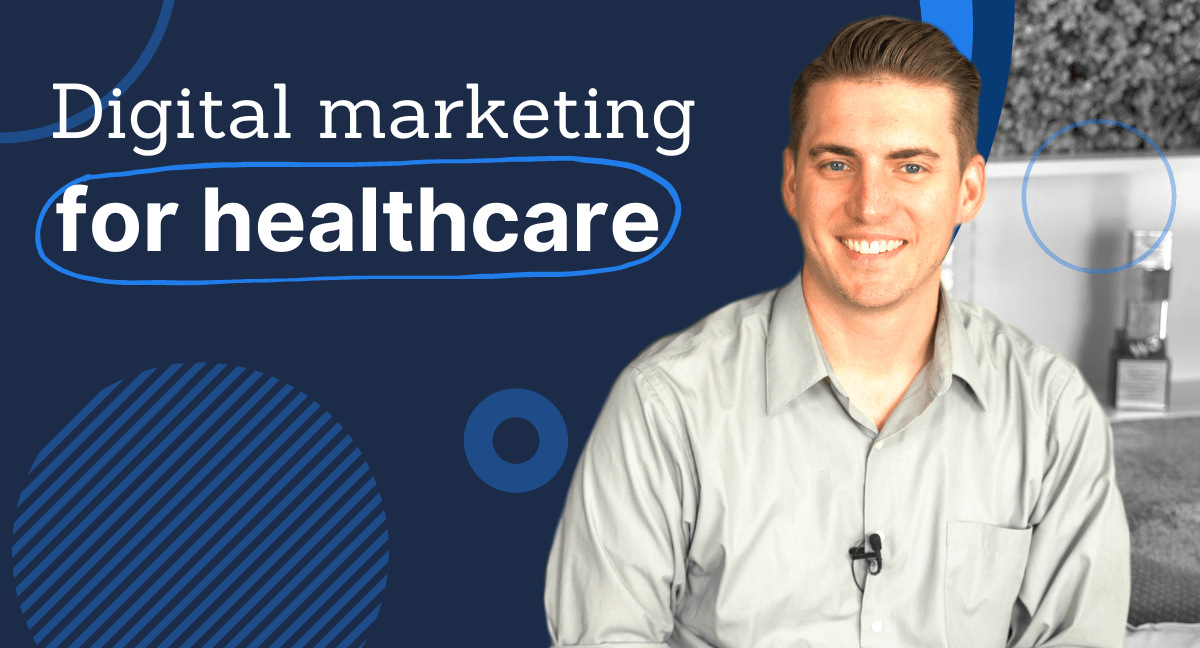 A decent amount of the healthcare industry isn't yet using medical content marketing, though — meaning that if you start now, you'll be ahead of the curve.
If you're interested in learning how WebFX can create a healthcare content marketing strategy for your facility, call 888-601-5359 to speak with a strategist, or keep reading to learn more about content marketing for hospitals and healthcare providers.
Time to Level Up Your Sales
Our long list of services helps you grow every aspect of your business with marketing strategies that are proven to increase bottom-line metrics like revenue and conversions.
In the past 5 years, we've managed more than 12.9 MILLION transactions across our client base.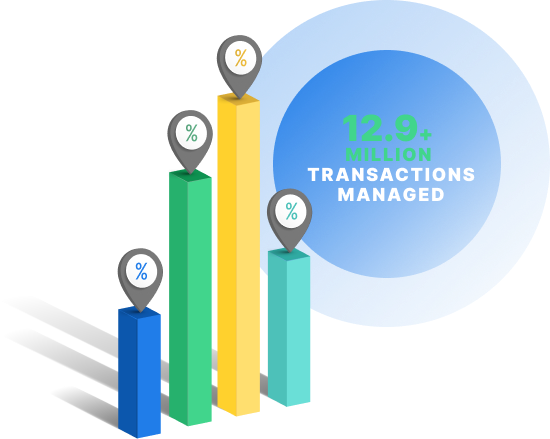 What is healthcare content marketing?
Healthcare content marketing is a digital marketing strategy. Content marketing helps hospitals and healthcare providers reach and educate people through online content. Healthcare content marketing is useful because it helps with brand awareness, as well as patient engagement and retention.

Hear What It's Like to Work With WebFX!

"WebFX has completely transformed my practice. With their support, I have expanded my practice significantly and grown exponentially. I could not have expanded to this degree, nor this quickly had it not been for the incredible efforts provided by WebFX and my team."
Healthcare
The state of healthcare content marketing
Compared to other sectors, it's taken the healthcare market more time to adopt content marketing. In the past two years, however, content marketing adoption has increased by more than 25%, demonstrating that healthcare is ready for content marketing.
You can see the increase in adoption rates, below:
| Active or Planned Use of Healthcare Content Marketing | Year |
| --- | --- |
| 95% | 2019 |
| 83% | 2018 |
| 69% | 2017 |
The fact that medical content marketing has experienced slow adoption rates also works to your advantage. You have less competition in your sector. Starting your content marketing strategy now can help you get ahead. If you're thinking about using healthcare content to attract patients, it's a smart decision.
4 healthcare content marketing tips
With such a great demand for health-related content, there is no shortage of ideas for topics. Here are a few tips to consider when you decide to create and publish medical content for your audience.
1. Create content that's sharable
Content for healthcare businesses has come a long way since the brochures you found in your doctor's office. While information is still valuable in the healthcare industry, search engine users expect sharable content today.
People expect to read educational information from professionals in the healthcare industry. They want answers to their questions, as well as information on how to stay healthy or live with a particular ailment.
To get started with medical content creation, put yourself in your patients' shoes. Record the questions that they ask and address the most common questions on your website. For example:
If you're a child psychologist, create a post about the connections between childhood obesity and depression.
A podiatrist could write about the top orthopedic shoes on the market.
A healthcare CEO could write about the nation's best hospitals for cardiology, and provide takeaways for the readers.
In the medical field, there is an abundance of information to ponder, write about, and share with your audience. Those open lines of communication are what content marketing for healthcare is all about. Plus, you can establish a stronger presence and better credibility by linking to authoritative sources as you work.
2. Post industry news
As someone in the medical field, you're expected to know up-to-date information. If there's a medical breakthrough or something else pivotal occurs, you can be the first to break the news to your website's visitors. Adding newsworthy content to your website gives your company fresh content that appeals to visitors while boosting your authority and building trust with your audience.
3. Recognize the significance of video
Over forty-seven percent of Internet users share pictures and video they encounter. The power of video is significant, and this is especially true for the healthcare industry. Consider the following ideas for using video in content marketing for healthcare:
Consider using a video campaign to raise money for a health-related cause. The Arnold Palmer Children's hospital attributed over $100,000 in fundraising to a video campaign.
Create a channel on a video sharing site like YouTube. Video channels let your site visitors easily find the information you post. For example, Children's Healthcare of Atlanta has over 1,600 subscribers to its YouTube channel.
4. Consider hiring a professional
The healthcare sector is a fast-paced industry that never sleeps. You likely have plenty of other areas on which to focus your efforts, besides creating and sharing content. Simply put, your expertise is probably needed elsewhere.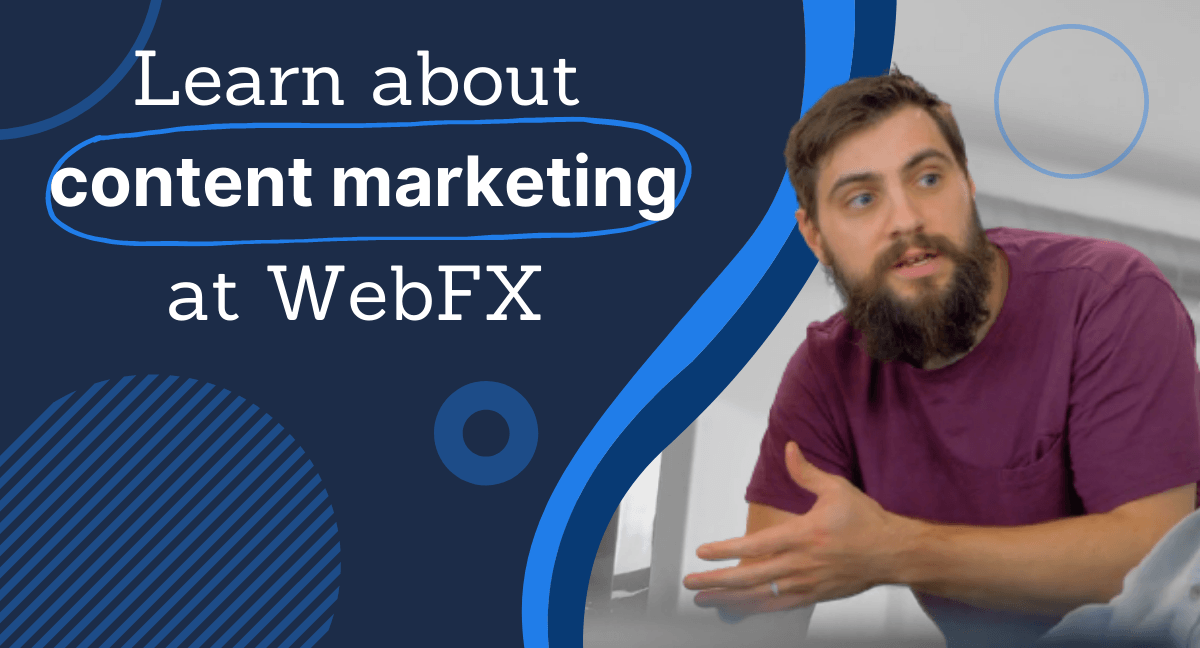 WebFX is here to help you out. We'll listen to your needs and provide you with the content your visitors want to read to give you a bigger and bolder presence online. Our professional, award-winning team of content marketers knows how to get your healthcare business the recognition and traffic you need to become a popular industry contender.
FAQs about healthcare content marketing
Do you have some additional questions about content marketing for hospitals and healthcare providers? Browse our FAQ!
What is content marketing for healthcare facilities?
Content marketing for healthcare facilities involves creating and sharing content that attracts and interests your target audience. The idea is to create high-quality content that your readers will enjoy and share.
When you provide them with relevant information, they will return for insight and share your content.
As you build credibility, you establish yourself (and your medical center) as a trustworthy source and potentially an industry leader. From this position, you can increase your company's reach to grow your business.
What kinds of content can you create for medical content marketing?
You can create a range of content types for medical content marketing, including:
Blogs
Infographics
Press releases
Videos
eBooks
Guides
Reviews
Articles
All these content marketing solutions for healthcare include fresh, original, and inventive content that you can use to attract visitors to your site and spread the word about your healthcare facility and its staff and treatments.
Why has healthcare content marketing taken so long to become a viable strategy?
When it comes to content marketing for healthcare, there is no shortage of topics to cover. But healthcare is tightly regulated, and there are more legal and ethical considerations involved than with most other industries.
On the Internet, one wrong answer or snippet of false information can have a huge impact on a reader.
All of this translates to great opportunity for you to connect with search engine users.
The need is out there, and the services you offer can help fill that need. Content marketing for your healthcare business can help your company show up for one out of every 20 Google searches — or 175 million queries per day.
Get started with medical content marketing
Is your healthcare facility ready to adopt medical content marketing?
WebFX is an award-winning healthcare marketing agency. With WebFX, we make integrating content marketing into your center seamless. From developing content ideas to writing them, we provide a turnkey solution to content marketing.
Start using healthcare content marketing by contacting us today for a free quote!
Earn a 20% greater ROI with WebFX