The Internet and social media now impact virtually every area of our lives, including how we receive health care. The use of telehealth services increased dramatically during the COVID-19 pandemic — and the trend continues. Over a six-month period in 2021, nearly 25% of adults reported having a telemedicine appointment in the previous four weeks.
Since more people are turning to the Internet as their first step when they have a medical concern, it's crucial for health care providers in all specialties to establish a strong online presence. Besides offering telehealth services, orthopedists must also become active on social media platforms to connect with patients, provide essential health information, and grow their practices.
At WebFX, we're adept at helping medical practitioners and other professionals use social media to meet their goals. Call us at 888-601-5359 to speak to a strategist.
Growing your social presence with WebFX is a walk in the park.
"WebFX allows growing your social media platforms to be stress-free! They are knowledgeable and adapt to your company needs!"
Learn More About Our Social Media Services

How can orthopedists benefit from social media?
Orthopedic surgeons can use popular social media platforms like Facebook, Twitter, and YouTube for many purposes. Here's a look at a few things you can do with the right social media strategy.
1. Build credibility with your audience
Patients want to know that the health care professional they choose to treat their injury or condition is an expert in their field.
As an orthopedist, you can use social media to create and publish authoritative posts regarding the latest technologies and innovations and how you've incorporated them into your practice. By providing this content, you can build credibility and trust among potential patients.
2. Share information on new technologies and treatment protocols
Like every medical specialty, orthopedics continues to evolve. Use social media to provide timely information regarding the latest innovations and how they could impact your patients' treatment and recovery. You'll demonstrate that your practice is on the cutting edge of technology and that you're doing everything possible to deliver the best care.
3. Boost patient engagement
People are accustomed to interacting with others on social media platforms. A timely, well-crafted post about a condition or injury that impacts many patients can inspire comments and lead to questions. You'll have an excellent opportunity to engage in dialogues and allow others to learn more about your services.
By making the most of the platforms people already use, you'll also be able to personalize your approach and reduce the apprehension that some people feel when dealing with health care professionals.
4. Highlight your success stories
As an orthopedist, you're in a position to positively impact people's lives by helping them overcome a significant injury or affliction. Social media offers the ideal platform for elaborating on your skills and how they have helped others. For example, you can explain how you helped a local high school quarterback recover from a potentially career-ending shoulder injury or assisted an elderly patient in managing osteoporosis.
Testimonials are an excellent vehicle for sharing successes. Your patients can relay their experiences in their own words, which lends even more credibility to their story because the information is coming directly from the source.
5. Increase your practice's visibility
When you consider the massive user bases of Facebook and Twitter, it's not hard to see how an active presence on these platforms can make an orthopedic practice more visible. Posts on these platforms are often the fastest and most cost-effective way to spread the word about what you have to offer to prospective patients.
6. Advertise your services directly to patients
Launching targeted advertising campaigns on these sites can help you reach the individuals most likely to need your services. Social media ads can appeal to patients' habits, preferences, and interests, making them more likely to elicit the desired response.
You'll be able to narrow your marketing scope and maximize your return on investment through social media. Depending on the platform, access to analytics may be available to help you gauge the success of your campaigns.
Choosing the right social media for orthopedics
While many social media platforms that can benefit your orthopedics practice, some may be more effective than others. Let's explore the options.
Facebook
The unrivaled reach of Facebook makes it hard to ignore as a communication and marketing platform. The most effective use of Facebook from an orthopedics perspective consists of a two-pronged
strategy:
Creating a group to foster the development of a thriving online community

Establishing an individual page for promoting the practice, sharing general information, and providing tips and advice
Twitter
Twitter is a useful tool for communicating brief messages to a targeted audience. Users can also retweet posts they believe will benefit others, spreading the information to a broader user base. This platform works well for communicating in real time and making patients and others aware of events and milestones at your practice.
YouTube
YouTube is the second-largest search engine on the Internet behind Google. While it offers excellent potential as a communication and social media channel for health care providers, the medical profession tends to underutilize the platform — perhaps due to the technical and creative challenges of crafting engaging videos.
When used correctly, YouTube can be an effective tool for providing patient education and demonstrating specific treatments and procedures.
74% of people use social media when making a purchasing decision.
Make their decision easy with a stellar social media presence. See how your brand can level up by requesting a no-obligation proposal today.
One of our experts will be in touch within 24 hours!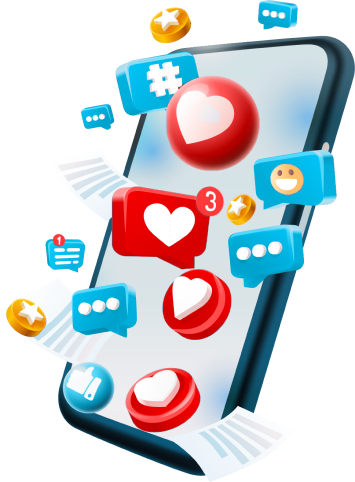 WebFX understands the value of social media for orthopedics
At WebFX, we have more than 25 years of experience helping businesses meet their marketing objectives. As a leading digital marketing agency, we can help your orthopedics practice develop and implement a targeted social media strategy that delivers results.
Take the next step by calling us at 888-601-5359 to speak to a strategist or contacting us online to learn more.
Increase your leads, sales, and revenue with digital marketing
Find Us Driving Revenue Nationwide