The ways people find construction companies to work with are changing. While referrals still play an important role, 86% of people rely on the Internet to find local companies.
Establishing an online presence is one of the best ways for modern construction companies to find new clients.
Wondering how to market a construction company online? Keep reading for seven tactics for marketing a construction business. Or, contact us to learn how we can help you grow your construction business with digital marketing.
1. Build a mobile-friendly website
Today, more than 50% of Internet traffic comes from mobile devices. Google now even prioritizes the mobile versions of websites when indexing and ranking them.
Since both users and Google now focus on mobile websites, your business should as well. You don't want to lose a potential lead because your website didn't work or looked unprofessional on someone's mobile device.
When creating your website, use responsive design, which enables your website to adjust according to the screen someone views it on. A website that uses responsive design will look great and work correctly, whether someone accesses it on a desktop computer, a smartphone, or a tablet.

Hear What It's Like to Work With WebFX!

"We were looking for a forward-thinking but down to earth SEO company to partner with. Not only were we looking to build a long term business relationship but we needed them to understand our needs as a small company. And WebFX met all of that criteria. Our experience has been unparalleled; from the sales team who made the drive to our office to meet us in person to our Internet Marketer who has been an absolute joy to work with. They are completely transparent about their services and they take the time to explain everything which not only sets them apart from every other SEO company we have worked with but we also feel like we're taking something away from our interactions with the staff at WebFX. We are exited to see where this year will take us knowing that we have such a great support system with their company."
Home Contractor
2. Create an informative blog
Blogging is an important part of how to market a construction business online. A blog can be extremely valuable — both to your company and your clients. It can provide your customers with helpful information and generate new leads for your business.
When brainstorming blog topics, think about what your potential clients want to know when they're deciding to work with a construction company. For example, you might write blog posts about how to choose an ideal location for a new office building or what materials work best for constructing a new building.
People do a lot of research before starting a construction project, and your blog can serve as a resource that helps them complete this research. When potential clients realize your blog is a valuable, reputable resource, they'll see your business as reliable and competent as well.
If you provide helpful information for your audience, they may then consider working with you. You can nudge people towards conversion by including calls to action (CTAs) in your blog posts, which encourage readers to contact you, subscribe to your email list, or take another desired action.
3. Create helpful video content
Video content is an excellent addition to any construction business marketing plan. About 90% of people say videos help them make purchase decisions, so the right video content may help convince someone to work with your company.
Adding video to your strategy can help you keep your audience engaged on your site. People spend 88% more time on pages that have a video, so adding videos can help you increase dwell time on your site, which improves your site's ranking in search results.
You can create numerous videos about construction-related topics. Some video marketing ideas for construction companies include:
Tips for planning construction projects
Information about your business, such as your company history
Updates about your current projects
The screenshot below provides another interesting idea — a time-lapse video of a project.

4. Claim and optimize your Google Business Profile listing
When it comes to how to market a construction company, Google Business Profile is a must-use tactic.
When people search for construction-related businesses in their area, they'll see a local 3-pack on the search engine results page. This local 3-pack includes information about top local construction businesses and a map of local contractors.
Here's an example of a local 3-pack: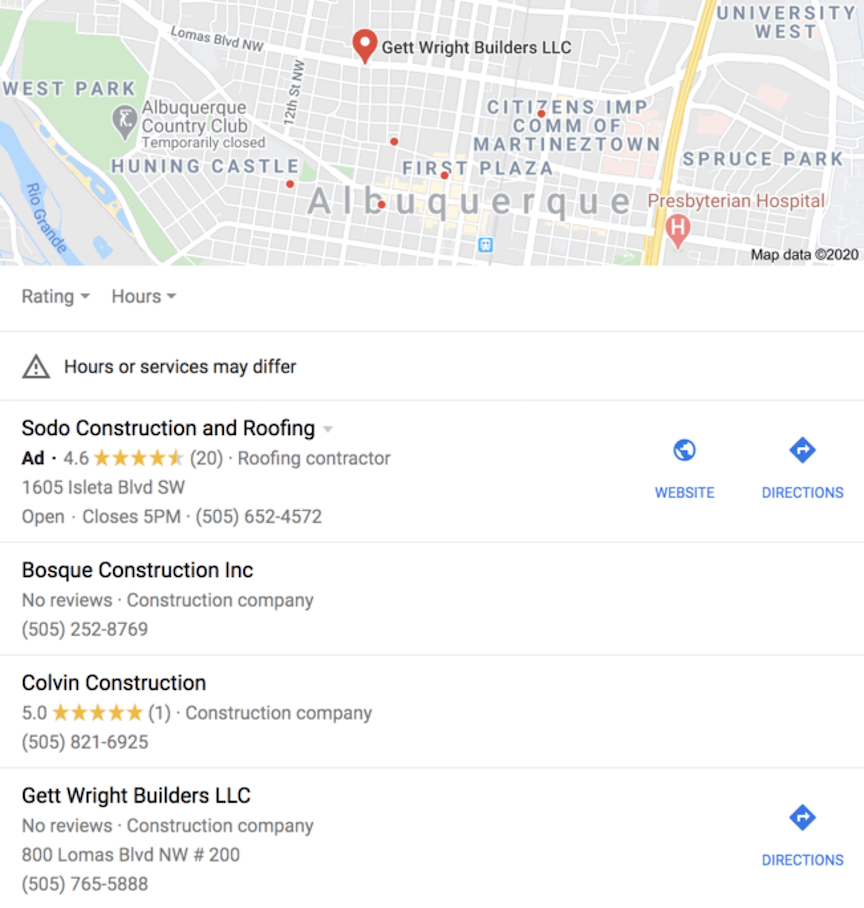 Showing up in this local 3-pack significantly increases your company's visibility online, since 93% of online experiences begin with a search engine, and 95% of search traffic goes to results on the first page.
That's why Google Business Profile is a must when marketing a construction business.
You can increase your chances of showing up in the three-pack by claiming your Google Business Profile listing and filling it out completely and accurately. Select a category for your business and list your business name, address, contact information, operating hours, accepted payment forms, and any other relevant information.
Also, write a short introduction to your business that clearly explains your products and services and provides some additional details about your business. Feel free to include some relevant keywords in this description as well. Adding photos to your GBP profile can make it stand out from other listings.
5. Build a presence on social media
Social media marketing for construction companies is an excellent way to build your brand and keep your company on people's radars.
If you post regularly on social media consistently, people will get to know your brand. Then, when it comes time for them to hire a contractor, your business will be one of the first that pops into their minds.
You can use social media platforms like:
All of these platforms can all be useful for construction firms. You'll want to stick to platforms where you can reach your target audience, so you may only use one or two of them.
Once you select your platform(s) for marketing your construction company, you'll next want to post on your pages.
What kinds of posts should social media marketing for construction companies include? Here are a few ideas for how to market your construction business on social media:
Share your blog posts and videos on Facebook
Share industry news updates on Twitter
Share analyses of industry trends and career advice on LinkedIn
Share pictures of your latest projects on Instagram
Construction companies can also benefit from social media ads. You can target ads on social media to users with certain characteristics, whether they follow your profile or not. These ads can help you generate qualified leads. See an example of a Facebook ad below: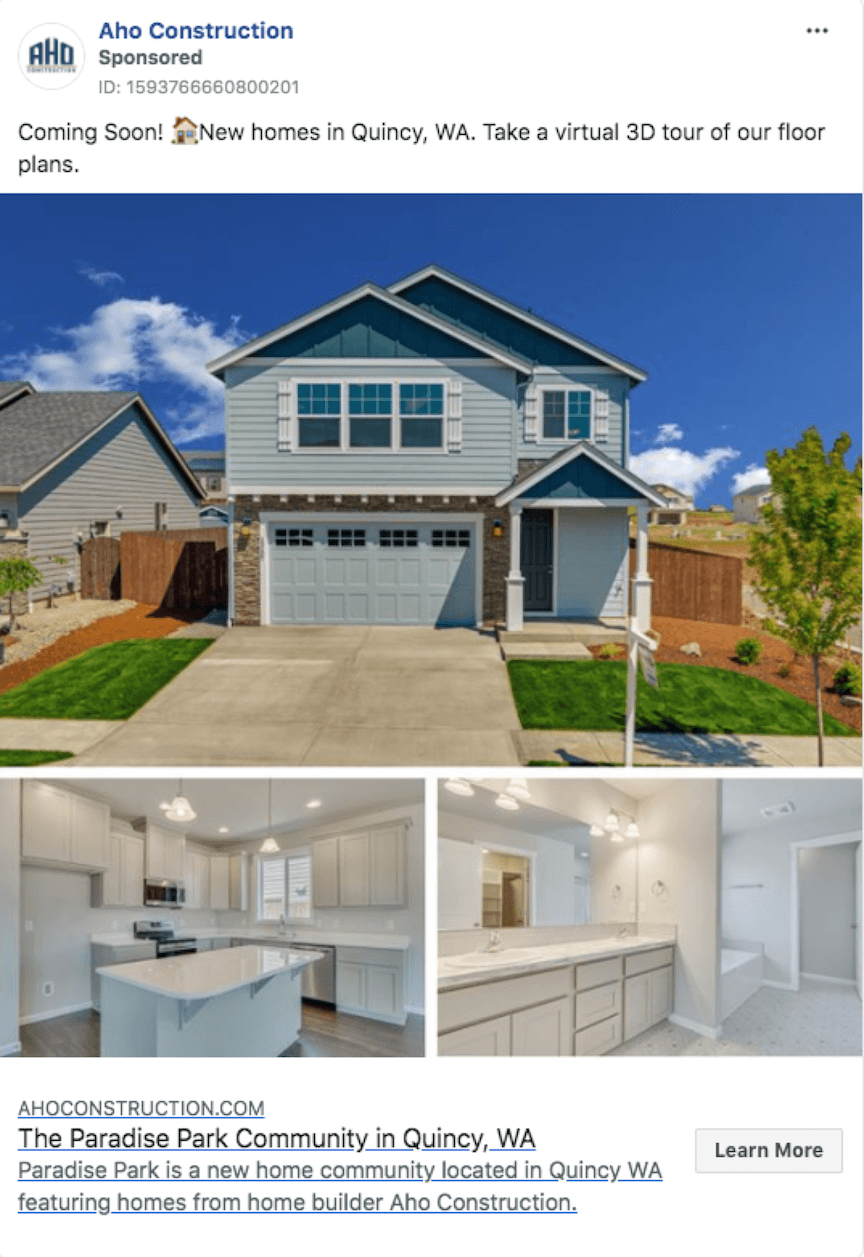 6. Send out an email newsletter
Email marketing is another answer for how to market a construction company. In fact, the average return on investment (ROI) of email marketing is $44 for every $1 spent.
People who sign up for your email list tend to be qualified leads, since they're signing up to stay updated on your business. Email marketing offers an excellent opportunity to nurture leads — guide them through the process of becoming clients.
One of the most powerful ways to use email is to segment your email marketing list and send different emails to each segment. You might segment your list by the industry subscribers work in, whether they are leads or current clients, or their location. You can then send each group emails tailored to their needs and interests.
For example, you might have a segment of leads interested in office building construction, while another segment needs industrial facility construction. You could send each segment content tailored to their industry so that the emails they get are more relevant to their needs.
To make your email marketing campaign easier, use email marketing software like EmailMarketingFX to help you manage your email campaigns, automate your emails, and track your results.
7. Run highly targeted ads
Try creating ads that highlight a specific service you provide and target people interested in that service. This targeted approach is much more cost-effective than creating general ads and targeting a broad audience.
Google Ads allows you to place ads on search engine results pages and other websites and provides precise targeting options. With in-market targeting, for example, you can reach users who have been searching online for information about a particular service or visiting pages related to that service.
For example, using in-market targeting, you could show an ad about restaurant construction to users who have been researching restaurant construction online.
Learn how to market your construction company online with WebFX
More and more people are using the Internet to find local businesses, including construction companies. If you want to see significant growth in your company, you need to go where the potential customers are — online.
That's why Internet marketing is essential when it comes to marketing a construction company.
At WebFX, we have 25 years of experience in digital marketing, and we've seen over and over again how powerful it can be for growing businesses online. In the last five years alone, we've generated 7.8 million leads and $3 billion in revenue for our clients.
To learn more about how to market a construction company online, explore the rest of our free resources for construction companies. If you'd like to speak with a strategist about how our digital marketing services can help you grow your business, contact us today.
Earn a 20% greater ROI with WebFX