Turn more visitors into leads with WebFX
Driving HVAC leads for
25+ years
91%
RETENTION RATE
Industry average: 50%
Why is our retention rate so high?
We leverage our expertise to delight your customers and keep your clients coming back.
93%
CLIENT SATISFACTION SCORE
Industry average: 72%
why is our satisfaction score so high?
Project management
ROI tracking
Diverse skillsets
"WebFX has helped make our website the most important and profitable lead source for Maryland Sunrooms."
U.S. Contractor
420%
NPS SCORE
Industry average: 16
why is our NPS so high?
Turn-key solutions
Real business results
Consistent communication
How to choose a CRM for HVAC
Data storage and collection
To get the most benefit from your CRM software for HVAC companies, you want to ensure it stores the following information:
Contact information: Having an organized place for contact information makes it easy to get in touch with customers whenever you need to.
Upcoming jobs and installations: Easily look up upcoming HVAC system installations and repairs by searching a customer's name to quickly schedule or notify them of an upcoming job.
Job history: Having your customer's job histories easily accessible will enable all representatives to see past appointments and guide future concerns and marketing strategies.
Files and other technical information: The ability to store files and technical information in one location allows your company to easily access essential customer data.
Communication records: Ensure your technicians follow up with CRM record communications.
Service reminders: CRM software that notifies customers when service is due can help your company secure reliable revenue.
Benefits of the platform
When choosing CRM software for HVAC businesses, you want to select a platform that offers the following benefits:
Robust customer database
Few errors with customer data
Easily retrieves technical information
Quick access to appliance information
Enhances customer communication
Personalization features
The best CRM tools will enhance the customer experience and create greater returns and revenue for you. You want to choose CRM software that sets communication preferences for each contact, so you can communicate with customers in ways that are most beneficial for them.
How do I get customers with an HVAC CRM?
Since most of your work as an HVAC company relies on system check-ups, repairs, and troubleshooting, it's essential to develop good relationships with current and potential customers to ensure your business is top of mind for their HVAC needs.
Check out the following ways an HVAC CRM can help your business grow.
Stay connected through email
Email marketing is a core feature of CRM software and one of the best ways your company can connect with customers.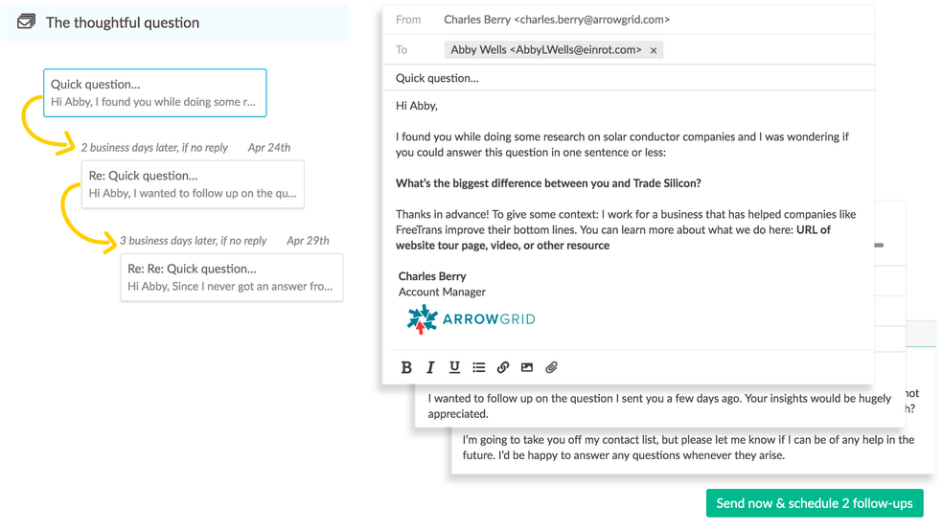 One way you can use your CRM system to connect with customers is by sending emails with relevant information like:
Company news
New product information
Recall information
Special promotions
Review requests
Appointment reminders and follow-ups
Seasonal tune-ups
Provide top-notch customer experiences
Customer experience is a top factor clients consider when deciding if they will continue using a business.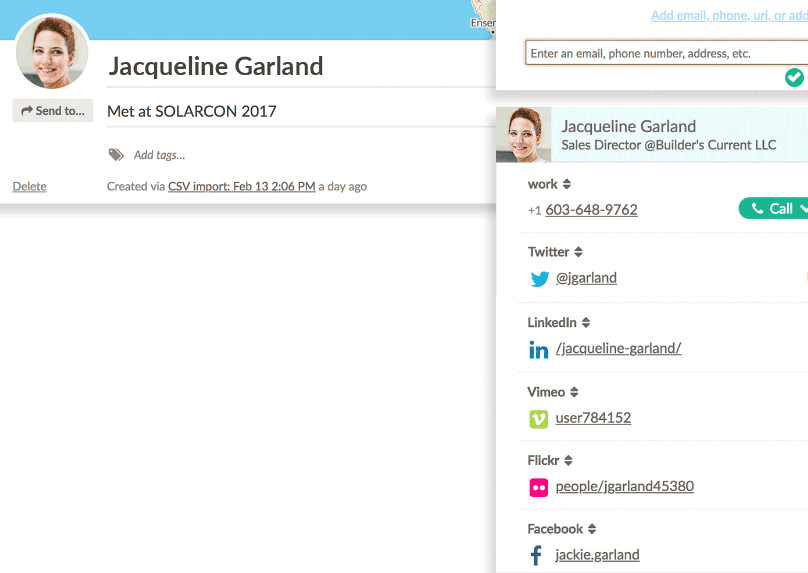 Using CRM marketing can improve the customer experience by:
Centralizing data: When you have all customer information in one place, any service representative can help a customer and correctly explain their unique service options.
Automated communication: A CRM system can help you connect with clients by automatically sending appointment reminders, follow-ups, and other communication services for a smoother customer experience.
Build your business's reputation
A positive online reputation is vital to ensure your HVAC company is successful in local markets. CRM software helps build your online reputation by automating review requests to help your business generate positive online reviews and gain more customers.
Run ad campaigns that work
CRM can help your company learn which ad campaigns are working and which require adjustments. You can also use customer data to fine-tune your ad targeting and messaging strategy across different channels.
Measuring the metrics that affect your bottom line.
Are you interested in custom reporting that is specific to your unique business needs? Powered by MarketingCloudFX, WebFX creates custom reports based on the metrics that matter most to your company.
Leads

Transactions

Calls

Revenue
Learn More

Get the best CRM for HVAC companies with Nutshell
If you're looking for the best CRM system for your HVAC company, look no further than Nutshell, WebFX's in-house CRM platform for small to medium businesses.
With our platform, you can track leads and customers to help your HVAC company reach its marketing potential.
Our in-house team of strategists can also help you maximize your marketing efforts. We have over 25 years of marketing experience and look forward to helping your company grow. Call us at 888-601-5359 or complete our online contact form to get started!
Solving key challenges for HVAC companies
Our website isn't ranking in the search results for HVAC services
When people need HVAC services in their area, they take to search engines like Google. Ensure your website appears at the top of the results when your target audience needs your services.
We're struggling to grow our technician team
Expanding your team and growing your business go hand-in-hand. If you need help growing your team with talented and friendly technicians, our recruitment marketing services have you covered.
We're not generating enough leads
Are people visiting your website but not getting in touch with you? Our expert marketing specialists and web designers can optimize all areas of your website so you can attract and convert more of your target audience to use your HVAC services.
We're not attracting new customers
Having trouble increasing your online visibility, so you can attract new customers? Our award-winning marketing services get your brand in front of the right people in your local area.