With 93% of online experiences starting with a search engine, you don't want to miss a prime opportunity to reach people interested in your landscaping business.
By investing in search engine optimization (SEO), you can help your business appear in more search results and drive more valuable traffic to your site.
On this page, we'll provide you with six tips on how to do SEO for landscaping businesses.
Want to see where your SEO currently stands? Use our free SEO checker to see how your SEO performs!
1. Find relevant keywords to appear in the right search results
The first step to SEO for landscaping companies is finding relevant keywords. Keywords determine where your landscaping business appears in search results. If you want to rank in relevant results, you need to optimize your site for keywords related to your landscaping company.
To find the right keywords, start by using a keyword research tool like KeywordsFX. A keyword research tool will help you generate relevant key terms that you can integrate on your site.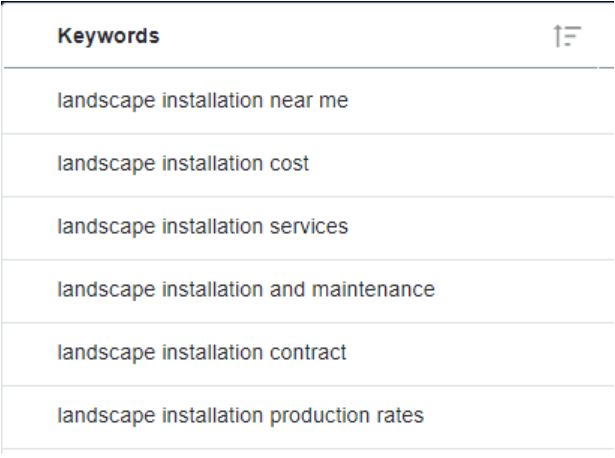 When you conduct keyword research, focus on long-tail keywords. Long-tail keywords contain three or more words, like "landscaping company in Newark, DE."
These keywords work well for SEO because they're specific, which means the people who search them are more likely to be interested in your business if they're searching those terms.
So, if someone searches "tree removal services in Newark, DE," you know what they want to find. On the other hand, searching for something like "tree removal" isn't specific, and the searcher could be trying to find anything.
Once you find your long-tail keywords, take time to integrate them on your site. You'll want to incorporate them throughout your page to ensure you rank for that term. Don't overdo it with your integration, though, as it can lead to keyword stuffing and harm your site's ranking.

Hear What It's Like to Work With WebFX!

"WebFX is a fantastic company to work with. They provide the reporting I need, the results I want, and if there is a problem they reach out first and have a plan on adjustments. I cannot recommend them enough."
Landscaper
2. Optimize title tags and meta descriptions to compel searchers to click
Next on the list of SEO landscaping tips is title tag and meta description optimization.
These two components are the first things your audience sees in search results.

You must optimize these two tags because they influence whether someone chooses to click on your listing or pass it over. Additionally, search engines use these tags to determine the context of your page and rank your page in search results.
To create a more compelling title tag, you'll want to:
Make it exciting and stand out from your competition
Integrate your core keyword at the beginning of the tag
Keep your title tag within the 60-character limit, so it doesn't get cut off
Use power phrases (skyrocket, massive, exclusive) to make your listing more enticing
To create a more compelling meta description, you'll want to:
Use your core keyword within the description
Provide your audience with a preview of what to expect
Keep your meta description within the 155 character limit
When you have a well-optimized title tag and meta description, you'll rank better in search results and drive more interested leads to your lawn care company.
At WebFX, we know how to optimize tags that drive more clicks and traffic for your business. As a top-rated SEO company, you can feel confident that we'll help you optimize all elements of your SEO to drive more valuable traffic. Contact us to get a free quote on your SEO project today!
3. Claim your Google Business Profile listing to drive local leads
When you do SEO for landscapers, don't forget to claim your Google Business Profile listing. A Google Business Profile listing is a profile that appears in search results when someone searches for a specific type of business or service in their local area.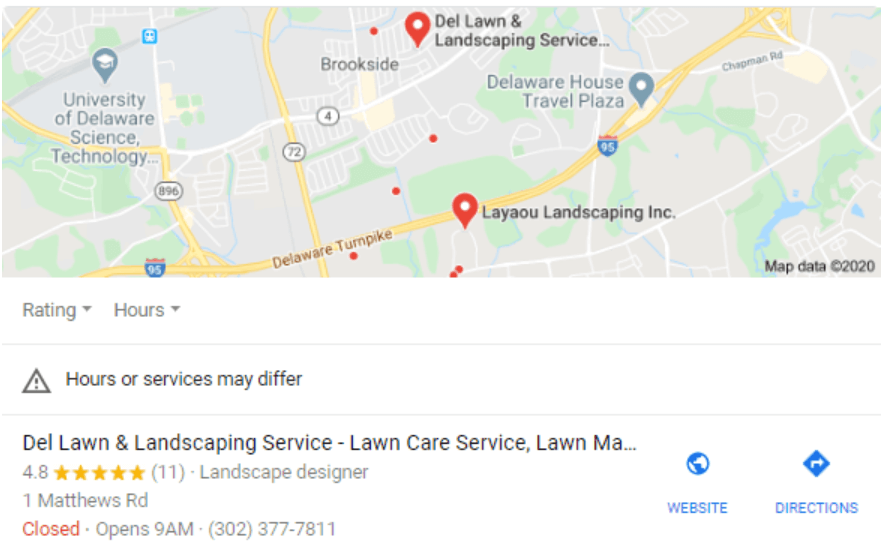 This local listing appears in a box at the top of the search results. It's known as the local SEO 3-pack and is fundamental in driving local leads to visit or contact companies in the nearby area.
You want to claim this listing so that when someone searches something like "landscaping companies near me" or "Landscaping companies in [city]," your business will appear in the local 3-pack at the top of the search results.
To get started, claim your Google Business Profile listing. Once you claim your listing, start filling it out to ensure you have a well-optimized listing for search results.
You'll want to verify the following information on your listing:
Business name (should be your official name, like "David's Landscaping" instead of "Dave's Landscaping")
Address
Phone number
Once you've verified this information, you can move on to optimizing the rest of your listing.
You'll want to add a short blurb about what your business does and add your hours of operation. It's also crucial that you include your website URL so people can learn more about your company.
Lastly, add photos to your GBP listing.
Search Engine Land found that businesses with 100 images or more received 520% more calls and 1065% more website clicks than the average company. Add pictures of your staff, projects, and more to generate more views on your listing and leads!
A GBP listing is a fundamental part of SEO for landscaping companies, so you must take the time to optimize it so you can appear in more local searches and drive leads.
4. Create content to drive valuable leads to your site
SEO for lawn care companies involves content creation. Content creation is fundamental to driving traffic to your website that's interested in landscaping.
You're an expert in landscaping, and people actively search for information about how to do landscaping projects. When you create content, you share your knowledge with your audience and provide them with information that can help them with various projects.
Content helps establish yourself as an authority in your field too. People will trust that you know what you're talking about and, as a result, are more likely to choose your company when it comes time to hire a landscaper.
You can create numerous types of content, including:
Ebooks
Guides
Podcasts
And more
You'll want to use a variety of content formats to ensure you're keeping your content strategy fresh for your audience. Not everyone likes the same type of content, so you must use various content formats to appeal to different members of your audience.
When you create content, focus on industry-related topics.
A core component of SEO for lawn care companies is creating content relevant to your business so that you drive qualified traffic to your site. If you create content irrelevant to your industry, you won't drive the right leads to your page.
To get an idea for how to shape your content, type your core keyword into Google and search. You can see what your competition wrote so you can get an idea of the user search intent and how to make your content a step above your competition.
To be successful with content marketing, you need to do the following:
Ensure your content is skimmable and easy to read (paragraphs should only be 2-3 sentences)
Utilize images and videos to break up text and keep readers engaged
Create a content calendar to ensure you publish content often
5. Improve your site's load time to keep leads on your site
Did you know that 83% of users expect your website to load in three seconds or less? Since users expect your site to load fast, improving site load time is a fundamental component of SEO for landscaping.
Users won't stick around for slow-loading pages. If your page takes too long to load, your visitors will bounce back to the search results and visit a competitor's page instead. You'll increase your bounce rate, which harms your ranking and causes you to lose leads to your competition.
To prevent an increase in bounce rate, you must analyze your site's current load time. You can use a tool like Google PageSpeed Insights to help you see how fast your site currently loads. This tool will also provide you with insight on how to improve your site load time.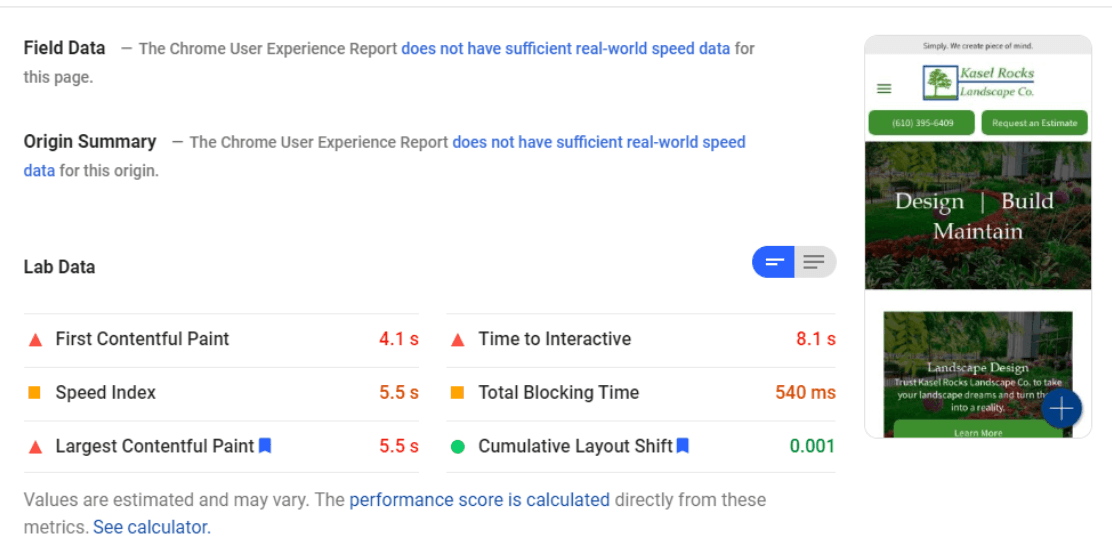 If you don't have experience with coding and working on the backend of your site, you can invest in page speed optimization services from a digital marketing company.
6. Make sure your site looks great on mobile to keep leads engaged
When you do SEO for landscapers, you'll find that having a mobile-friendly website is critical to your business's online success. Over 70% of Internet time is spent on mobile devices, so it's highly likely that someone will search for your landscaping business on a mobile device.
If you don't have a mobile-friendly website, you'll drive away these leads.
Not to mention, since Google moved to a mobile-first index, having a mobile-friendly site is paramount to ranking well in the search results.
So, how can you create a mobile-friendly site?
The best way to create a mobile-friendly site is to integrate responsive design into your website. Responsive design enables your site to adapt to whatever device someone uses. From tablets to mobile phones, your site will adjust to the screen size to ensure the best experience.
A mobile-friendly site will help you provide a positive experience for users on all devices and help you rank higher in the search results.
Independent research from Clutch has named WebFX the
top SEO company

in the United States.

Clutch has personally interviewed more than 250 WebFX clients to discuss their experience partnering with us.

Read More Clutch Reviews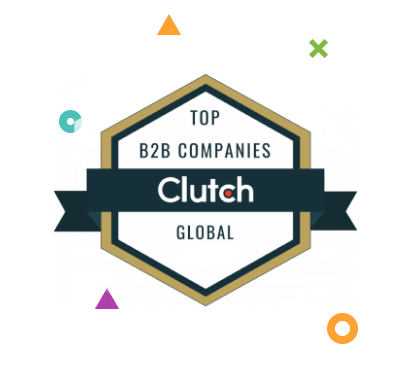 Get started with SEO for your landscaping business today
Investing in SEO for lawn care companies is a great way for you to start boosting your website in search results. You'll create more optimized pages that rank better and drive more qualified traffic for your company.
If you need help getting started with SEO for landscaping companies, WebFX is here to help. With our program MarketingCloudFX, we can help you track and measure your SEO performance and returns to ensure you're getting the most out of your SEO.
We'll help you develop an SEO campaign that drives results. We've driven over $3 billion in sales and over 7.8 million leads for our clients in the past five years.
Ready to get started with SEO? Contact us online for a free quote or call us today at 888-601-5359 to speak with a strategist about our SEO services!
Earn a 20% greater ROI with WebFX