According to a survey from Consumer Reports, 76% of Americans believe that expanding renewable energy is a worthwhile goal.
People are interested in renewable energy, but finding those people and turning them into customers is challenging.
That's where lead generation for renewable energy can help. You need smart lead generation strategies to grow your business and get customers access to renewable energy.
To discover the top strategies for lead generation for renewable energy companies, keep reading!
WebFX is a top lead generation agency, and our team of more than 500+ digital marketing experts has generated more than 7.8 million leads for our clients over the past five years. Contact us online or at 888-601-5359 to learn more about our lead generation services.
Top lead generation strategies for renewable energy
So, what are the best strategies for lead generation for solar companies and other renewable energy businesses? Check out the following list.
1. Optimize your site for search engines
Organic search — meaning non-paid search results — drives more than half of all website traffic. To capture this traffic and drive leads to your site through search, you need to optimize your site for search engines.
Search engine optimization (SEO) can increase the traffic you get from search and bring more qualified leads to your site.
Targeting keywords plays a major role in SEO. To target keywords, you include them in various places on your pages, such as your titles, URLs, and copy.
Focusing on keywords that potential customers are searching helps you attract new leads to your site. As a renewable energy company, you might target keywords like "renewable energy cost savings" or "solar panel benefits."
For example, below are some top results on Google for "solar panel benefits." Optimizing one of your pages for this keyword could help it show up on this results page.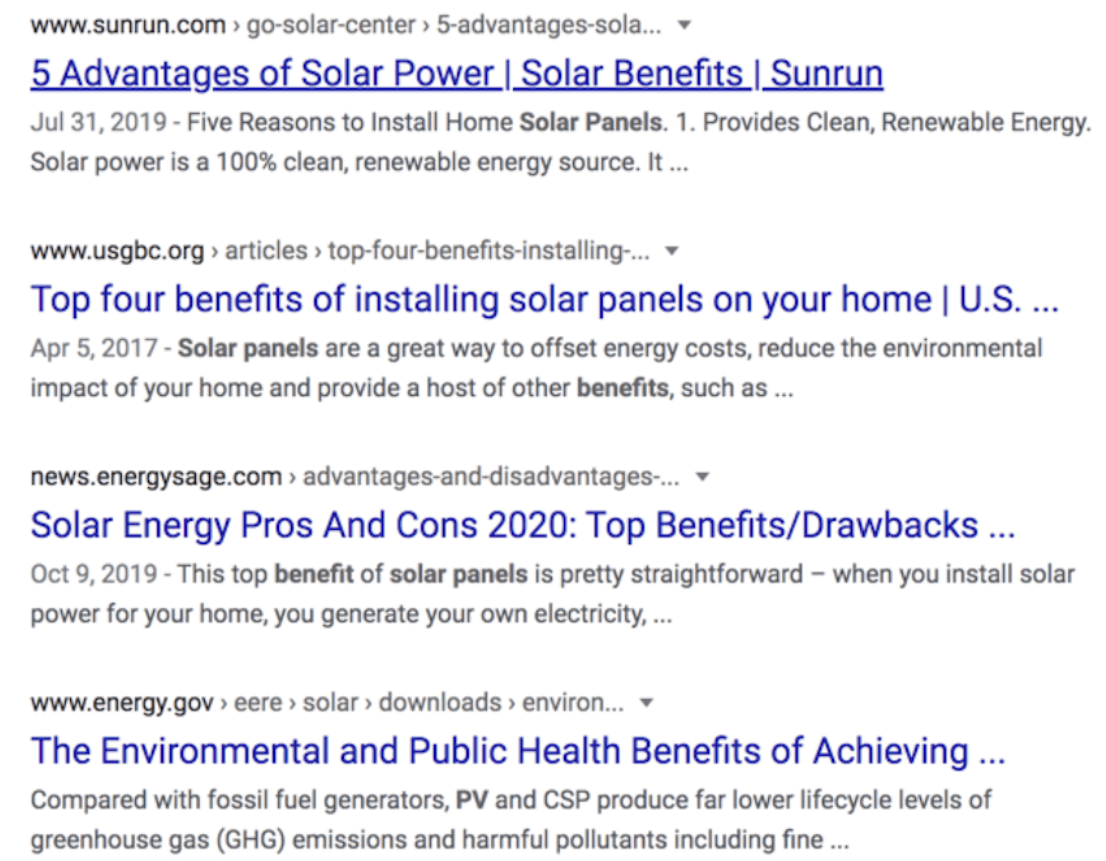 SEO also includes a wide range of other tactics, such as ensuring your pages load quickly, eliminating duplicate content, and earning links from other sites.
Optimizing different kinds of pages can attract different kinds of leads. Optimizing your product or service pages can bring in more bottom-of-the-funnel leads — those who are closer to making a purchase decision.
Content such as blog posts and articles can bring in more middle-of-the-funnel leads, who are further away from making a decision but are still interested in your services
2. Create educational content
Content marketing is another one of the top lead generation strategies for renewable energy. Most consumers aren't energy experts, and they likely have a lot of questions they need answers to before they make a purchase decision.
That's why creating educational content is so useful for renewable energy lead generation. Create content that answers common questions, and people interested in renewable energy will find it as they search online.
You can create content in various formats, such as blog posts, videos, and infographics. Post this content to your blog or website and then share it via social media, email, and other channels.
Through this content, users will get familiar with your company and come to view you as a valuable resource. Once they consume enough content to be reasonably well-informed, they may request a quote or take another action that makes them a qualified lead.
Including content marketing as part of lead generation for solar companies, for example, might involve writing articles about the different types of solar panels, how much solar installation costs, and other relevant topics.
3. Build a presence on social media
Social media sites, such as Facebook, Twitter, and Instagram, provide excellent opportunities for lead generation for renewable energy companies, especially for top-of-the-funnel leads.
When renewable energy companies share their content on social media and interact with users, they can increase awareness of their company and build a following.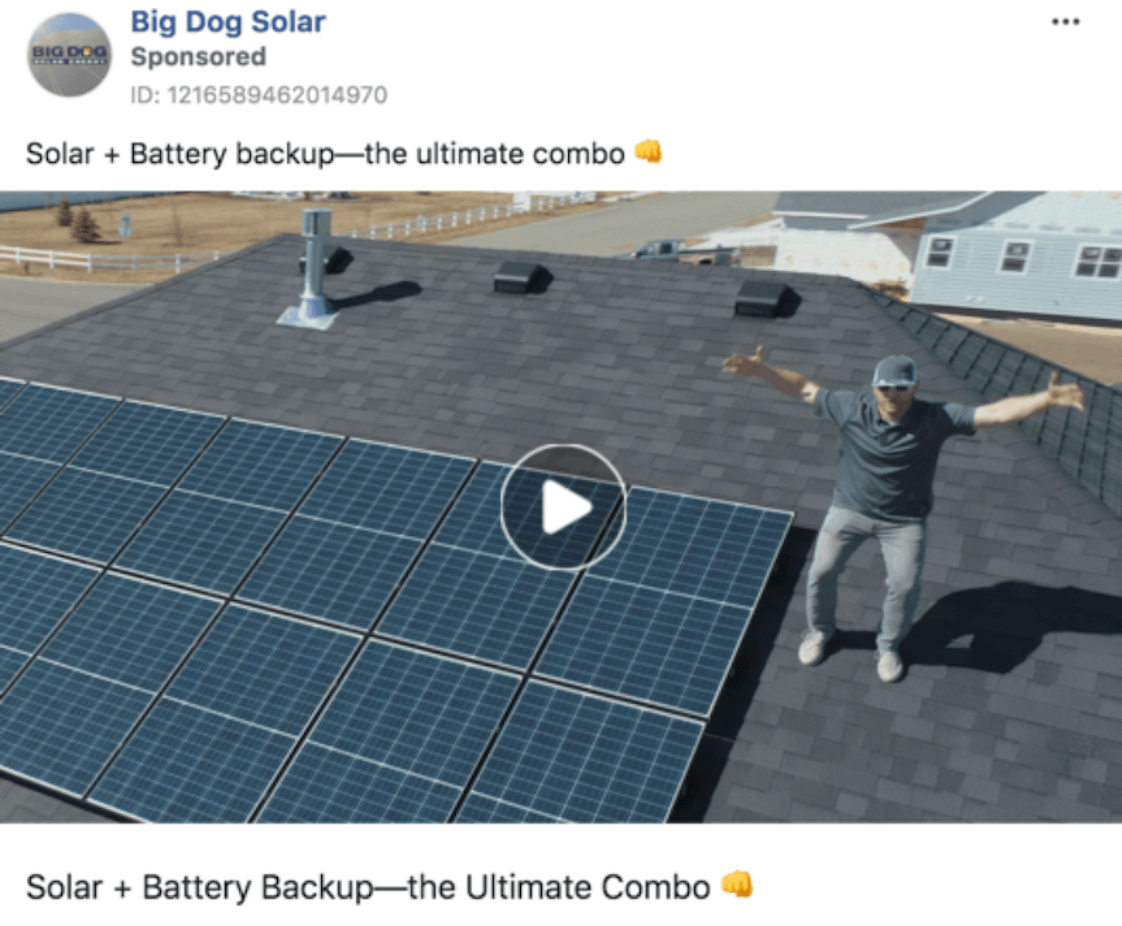 Social media platforms are excellent places to share original content, such as your blog posts and videos, as well as updates about your company and projects. You can also share content created by news sites, energy industry groups, and other organizations.
Social media ads can also get the attention of users who don't follow the company on social networks and potentially bring them to the company's website. For an example of a renewable energy social media ad, check out this Facebook ad from Big Dog Solar:
People introduced to a company through social media may eventually visit its website and become leads.
4. Create an email list
As many as 78% of organizations use email marketing for lead generation and lead nurturing. Those who sign up for your email list are likely to be qualified leads since they're signing up to hear from you regularly.
You can personalize your emails to each user by addressing them by name. You can also segment your email list into groups and send different emails to each segment based on its characteristics. For example, you can segment your subscriber list by demographics, interests, where leads are in the decision-making process, and other factors.
You can also send users different types of emails based on actions they recently took on your site. A new subscriber may get a welcome email with basic information, for instance. Someone who just viewed pricing information on your website might receive a special offer, such as a free consultation or financing plan.
Email marketing software like EmailMarketingFX can help you manage your email marketing campaigns and automate tasks such as sending out emails when users take certain actions on your website.
5. Place targeted pay-per-click (PPC) ads
Pay-per-click (PPC) ads are placed on search engines and other websites. Advertisers bid on keywords for ad space, and a near-instantaneous, automated auction process determines which ads to show each time someone conducts a Google search or visits a page. You only pay when someone clicks on your ad, generating a lead and a chance for conversion.
For PPC ads on search engines like Google, you bid on keywords. Your ad may then show up when someone searches that keyword.
For example, you might bid on "best solar installers in New Jersey," or wherever you're located. Here are some of the PPC ads that show up on Google for that keyword: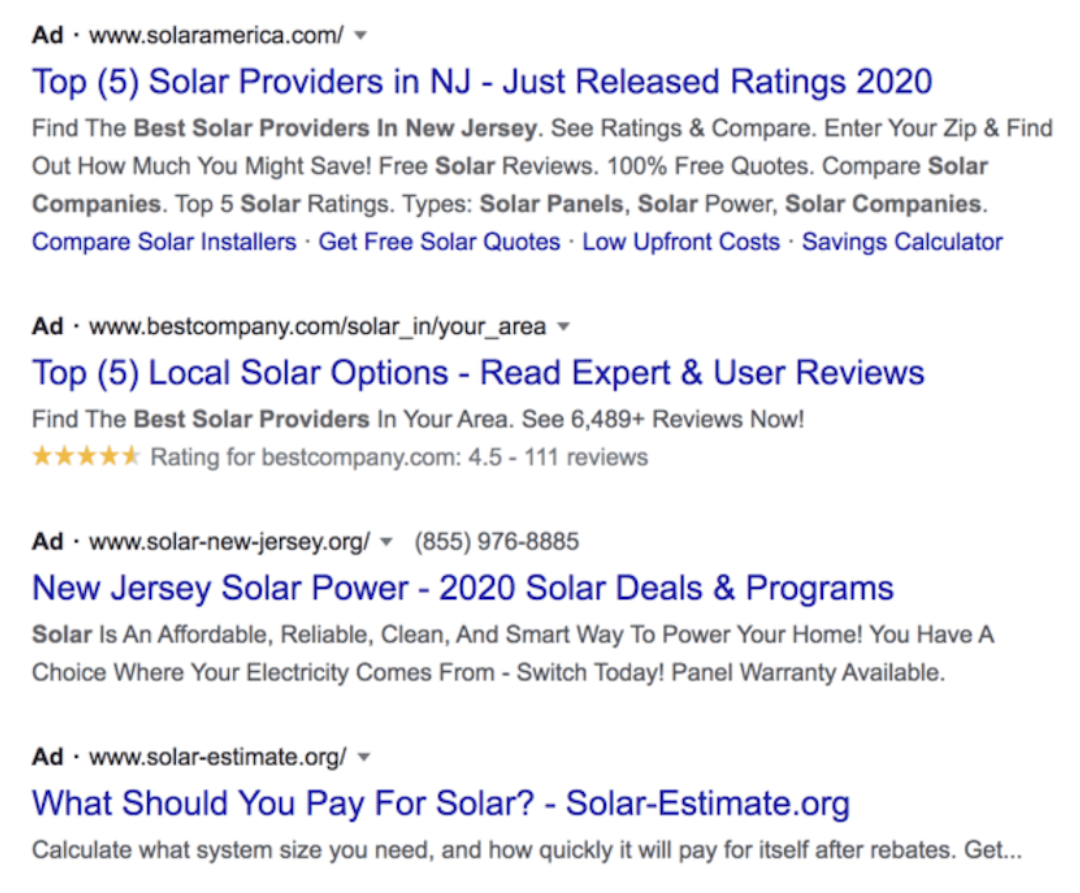 For both search engine ads and display ads on other websites, you can target your PPC ads to specific audiences, such as users with certain interests, demographics, or past online activity.
While you do have to pay for this lead generation channel, users who are close to making a purchase decision often click on PPC ads, so they're more likely to lead to a direct sale. In fact, 65% of high-intent searches result in an ad click.
Hear What It's Like to Work With WebFX!

"We transitioned to WebFX last year and have been extremely pleased with the level of transparency into the processes and the response time to any questions we have. Our account manager does a great job at keep our team informed and talking through our strategy for growth on our website."
Energy Provider
Lead generation for renewable energy companies with WebFX
Need qualified leads for your renewable energy business? WebFX can help. We offer a variety of lead generation services, and we've driven more than 7.8 million leads and $3 billion in revenue for our clients over the last five years.
Our lead generation services include:
To learn more about renewable energy lead generation and how we can help you grow your business, contact us online or at 888-601-5359 today!
Earn a 20% greater ROI with WebFX