You've heard the old saying, "work smarter, not harder" at least a thousand times. And when it comes to expanding your reach and earning more clients, the best way to do that is with digital marketing for your insurance agency.
As an insurance provider, there are many marketing opportunities available to you online. With the right digital marketing insurance strategy, you can reach your target audience, convert more leads, and outperform your competitors.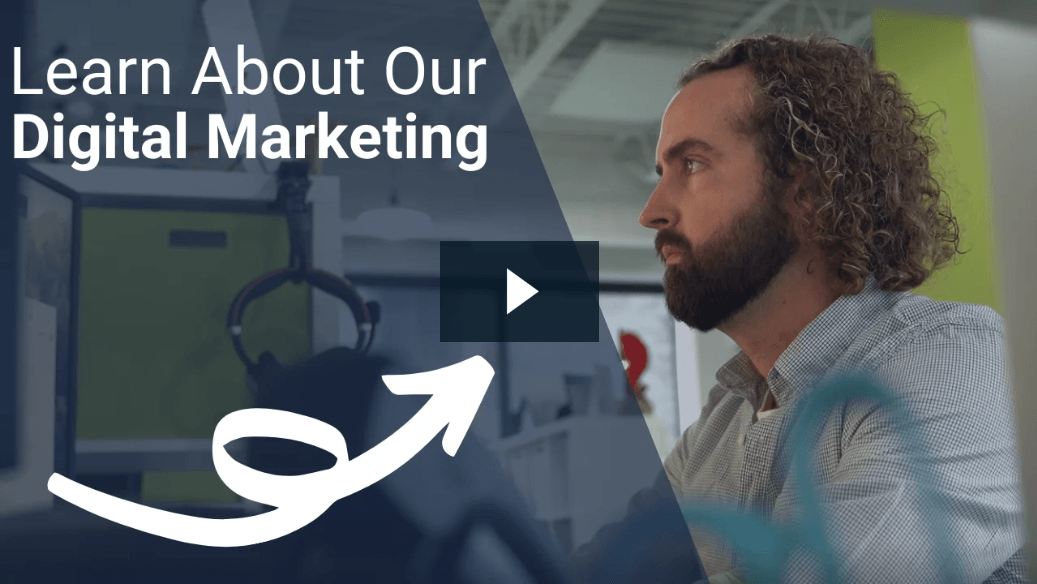 Keep reading to learn more about digital marketing for insurance agencies, including our insurance marketing services. Or, call 888-601-5359 to speak with a strategist about digital marketing services from WebFX!
Browse insurance marketing services from WebFX
At WebFX, we offer your business a one-stop shop for digital marketing. Whether you're looking to redesign your website, up your social media game, or improve your visibility on Google, we have the team and resources to help.
Browse our insurance marketing services now and learn how WebFX can help you:
And more
Keep reading to learn more about our digital marketing services or contact us online to chat!

Hear What It's Like to Work With WebFX!

"WebFX provides professional, knowledgeable SEO services that can help any business. They are thorough and always provide detailed responses to help educate you on what they're doing and why. I've learned a lot from WebFX and it helps me do some SEO in-house while continuing to use their services."
Insurance Company
Learn more about our digital marketing services for insurance agencies
When it comes to insurance marketing services, you have dozens of choices. The following services from WebFX, however, offer the most value because they target consumers and business buyers in every stage of the funnel, which helps you earn the best return on investment (ROI).
SEO
Search engine optimization, also called SEO, makes your agency more visible in search results on Google and Bing. You want more visibility on these search engines because they're what people use when shopping, whether it's for a vacuum or insurance.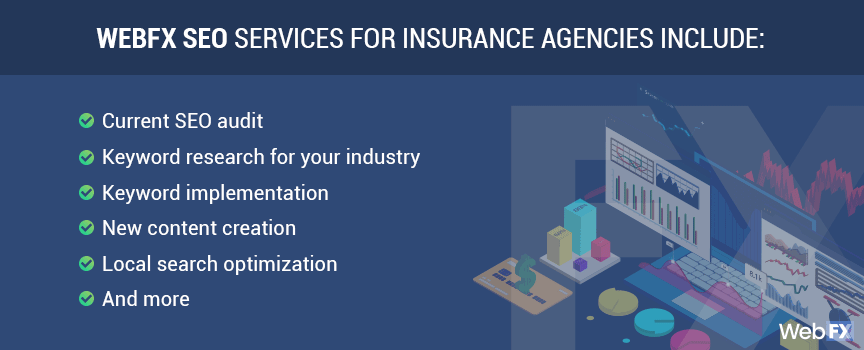 With our SEO services, we help you benefit from SEO by:
Researching valuable keywords for your agency
Implementing these keywords into your site
Creating new content, like blog posts, for your website and promoting it
Optimizing your presence in local results, like via Google Business Profile
And more
If you're looking for the most valuable insurance web marketing service, it's SEO.
That's because over 40% of revenue comes from organic traffic, which comes from search engines. If you want to bring traffic, leads, and sales to your insurance agency, invest in search engine optimization for your company.
PPC
Pay-per-click or PPC advertising is a paid digital marketing strategy that provides your business with instant visibility in search results and websites. Earning that immediate increase in visibility can help you drive leads and sales fast, as well as support your SEO strategy, which takes time to deliver results.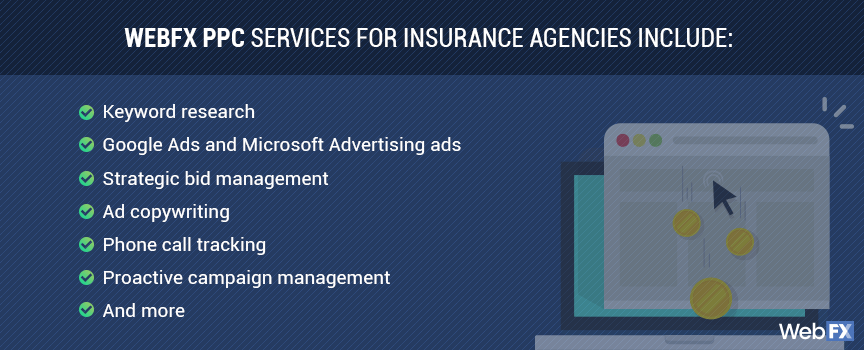 Plus, you only pay when someone clicks on your ad, which makes PPC extremely cost-effective.
With our PPC services, we provide you with everything you need to succeed, including:
Keyword research
Google Ads and Microsoft Advertising ads
Strategic bid management
Ad copywriting
Phone call tracking
Proactive campaign management
And more
Whether you're looking to generate leads and revenue fast or support a brand-new location, paid advertising (and WebFX) can help your business take advantage of this insurance digital marketing strategy.
Content marketing
Content marketing involves learning about your audience and creating content that answers their questions, concerns, and more. Content can range from blog posts to guides to videos. Like SEO, content marketing is an essential strategy because it can double your website's conversion rates.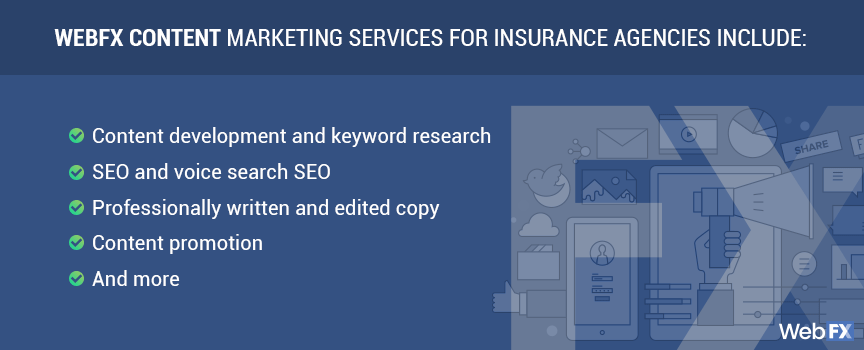 With our content marketing services, you get:
Content development and keyword research
Optimization for SEO and voice search SEO
Professionally written and edited copy
Content promotion
And more
Working alongside our team, your insurance agency can create helpful, must-share content that builds your audience's trust. As we optimize your content for search engines, your content gets even more exposure by ranking in search results.
Social media marketing and advertising
Social media is a powerful channel for building brand awareness, engaging customers, and attracting new leads and revenue. That's why social media is becoming a valuable tool for insurance digital marketing.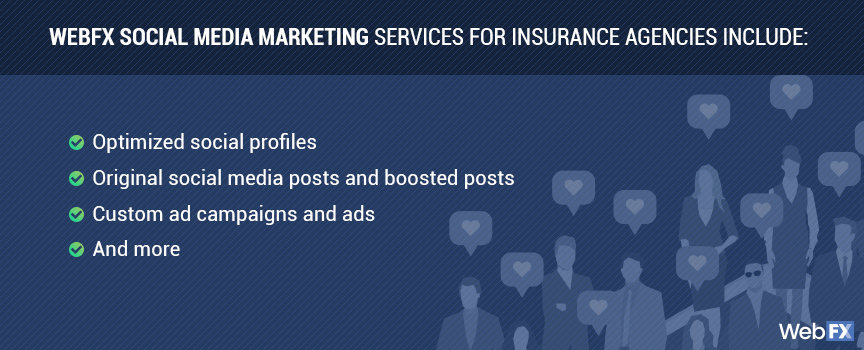 With our social media marketing and advertising services, we provide you with:
Optimized social media profiles
Original social media posts and boosted posts
Custom ad campaigns and ads
And more
If you want to leverage a new and effective way of reaching leads, think about social media. Whether you use LinkedIn, Twitter, Instagram, or Facebook, these channels can give you a competitive edge against other insurance companies.
Web design and website redesign
Web design or website redesign matters because your website is the foundation of your online presence. A professional, fast, and attractive site is a must when using Internet marketing to grow an insurance agency.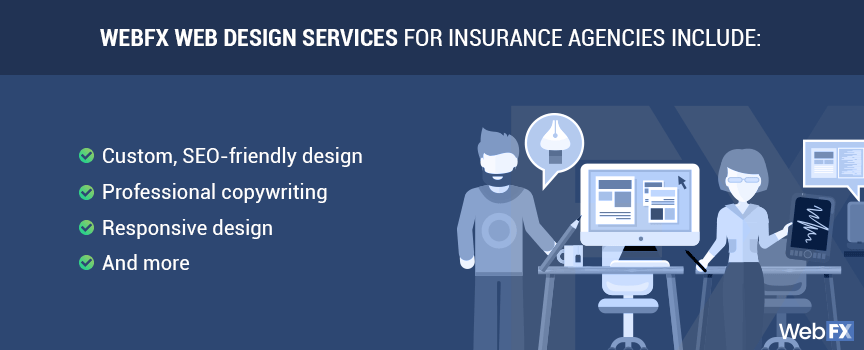 With our web design and website redesign services, we provide your business with:
Custom design
SEO-friendly design
Professional copywriting
Responsive design
And more
If you're looking for a brand-new website in a short timeframe, we also offer 30-day web design services. These services use a template, which we customize to your brand, to provide your agency with a fast, up-to-date, and SEO-friendly site.
Time to Level Up Your Sales
Our long list of services helps you grow every aspect of your business with marketing strategies that are proven to increase bottom-line metrics like revenue and conversions.
In the past 5 years, we've managed more than 12.9 MILLION transactions across our client base.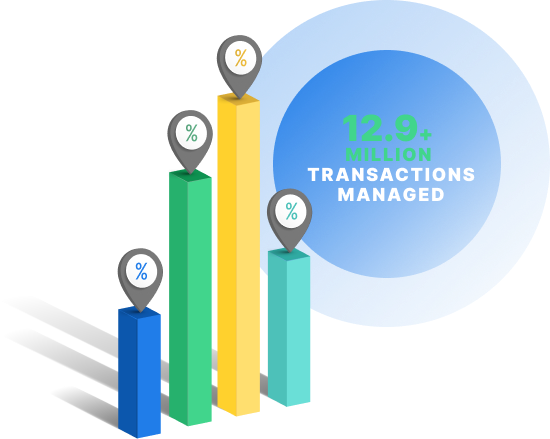 What do our insurance digital marketing services include?
While our insurance digital marketing services cover multiple channels, from search to social, all include:
A dedicated account manager
A custom strategy based
A regular reporting schedule
The three deliverables above demonstrate our focus on transparency, service, and results. They're also three of the reasons behind our unmatched client recommendation score, which is 488% higher than the industry average.
If you'd like to learn more about what our different insurance web marketing services include, browse each service and its plans. The plans will consist of all your deliverables, as well as the plan price. You can also call us at 888-601-5359 or contact us online with questions!
Why choose WebFX for insurance digital marketing?
When you invest in digital marketing for your insurance agency, you want to hire a trusted partner that will not only grow your business but also match your strategy to your goals and brand. That's why it's essential to review every potential partner before signing with an insurance digital marketing agency.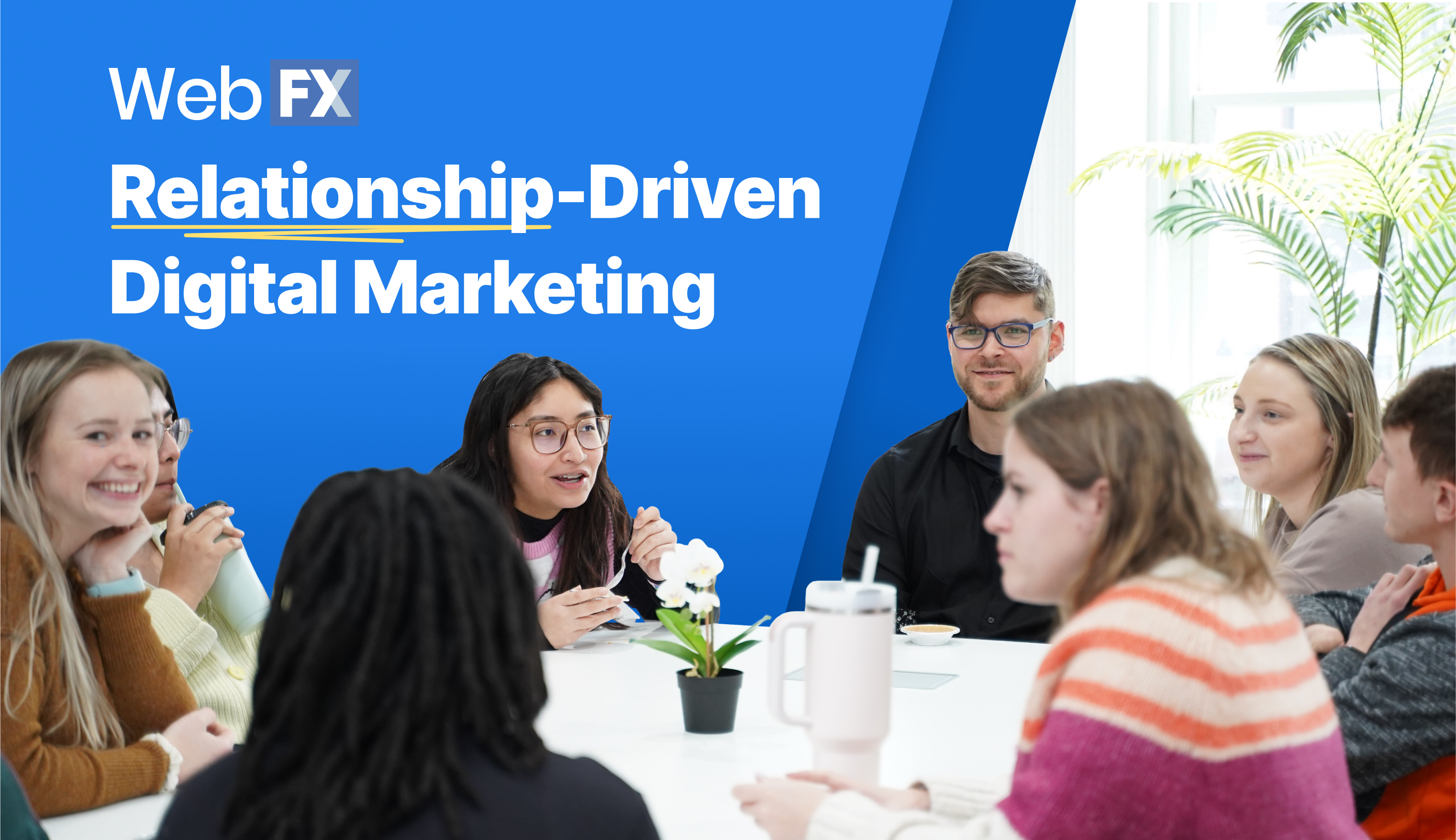 So, why choose WebFX? Our clients work with us for a few reasons, including:
Experience: With more than 25 years of experience, our digital marketing agency knows Internet marketing. Our experience can help your business launch a successful strategy, as well as avoid the pitfalls of working with a company that has less experience with your industry.
Results: Like your agency, we measure our performance by the success and satisfaction of our clients. While we've helped our clients earn more than $3 billion in revenue, we see the real results of our work in the physical growth of our clients' businesses, teams, and operations.
Team members: When you work with WebFX for insurance web marketing, you gain access to a team of more than 500+ marketers, web developers, copywriters, web designers, and more. Overnight, you get a dedicated marketing team for your agency.
Technology: In addition to our experience, we also feature advanced marketing automation software: MarketingCloudFX. This platform uses IBM Watson (and its artificial intelligence) to deliver actionable insights that supercharge your online marketing strategy and its results.
Client satisfaction: Our agency considers ourselves an extension of your team. We care about your business and its success, and it shows. Over 91% of our clients stick with us, making us their long-term partner for digital marketing.
Services: As a full-service online marketing agency, we provide our clients with all the services and skillsets they need to succeed at insurance web marketing. With WebFX, you don't have to hire multiple agencies — you hire one and get everything you need in an instant.
Learn more about why our insurance marketing services are the choice by reading what our clients say!
How to get started with insurance web marketing
Don't throw yourself into a full-fledged marketing plan all at once, or start every single social media page on the same day. Take one step at a time to ensure you're both prepared and aware of the time and resources you'll need to commit to each component of a marketing method.
Start small: Choose one of these methods that you think you need the most, or that seems like the easiest for you to invest in. For example, you may know that your website isn't ranking very well at all, so you may start with SEO. Or you may already be writing content for emails, so you might try to repurpose that into long-form content articles for your website, which is an easy switch to make. After you've done that component for a little while, you can consider adding another step or marketing method.
No matter what, just don't be afraid to ask for help. There are plenty of knowledgeable, experienced, and dedicated marketing firms out there that are willing to lend you a hand with your online marketing—and WebFX is one of them.
3 digital marketing insurance tips for your agency
Here are some tips you can use to improve your Internet marketing, reach more potential leads, and improve your online presence.
1. Use SEO
Search engine optimization, or SEO, is a great investment of time or funds for anyone who has a website. But it's a smart investment especially for insurance providers because your potential clients are shopping around online. That means Internet marketing is important to success, and (depending on your competition) it could even be essential.
With over 1 billion websites on the web, Google and other search engines needed to come up with a good way to quickly decide how they would deliver the best search results to their users. Ultimately, the goal of a search engine is to deliver the best results possible so users have a good experience, trust the search engine to deliver good results, and return to search there again.
As a result, many marketing strategies for insurance providers revolve around providing a positive user experience. There are several things you can do to optimize your website for search engines:
Keyword research: This is the first step to crafting a strategy for SEO. Keywords are a very important part of SEO because Google and other search engines use them to figure out what your site it about, and if it's appropriate to deliver it in search results based on the search query.
Title and meta tags: These are another great action item to optimize your website. Once you have decided which terms and phrases you're going to target based on your keyword research, you'll want to naturally and accurately use those terms in the title tags and meta descriptions of the appropriate pages on your website.
Content: The content on your website is very important. It should never be over looked or minimized. That's not to say that you want to repeat yourself over and over again, or even that you want 3,000 words of fluff that doesn't make sense. The point of content is to have both quality and quantity. Use your copy to educate your visitors, answer their questions, and provide them with enough information to establish yourself as a reliable source and expert in the industry. Insert the keywords you previously determined to target naturally within the copy so search engines can figure out what your page and site are about.
Internal linking: This is when you link one page on your site to another page on the site via a term or phrase within the content of the page. This strategy helps communicate to Google the pages that are important on your site.
Link building: Building links is another important part of SEO, but one that should be done carefully. Links are great… most of the time. If another site links to your website, it typically sends a good signal to search engines, and that's because it means that other website trusts you enough to send their traffic to your site. Links aren't good when they aren't natural, however. It's okay to contact a blogger and provide them with the address of your website if you notice that they mentioned you or your insurance company, but it's not okay to buy links.
2. Run PPC ads
Pay-per-click advertising is another great way to market insurance online. PPC campaigns give you great control over who you market to, when you market, the message you send, and how much you want to spend. It's never been easier to track the success of a marketing campaign than it is with PPC.
Remarketing campaigns, which are another component of PPC, allow you to remarket specifically to users who've already visited your website and meet a certain criteria. For example, you can have an advertising campaign that is shown only to people who have been to your website over the past 60 days, spent more than a total of 3 minutes on the site, and viewed the contact form… but didn't actually submit the form.
As you might imagine, because you're able to show ads or special offers to users you know are already interested in your company and services, the conversion rate for these campaigns is typically a bit higher.
3. Write long-form content
Long-form content is an in-depth piece of content about a topic that others are looking for more information on. The purpose of long-form content is to provide users with answers to their questions, a resource for people to share, and to continue to establish yourself as an expert in your industry that can be trusted, not just another insurance provider.
4. Get social
LinkedIn, Facebook, and Twitter are all great social channels for insurance companies. Social media is essentially digital networking and has very similar rules:
Be active and engage with others
Listen more than you talk
Give to receive
Be genuine and respectful
Get started with digital marketing for insurance agencies today
If any of these digital marketing insurance strategies sound like they might work for you, but you're just too busy or overwhelmed to do it alone, we can help.
WebFX has a team of web strategists who are dedicated to helping clients get more from their online marketing campaigns. Whether you're looking to set up a full online marketing package, redesign your website, or just try out one or two of these methods, we can do everything for you from start to finish. We don't just offer marketing tips for insurance companies — we deliver results.
Contact one of our experts by phone or online today to get a completely customized quote for reaching new clients with digital marketing for your insurance agency. We look forward to finding out how we can help you stand out!
Earn a 20% greater ROI with WebFX