Where do travelers go when they want ideas for their next adventure? The same place they go for information on everything else: the Internet. They go online to find the best deals on airfares and hotels, as well as suggestions for what to do once they reach their destinations. Your company may be available to provide this valuable information, but so are many others.
If you want your business to become a leader in tourism, you need Internet marketing. It is an ongoing and can be tough at times, but when done right, can produce increased website traffic, more loyal customers, and higher revenues over the long term.
On this page, you'll learn more about Internet marketing for tourism and why so many travel companies have started using it as their primary method of advertising, as well as a few ideas to help you get started. If you'd like to speak with a specialist, you can contact us at 888-601-5359.
Our digital marketing campaigns impact the metrics that improve your bottom line.
See More Results

WebFX has driven the following results for clients:

$3 billion
In client revenue

7.8 million
Leads for our clients

5.2 million
Client phone calls
How is Internet marketing different from traditional marketing?
There are several differences between traditional and Internet marketing for tourism businesses. The biggest one is how consumers and businesses communicate with—and about—each other.
Traditional marketing gives businesses total control of the conversation. Methods like direct mail, billboards, and print ads serve to deliver information that is purely promotional, and do not offer consumers the chance to respond or ask questions.
Internet marketing offers no such cover. Consumers have just as strong a voice online as businesses do. On some channels, such as social media, their voices are louder. Fair or not, their criticisms of your products and complaints about business practices can go viral, and this can not only hurt sales, but your overall brand reputation.
This means that marketing is no longer based on transactions, but on relationships. If customers trust you and like your services, they'll leave positive reviews on directories like Yelp and social media platforms like Facebook. And considering that 77 percent of consumers say they trust recommendations from friends and family more than advertising messages, that kind of feedback is crucial to the success of your business.

Hear What It's Like to Work With WebFX!

"All of my interaction with our account manager has been so positive. I worried about the amount of money I was spending and she has made it worth my while. I understand there is a team behind her as well but I have been so impressed. Her responsiveness is outstanding."
Real Estate Rental
What are the advantages of digital marketing for tourism?
You might be wondering why your business should incorporate Internet marketing into your marketing strategy. It has several advantages over traditional methods, including:
Speed
In the time it takes to see results from one mailing or print ad, you can run multiple online campaigns via email, social media and search—and see results just as quickly.
Cost
The costs of printing, mailing, and ad space in traditional marketing are far higher than the costs of reaching customers online. And in some cases, such as PPC ads, your cost is determined by how many people respond—not how many people might respond.
Reach
It's hard to reach many of your potential customers with traditional marketing, and even harder to do it at a low cost. But on the Internet, if you've optimized your online presence effectively, these people will find you.
Analytics
Arguably the biggest advantage the Internet marketing offers is advanced analytics. With the right tools, you can measure the effectiveness of virtually every aspect of your campaigns, which will allow you to remove the ones that aren't working, and improve the ones that are.
How to get started with digital marketing for tourism
There are many reasons to start using the Internet to market your business. But how can you do it? It depends on the specifics of your company's offerings and goals, but here are a few ideas that will get you headed in the right direction:
Digital presentations
Regardless of how adventurous a traveler may be, it's unlikely that they'll take off for a new destination without knowing about it. Whether you're responsible for booking their travel or providing accommodations once they've arrived, you can offer this information.
Use a tool like Slideshare to present a multimedia view of the area, including a simulated walking tour, a virtual view of popular landmarks, and lists of fun things to do while guests are in town. This information will help potential customers decide whether they want to visit a specific location. And if they do, they'll already be on your site to book.
Mobile apps
Presentations are a great way to inform customers while they have the time to sit down at their computers and do some research. However, these presentations won't help them get around once they reach their destinations. Offering a mobile app that simplifies booking and travel can be a great incentive to market online.
Create an app that helps visitors easily access information about their flights, reservations, and trip itineraries. Depending on the amount of locations you offer, you may even consider adding maps and guides to local attractions.
Exclusive deals via email and social media
Travel is expensive—sometimes so much so that it keeps travelers from fulfilling their dreams of visiting all the places they want to see. Because of this, many of them look for discounts. If you provide special deals to your social media followers and email subscribers (and advertise that fact on your site), you can easily build up a loyal customer base. And although you may technically make less money on each sale, happy customers are more likely to be repeat customers—and that's worth a lot more.
Time to Level Up Your Sales
Our long list of services helps you grow every aspect of your business with marketing strategies that are proven to increase bottom-line metrics like revenue and conversions.
In the past 5 years, we've managed more than 12.9 MILLION transactions across our client base.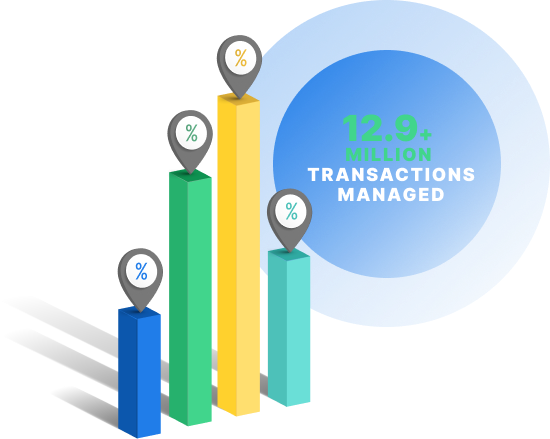 Drive revenue with digital marketing for tourism
The Internet has become an extremely useful tool for travelers and tourists. It provides a wealth of information on destinations, resources for planning trips, and reviews from previous visitors. That means that your customer base is definitely there—you just need to reach them.
If you want to start using the Internet to grow your tourism business, but aren't sure how, feel free to contact us! Our dedicated team is more than happy to help you develop an online strategy.
Earn a 20% greater ROI with WebFX