The Best Facebook Advertising Companies in the World
With over 3 billion users on Facebook, there's no telling how many people you can reach with a great Facebook advertising campaign. But to build a campaign in the first place, you've got to team up with the right Facebook advertising agency. How can you find the best agency out there?
We've done the hard work and vetting for you and compiled a list of the best Facebook advertising companies in the world — check it out now to get started!
Top Facebook advertising companies
In 2023, top Facebook advertising companies can be found in all corners of the globe. From the U.S. to Australia, you have plenty of options to choose from when partnering with a Facebook marketing agency for your next campaign.
Rankings as of March 2023
[Summary] Best Facebook advertising agencies
| Country | Facebook Ad Agency | Location | Employees |
| --- | --- | --- | --- |
| United States | WebFX | Pennsylvania, USA | 250-999 |
| United Kingdom | The Social Shepherd | Bath, U.K. | 10-49 |
| Japan | AJ Marketing | Minato City, Japan | 10-49 |
| Italy | Social Factor | Villanova, Italy | 50-249 |
| Israel | Moburst | Kefar Sava, Israel | 10-49 |
| India | ROI Minds | Mohali, India | 10-49 |
| Germany | MONSOON | Berlin, Germany | 2-9 |
| Canada | Social Media 55 | Montreal, Canada | 10-49 |
| Australia | Megaphone Marketing | Melbourne, Australia | 50-249 |
Best Facebook marketing company in the U.S: WebFX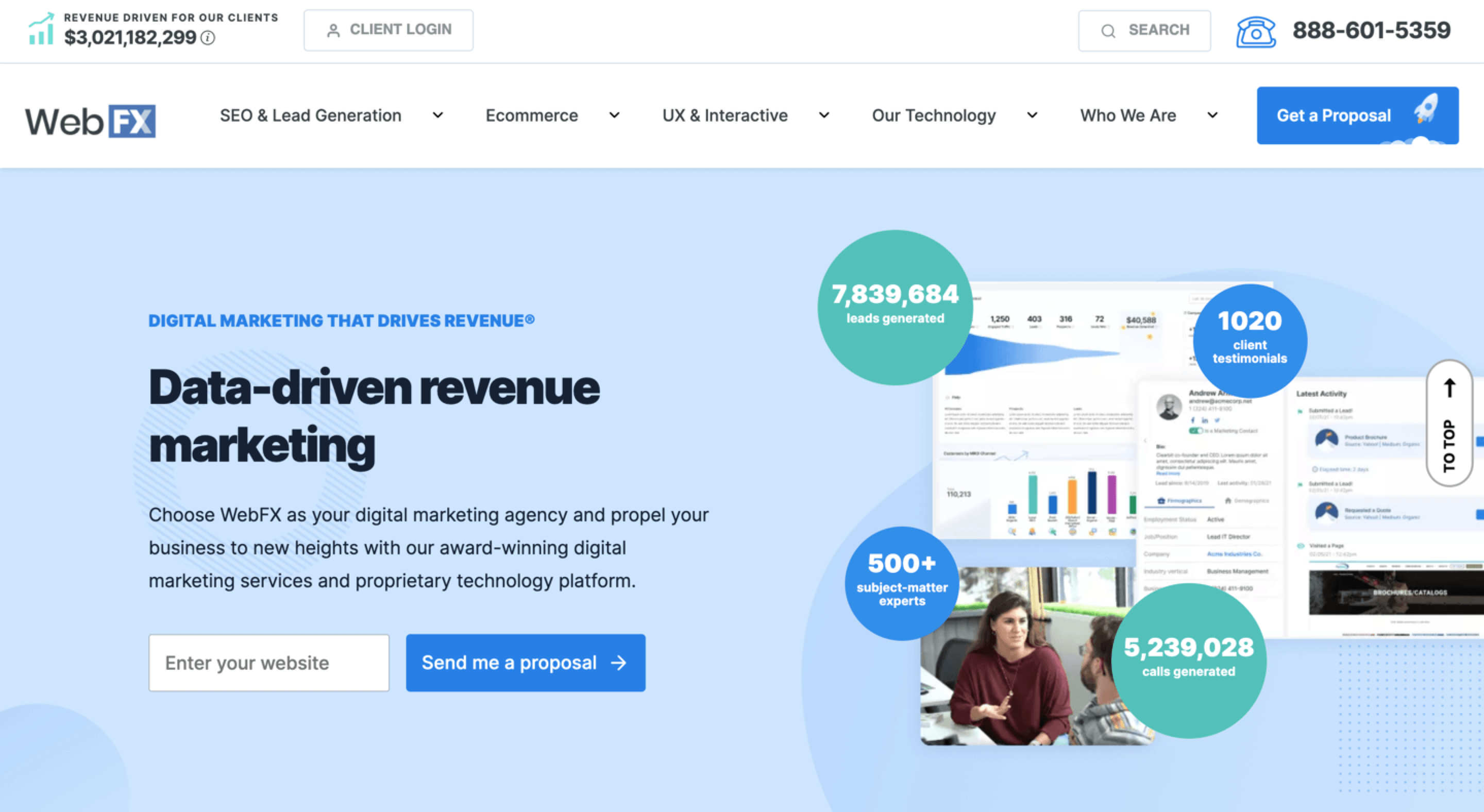 Yes, yes, we included ourselves in this list, but hear us out. Our client testimonials and client results don't lie — WebFX's experienced digital marketers and social media strategists have been providing digital marketing solutions that drive results for years.
In those years, we've launched over 165,000 social media posts for clients across the span of over 650 ad campaigns. But don't worry. We bring much more to the table than just launching social media posts.
Competitive, personalized ad strategies
Our social media specialists will work directly with you to identify your target audience. With that in mind, we'll work with you to develop a Facebook advertising campaign that uses the best strategies to reach those people effectively.
From brainstorming to reporting on your campaign's results, we're with you every step of the way to ensure we're meeting your business's needs and making the right moves to reach your Facebook advertising goals.
Actionable reporting
At WebFX, we believe in making data-backed decisions. That's why when you partner with us for Facebook advertising services, you get insightful, actionable reporting on your campaign's results. We use multiple measures to evaluate Facebook advertising data, including insights from Facebook Ads Manager, Google Analytics, and WebFX's own proprietary data software, MarketingCloudFX.
Best Facebook marketing company in the United Kingdom: The Social Shepherd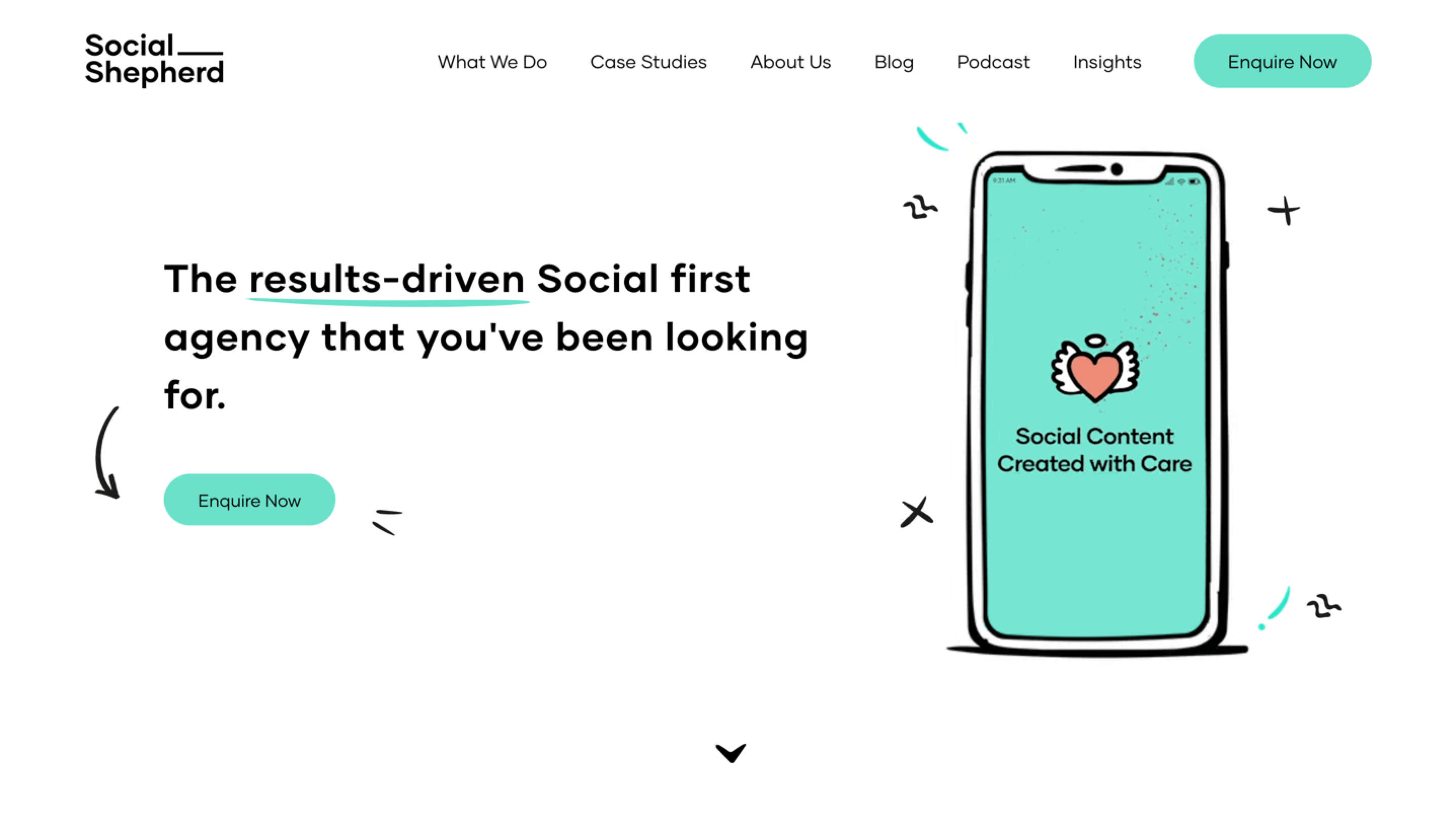 The team at Social Shepherd is a social-media-obsessed bunch, making them one of the best Facebook advertising agencies in the UK. With experience in organic and large-scale social media advertising campaigns, Social Shepherd can help you create a data-driven campaign that drives real results for your business.
As a Meta Business and Google Partner, Social Shepherd has account managers dedicated to all major social media platforms, including Facebook, Instagram, and TikTok. Whether you need original, organic content or a killer paid advertising campaign, the Social Shepherd team has your back.
Best Facebook marketing company in Japan: AJ Marketing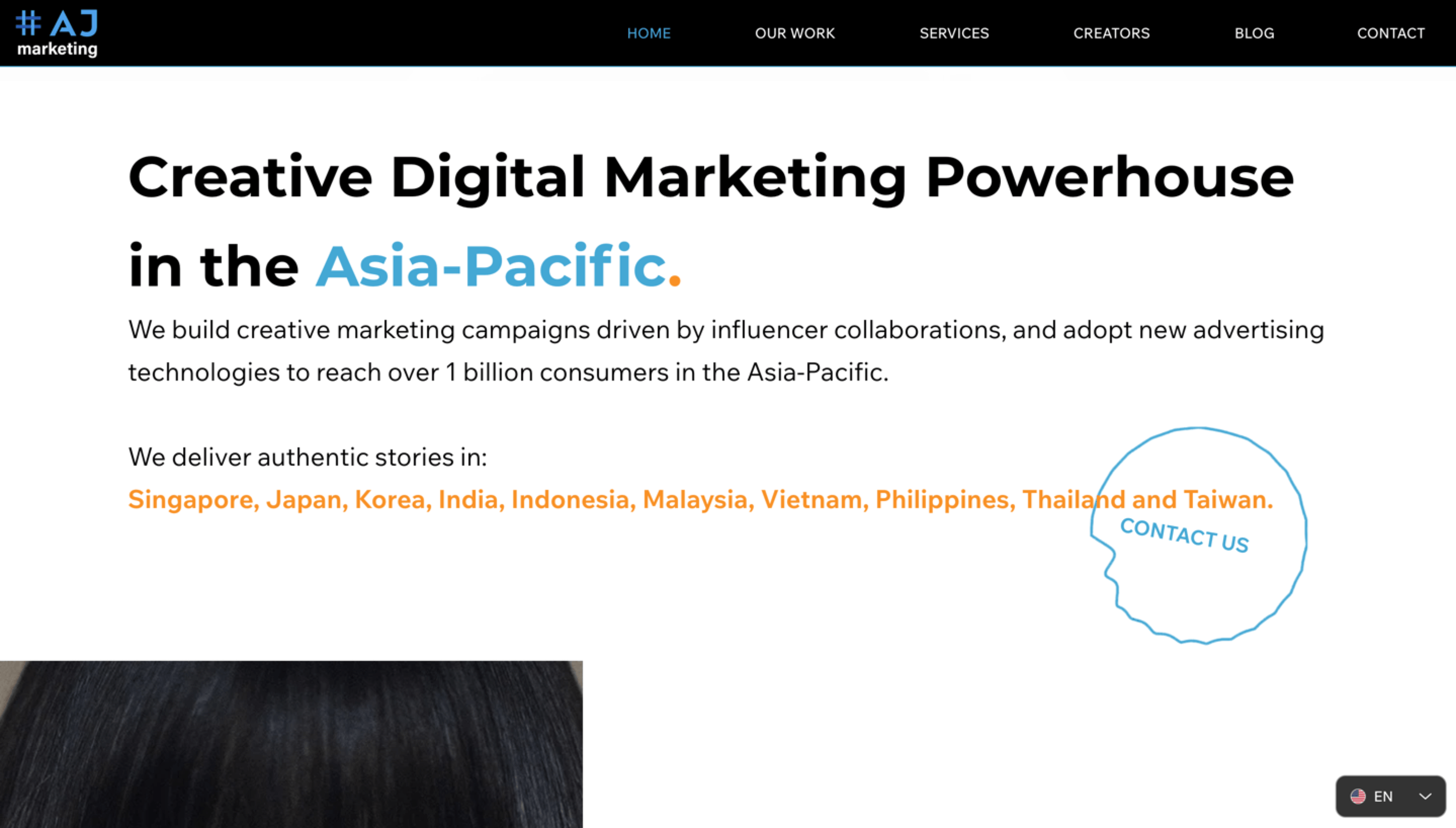 AJ Marketing is one of Japan's leading social media marketing agencies, specializing in showstopping social content and influencer-backed strategies. AJ Marketing can help your business find the right social platforms to campaign on, create original content, and keep users engaged and coming back for more.
Dedicated to delivering audience-engaging content, AJ Marketing works with you to identify your audience — local or international — and capture the essence of their interests and cultural nuances.
Best Facebook marketing company in Italy: Social Factor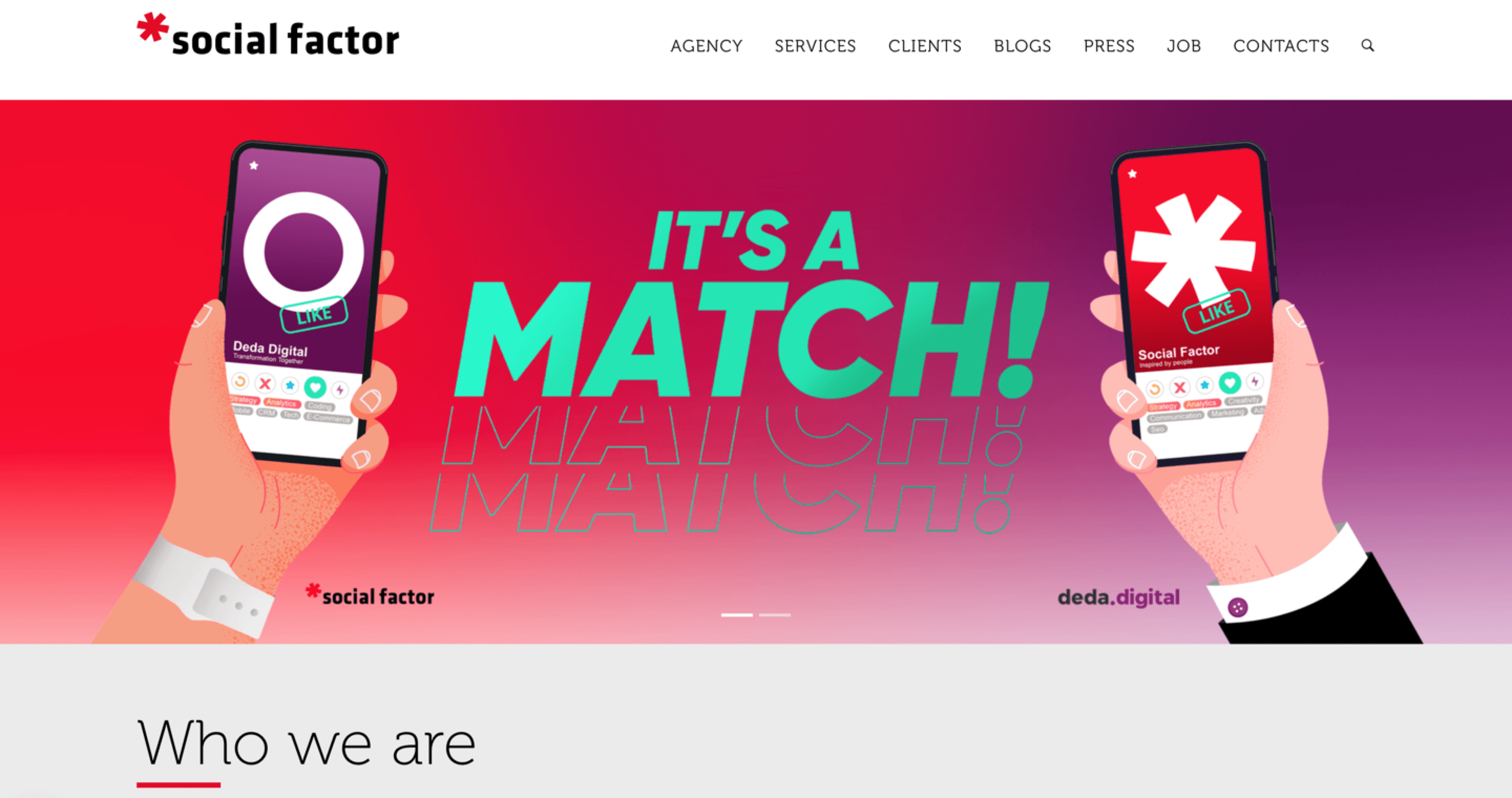 What makes Social Factor a leading social media advertising company in Italy? We're glad you asked. Social Factor knows that every social platform is different — from the people that use it to the content that's shared, they know every client needs a personalized strategy for every platform, including Facebook.
As a Meta Business and Google Partner, Social Factor is the perfect partner for your next Facebook advertising campaign.
Best Facebook marketing company in Israel: Moburst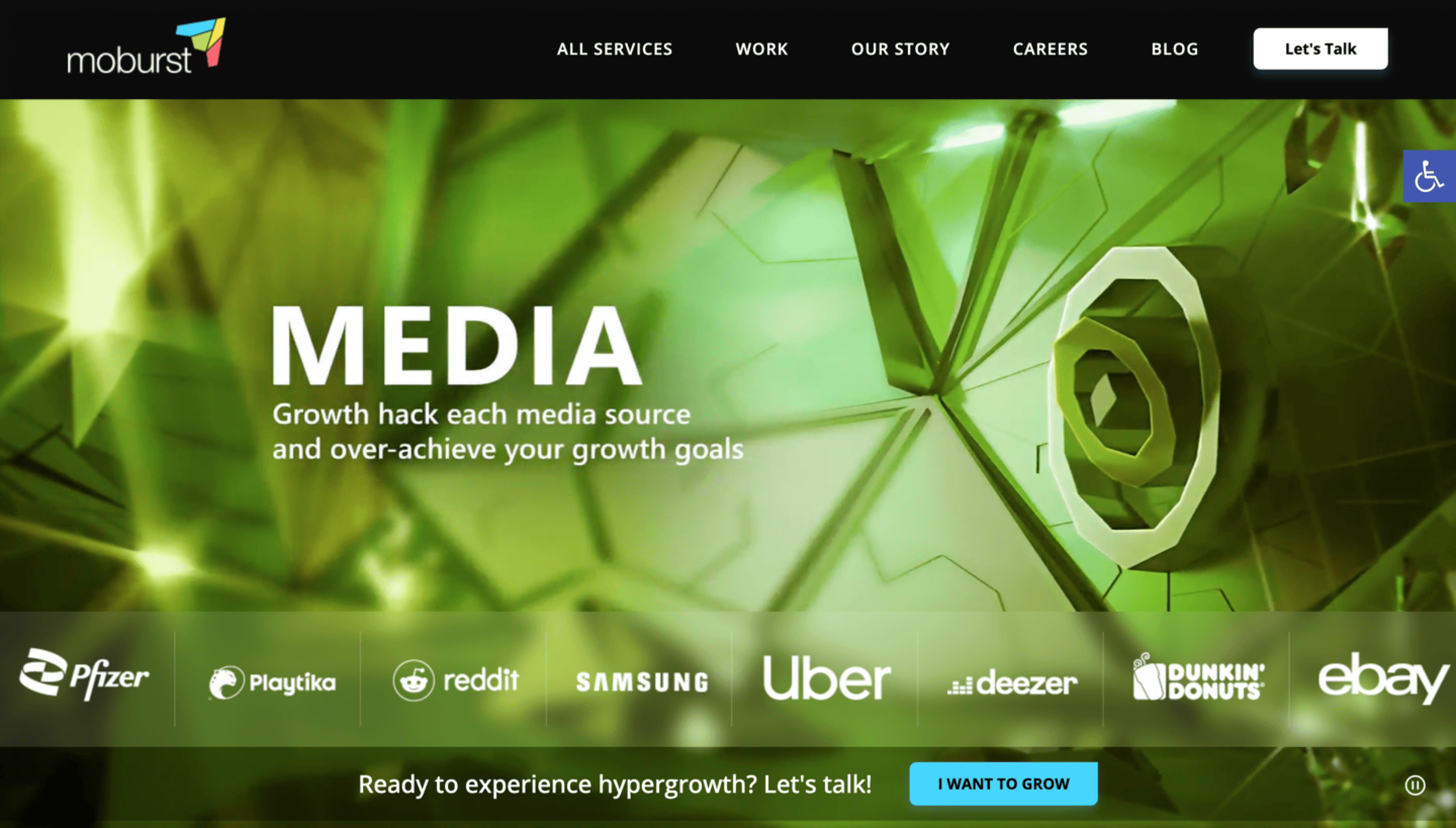 Moburst is all about using real-time data to make social strategy decisions that encourage growth. In the end, it's all about meeting your goals, right?
At Moburst, they believe in transparency and using measurable data to develop the best social media strategies for your Facebook advertising campaign. Moburst can help you develop organic and paid social campaigns and offer competitor analyses so you can outshine your competitors with a social strategy that drives results (and leads) for your business.
Best Facebook marketing company in India: ROI Minds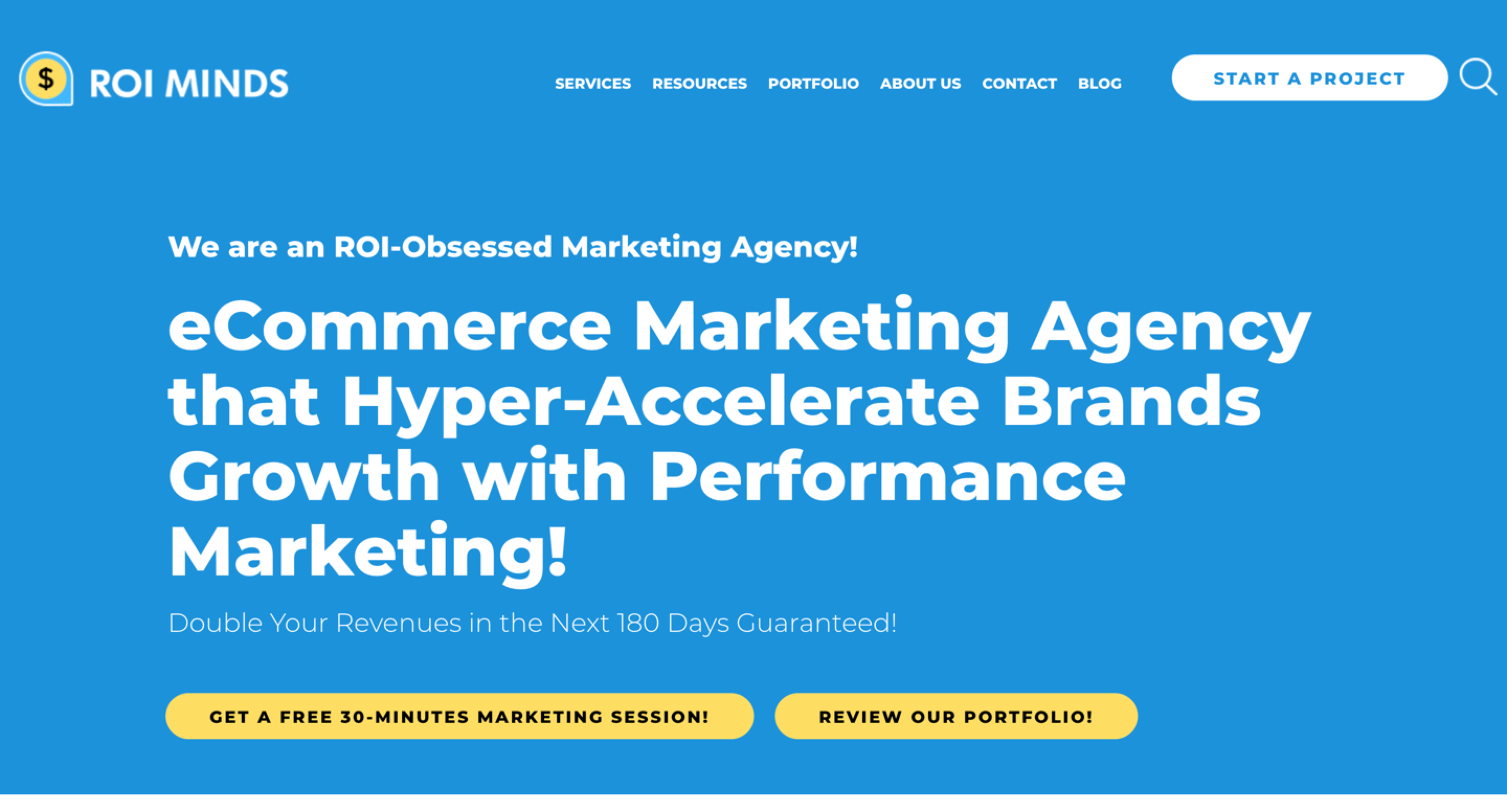 ROI Minds is in the business of helping other companies to grow to their full potential (and beyond!).
Specializing in helping ecommerce businesses grow, the team at ROI Minds are experts at creating social media strategies that scale. Why? Because social media is an ever-changing landscape. ROI Minds knows your business needs a flexible Facebook advertising strategy that goes with the flow but still stands out among competitors.
Best Facebook marketing company in Germany: MONSOON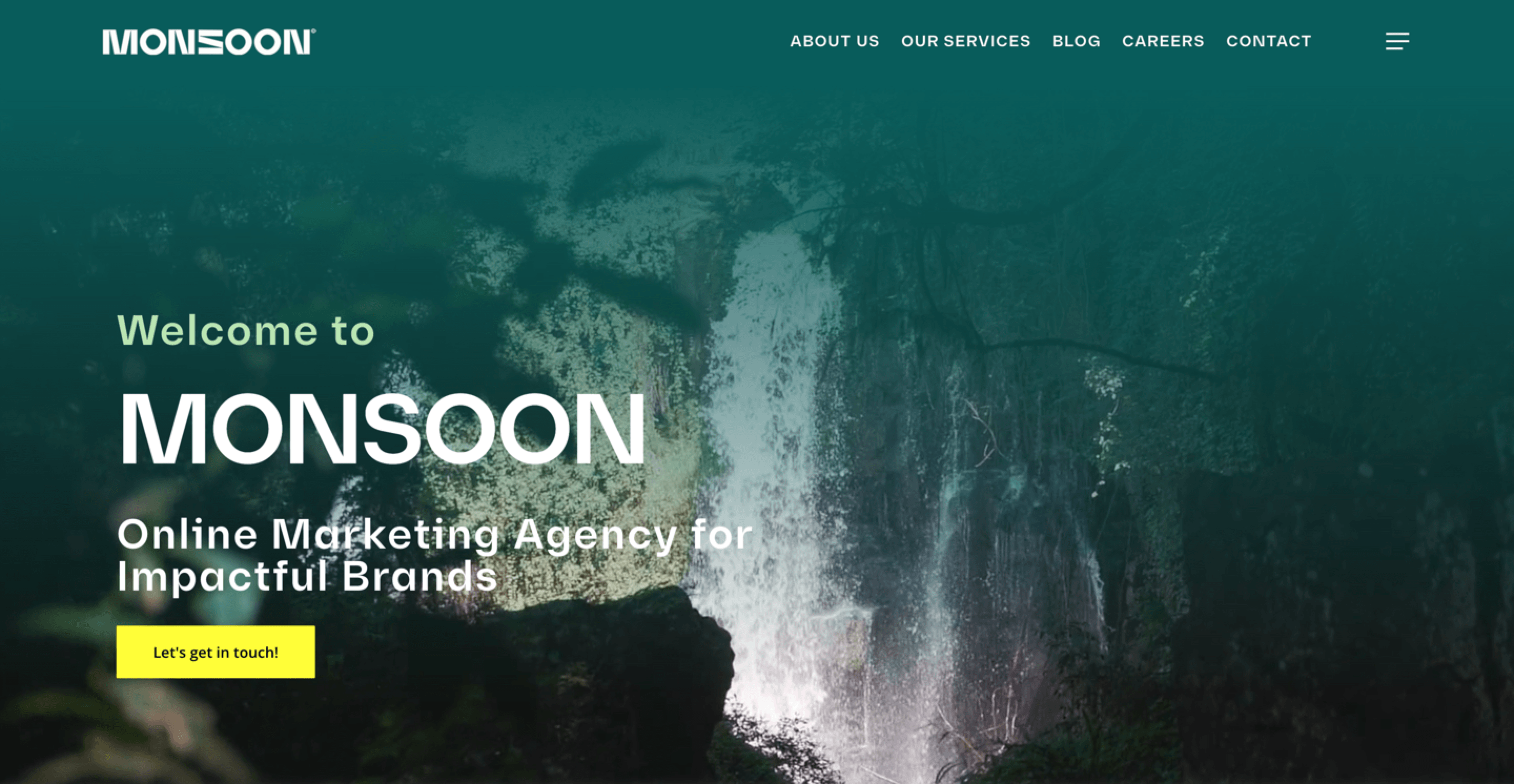 Whether you're looking for Facebook marketing services or need some organic content to spice up your page, MONSOON is always standing by to help you breathe new life into your social media strategy. A Google and Facebook Marketing Partner, MONSOON is no stranger to Facebook advertising.
When you partner with MONSOON, you receive everything from transparent and accurate reporting to a dedicated project manager who will help you every step of the way.
Best Facebook marketing company in Canada: Social Media 55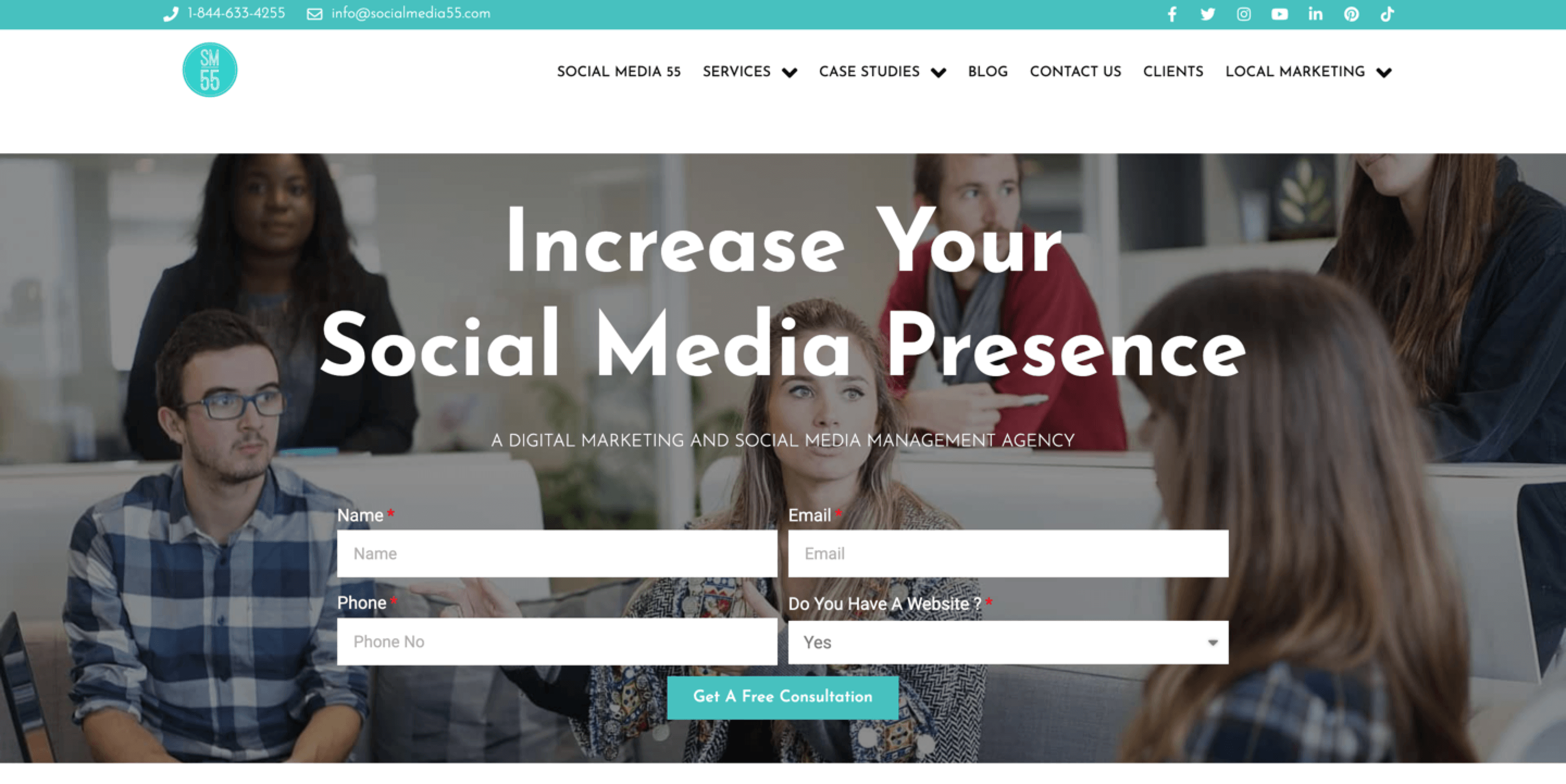 Social media marketing is Social Media 55's specialty (if you didn't already catch that). They're a perfect match for you if you're a business in Canada looking to wow your Facebook audience with a stellar ad campaign.
Social Media 55 knows that social platforms like Facebook, Instagram, and LinkedIn are powerful marketing tools. Still, to be successful, you need to have innovative strategies and solutions in place to harness that power and use it to achieve your business goals.
Best Facebook marketing company in Australia: Megaphone Marketing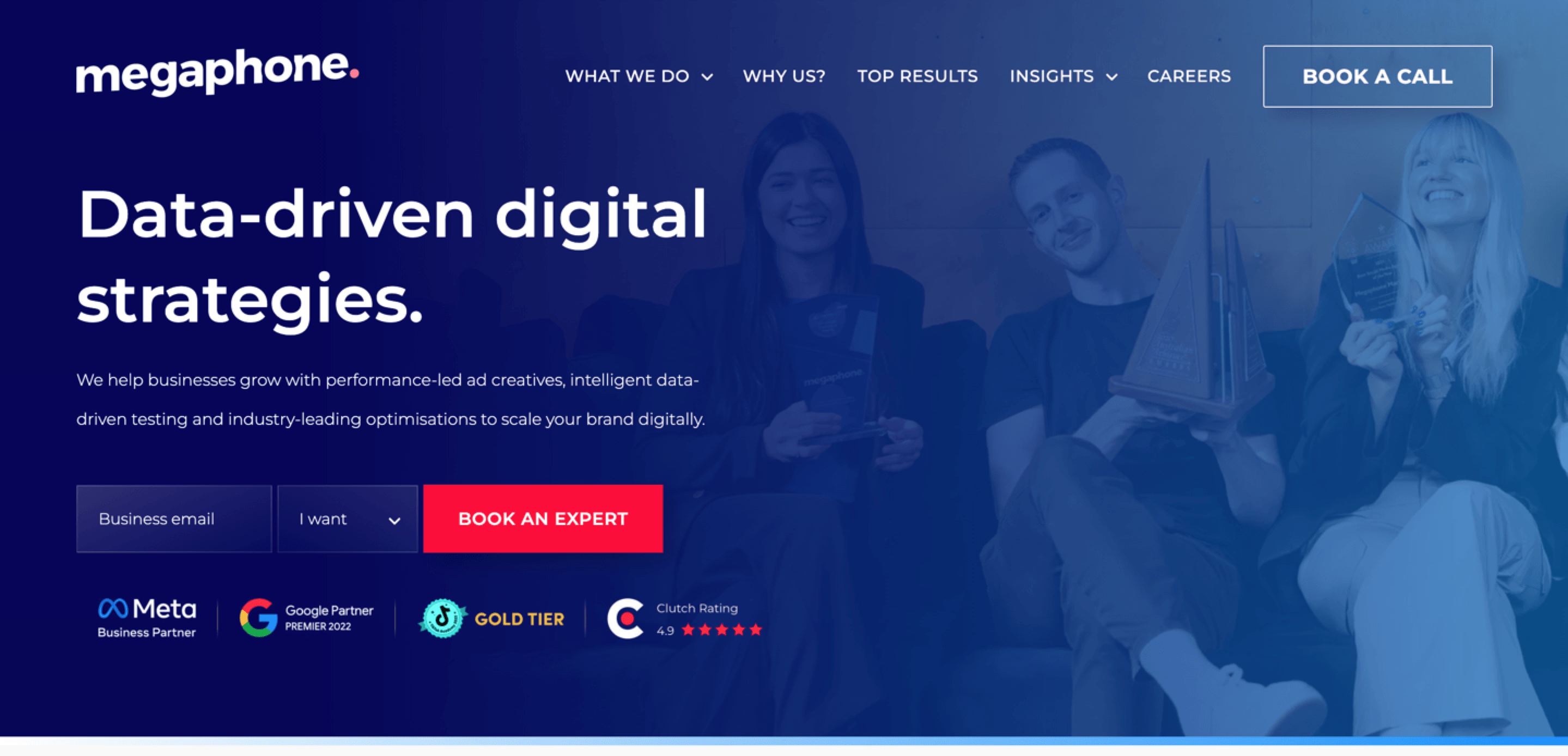 A Meta Business Partner, Google Premier Partner, and TikTok Marketing Partner, Megaphone Marketing is your perfect partner for Facebook advertising. Driven by data-backed strategies, Megaphone is always focused on boosting your return on investment (ROI), because that's what matters most.
With Megaphone and their data-driven strategies by your side, you're set up to succeed. Megaphone's creative testing process allows them to assess more angles for improvement and additional ways to help your brand succeed and stand out among your competitors.
Ready to Grow? Get your FREE Quote Today!
"We measure our success by how much we WOW our clients."

Bill Craig
WebFX President
FAQs about the top Facebook advertising companies
Choosing and hiring a Facebook advertising company is no easy task. That's why we've gathered some of the most common questions from businesses about finding and hiring a Facebook advertising agency.
How did you build this list of the top Facebook advertising companies?
Fantastic question! The list of top Facebook advertising companies in the world is based on a few crucial factors:
Deliverables: To make our list, you've got to be able to give the people what they want. We vetted businesses based on the social media marketing services they offered, including, of course, their Facebook advertising services.
Measures of success: A marketing agency's key performance indicators (KPIs) to measure success should match or align with your own. One might say it's a key indicator of the potential partnership's success!
Client satisfaction and results: There's no good indicator of a business's capabilities like a client review. From Clutch ratings to client testimonials, we vetted the best Facebook advertising companies in the world based on honest reviews from their clients.
What is a Facebook advertising company?
A Facebook advertising company provides Facebook ads services and assists their clients in building a Facebook presence that attracts audiences and encourages engagement with that brand's page.
The best Facebook advertising companies ensure their Facebook campaign strategies align with their clients' needs, business, and sales goals, and drive the desired results, be it increased engagement, more followers, or increased sales.
What services do Facebook advertising companies offer?
Facebook advertising agencies offer a variety of services, all of which are dedicated to the maintaining and growth of a quality Facebook business page and advertising campaign.
Facebook advertising agencies offer several services, including:
Facebook ad creation
Facebook ad bidding strategy and assistance
Ad campaign analytics and reporting
Facebook page growth
Personal consultations
How much do Facebook ads services from these companies cost?
Facebook advertising costs can vary depending on the client's needs. The more advertising you're looking for, the more money you'll spend. Additionally, Facebook advertising costs are affected by factors like ad placement, ad type, industry, target audience, and bidding models.
Take a look at the average costs of Facebook ads below:
| AVERAGE FACEBOOK ADVERTISING COST | BIDDING MODEL |
| --- | --- |
| $0.97 | Cost-per-click (CPC) |
| $7.19 | Cost-per-thousand-impressions (CPM) |
| $1.07 | Cost-per-like (CPL) |
| $5.47 | Cost-per-download (CPA) |
Are the services from the top Facebook advertising companies worth the cost?
The short answer is 100% yes. The long answer is also 100% yes, but we'll explain our enthusiasm a bit.
Pricing is a crucial factor when hiring an outside company to handle your Facebook advertising. But with pricing can also come an indication of the quality of services you're receiving. That's where extensive vetting and the reviewing of client testimonials come in.
When Facebook advertising is done right, the price is well worth it, and your ROI will ensure that.
I'm ready to hire a Facebook marketing agency — got any advice?
If you're ready to hire a Facebook marketing agency, here are a few tips you'll find helpful:
Identify the scope of work you need for your Facebook campaign.
Decide what metrics (like shares, follows, or ad clicks) will measure your Facebook ad campaign's success.
Set a budget after identifying the services you're looking for and how much Facebook ads cost.
Review the agency's case studies — have they worked with a company like yours? What metrics and data points do they value?
Review the agency's reviews on multiple platforms — reviews aren't contained to their website. Search high and low for any client reviews that could help you make your decision.
Create a list of questions to ask each agency.
See what it's like to work with one of the best Facebook advertising companies
Now that you've learned about the top Facebook advertising agencies in the world, it's time to get started with your search.
We recommend you think about WebFX, one of the best Facebook advertising and management agencies in the U.S. Learn more about how WebFX can help you grow your Facebook presence by checking out our Facebook advertising plans now.
Let's stay in touch! Contact us online or give us a call at 888-601-5359 to speak to one of our digital strategists today.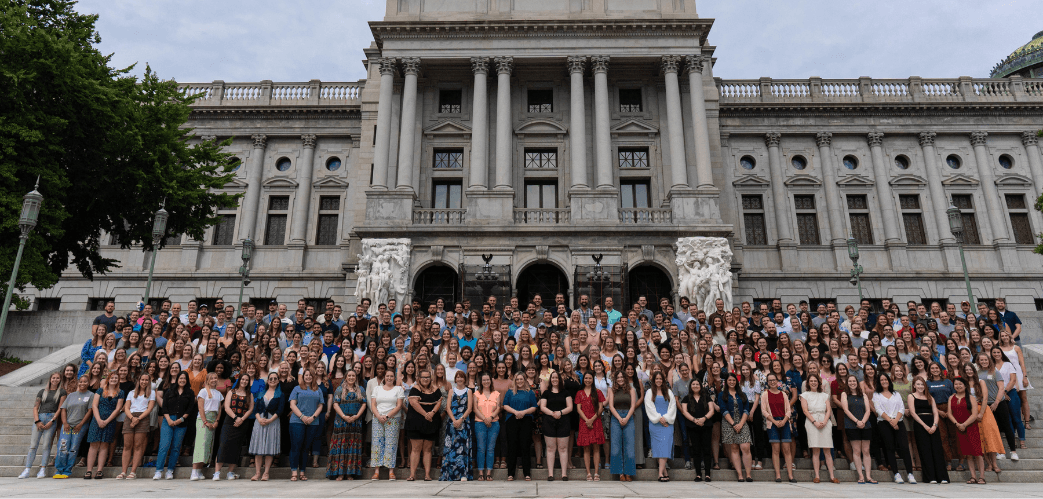 Learn more about Facebook advertising agencies, services, pricing, and industry tips!
Facebook Advertising Pricing