13 minute read

Trevin serves as the VP of Marketing at WebFX. He has worked on over 450 marketing campaigns and has been building websites for over 25 years. His work has been featured by Search Engine Land, USA Today, Fast Company and Inc.
So you're ready to start an ecommerce business. You have the perfect company name, a marketing plan, and products to sell. The only thing you need is a website.
As it turns out, you need this last piece of the puzzle fast. If you don't start moving some of your inventory soon, you're going to lose money, and that's that exactly the opposite of what you set out to do.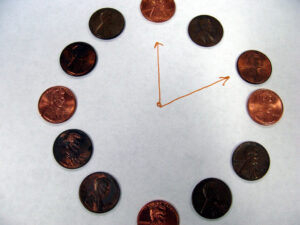 If you're scrambling to find robust ecommerce options that can also be set up quickly, I have a few ideas you can try. There are several options that will give you the tools you need to start selling online in an extremely short amount of time…
say an hour or less. In fact, many of these options will not only give you a functional storefront in the shortest amount of time possible, but also throw in gorgeous themes and extra options that you might not expect from your first online store. Let's take a look at a few fast ecommerce platforms that will allow you to sell online quickly: the handmade paradise that is Etsy, the free WooCommerce plugin for WordPress, and three simple hosted ecommerce solutions, BigCommerce, Shopify, and Volusion.
Each option will come with a list of its perks, drawbacks, and any fees or pricing you should know about, all of which will help you pick the one that's best so you can sell online now! Ready to start your store? Let's begin!
Jump to the solution you want to learn about:
For Handmade Items: Etsy
As you likely already know, Etsy is the Internet's most popular marketplace for handcrafted and vintage products. If your new business specializes in either one of these items, you can start a store on Etsy in a matter of minutes, and potentially get an enormous amount of exposure on the website.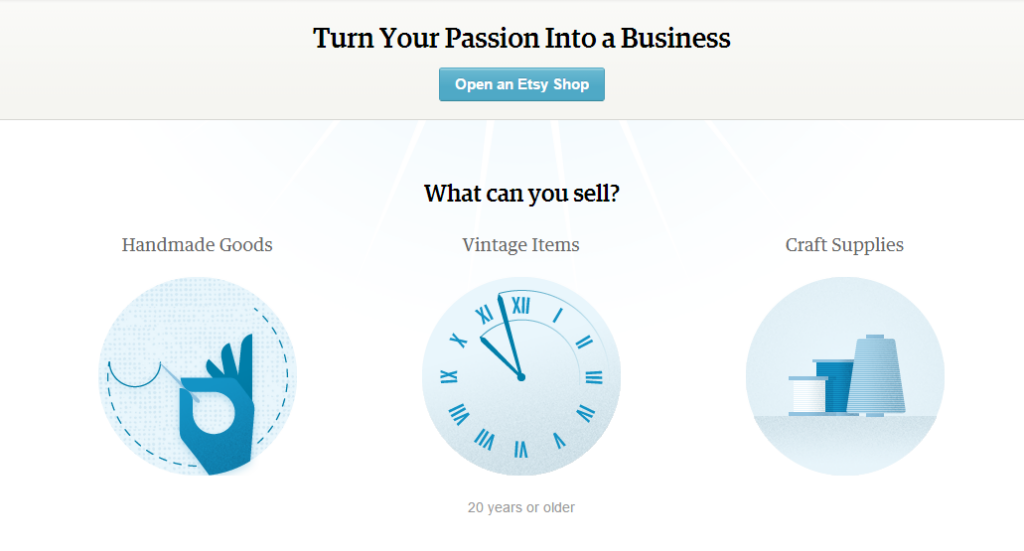 Setup Speed
Etsy has one of the fastest onboarding processes I've ever seen.
I already had an Etsy account, so the process of opening a store took less than 60 seconds: I just had to answer two questions about my currency of choice and what my sales goals were before I was able to pick my shop name.

After filling in your store name, the site will walk you through the process of setting up your first product. There are plenty of tips and helpful ideas around the text fields, and I appreciated the fact that every option was contained on a single screen.
Jumping from tab to tab to fill in product weights, copy, etc. can get really annoying.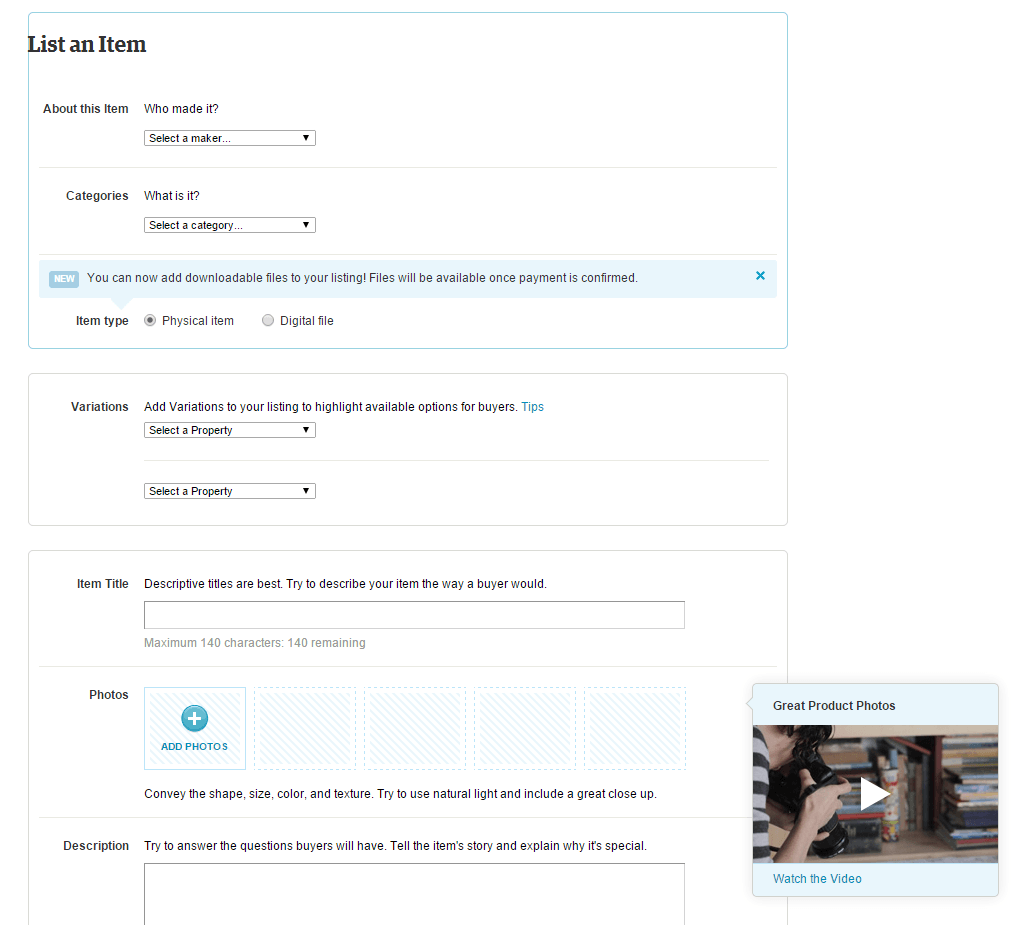 Once your first product is created, you'll be prompted to enter your payment information.
If you have a PayPal account, you can use that to accept payments (although Etsy recommends a Business account, not a Personal one). You can also take advantage of Direct Checkout, which allows you to have funds deposited directly into your bank account. There's a five day holding period before this method will work, but you can still sign up for it right on the spot.
After that, you're pretty much done. Customize your shop a bit and you'll be good to go!
Perks
As I mentioned, Etsy makes the process of starting your store extremely fast. Also, since you don't have to set up a payment gateway, test your shopping cart, or do any kind of functionality testing, the setup time is cut back immensely.
Selling on Etsy allows you to immediately take advantage of Etsy gift cards and store-specific gift certificates. You can offer gift cards to your store quickly, which may be a great idea if you sell something like purses, jewelry, or anything else where a recipient could be "picky" about their choice. Another huge perk of selling on Etsy is that the site will automatically drop your information into Google Shopping, which means your products have a shot at showing up in search results on the "Shop" tab of a Google search.
You don't have to do anything to get this to happen — Etsy does the work for you.
Drawbacks
The biggest drawback, obviously, is the fact that Etsy is only for handmade or vintage items (over 20 years old). If your ecommerce business specializes in the resale of items produced by a distributor, don't even think about listing them on Etsy — they'll be removed. Additionally, because Etsy has become so popular, competition is through the roof.
The site has a great faceted search system that helps browsers find what they're looking for, but just listing your item with basic keywords like "bird necklace" will see your store buried somewhere around page 250, after the other 55,956 items:

Setting up an Etsy store may take no time at all, but standing out on Etsy is another story altogether. Luckily, the site has a fantastic seller handbook that will teach you to do just that.
Fees
Etsy charges sellers a flat $0.20 fee for each item that they set up. Sellers are then charged a 3.5% transaction fee when the item sells (based on the item's price, excluding taxes or shipping).
Note that item listings are only good for four months, so if your listing expires, you'll have to pay to re-list it.
For WordPress Users: WooCommerce
If you're in possession of your own hosting, are at least minimally familiar with WordPress, and want to start selling online ASAP, there's a plugin for that. WooCommerce, an "ecommerce toolkit" made by the team at WooThemes, is a unique WordPress plugin that allows you to convert a blog into a fully functional ecommerce website.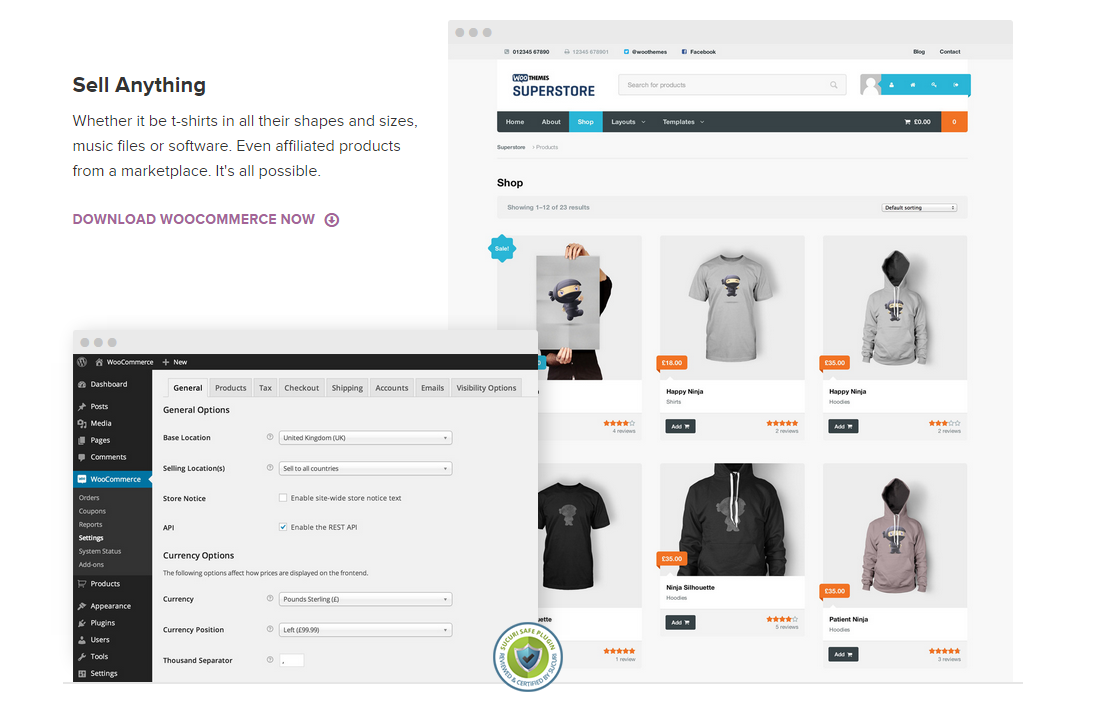 Setup Speed
If you aren't already using WordPress, installing WooCommerce will take a little longer. How much longer depends on your server: if you run a Linux-based server with cPanel, you probably have access to something like Fantastico De Luxe or QuickInstall, either of which will set up WordPress in a minute or so. Assuming you already have WordPress running, using WooCommerce goes something like this:
You're done!
Setting up WooCommerce is nothing like setting up an Etsy storefront. However, WooCommerce gives you far more options — most notably the option to customize the way your store looks — and is a better choice for anyone who wants to sell online, whether or not your products are handmade.
Perks
If you like documentation (I know I do), try the WooCommerce knowledge base on for size, plus the pre-sales FAQ. Even if you're brand new to ecommerce, have never sold a product before in your life, and aren't exactly sure how WordPress works, these documents will explain everything to you in fairly plain English.
As far as design is concerned, WooThemes makes their own themes for the plugin, and you can find more on other sites. These all vary in cost, but the plugin does ship with a free (responsive) theme called Storefront.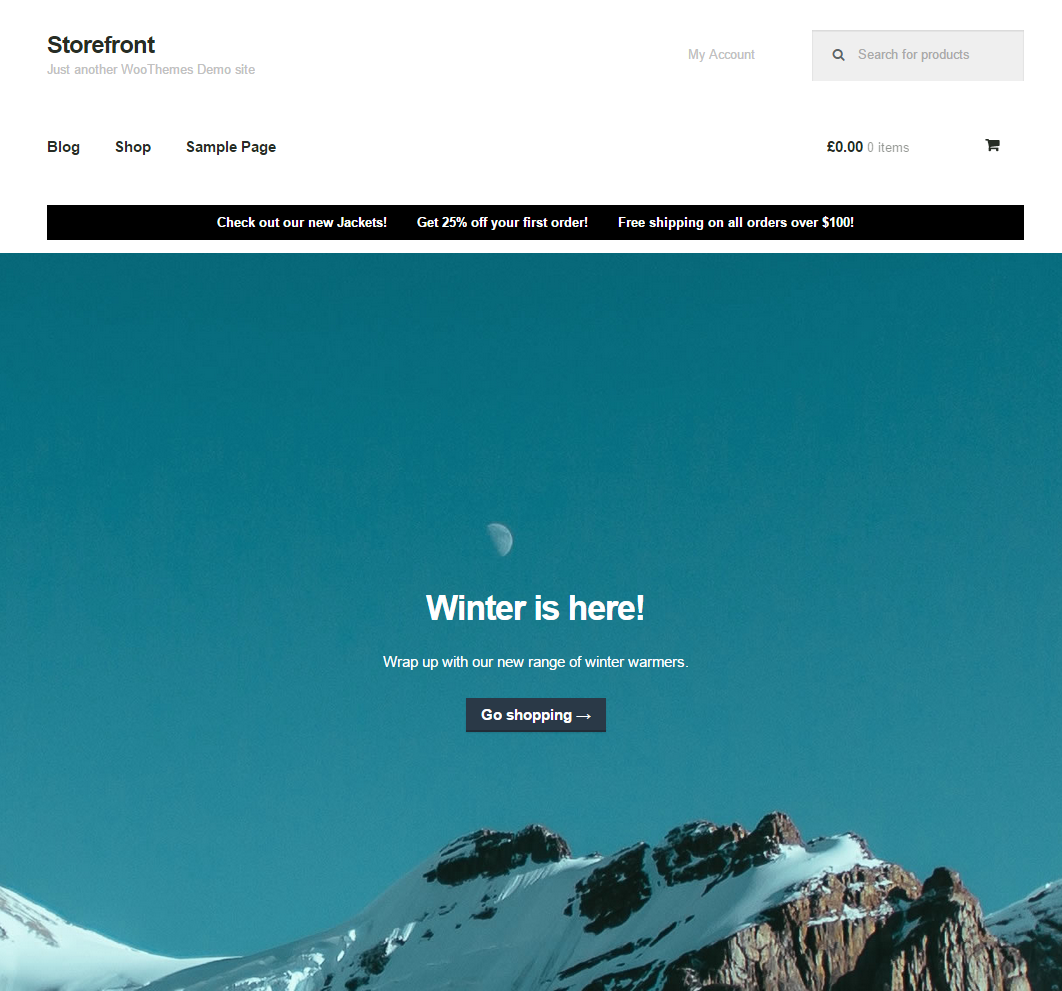 There are also a ton of extensions for WooCommerce available for everything from additional payment gateways to plugins that will give you the ability to sell software subscriptions and digital downloads.
Most of these have some kind of cost associated with them, but a few of the options are free. (For example, the Amazon Payments plugin costs nothing, which is a pretty neat little addition.)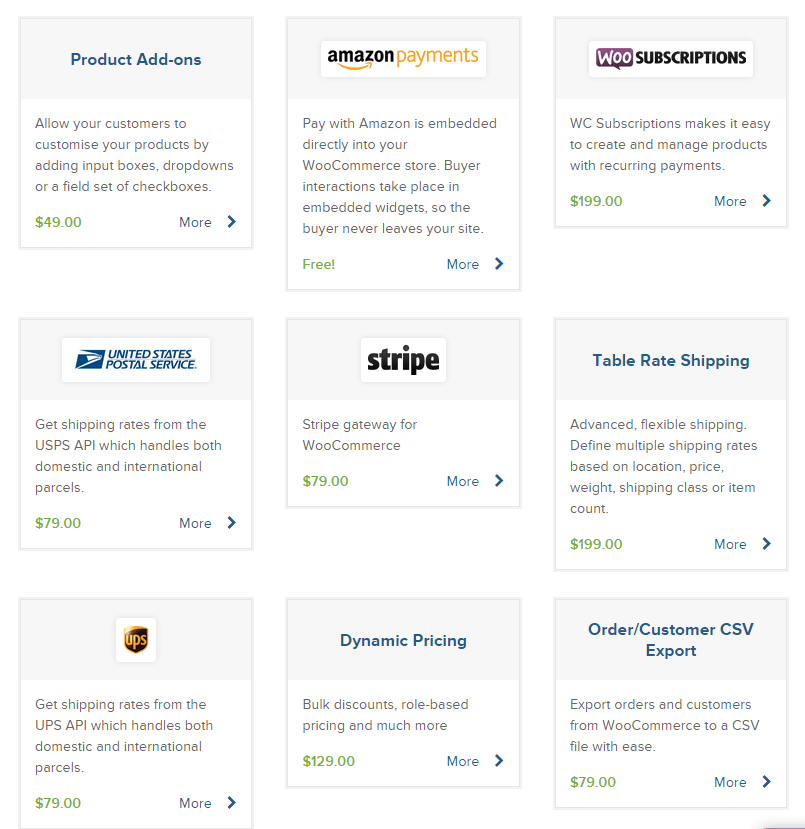 Finally, as I mentioned, the WooCommerce plugin is free. The only thing you'll be paying for is hosting (which you'll acquire yourself).
Basic shared hosting is typically less than $10 a month to start.
Drawbacks
If you've never used WordPress before, WooCommerce is probably going to confuse the heck out of you for the first couple of hours, if not days. The plugin adds plenty of helpful menus, pages, and functionality to turn your WordPress installation into a store, but if you don't already understand how the this particular content management system (CMS) is set up, there might be a learning curve. This isn't necessarily their fault, but it's still worth mentioning. Also, where Etsy holds your hand and pats you on the back when you do something good, WooCommerce sets you loose with a thumbs-up and a nod toward the documentation. The 60 minute setup time is absolutely realistic for someone who has done this before…
but for ecommerce newbies, you're going to need to do some reading.
Fees
None. Nada. Zip.
The plugin is free, and WooCommerce charges nothing, allowing you to sell online with no fees. So if you're willing to roll up your sleeves and get your hands dirty, this is probably the most inexpensive option on the list.
Hosted Ecommerce Solutions: BigCommerce, Shopify, and Volusion
I'm grouping these three together because there aren't very many differences between them.
If you're looking to set up an ecommerce website quickly, don't want to learn a complex CMS, and want a ton of options, BigCommerce, Shopify, and Volusion should be at the top of your list. There are plenty of other hosted ecommerce options out there. But if you want to get started quickly, any one of these three can deliver functional and beautiful ecommerce right out of the box.
Setup Speed
All three of these ecommerce providers have an incredibly fast setup process.
BigCommerce starts you off by having you enter your store name; Shopify just asks for your email address. As soon as you fill out your personal information, you'll be presented with a completely functional store (populated with some demo data, of course).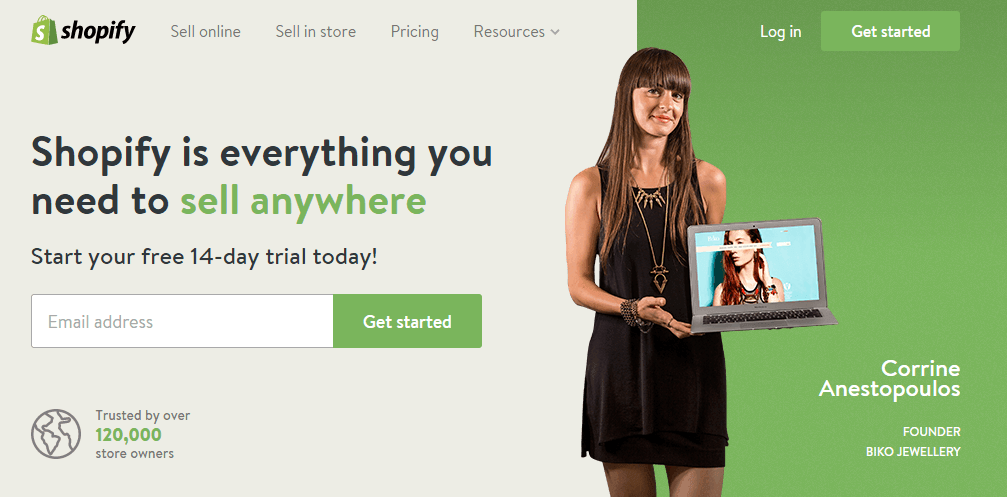 This process is smart user onboarding, sure, but it's also advantageous for you: as soon as you decide you're ready, you just have to sit back and watch the site set up your store for you.
After just a minute or two of setup, you're essentially going to have a finished store waiting for you to add a product or two and take it live.
Perks
All three of these ecommerce providers have both free and premium store themes available for those who want to customize the way their website looks quickly. The free themes are good-looking, too, and many of them are responsive or mobile-friendly.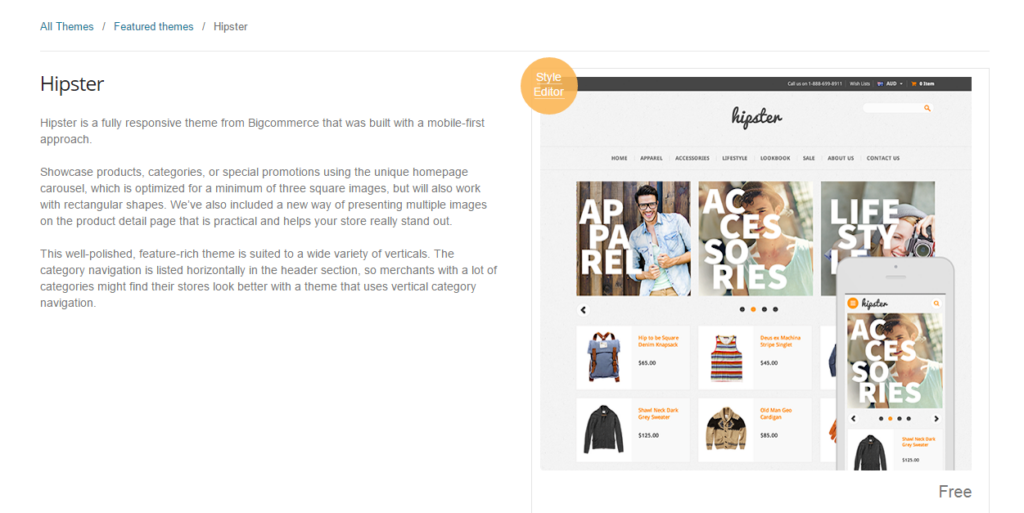 If you've never owned an ecommerce website before, you're probably going to be a little overwhelmed by any of these choices…
but not for long. All three options have user-friendly menus and navigational options within the admin menus, and much like WooCommerce, there's plenty of documentation to be found online to help you on your way. BigCommerce is probably my favorite of the three if only because of how well thought-out their resources section is.
Drawbacks
The biggest drawback with all three of these options is that you might not be able to take your store live — or sell anything — as fast as you'd like. This is because you'll need to pick out a payment gateway to pair up with your bank account before you can accept payments. So unless you plan ahead, you'll have to wait a while for your bank and gateway to start working together before you can hook them into your site.
The good news here is that your choices aren't limited: BigCommerce is compatible with more than 60 gateways and Shopify supports more than 50, or you can always use PayPal Business for super-fast setup. Volusion pushes most of its customers to use its proprietary payment system, which has a 2.15% transaction fee per purchase and requires their approval prior to integration.
Pricing and Fees
After a two week free trial (or 15 days at BigCommerce), you're going to be looking at monthly payments for your hosting, store, and possibly your transactions. Here's how the pricing and fees break down:
BigCommerce starts at $29.95 per month for unlimited products with a 1.5% transaction fee per purchase
Shopify starts at $29 per month for unlimited products with a 2% transaction fee only if you use an external payment gateway
Volusion starts at $15 per month for 100 products with no transaction fees unless you use their payment gateway
The biggest difference between the pricing structure here is that you'll pay a lot less for Volusion up front, but the amount of products you can sell will be limited. You'll pay more for BigCommerce and Shopify, and possibly have to pay transaction fees on top of that, but you can sell a lot more products. (For reference, unlimited products at Volusion will cost you $135 per month.)
Which Solution is Right For You?
All of these options are fast.
But which one is right for you? Here's a quick ecommerce platform comparison:
Etsy: Best for sellers of handmade goods who are brand new to ecommerce and don't want to spend any time or money on hosting and customization
WooCommerce: Solid choice for those already familiar with WordPress as a CMS and comfortable with paying for hosting and spending time setting things up
Hosted (BigCommerce, Shopify, Volusion): Ideal fit for business owners who want to go "hands off," are brand new to ecommerce, and aren't too worried about customizing their stores beyond the themes available
Having said all this, if you have more than an hour to invest in the setup of your new ecommerce website, there are plenty of other options out there. Check out the "Picking an Ecommerce Platform" chapter of our ecommerce startup guide — or read the full guide online here — to see a few additional ways to sell online, including self-hosted ecommerce packages and another WordPress ecommerce plugin. If you have a few minutes, check out our video on the benefits of ecommerce, too!
Photo credit: frankieleon
Trevin serves as the VP of Marketing at WebFX. He has worked on over 450 marketing campaigns and has been building websites for over 25 years. His work has been featured by Search Engine Land, USA Today, Fast Company and Inc.

WebFX is a full-service marketing agency with 1000+ client reviews and a 4.9-star rating on Clutch! Find out how our expert team and revenue-accelerating tech can drive results for you! Learn more
The Internet in Real Time
Ever wonder how much is going on at once on the Internet? It can be tough to wrap your mind around it, but we've put together a nice visual that'll help! The numbers show no sign of slowing down either.
Find out More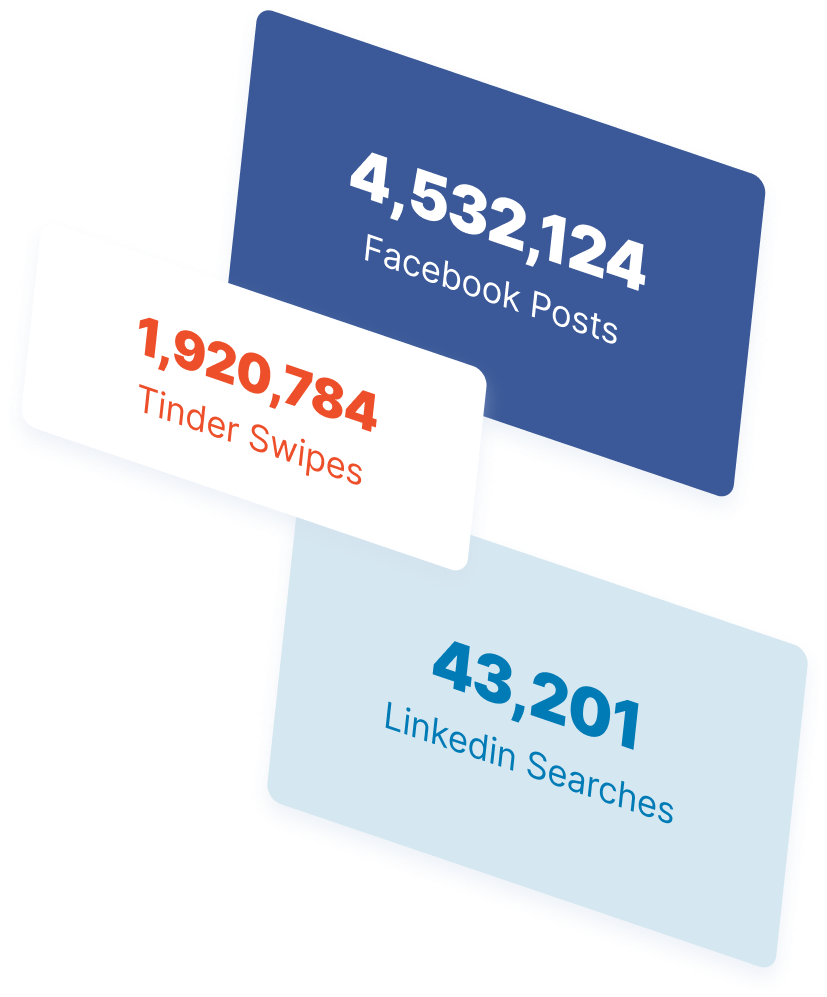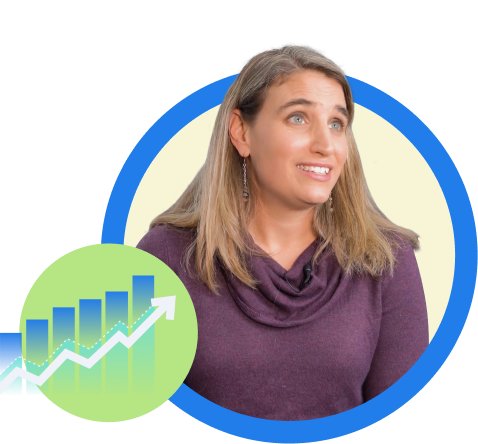 Ready to Drive Results for Your Business?
See how WebFX uses SEO, PPC, Social Media, and Web Design to Drive Revenue for Businesses.
Get Inspired
The Internet in Real Time
Ever wonder how much is going on at once on the Internet? It can be tough to wrap your mind around it, but we've put together a nice visual that'll help! The numbers show no sign of slowing down either.
Find out More