Increasing customer retention is one of the most effective ways to improve your company's return on investment (ROI). When you invest in customer retention strategies, you substantially cut down on your expenses.
Consider this statistic: Every client you lose and replace costs your company 10 times more than retaining that client would have cost.
That means a data-driven customer retention program can directly affect your ROI. But how do you increase customer retention? Keep reading for a deeper dive into customer retention strategies and examples you can use to make your business more cost-efficient. We also have some tips in the video below!
And while you're here, do you want more marketing advice delivered straight to your inbox? Subscribe to Revenue Weekly for expert tips twice a month!
What is a customer retention strategy?
A customer retention strategy is a proactive business approach you use to increase customer retention and loyalty. Client retention strategies focus on delighting customers and forming a relationship with them so they'll choose to continue buying from you instead of switching to the competition.
While some businesses might prefer to focus more on gaining new customers, you can't take a passive approach to customer retention. For the most efficient business model, you should invest in retaining customers and gaining new ones.
Why should your business invest in client retention strategies?
Beyond the increased ROI of customer retention strategies, investing in a customer retention program also helps other aspects of your business. When you dedicate yourself to increasing customer retention, you can see improvements in:
Reach
The foundation of any customer retention strategy is delighting your customers, and if you delight your customers, they're more likely to form a bond with your company. This relationship can lead them to become brand fans and recommend your company to others.
These recommendations translate into more reach for you. So, investing in customer retention can help you acquire more new customers — a win-win!
Business ideas
A critical part of all customer retention strategies is listening to your clients. When you listen to what your customers say, you increase their satisfaction and gain new ideas for your business.
Say a customer comments on a potential area of improvement for your business. Use their comment to make your offering even better.
Loyal customers can also provide insight into why they've stuck around. These insights will help you lean into your strengths more effectively — and they can only come from customers you've retained.
Reviews and testimonials
If you delight your customers so much that they want to stick around, they might be willing to leave you a positive review or testimonial. This social proof can prove decisive for converting future customers.
10 customer retention strategies to keep your customers coming back
Ready to take advantage of these incredible benefits? Check out these 10 customer retention strategies that will keep your clients coming back for more:
1. Respond to customer questions and complaints
Your customers hold power, and if you want to delight them, you must monitor the channels through which they talk about their experiences. These channels include:
When you notice a question or complaint, respond quickly to show your customer how much your care about their experience. But make sure you personalize your responses to the individual — referring to them by name can go a long way.
2. Personalize your interactions
With so many brands competing for your customers' attention, personalization helps your company stand out. This tactic shows your clients how much you value them and encourages them to stick around.
Personalization can include something as simple as a personalized response on social media or an email greeting, but you can also dive deeper.
For example, you could personalize the offering itself. Function of Beauty provides hair care products designed to meet customers' specific needs, which they communicate through an online quiz. Through this quiz, the customers can even customize their bottles.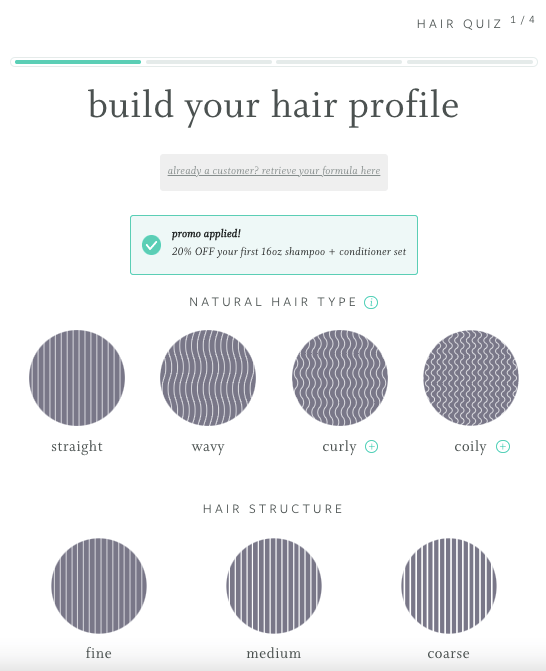 You can also personalize your customers' experience with your brand through individualized product recommendations based on their purchase history. This approach is becoming more critical, as 63% of shoppers expect it of brands.
3. Engage in cause marketing
Your company impacts the world around you, and increasingly, your customers want to see that you recognize and care about that impact. Engage in best practices in areas such as:
Ethical production
Fair trade
Sustainable practices
Cruelty-free production
And more
People will appreciate that your brand actively strives to improve your global impact. Plus, a shared passion for a cause can establish a long-lasting relationship between you and your customers.
But with any cause-related strategy you employ, you must remain authentic. Make your choices from a place of sincerity — your customers will notice if you don't!
4. Leverage customer ideas
Another way to build relationships and keep your customers sticking around is by asking for their ideas and reposting user-generated content (UGC).
When you use this strategy, you show your customers how much you value their opinions, and you'll gather new ideas for your business directly from the client. Plus, their active involvement keeps them more personally engaged with your company.
LEGO has leveraged this strategy well with their LEGO Ideas program. Through this program, LEGO encourages its fans to generate creative designs, which LEGO will sometimes use for future releases.
Consider how exciting it would be to see LEGO use your idea in a future product. It would only make sense that these lucky designers feel more closely bonded with the brand and remain more loyal.
5. Foster inclusive exclusivity
You can also increase customer retention by making your customers feel like they're part of something exceptional.
When people take pride in being part of a meaningful brand community, they'll care about staying loyal to your brand.
For example, Fabletics uses a VIP program to draw new customers into their site and prioritizes retention from the onset. The program feels exclusive, but it's available to anyone who visits the site and signs up — a perfect example of inclusive exclusivity.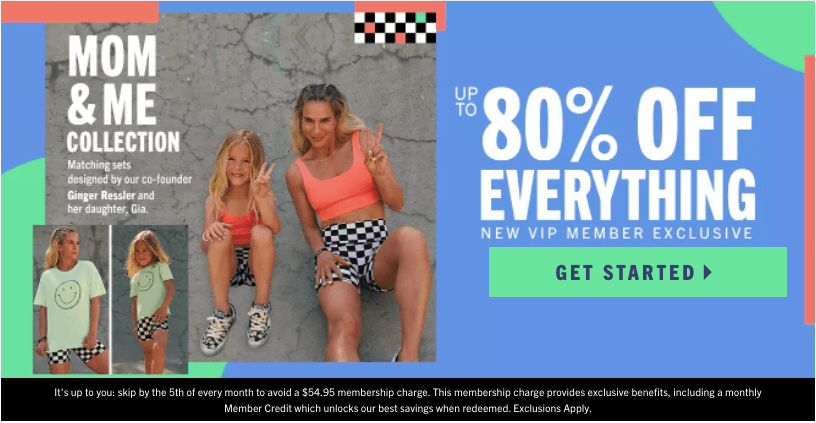 6. Give your customers post-purchase support
Once your customer buys your product, continue supporting them. Help them recognize the value your product provides and proactively answer any questions they may have.
If your product is more complex, you could provide product demos and tutorials.
If you offer something simpler, you can still provide support after the purchase. You might send emails about related topics, or you could offer your customers unique ideas for using your product beyond the conventional approach.
Bluehost does a great job with post-purchase communications. The web hosting provider sends emails to clients about topics that help them better manage their website. The emails provide supplemental information that empowers customers to use Bluehost's service more effectively.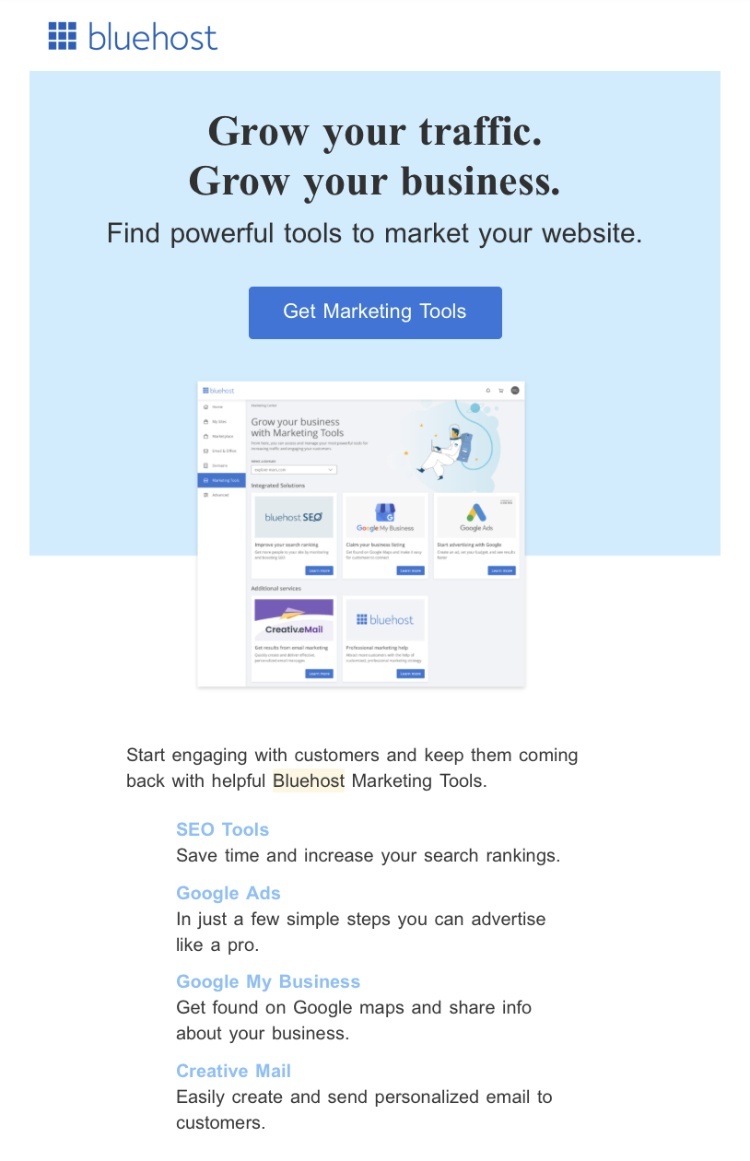 7. Keep your offering fresh
To keep your customers around, you need to provide continued value. While post-purchase support and brand communities can provide that in some ways, you can also build more value by releasing new or limited-edition products.
Instead of making the purchase one-and-done, find ways to keep your offering fresh and top-of-mind for existing customers.
Crumbl Cookies does a great job of this strategy without completely reinventing the wheel. They offer cookies, and they don't expand their catalog too extensively. But they do provide a unique selection of flavors every week to keep their customers excited and coming back for more.
The freshness brings excitement and prevents their offering from becoming stale (no pun intended). Sure, people will always want great cookies, but will they get excited about buying a fresh batch from the same company every week? With Crumbl's customer retention program, they will!
8. Offer a product series
Similarly, if you offer products or services that work well together or that customers can collect, they'll want to keep coming back for more.
For example, The Pioneer Woman offers kitchen products and other home supplies that form a cohesive aesthetic. Loyal fans love collecting the products for use in their home — and they all complement each other perfectly.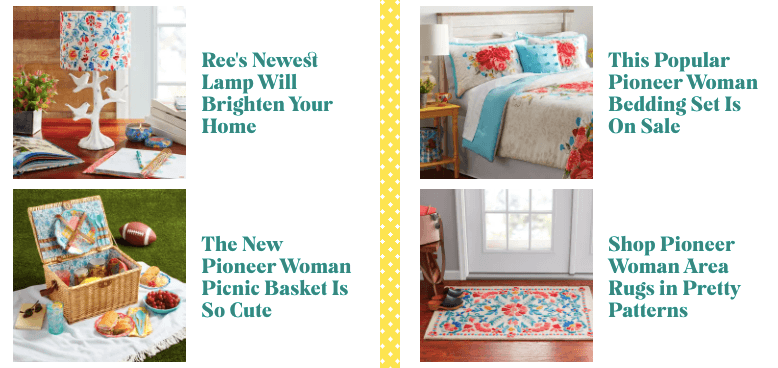 9. Create a customer loyalty program
Perhaps the most quintessential customer retention strategy is the loyalty program, and it's a classic for a reason.
When you give your customers rewards for continued purchases, you gamify the experience of shopping with you and give them explicit value for coming back. For example, some rewards programs offer a discount or free product after accumulating a certain number of purchases or points.
10. Measure your business impact
No matter which marketing strategies you employ, you must measure them. Measurement provides a data-driven backing for your decisions and helps show the impact your tactics have on your bottom line.
With customer retention strategies, you should track your customer lifetime value and use your findings to inform your decisions. This approach allows you to spend your marketing dollars most efficiently.
Customer retention examples from notable companies
Now that you know 10 excellent client retention strategies your company can use, how might you put them into practice? Many companies employ a customer retention program that combines multiple tactics successfully.
Check out these customer retention examples from iconic brands to see how you can leverage multiple strategies to increase customer retention effectively:
How Apple uses customer retention strategies
Apple stands out as an iconic example of a big brand with fiercely loyal customers. Apple uses the following customer retention strategies:
Freshness
Inclusive exclusivity
Product series
Think about it: How excited does the world get when Apple rolls out a new phone? And how many supplemental products does Apple provide? You can purchase an Apple laptop, desktop, tablet, phone, earbuds, watch, and more.
Additionally, Apple's supplemental products offer unique functionality customers only receive when they have multiple Apple products. All Apple products sync together, providing a seamless, user-friendly experience.
This tactic, combined with Apple's high-quality products and exceptional branding, makes the brand feel like an exclusive community. When customers have an Apple product, they feel part of something noteworthy.
Together, these strategies keep their customers coming back for new products, supporting products, and doing so passionately.
How Starbucks uses customer retention strategies
Starbucks is another iconic brand whose customers come back regularly — some even multiple times a day.
The customer retention strategies Starbucks uses include:
Loyalty program
Personalization
Freshness
Starbucks was one of the first big brands to leverage a successful app. When customers download the Starbucks app, they earn points for every purchase, which they can eventually redeem for free products. The app also sends customers birthday messages and gifts.
Starbucks also showcases how brands can leverage product freshness to retain customers without reinventing the wheel. Their holiday drinks feel as exciting as new releases, even if they're the same products every year.
But these seasonal drinks have the same effect as a new release — getting people talking and keeping customers coming back every season for these beverages!
We foster and form long-term partnerships so that your business has long-term results.
Over 90% of WebFX clients continue partnering with us into year 2 of their campaign.
Hear from Our Happy Customers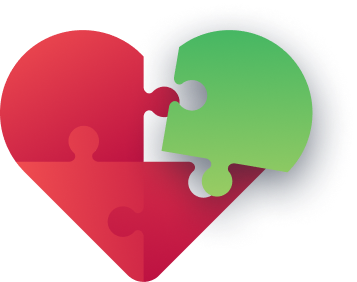 Increase customer retention with data-driven digital marketing
Are you ready to leverage customer retention strategies to improve your marketing ROI?
At WebFX, we know how to wield data and digital experiences to keep clients around. We've established a 91% client retention rate — which is 41% higher than the industry average.
When you partner with us for your digital marketing needs, we'll leverage our expertise to delight your customers and keep your clients coming back.
From your website and social media to pay-per-click advertising (PPC) and email lists, we'll provide a holistic strategy that increases your client retention across channels.
Ready to learn more? Call us at 888-601-5359 or contact us online to speak with a strategist today!
Get posts by email
Join 200,000 marketing managers and subscribe to Revenue Weekly!
"*" indicates required fields
WebFX Careers
Join our mission to provide industry-leading digital marketing services to businesses around the globe - all while building your personal knowledge and growing as an individual.