In this video, Trevin from the WebFX Marketing team discusses how you can make the most of your time even when business is slow.
Transcript
Marketing in tough times is…well…tough. You're probably looking for ways to cut spending while still trying to drum up sales and maintain your current customers. That can feel like an uphill battle. But it doesn't have to be.
If your first instinct is to stop promoting your business online, take a step back. Digital marketing is essential to your business growth, even when things are slow.
People might not be shopping as much in slow periods, but they're still using the Internet. Looking back at the early days of the COVID-19 pandemic, when people were stuck at home, data cited by the United Nations shows that the global number of Internet users rose from 4.1 billion to 4.9 billion from 2019-2021.
Your business slowdown gives you a unique opportunity to engage with the growing number of Internet users, improve your online presence, and increase your market share.
Whether you're marketing in a recession, preparing for a regular business slowdown, or living through a national crisis that you've never encountered before, this video will offer some advice for keeping your online presence strong through it all.
How much should you spend on marketing?
Learn how to plan a marketing budget that fits you and your business needs.
Read the Blog Post & Watch the Video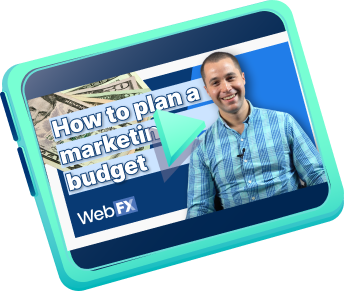 5 tips for marketing in tough times
Everything comes down to relationships when people aren't in the spending mindset. You want to use your slow periods to earn your audience's trust, capture their attention, and form long-lasting relationships.
The ultimate goal is that when people are ready to buy, they choose your business. The good news is that you don't need to make a huge paid advertising investment to get those results.
1. Work on large projects with a long-term impact
When you're busy, you probably shelve some projects that would either A) require a lot of your time and attention or B) take a while to generate results. That makes total sense. Capitalize on the peak in business, and figure out all those hard, complex things later on.
But remember to take those big jobs off the shelf in your business slowdown. You'll have more room in your schedule to focus on something new, and you'll give your work time to take effect and really generate results for you.
Search engine optimization (SEO), for example, can take months to show significant results. Depending on your website's complexity, you may need lots of time to make changes.
A website redesign may take months or longer to complete. Even just reorganizing your website navigation takes time. Once you start to change one link, that starts a whole domino effect.
Something like organizing internal documents may seem unimportant at first, but you'll make your life easier later when you can spend less time searching for resources and more time getting actual work done.
You might not immediately see results from these projects, but the effort you put into them will pay off in the long run. Future you will be very grateful.
2. Double down on helpful content
Another thing to do when marketing in tough times: Create helpful content for your audience. It goes back to that trust thing I mentioned earlier.
One survey from 2021 shared that 75% of marketers were able to build credibility and trust through content marketing.
Don't forget about your current customers, either. The same study showed that 60% of marketers were able to build loyalty with their existing customers through content.
When in doubt, write it out. I just made that up.
But seriously…when marketing in a recession, in your off season, or when things are just generally slow, create content that adds value to people's lives. You'll want to have some form of content for every part of your audience's journey.
Take some time and map out what people want to know from the time that they first interact with you, to when they're pulling out their checkbook. Or, most likely, their credit card.
That means answering common questions, sharing tutorials, explaining complex topics in a simple way that your audience will understand. You can create articles, graphics, videos, guides…whatever resources that people would want to look to when they need more information.
The best part about content is that it's always there. Unless you remove it from your website, it will continue to be there and drive results for you. Even when you've shifted your attention to something else.
When it comes time for them to make a purchase, they'll trust you with their hard-earned dollars.
3. Work on gathering first-party data
First-party data is information people give you when they visit your website. Maybe they provide their name and email when they download a guide, or they tell you about their business when they contact you. You may also use a tool that helps you understand the pages that they visit, or other important bits of information.
This data can enhance literally every part of your digital marketing strategy. It helps you understand your audience better, leading to more personalized content shared across the channels you use.
It tells you which pages on your website are most helpful, guiding key optimizations and changes you make over time. You can send custom emails or targeted ads using the list of people who have taken a specific action or two on your website.
Even if you're not advertising as much during a business slow down period, you'll have this information available whenever you need it in the future.
You can gather first-party data by requiring an email for content access, adding contact forms on your website, encouraging email subscribers, and so much more. Learn the basics of first-party data over on our website.
Don't miss our Marketing Manager Insider emails!
Join 200,000 smart marketers and get the month's hottest marketing news and insights delivered straight to your inbox!
Enter your email below:
Inline Subscription Form – CTA 72
"*" indicates required fields
(Don't worry, we'll never share your information!)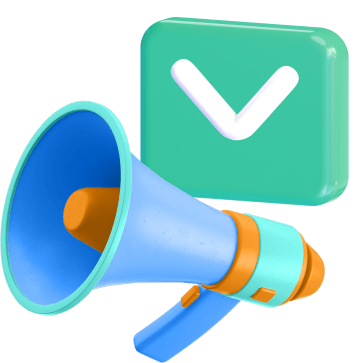 4. Optimize your website for search engines
Search engine optimization, or SEO, means you take different actions that make your website's pages more likely to appear highly in search engines like Google. As I mentioned before, it can take a while to start getting significant results from your SEO efforts.
Plus, a big SEO project can certainly be complex and require a good chunk of your time. That's what makes it perfect for your business slow down period.
Honestly, SEO should be a year-round strategy in some shape or form. But a big audit and overhaul can add a lot to your plate. Search engine algorithms change, and so do your competitors' websites. SEO helps you stay ahead of the changes, create a good user experience (UX), increase your visibility online, and generally earn more traffic, leads, and revenue from your website.
SEO in a business slowdown gives you the chance to revamp those pages you never thought you'd have the time to, or make big changes that could result in a big boost in search engines.
Just as an example, you can take a group of pages that aren't ranking well and adjust their keyword targeting. You can fix some stuff on the backend of your website to help improve your page speed. You can work on building relationships with trustworthy publishers so they link to your content, which is like a vote of confidence that tells search engines you've got something good going on.
Those aren't the only things you can do, but they're a wonderful place to start with your SEO efforts.
5. Engage your audience on social media
More than 70% of people who've had a positive interaction with a brand on social media are likely to recommend that brand to people in their lives — their friends and family.
So…what to do when business is slow? Engage with people on social media. I think it's important to mention here that you don't need accounts on every platform. Just the ones that your audience uses, or that you've got the time to manage.
Social media gives you a channel to repurpose the content you've so diligently created. But even more, it lets you directly communicate with fans of your business. Starting conversations is what leads to those loyal customers who champion your brand at all times.
Pay attention to the messages, reviews, and comments you get on your accounts. Respond to the good and the bad so people know you're there for them. Be helpful and respectful to the haters, even though it would be much easier to type out a snarky comeback.
Your interactions on social media help you form relationships that last.
You can really do a lot when marketing in tough times
You're not limited to a single recession marketing strategy, and how you approach each one lies in your creativity. The sky's the limit, as they say. If you'd like to learn more about the different strategies you can use when marketing in a business slow down, subscribe to our channel and hit the bell so you don't miss out on the latest video from our team.
We really hope your business slow down comes to an end soon, and that all of your goals are accomplished in this slow period and beyond.
Thanks so much for watching, and I'll see you next time.
How is your website's SEO?
Use our free tool to get your score calculated in under 60 seconds.
Get posts by email
Join 200,000 marketing managers and subscribe to Revenue Weekly!
"*" indicates required fields
WebFX Careers
Join our mission to provide industry-leading digital marketing services to businesses around the globe - all while building your personal knowledge and growing as an individual.