Walter is making a ham sandwich for lunch. He grabs the ham out of the fridge and is just about to add it to the sandwich — until he notices that the ham expired over a month ago. Suddenly, Walter's not so sure he wants a ham sandwich anymore.
We've all had to keep an eye on food expiration dates before. But it's not just food that expires over time. The same thing can happen to your website — or, more specifically, your domain name. Domain expiration is something anyone with a website should be aware of.
So, what is domain expiration, and what can you do to avoid ending up with an expired domain? Keep reading to find out the answers to those questions. Then subscribe to Revenue Weekly, our email newsletter, to get more marketing tips delivered straight to your inbox!
What is domain expiration?
Domain expiration — also called domain expiry — refers to when your domain registration reaches its limit and becomes void.
When you register your domain, you're not really buying it — you're effectively only leasing it. That lease comes with a time limit. When it reaches its expiration date, you either renew it or lose it.
How does domain expiry work?
When you register a domain name, you'll pay to own that domain for a certain amount of time. Most domains come with a minimum registration period of one or two years. However, you can register it for longer than the minimum period, usually for up to 10 years at a time.
However long you lease your domain for, you should be told the expiration date at the time of purchase. When the expiration date approaches, your domain registrar should remind you to renew the domain.
If you don't renew before the expiration date, there is still a grace period afterwards. Eventually, however, you'll lose your domain.
How to check when your domain will expire
If you're unsure when your domain will expire, there are a couple of ways you can check. The first is to simply contact your domain registrar or try to find documentation from when you registered your domain name. You were likely told the expiration date then, so you might be able to find it again.
If you don't want to go digging for that info, though, don't worry — there's an easier way to check. You can simply use an online domain checker tool to find the expiration date.
For example, the checker on websiteplanet.com will tell you when a domain was created and when it expires. Simply enter your domain name and it will pull up the information in seconds.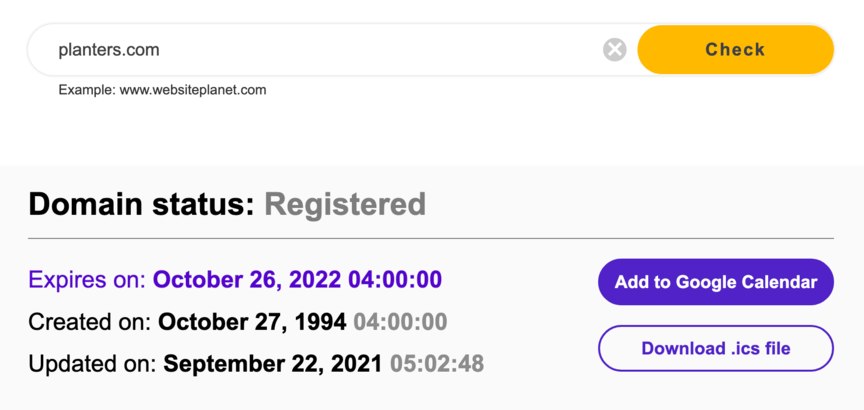 It's not just your own domain you can check, either. If you have your eye on another domain that you think you might be able to snatch up once its current registration expires, you can check on its domain expiry date as well.
How to prevent domain expiration
Obviously, an expired domain isn't what you want for your business. So, you'll want to take steps to prevent domain expiry from happening. You can't avoid expiration dates altogether, but you can ensure that you always renew your domain on time.
There are a couple of ways to do that — either you can renew manually each time, or you can set up automatic renewals. Most registrars allow for automatic renewal, freeing you from having to worry about remembering deadlines. Just be sure to budget appropriately for those renewals!
If you choose to renew manually, just be sure to set reminders for yourself. Generally, registrars will send out email reminders, but you don't want to risk losing your site because an email didn't go through. Set your own reminders as well so you can pay the domain renewal fee on time and avoid expiry.
What happens if you miss your domain renewal date?
Ideally, you'll avoid having to worry about domain expiration. But there might be a time when you forget to renew your domain, and the expiration date passes. So, what do you do then?
Fortunately, you don't immediately lose your site. There are several stages that come after your expiration date passes:
In some cases, your registrar may attempt to auto-renew your domain for you even if you don't have that setting turned on. Generally, the registrar will email you or notify you in some other way to obtain your payment.

If several days go by, the registrar will "park" your domain, meaning your site will stop working. However, the domain is still in your name at this stage.

After a few weeks, your domain will remain on your account, but will go on hold, making it completely inactive. At this point, there is usually an extra fee for late renewal.

Next, your domain goes on auction to other businesses. You still get first pick if you choose to renew it, but your registrar starts opening the floor for other interested parties.

Finally, you lose your domain. If someone buys your domain at auction, it goes to them. And if no one buys it, it returns to the standard domain market. At this point, if you want it back, you'll have to buy it again, and you'll have to remake your website from scratch.
Obviously, the above steps will vary depending on the specific registrar you use. However, that gives you a basic idea of what the process usually looks like. Needless to say, it's best to simply avoid missing your domain renewal to begin with!
We don't want to tell you about the work we do, we want to SHOW you.
View Our Portfolio

We've built over
1,100
Websites
in a variety of industries.
WebFX can help you build the best website for your domain
Thankfully, managing your domain isn't all that complicated. But the same can't always be said for building your website, which is why it's useful to have a web design agency like WebFX at your back. We have over 25 years of experience with building websites, so rest assured we know what we're doing.
With our web design services, you'll get help creating a killer website that drives plenty of traffic and boosts your revenue. We'll be sure to keep you informed of everything we do, so you'll never feel uncertain of what's happening with your site.
To get started with us, just call 888-601-5359 or contact us online!
How is your website's SEO?
Use our free tool to get your score calculated in under 60 seconds.
Get posts by email
Join 200,000 marketing managers and subscribe to Revenue Weekly!
"*" indicates required fields
WebFX Careers
Join our mission to provide industry-leading digital marketing services to businesses around the globe - all while building your personal knowledge and growing as an individual.