SMB
SMB Lead Generation Services: Earn More Leads With WebFX Did you know that 53% of marketers spend at least half of their budget on lead generation? Investing in lead generation is critical for helping you continue to grow your small-to-midsized […]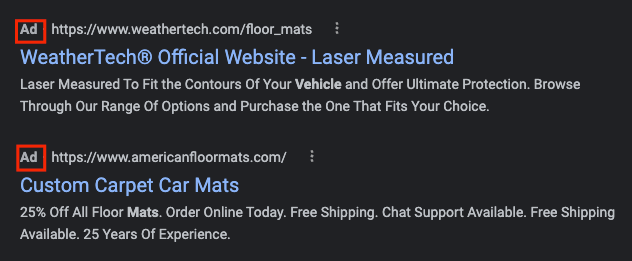 B2C
B2C Lead Generation Pricing: How Much Is B2C Lead Gen? B2C lead generation pricing depends on several factors, including which strategies you use and whether you hire an agency. Typically, B2C lead generation costs $2500 to $12,000 per month, $50 […]
Lead generation is the lifeblood of any business. Leads are potential new customers — something every business needs to keep thriving. Lead generation, then, is the process of creating interest in your products and services and identifying new leads.
You can use a wide range of methods to generate leads, including search engine optimization (SEO), social media marketing, pay-per-click (PPC) advertising, and many more.
To learn more about how to grow your business with lead generation, explore the resources below.
Discover how to use lead generation to your advantage with these resources, which range from lead generation basics to channel-specific topics.
Beginner's guide to lead generation
When was the last time you received a telemarketing call (cold calling)? Did you answer it? If you did answer it, how long did it take you to hang up? Telemarketing calls can be intrusive and annoying. Would you rather spend your time calling people who have expressed interest in your product or service, instead of getting hung up on all the time?
If so, lead generation marketing is the strategy for you.
Below, we will dive into lead generation marketing and cover:
What a lead is
How a business can generate leads
Why leads are important to a business
Strategies to help generate qualified leads
Want to start generating more qualified leads for your business? With our lead generation services, we can help you earn more leads for your company. Contact us online or call us today at 888-601-5359 to speak with a strategist!
What is a lead?
A lead is a person who expresses interest in a business's products or services, but hasn't converted yet. These people are potential clients or customers of your company.
Let's walk through an example.
Say your business offers storage software for computers, and you have a free guide to help people manage storage on their computer. To gain access to the guide, users must enter their email and some other simple information.
If a searcher fills out this information and obtains the guide, they can be considered a lead because they expressed interest in your gated content.
What is lead generation?
Lead generation refers to the strategies used to get people interested in your company's products or services and identify new potential customers.
It involves attracting potential customers to your business and increasing their interest in your services or products by continually creating valuable marketing materials. You enable these potential customers to eventually express interest in your business by providing their contact information, making them a lead.
There are an endless number of ways that you can generate more leads. Chatbots, gated content, newsletter subscriptions, and even people who started the checkout process are great examples of leads and lead generation tactics that we will cover more in-depth below.
Why is lead generation important?
Lead generation plays a significant role in the growth of your business. Without it, your business would have difficulty attracting new customers and spotting leads to capitalize on for sales.
Here are two big reasons to invest in lead generation:
Lead generation brings customers to you
Lead generation marketing creates a much more natural flow in the sales process. It allows potential customers to come to you instead of you going to them.
As a result, your business doesn't have to waste time cold calling prospects that aren't interested in what you offer. Instead, you can focus your energy on prospects that demonstrate a clear interest in what you offer.
Lead generation saves you money
Inbound lead generation is a great way to get better results and spend less.
Outbound leads cost almost 40% more than inbound leads, and only 16% of marketers feel that outbound marketing brings in the highest quality leads.
Lead generation marketing prevents businesses from wasting time and money contacting people who have not expressed interest in their products or services. Instead, you can focus on people who are likely to turn into sales and drive revenue for your company.
Learn more about the basics of lead generation
How to generate leads: 5 proven strategies
When generating leads, there are various strategies you can use to attract users in different stages of the buying funnel. Here are five of the most important digital marketing strategies for generating leads.
Search engine optimization (SEO)
The first lead generation strategy we'll discuss is search engine optimization (SEO).
SEO is a digital marketing strategy that helps your website rank in search engine results for relevant terms so you can reach your ideal audience. Your business will be able to connect with your customers through search engines like Google and Bing by outranking your competition on search engine results pages (SERPs).
SEO can position you as a thought leader in your industry through fresh, helpful content. It is important to remember SEO is a long-term strategy and can establish a strong foundation for your overall marketing strategy.
Pay-per-click (PPC) advertising
Pay-per-click (PPC) advertising is a valuable strategy for quickly attracting leads to your website. It involves placing ads on SERPs, social media sites, and other websites. You then pay a small amount for each click on your ad.
With PPC, you can use precise targeting to reach users who are likely to become customers. When users click on your ad, you can take them directly to a landing page where they can convert into a lead.
Email marketing
Email marketing is another one of the most common ways to generate leads. In addition to attracting new leads, email is perfect for nurturing and converting leads into customers.
One benefit of email marketing is the ability to tailor content and conversations to your leads' interests, concerns, and needs. This allows you to move users through the sales funnel and explain the value you provide to your customers. You can accomplish this with newsletters, drip campaigns, and other tactics.
Learn more about email marketing
Social media marketing
Social media marketing revolves around marketing and advertising on social media networks like Facebook, Twitter, Instagram, and LinkedIn.
Marketing on social media consists of creating posts, engaging with followers, and running ad campaigns. Social media can help with brand awareness, customer service, and lead generation. Many social media campaigns serve top-of-the-funnel users, while some strategies, especially advertising, can generate leads more quickly.
Learn more about social media marketing
Content marketing
Another powerful marketing strategy is content marketing. Content marketing is the creation and distribution of original content like blog posts, informational articles, infographics, and videos.
Creating valuable, high-quality content helps establish your business as a thought leader in your industry. As users consume your content, they'll become more familiar with your brand and may eventually convert into leads and customers. To capture leads, you'll need to include mechanisms for gathering lead information on your site or within your content.
Learn more about content marketing
3 methods for capturing lead information
As mentioned above, we will now cover strategies for how your business can generate leads and begin growing.
1. Encourage visitors to sign up for your email newsletter
One of the most common methods for building a list of leads is creating an email newsletter.
Users who sign up to receive emails from you are expressing interest in your business and asking to hear from you on a regular basis. This means they're generally interested in what you provide and are likely to become customers.
Your email newsletter should provide subscribers with valuable information that's relevant to what your business does. This will keep them interested in your newsletter and your business.
Your emails can also help move subscribers through the sales funnel toward becoming customers. You can occasionally include more promotional content in your emails to encourage this.
To get users to sign up for your email newsletter, include calls to action on your site that explain the value your newsletter provides. You can display these CTAs on your pages, in sidebars, in pop-ups, and elsewhere on your site.
2. Create gated content to capture critical lead information
Gated content is another prominent option for capturing leads. What is gated content? It's especially valuable content, such as extensive guides or helpful tools. Users must provide their information in exchange for this content.
With gated content, you'll want to ask for an email address and name at a bare minimum. You can also ask for more information, as most people who want access to this content are willing to give a little more to gain access.
When you create gated content, make sure it's worth your audience's time. Guides, ebooks, tools, and courses providing valuable information to your target audience are excellent examples of gated content.
3. Use chatbots to answer questions fast
Chatbots are becoming increasingly prevalent and are a great way to generate leads. Chatbots can guide the conversation with the user and gather information on the searcher, such as their email address and interest in your business.
When someone interacts with a chatbot, you can learn what services or products they may be interested in and provide them with helpful information. For more detailed questions, the chatbot can pass the user on to a qualified customer service representative.
This experience also makes the initial contact much smoother. Because the chatbot already gathered some of the user's basic information, the salesperson has information they can use to provide help more efficiently.
4. Offer free subscriptions or trials to get prospects to connect with you
Free subscriptions or trials are also a great way to generate leads. If people are hesitant about your product or service, offering a free look into it can turn someone into a lead and give them a glimpse into what you offer.
For example, if you offer software or a streaming service, you can provide a free limited-time subscription to let users test out what you offer.
How to track leads and measure lead generation efforts
The best place to begin when tracking leads is Google Analytics (GA). This platform is used worldwide to track metrics like traffic, visitors' behavior, and conversions on your website. Conversions can be forms, calls, guide downloads, and anything you want to track that aligns with your company's goals.
Google Analytics (GA) is a good place to start, but you will need more information on how to connect with your leads since GA provides little qualitative data. You will want to find software that can offer more qualitative information, like our proprietary software platform MarketingCloudFX. Ultimately, learning more about your customers helps you establish trust, leading to more conversions.
Measuring the metrics that affect your bottom line.
Are you interested in custom reporting that is specific to your unique business needs? Powered by MarketingCloudFX, WebFX creates custom reports based on the metrics that matter most to your company.
Leads

Transactions

Calls

Revenue
Learn More

Learn more about lead generation analytics
Working with a lead generation agency
You could implement a lead strategy on your own, but usually, the best choice is to hire a lead generation marketing agency to maximize your return on investment (ROI).
When you hire a lead generation agency, you have a team of experts to create a customized strategy for you, and you gain access to advanced software. Your agency will present you with new lead generation techniques, implement campaigns for you, and help increase your ROI and overall revenue.
Learn more about lead generation agencies
Lead generation agency resources
Lead generation services from WebFX
Lead generation pricing
Learn more about lead generation
Want to learn more about how you can generate qualified leads for your business with digital marketing? Sign up for our email newsletters for the latest tips and advice for digital lead generation.
Want to start generating more leads today? Explore our lead generation services and request a free quote to learn how our team of 500+ digital marketing experts can create and implement a custom lead generation strategy for your business.