Did you know that 85% of retailers feel search engine optimization (SEO) is one of the most effective strategies for getting new customers? With an ecommerce SEO strategy in place, you can help your business drive more qualified traffic from target leads who are looking for your products. But how do you get started with creating an effective SEO strategy?
You've come to the right place! We've got an ecommerce SEO checklist that will help you optimize your search engine presence to drive more traffic to your site. P.S. If you want to get more tips and tricks for marketing your ecommerce business online, subscribe to our email newsletter!
Partner with a team of ecommerce masters!
WebFX campaigns have delivered more than 12,936,451 ecommerce transactions in the last 5 years

Read the Case Studies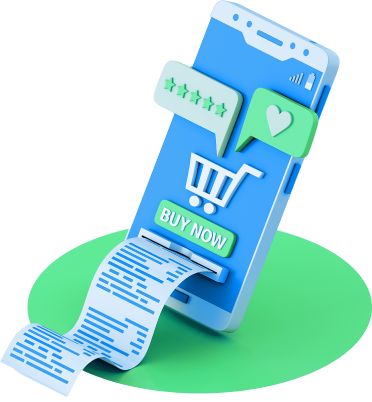 Identify relevant target keywords
The first item on our ecommerce SEO checklist is to identify relevant keywords for your site. People search for key terms on search engines like Google to help them find products they need — making them extremely important to your campaign. For example, if you own a women's boutique, you likely want to show up when users search for keywords related to women's clothing.
To help you find relevant terms, conduct keyword research. You can use numerous keyword research tools, like KeywordsFX, to find applicable terms for your site.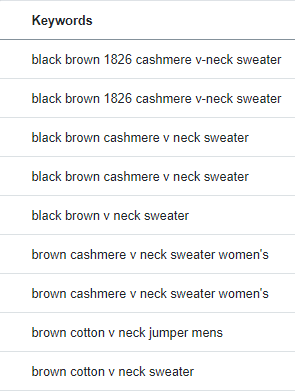 As you conduct keyword research, focus on long-tail keywords.
Long-tail keywords contain three or more words, like "fuzzy brown sweater." These keywords are best for your product listings because they drive more interested shoppers. If someone searches "fuzzy brown sweater," you know what they're looking to find. These keywords will help you drive more qualified leads that are likely to buy your products.
Once you identify relevant keywords, you can integrate them into your site. Be mindful of how often you use them because overloading your site with keywords can lead to keyword stuffing, which negatively impacts your business.
Optimize title tag and meta description
Next on our checklist for ecommerce SEO is to optimize your title tag and meta description. These are the two elements that appear in search results and entice people to visit your site.

Both tags provide your audience with insight into what they can expect to see when they click on your listing. To get more leads to click on your listing, start by optimizing these tags. For your title tags… Be sure to stay within the 60-character limit and use power words, like "stellar" or "amazing," to catch your audience's attention.
Make sure you integrate your core keyword towards the beginning of the tag, so users and search engines know your listing is relevant! For your meta description… Provide your audience with a summation of what to expect on your page. Stick within the 155-character limit and integrate your core keyword into this tag.
While this tag doesn't impact your ranking, a descriptive and informative meta description can drive people to click on your listing.
Optimize your URLs
Another essential part of your ecommerce SEO checklist is optimizing your URLs. Your URL tells search engines and users that your product listing is relevant to what they want to find. Not to mention, an optimized URL plays a crucial role in users remembering your product listing.
Imagine someone finds your product listing and sees this URL:
www.boutique.com/product/ejeiw-gn33/9948567
If they just looked at the URL, would they have any idea of what they're looking at on the page? With a combination of random letters and numbers, it's challenging for people and search engine crawlers to know your page's context. Now image you had an optimized URL like this:
www.boutique.com/bottoms/jeans/dark-ripped-jeans
This URL is easy to follow and understand — it's more memorable, too.
If you want to do SEO for ecommerce sites right, you must optimize your page URLs to ensure your audience and search engines can read them clearly. The best way to optimize your URLs is to use the core keyword at the URL's tail end, like in this example from Spanx.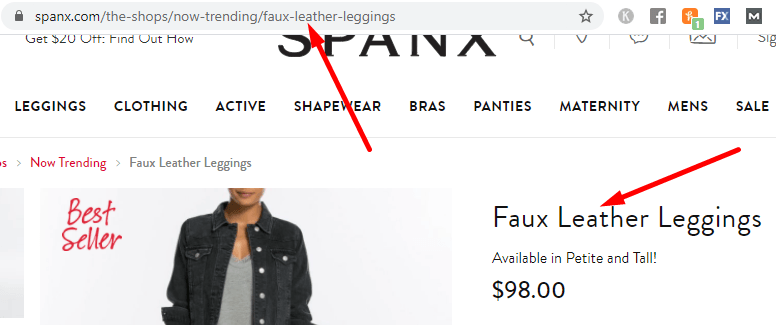 Create relevant content
The next item on our SEO checklist for ecommerce is to create relevant content.
When people search on the web, they're not just looking for products — they want information. And when they look for information related to your industry, you want to be the one to deliver it to them. Content creation is a critical component of ecommerce SEO because it provides you with an opportunity to share helpful information with your audience.
You can show your audience that you're knowledgeable in your field, leading to increased trust with prospects. Not to mention, if you don't create content for ecommerce optimization, you don't have anything to rank in search results! When you create content, focus on topics related to your industry to ensure you're driving credible traffic to your site.
You can get ideas by thinking about common questions your audience asks or searches on the web. The "People also ask" section on Google can be an excellent place for inspiration.

Once you have a content topic idea, you can choose what format you want to use.
Choose from formats like:
You want to have a diverse content strategy to ensure you appeal to different members of your audience. Some people may prefer reading a blog post, while others prefer watching a video. Additionally, create content regularly to drive traffic to your site continually.
You can use a content calendar to help you keep track of when you create and publish content.
Use internal links on your pages
Another essential SEO item from this ecommerce SEO checklist is to use internal links on your pages. Internal links are links within your pages that lead to other pages on your site. These links help Google find, crawl, and index other pages on your site.
To do internal linking correctly, you must have relevant anchor text on your page. The anchor text is the preview text that tells users the context of the link. In this example from Elle, you can see all the anchor text highlighted in red.

For example, let's say you own a fashion boutique, and you wrote a blog post about how to accessorize for a formal event. Within that blog post, you may mention how the type of accessories depends upon your formal attire. You have a blog post about the best formal attire, so this place is excellent for putting an internal link to that blog post.
By adding internal links to your content, you'll help more of your pages get discovered and rank in search results, which will drive more qualified traffic for your ecommerce business.
Implement breadcrumb navigation
Another vital part of the SEO checklist for ecommerce is breadcrumb navigation — which makes it easy for users to browse products on your site without getting lost. Breadcrumb navigation provides your audience with a trail of how they got to your product page. Here's an example of what breadcrumb navigation looks like: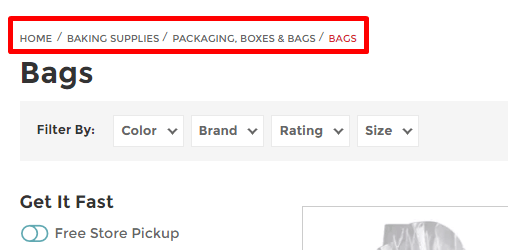 On Michael's site, they have a clear path of navigation.
If a user looks at a product and decides it's not for them, they can quickly go back to the last page they were at and look for a different product. By adding this feature, you'll provide your audience with a better browsing experience that encourages them to remain on your site.
Check your site load time
Next on this checklist for ecommerce SEO is to check your site load time. Users hate to wait for slow-loading pages — 53% of users will abandon a page if it takes more than three seconds to load.
Not to mention, slow-loading pages cause $2.6 billion in revenue loss annually. To check your site's current load time, use Google PageSpeed Insights. This tool will provide you with insight into your load time and suggestions for improving page load speed.
Some ways to improve site load time include:
Reduce image file sizes
Enable browser caching
Minify coding
Use a content distribution network (CDN)
Limit redirects
Check that your site is mobile-friendly
Another vital item from our SEO checklist for ecommerce involves checking your site's mobile-friendliness. Over 50% of website traffic comes from mobile, so you need a site that looks good on these devices to ensure you deliver a positive user experience for your audience. When you consider that 67% of users are more likely to buy from mobile-friendly sites, you don't want to miss out on an opportunity to earn more sales for your business.
To make your site mobile-friendly, implement responsive design. Responsive design ensures your site adapts to whatever device your audience uses.
Make your site secure
When people purchase your products, they give you a lot of their sensitive information, like addresses and credit card numbers. Your prospects want to feel safe giving you their personal information, which is why securing your site is next in this ecommerce SEO checklist.
You can secure your site by obtaining a Secure Sockets Layer (SSL) certificate. Your URL will contain HTTPS to show visitors it's secure, and a padlock will appear next to your site's URL in the address bar.

This security certificate will encrypt users' personal data, making them feel comfortable with sharing it with you.
Google is also more likely to rank you in search results because your site is safe and users want to shop on sites that protect their information.
Add schema markup
The last item we'll cover on this checklist for ecommerce SEO is adding schema markup. This feature is beneficial to your e-commerce SEO strategy because it enables you to add enhanced descriptors that help Google understand the context of your pages better.
With schema markup, you can add details to display in search results like:
Price
Rating
Availability
Product details
You can view your page's current schema markup through Google Search Console's products report. By adding schema markup, you provide Google with better context of your pages to index and rank your pages in the right search results.
Launch your ecommerce SEO strategy today
Now that you've got your ecommerce SEO checklist, you're ready to optimize your site to help it rank better in search results.
But if you're feeling overwhelmed by this SEO checklist for ecommerce, don't worry! WebFX is experienced in ecommerce SEO and can help you optimize your site. With over 25 years of experience, you can feel confident we know how to craft ecommerce SEO campaigns that drive results.
In the past five years, we've driven over $3 billion in sales and over 7.8 million leads. Our team has also handled over 12.9 million transactions for our clients. You can feel confident we'll drive results for your business, too.
Want to drive more ecommerce sales for your business? Contact us online or call us today at 888-601-5359 to speak with a strategist about our ecommerce SEO services!
How is your website's SEO?
Use our free tool to get your score calculated in under 60 seconds.
WebFX Careers
Join our mission to provide industry-leading digital marketing services to businesses around the globe - all while building your personal knowledge and growing as an individual.