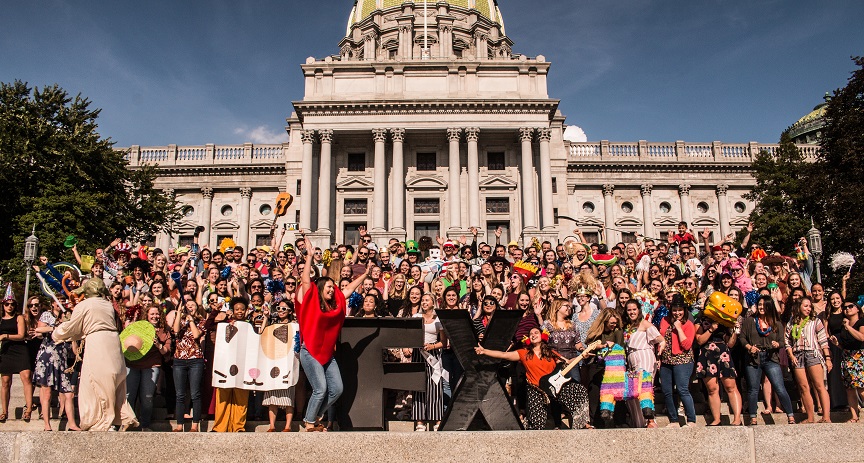 B2B SEO Services: Earn More Revenue From Search
More than 70% of business-to-business (B2B) buyers start researching their company's next purchase with a search engine. With B2B search engine optimization (SEO) services, you can reach those buyers at a critical moment. Partner with WebFX and see how our B2B SEO services can help you leverage search to grow your company.
Explore B2B SEO Service Plans
Up to 100 keyphrases optimized

Competitor rankings, content, and link monitoring

Custom dashboards: 4

Ongoing earned media and content marketing assets: 4.5/quarter

Dedicated digital marketing expert

Phone call, lead, and revenue tracking dashboard
Up to 150 keyphrases optimized

Competitor rankings, content, and link monitoring

Custom dashboards: 8

Ongoing earned media and content marketing assets: 9/quarter

Dedicated digital marketing expert

Phone call, lead, and revenue tracking dashboard
Up to 200 keyphrases optimized

Competitor rankings, content, and link monitoring

Custom dashboards: 8

Ongoing earned media and content marketing assets: 12/quarter

Dedicated digital marketing expert

Phone call, lead, and revenue tracking dashboard
Start Growing With B2B SEO Services Built For You
From generating leads to nurturing them, our B2B SEO services can help. With our SEO services for B2B companies, you can attract valuable leads and accounts through search engines like Google.
Partner with WebFX, and you can expect the following:
Custom B2B SEO strategy
Dedicated account manager
Routine reporting schedule
Real-time reporting dashboard
AI-powered marketing software access
And more
Learn more about how our agency can work alongside your business and help achieve its goals for growth by contacting us online.
We get it — sometimes you want to speak straight to the source. To speak with a Digital Marketing Specialist about our marketing services, feel free to give us a call at:
888-601-5359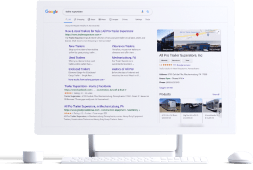 "I've fielded countless calls from SEO companies regarding SEO campaigns. None have conveyed the knowledge, professionalism, and true care about our business goals like WebFX. You can easily tell when talking to any staff member they know SEO and online marketing…WebFX has [gone] above and beyond the required efforts by answering all of our questions and assisting along the way."
IT Manager
Machine Shop
Why do you need B2B SEO services?
If you're a B2B company, you may wonder if it's necessary to use SEO services. From experience, we can tell you that SEO services are one of the best ways to market your B2B company and ensure that you're getting the sales you need to improve your revenue year over year.
With B2B SEO services, you can rest assured that you have the best course of action in place for attracting, delighting, and converting businesses that need your products.
Not only that, but when you're a B2B company, relationships mean everything. Whether you're a supplier, a manufacturer, or a wholesaler, making those close relationships with other businesses can take your company to the next level.
Partnerships and relationships mean that you'll likely continue supplying those businesses with your products for an extended period.
In short, not only can B2B SEO solutions help you sell more of your products in the long run, but they can also help you build relationships that strengthen and grow your operations.
Now, let's talk about some of the most beneficial B2B SEO services for companies like yours.
Deliverables included with our B2B SEO services
Here's a look at some of the deliverables our B2B SEO services include:
Competitor research
Keyword research
Content creation
Title tag and meta description optimization
Mobile-friendliness optimization
Google Analytics integration
Internal linking
Competitor research
For the rest of your B2B SEO services to be successful, you must ensure you or your SEO agency performs competitor research.
Not only does competitor research allow you to see how your competitors are marketing their business, but it also allows you to see if their strategies work.
Although you should never copy content word for word, you can take a page from the book of your competitors if their strategies seem to be doing well.
Here are a few things you should look for in your competitors and why they're important:
What keywords are they ranking for?
Start by typing some key business terms into Google and take note of the first few pages of results. Is your competition showing up in the search engine results pages (SERPS)? Are they showing up on the first page or the fifth page?
Based on where they show up, you can determine if their marketing strategy is working or falling behind. If they rank on the first page, you know they're doing something right. If they rank number one for a large number of keywords that you're after, it's time to mimic their strategy.
What ads do they currently have running?
When you search for those business keywords, do ads show up for your competition?
Ads are an extremely effective way to market your business, and although separate from SEO, pay-per-click (PPC) advertising is something to note. If your competition has ads out there, you should too.

Don't worry, the best search engine optimization companies, like WebFX, will also offer PPC as a strategy to work alongside your B2B SEO services.
What other marketing strategies are they using?
Hop on social media and determine what platforms your competition uses, and then take note of what content they share. Although managing social media platforms isn't necessarily a part of the SEO process, linking out to your social media platforms on your website is.
For that reason, you should be aware of your competitions' presence on social media. It's important to note that you should have a social media campaign on a wide variety of platforms, whether your competitor does or not. If they don't, it'll only widen the gap between the two of you.
It's also worthwhile to check out if your competition has a YouTube channel, what kinds of videos they post, and how their videos perform. If their videos get thousands of views and tons of engagement, you know they're doing something right.
What kind of content are they writing?
Content is crucial to how a website ranks, so if your competition ranks highly in SERPs, you should take a look at their content to see what they're writing.
Do their highly-ranked pages take a long-form format, or are they shorter and to the point? Do they talk in a specific tone that resonates with your target audience? Do they have videos and custom graphics on every page?
Like we mentioned before, although you should never copy your competitions' strategies to a T, there's nothing wrong with taking a page from their book if their campaign seems to work well. After all, their audience is your audience.
Not to mention, if you're new to the world of marketing, it's crucial that you understand what works and what doesn't in terms of sparking the interest of your target audience.
Why competitor research is vital to B2B SEO services
Customers that buy products from a B2B company are often building a long-term relationship since they'll likely be reordering your products for years to come.
Once you've lost potential customers to your competition, it's unlikely that you'll ever have another opportunity to win them over, so the first impression is crucial!

Competitor research allows you to stand out among the competition so that you don't lose customers to your competitors.
Keyword research
Keyword research is another key feature of our B2B SEO services because it allows you to gauge the specific interests of your target audience.
Here are some steps you can take to find the most beneficial keywords for your industry:
Start by brainstorming key terms that relate to your business. These terms will most likely be the products and services you offer.
After you have this list, break each of those keywords off into variations. For example, if one of your keywords is "forklift," you'll want to break that out into keywords like "fork hoist," "fork truck," or "trailer loader."
After you break out all your main keywords into variations, you should have triple the keywords that you started with. Compile all these keywords into a spreadsheet and get ready for the fun part.
Plug your keywords into a free tool like KeywordsFX, which will provide you with tons of useful metrics to help you decide what keywords to use in your copy. For example, you can gain insight into things like related keywords, questions with your keywords, and even modifiers.
If you're keeping track of your keywords in a spreadsheet, you can add filters to your columns to help you sort your keywords by specific metrics. For example, if you have a column for your keywords, a column for search volume, a column for CPC and a column for competition, putting filters on each of those columns will allow you to sort keywords by any metric you choose.
After you've decided on the keywords that will yield the highest benefit for your site, it's time to get to writing content. These high-return keywords will likely have a high search volume and low competition.
Why keyword research is vital to B2B SEO services
Without keyword research, your B2B company will have a hard time reaching your target audience because you're not speaking their language.
B2B companies have different verbiage than business-to-consumer (B2C) companies, and when you do keyword research, you unveil the specific terms that mean the most to your audience.
Content creation
If you've ever heard the phrase "content is king," you know that content is important. It's so important, your website can't rank without it.
Content writing is an essential part of our B2B SEO services because it allows you to target your audience based on what they search for.
For example, if you have a list of ten keywords that have a high search volume and low competition (according to your keyword research), then it's time to start writing content that outlines those topics.
There is a wide variety of content that you can create to satisfy the search intent of your users.
Blogs: Blogs tend to be on the shorter side of content, and they might even include personal opinions on a topic. Blog posts make for incredibly sharable content, which is why they're great for SEO. You could write blog posts about how to use your products, how you created the project, or even how you got the idea for a project.
Visual content: Visual content, like videos and infographics, are also great for sharing, which means more users will see your content and navigate to your website. You could provide videos of how to use your products, interviews with people who use them, and so much more.
Case studies: Case studies provide a great way to show business buyers the value of your services. For this reason, they are a great content type to include on your site.
Research and data: Like case studies, research and data provide industry proof, which is appealing to readers. You could share with users the research that you used to create a product or data that demonstrates the impact of your product on a client's business, for example.
Article pages: Articles are a great source of information for site visitors, and you can write these pages based around target keywords that you find. Article pages offer a lot of wiggle room in terms of the topic. You could write about your business, your products and services, how to use your products and services, how your company got started, and so much more.
Longform pages: Longform pages are what you might expect — long pieces of content that are typically more than 2000 words in length. These pieces of content provide tons of information on a single topic and should strive to be the only resource users need on that specific topic.
Why content creation is vital to B2B SEO services
Without content, your company won't be able to rank in SERPs for key terms. Your content does more than just rank, though. It also informs and delights visitors and shows them that you're knowledgeable in your industry. It also helps to convince them that you're the best person for the job, and eventually turn them into paying customers.
Title tag and meta description optimization
When your site ranks in Google, users will see at least two elements with every listing — a title tag and a meta description.
Optimizing these two critical features of your content can not only help you encourage users to click, but also give Google insight as to what your content is about. That said, your title tag and meta description can help with your ranking.

Both your title tag and meta description should feature your keyword near the front, and both should be the appropriate length. You should use a SERP preview tool to ensure that both pieces will be visible in search engines.
Why title and meta description optimization is vital to B2B SEO services
Your title and meta can make or break a click to your website. If your first impression isn't spot on, you could lose customers to your competition, but users will have nothing to compare your site to if they don't get there first.
Enticing users to click your pages on SERPs starts with a fantastic title and meta tag. Not only that, but if you want to have a good chance of ranking, you must write a title and meta that Google loves and understands.
Mobile-friendliness
Making your site mobile-friendly is another feature of our B2B marketing services that helps your business thrive.
With roughly 28% of U.S. adults shopping online multiple times per month, it's crucial that your website looks and performs the same on every device — even mobile phones. If your business allows users to purchase directly from your online store, it's even more critical to ensure mobile-friendliness.
If not, you could be missing out on tons of sales.

You can use a tool like Google's Mobile-Friendly Test to ensure that users can experience your website the same on every device.
Why mobile-friendliness is vital to B2B SEO services
Your potential customer is on a flight back from a conference call when he gets word that they need more parts ordered. The only device he's able to use is his cell phone, and if your site isn't mobile-friendly, there's no way he can order your products in the short time frame that he has.
Mobile-friendliness makes your site easy to skim on any device, and it's also a huge perk for those who need your products in a hurry when the only thing they might have is their phone.
Not to mention, mobile-friendliness is just as important for users who aren't even loyal customers yet. Making your site mobile-friendly can make you stand out among the competition when users are using their phone to search for a B2B company like yours.
Additionally, having a mobile-friendly website is a search ranking factor, so if you want to rank highly in search, you should ensure your site is mobile-friendly, among many other things, of course.
Matter of fact, as of July 2019, Google indexes all sites using mobile-first indexing. Mobile-first indexing means that instead of crawling and indexing the desktop version of your website, Google will be looking at the mobile version.
This means that if your B2B company's website isn't mobile-friendly, you could have a hard time ranking in search.
Google Analytics integration
Integration with Google Analytics (GA) is crucial to ensure that your plan is always on track.
When you use Google Analytics, you can see everything from site traffic to your site's most popular pages in GA, which can tip you off to potential improvements that could better your campaign.
Here are just a few metrics that you can see in Google Analytics:
How much traffic specific pages of your website receives
Where traffic comes from, like organic, social, or paid sources
How long users spend on individual pages
What the bounce rate of each individual page is
Who your site visitors are with demographic information
The speed of your website pages
How your Google Ads campaigns and ad groups perform
Why Google Analytics integration is vital to B2B SEO services
Google Analytics is a gold mine to fine-tuning your SEO strategy. It offers a wealth of information that can help you improve just about every area of your website. That data can help you get the most out of your online marketing campaigns.
Internal linking
Internal linking boosts your user experience in addition to helping Google find and index your pages faster.
Internal linking is when you link to other site pages within your content. For example, you might write a page on your website about a specific recipe that involves using pomegranate. Elsewhere on your site, you might have already written an article about how to cut one.
The recipe page would be a fantastic opportunity to link to that article about cutting a pomegranate, and you could even link to the recipe naturally on the pomegranate-cutting page.
Internal linking helps Google find and index your pages faster, which means you can have the opportunity to rank in search engines quicker.
Not only that, but there are a few other benefits to adding internal links to your copy:
Improve the usability of your pages: If you're talking about a topic that you've already covered in detail elsewhere on your site, linking to it can help users get the full picture. It also means that users can quickly move from page to page on your website based on what they're interested in and how those topics connect.
Keep users on your site for longer: When you use internal links, it keeps users moving steadily from page to page since anchor texts encourage them to click. This means that they'll spend more time surfing your website since there is always something new to read.
Boost page views of less commonly viewed pages: If you use analytics to determine that there are a few pages on your site that aren't getting much attention, internal linking is a great way to boost that traffic. Try linking to low-traffic pages in new content to increase their traffic.
Why internal linking is vital to B2B SEO services
When you work as a B2B business, it's likely that every sale is a big sale. But what if you could make those big sales even bigger? Using internal links throughout your pages can interest and intrigue users in other products that they might not have been aware of before.
It can also help take users to different pages, help them learn more about what you have to offer, and motivate them to purchase more or different products.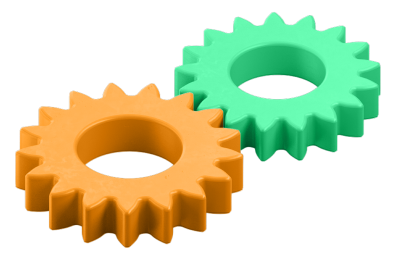 WebFX specializes in
B2B client

success!

Wheeler Machinery Co., a Caterpillar dealer in Salt Lake City, Utah, has been in the business of providing exceptional customer service since 1951. It was immediately evident to us that they valued treating their customers with a sense of partnership.

Learn More
FAQs about B2B SEO services
Looking to learn more about SEO services for B2B organizations? Browse our FAQ:
What are B2B SEO services?
B2B SEO services are professional SEO services that optimize your B2B website to improves its visibility in organic search results on search engines like Google and Bing. Typically, SEO services for B2B companies will include on-page, off-page, and technical SEO optimizations.
How much do B2B SEO services cost?
Prices for B2B SEO services depend on several factors, including your B2B SEO agency. On average, though, B2B companies invest $750 to $2000 per month into SEO services. If you're partnering with a B2B SEO consultant, hourly consulting rates range from $80 to $200.
WebFX provides valuable B2B SEO services that help your business thrive
At WebFX, we know that no two B2B companies are the same — that's why we offer custom SEO plans that can help your unique business thrive.
Our B2B SEO services are your ticket to improving rankings in Google, increasing site traffic, and improving revenue year over year.
If you're ready to work with an agency that has generated over $2.4 billion in revenue for its clients, WebFX is here for you.
We have a full team of SEO specialists who have worked with B2B clients in a wide variety of industries, and we can't wait to work with you next! We offer numerous search engine optimization marketing services that can help grow your business and its operations.
Contact us online for a free quote of give us a call at 888-601-5359 to get started today!