If you're using Facebook ads to reach qualified leads for your business, you want to get every advantage you can to maximize results with your ads. With the Facebook conversions API (CAPI), you can help your business use your data to drive better results and grow your business.
On this page, we'll cover everything you need to know, including:
Keep reading to learn more!
And if you want to get the latest tips and tricks for marketing your business effectively online, join 200,000 smart marketers by subscribing to Revenue Weekly!
Don't miss our Marketing Manager Insider emails!
Join 200,000 smart marketers and get the month's hottest marketing news and insights delivered straight to your inbox!
Enter your email below:
Inline Subscription Form – CTA 72
"*" indicates required fields
(Don't worry, we'll never share your information!)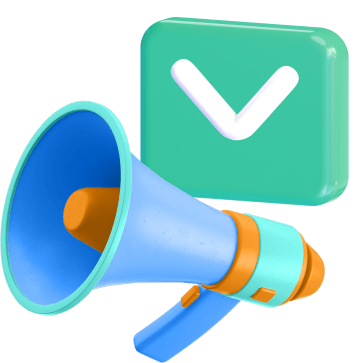 What is Facebook conversions API?
Facebook CAPI is a server-side tool that allows advertisers to track customer actions on the server side, rather than the browser side. Sharing this data with Facebook enables it to improve Facebook pixel tracking to maximize performance and results from Facebook ads.
What is the Facebook pixel?
The Facebook pixel is a piece of code you place on the backend of your website to track users who visit your site. When a user visits a page on your website that has the pixel installed, you can then serve them ads when scrolling through their feed on Facebook. This tool only tracks data through a user's browser.
The Facebook Pixel and Facebook CAPI work in tandem to accurately gather customer data to deliver better ad experiences.
What can Facebook CAPI do?
Now that we've answered "what is Facebook conversions API," you may wonder what it can do. What can CAPI on Facebook do for your business?
Here's a breakdown of what CAPI tracking does for you:
Facebook conversions API helps you understand your audience better: This feature enables you to have deeper insights into customer journeys by measuring customer actions in different ways. As a result, you can deliver better marketing materials to your audience.
Facebook conversions API helps improve targeting: With CAPI tracking, you can gather more accurate information for your ad campaigns. This tool allows you to collect data on conversions, page visits, and more. As a result, you improve the accuracy of your targeting and optimizations to deliver better ad campaigns.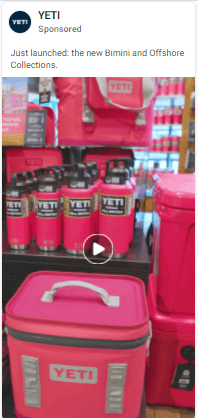 Overall, CAPI on Facebook enables you to have greater control over your data to improve ad quality and increase revenue for your business.
How to set up the Facebook conversions API
Now that you know more about Facebook CAPI tracking, you may want to set it up for your business. If that's the case, keep reading to find out how to set up your CAPI on Facebook!
But before you do that, make sure that you have Facebook Business Manager set up and your Facebook pixel installed before setting up CAPI tracking. If you have those two steps completed, you can move on to installing CAPI for Facebook.
There are two options for setup:
1. Partner integration
The easiest way to set up CAPI tracking is through partner integration. This method is simpler to use because it doesn't require coding, and many people can do it without the help of a developer. You can use this option if you're using a partner platform, like WordPress or a similar commerce platform.
Here are the steps you'll follow:
Go to Events Manager
Go to the Data Sources tab
Click Settings
Scroll down to Conversion API
Under Set Up Through Partner Integration, click Choose a Partner
Choose your provider from the options
Follow the instructions provided for your given partner
2. Manual integration
If you aren't using a partner platform, the other option is to do a manual integration. If you choose this option, you will need a developer because this process is more intricate and requires coding knowledge.
You'll use the Events Manager to set up your CAPI tracking. Follow these steps:
Click Add Events and select Using the Conversions API
Install your code manually
Click Continue
Choose the event you want to track and click Continue
Select the parameters for your event and click Continue
Click Confirm Setup, then Send Instructions
Enter your developer's email address and click Send
From this point, your developer will complete the setup process for your business.
Meet WebFX:
Your world-class, tech-enabled marketing agency with over 1.6 million hours of combined expertise.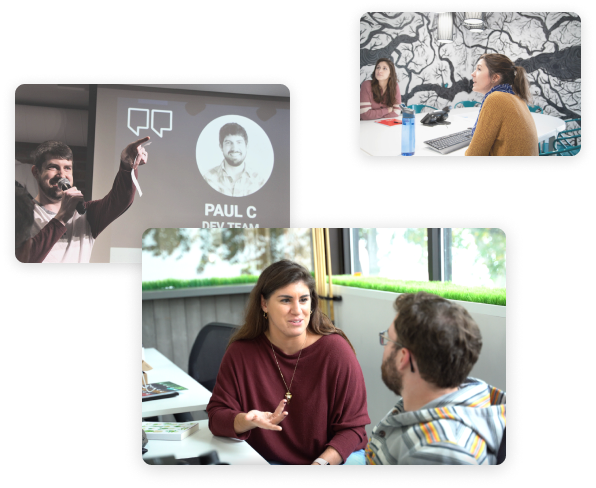 Facebook conversions API services from WebFX
Did you know that WebFX is a data-driven social media marketing agency? That's right! We've helped clients drive over $3 billion in revenue through effective social media campaign services and digital marketing strategies.
When you invest in one of our social media plans, we'll take care of setting up conversions API for Meta for you as part of our initial setup during Meta pixel auditing and installation.
That means you can enjoy tracking that's optimized to drive the best results for your social media campaign with little to no effort on your part.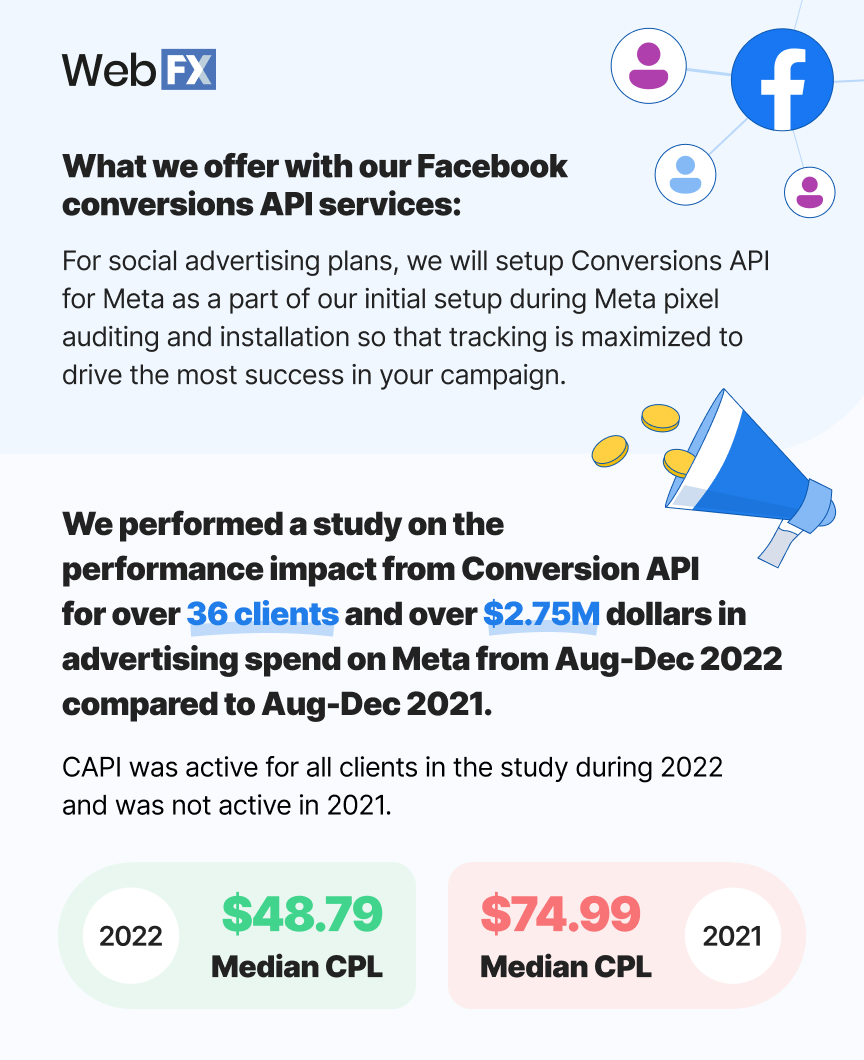 Incredible Facebook CAPI results
Curious about how our Facebook conversions API services have helped clients drive incredible results?
We ran a study to measure the impact of conversions API for 36 of our clients' social media campaigns and over $2.75 million of ad spend on Meta in 2022 and compared it to client campaigns in 2021 without Meta conversions API to answer that question.
CAPI was active for all clients in the study during 2022 and was not active in 2021.
The result?
The median cost-per-lead (CPL) for clients in 2022 with conversions API for Meta was $48.29 compared to $74.99 in 2021. That's massive cost savings and increased leads and conversions for clients!
74% of people use social media when making a purchasing decision.
Make their decision easy with a stellar social media presence. See how your brand can level up by requesting a no-obligation proposal today.
One of our experts will be in touch within 24 hours!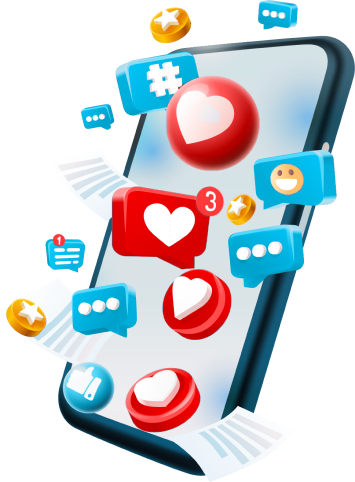 Set up your Facebook conversions API tracking today
CAPI on Facebook is a great way to maximize your data to drive better results with your Facebook ads. If you need help setting up your Facebook conversions API tracking or want assistance developing your Facebook advertising strategy, WebFX can help.
With our Facebook advertising services, we can help you craft click-worthy ads that generate more qualified leads and revenue for your business. With a team of over 500 social media experts running your campaigns, you can feel confident we'll drive the results you desire.
Ready to grow your business through Facebook advertising? Contact us online or call us today at 888-601-5359 to speak with a strategist!
How is your website's SEO?
Use our free tool to get your score calculated in under 60 seconds.
Get posts by email
Join 200,000 marketing managers and subscribe to Revenue Weekly!
"*" indicates required fields
WebFX Careers
Join our mission to provide industry-leading digital marketing services to businesses around the globe - all while building your personal knowledge and growing as an individual.