Social Media

What Instagram TV (IGTV) Means for Influencer Marketing
What Instagram TV (IGTV) Means for Influencer Marketing
7 minute read
Sarah Berry is a Google Analytics-certified Web Marketing Consultant at WebFX. She's written over 400 articles on digital marketing, covering topics like SEO, CRO, and Amazon. When she isn't polishing her Time Magazine Person of the Year Award, she's spending time with her flock of ducks.
With more than 800 million active users each month, Instagram is an increasingly important platform for influencer marketing. Businesses of all sizes, from well-known brands to rising startups, use Instagram to connect with influencers to promote their products and grow brand awareness. The launch of Instagram TV (IGTV) signals a new chapter for influencer marketing on Instagram, as it provides companies and influencers with a variety of Instagram marketing tools to engage users with original content and encourage purchases.
Keep reading to learn more about what IGTV means for influencer marketing.
What is IGTV?
IGTV is a long-form video platform that's available through Instagram, as well as a separate mobile app for Android and iOS devices. Videos on IGTV can run from 15 seconds to 60 minutes and can include a call-to-action (CTA) via the "swipe up" feature. Users may like, comment, and share IGTV videos.
7 ways IGTV changes influencer marketing on Instagram
With IGTV, Instagram continues to position itself as a unique competitor to YouTube and Snapchat.
While YouTube and Snapchat both have a role in marketing, the addition of Instagram TV makes the growing platform even more competitive. Why is IGTV changing influencer marketing, though? By introducing these seven features:
1. Long-form videos
The most talked-about IGTV feature is long-form video. These videos can have a maximum runtime of 60 minutes — note, unverified accounts have a runtime limit of 10 minutes. Before IGTV, users could only post 15-second videos to their Instagram Stories and only one-minute videos to their Instagram feeds.
For influencers on Instagram, that meant they had a moment to talk to users via video. In response, many shared their thoughts through photo captions. By adding IGTV, Instagram provides influencers the opportunity to connect, share, and chat through video.
Video is a powerful tool for influencers and businesses on Instagram as they can improve conversions by more than 85 percent. Plus, brand association increases by almost 140 percent after users watch a video.
2. Creator channels
IGTV also introduced creator channels, which link to your Instagram account. When you post a video — or an influencer does — to your IGTV creator channel, a link will appear above your profile's photo grid. What's beneficial about this feature is that it's easy to direct users to your IGTV channel.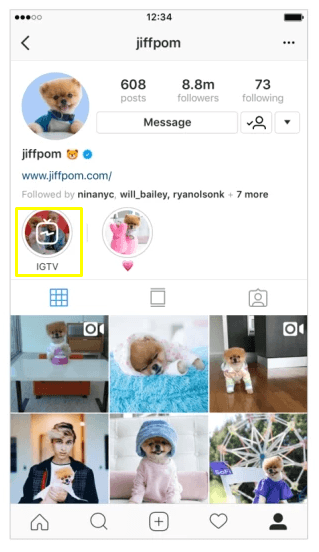 Even better, users don't have to download the IGTV app to play a video. They can watch an influencer's review of your product or service within the Instagram app. That makes it easier to generate views and engagement, as the only action you're asking of users is to watch your video.
In comparison, if Instagram required the IGTV app, you'd have to convince users to download it first.
3. Calls-to-action
Like Instagram Stories, Instagram TV also lets you add a call-to-action. What's beneficial about this feature is that users are already familiar with it due to their experience with Instagram Stories. They know to swipe up if they want to learn more.
With a runtime of up to an hour — though you'll likely aim for a shorter timeframe — you can include several CTAs throughout the video. An influencer, for example, may direct users to their blog to read a post about your product before encouraging them to visit your website. Depending on your partnership, you can also create many videos that feature different calls-to-action.
While one may ask users to read about your product on an influencer's website, another may suggest they follow your Instagram account. With this approach, you're creating content for every stage of the buying funnel.
4. Direct share
A feature of any social media platform is sharing, and IGTV continues that trend. When someone watches your video or your influencer's video, they can like, comment, or share. The advantage here — compared to Facebook — is that users can only share the video with another user, not to their feed.
That direct share often indicates that the user receiving the message will have a higher interest in it. They're more likely to watch the video because it relates to something they want to learn more about or like to follow. With a bigger interest, there is often a better chance that the user is among your target audience.
That can then contribute to your influencer marketing goals, such as to improve brand awareness, number of followers, or social media mentions.
5. Channel monetization
The initial launch of IGTV did not include a monetization option. In the future, Instagram intends to have monetization options. By introducing monetization, Instagram follows a similar route as YouTube, which offers content creators the opportunity to generate funds from their content.
That could lead to more influencers becoming active on Instagram. A content creator on YouTube, for instance, may start to create content specifically for their IGTV channel, which could bring audiences from YouTube to Instagram. With that migration, your company could partner with influencers who have a presence on multiple social media platforms.
Instead of only promoting your product on YouTube, for instance, an influencer could extend that promotion to their Instagram audience for added exposure.
6. Facebook watch integration
Since Instagram is a property of Facebook, it makes sense that Instagram TV supports Facebook Watch — Facebook's on-demand video service. It works similar to an existing feature that lets users share their Instagram posts to their Facebook account automatically. The only difference is that you're sharing your IGTV content to your Facebook Watch channel.
With Facebook boasting more than 1.4 million daily active users, that's a significant advantage to companies researching or using influencer marketing. Instead of only having access to the 500 million daily users on Instagram, you're opening yourself to a much wider audience. A wider audience can also lead to more engagement with your video content.
In fact, consumers are 10 times more likely to interact with a video than they are with an article. Their comments can provide you with valuable insight into their preferences, wants, and pain points. You can use that information for developing future content, such as how to resolve those pain points, as well as future products.
If you sell handbags, for example, users may remark on the lack of compartments in the bag. In response, you design the next line of bags with several convenient pockets.
7. Auto-play and continue watching
Like Instagram Stories, IGTV also features autoplay. If a user visits your channel, your videos will play automatically — once they finish, videos from other accounts the user follows will play. The advantage of this feature is that it keeps users watching.
Plus, they can swipe to move between videos, which is an excellent tool when you have influencers that post to their channel often. To add to that, users can also pause a video and continue where they left off by using the "Continue Watching" tab. If users want to find an influencer's content even faster, they can use the "Following" tab.
What's beneficial about this design, as well as the function of IGTV, is that it supplements the time-sensitive nature of Instagram Stories. In the past, influencers would often include additional information about a company in their Instagram Stories, but a lot of their followers wouldn't see these clips in time. Now, with IGTV, influencers can promote your product through their feed, stories, and channel.
That's three opportunities for your target audience to see your product or service, which is monumental when you consider that 90 percent of consumers credit videos for helping them make a purchase decision. Not to mention, 66 percent of consumers say influencers often drive their purchases on any given platform, including IGTV.
Ready to start an Instagram IGTV channel?
Get a head-start with your IGTV marketing campaign by learning more about Instagram as a marketing platform with our go-to guide, "How to Use Instagram for Marketing." If you already have an IGTV channel, let us know what you think by sending us a tweet!
Sarah Berry is a Google Analytics-certified

Web Marketing Consultant at WebFX

. She's written over 400 articles on digital marketing, covering topics like SEO, CRO, and Amazon. When she isn't polishing her Time Magazine Person of the Year Award, she's spending time with her flock of ducks.

WebFX is a full-service marketing agency with 1000+ client reviews and a 4.9-star rating on Clutch! Find out how our expert team and revenue-accelerating tech can drive results for you! Learn more
Twitter and Facebook Status Generator
Finding engaging social media content for your business can be difficult. Use our tool to quickly find ideas and post directly to your page.
Give Me an Idea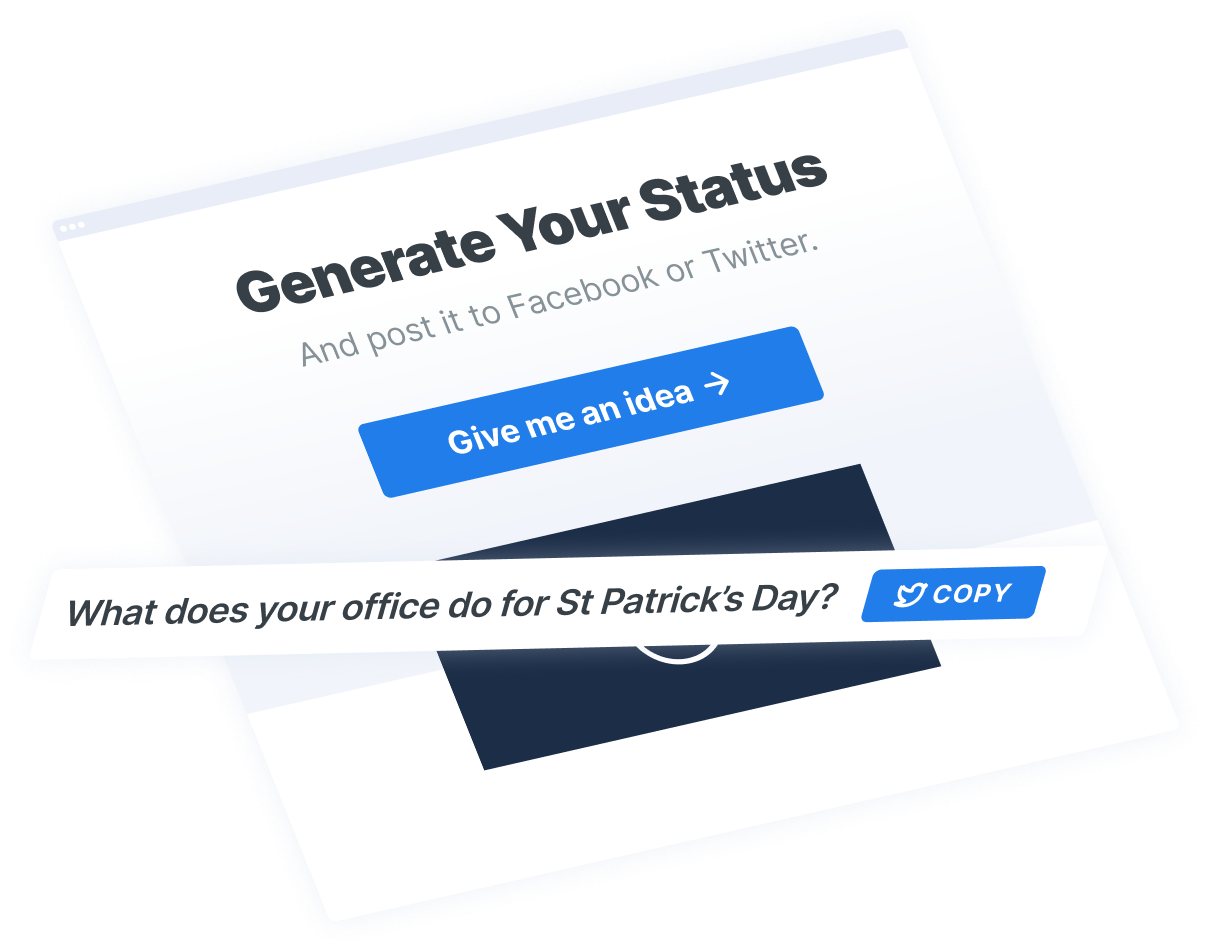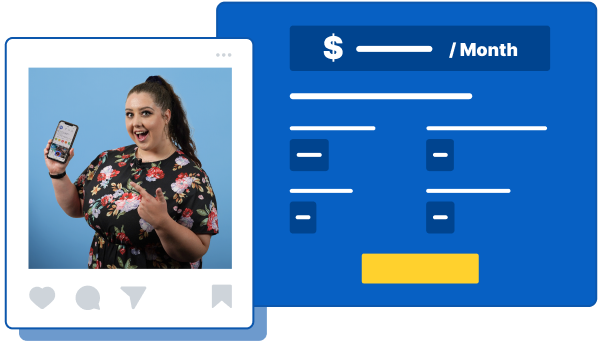 Twitter and Facebook Status Generator
Finding engaging social media content for your business can be difficult. Use our tool to quickly find ideas and post directly to your page.
Give Me an Idea