Last year, social networks earned $8.3 billion from advertising, and there are currently 2.3 billion active social media users in the world. Clearly, social media is a profitable marketing channel. But how can you effectively segment and market to various groups on social media?
In this post, we'll take a look at some interesting stats that will help you span the decades to reach each generation of social media users.

Social media by the numbers
In the U.S., people check their social media accounts 17 times each day. Brands have capitalized on the growing social media trend, with 91% of retail brands using at least two social media platforms.
Companies are also investing more into social media marketing, which exceeded $35 billion by 2017. Next, we'll take a look at some of the most popular social media platforms, as well as some statistics that can help inform your social media marketing strategy.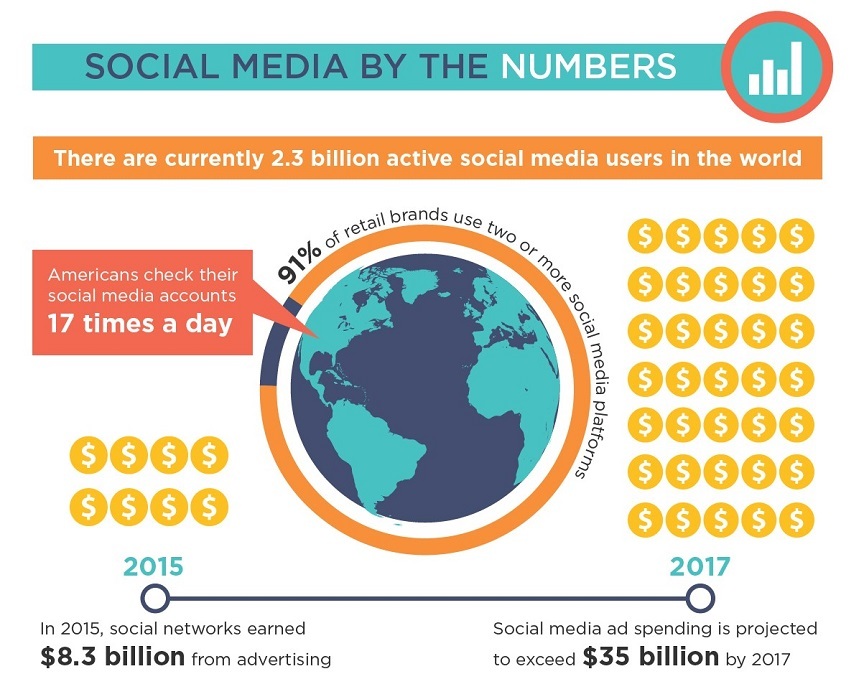 Facebook
Facebook boasts 1.71 billion users, and 72% of U.S. adults online visit Facebook at least once each month.
Businesses also use Facebook to increase brand awareness and target customers with custom advertisements. There are currently 40 million active small business pages on Facebook, and 2 million of those businesses pay for advertising. However, paid advertising is expected to increase due to Facebook's newsfeed update that significantly limits organic reach.
Twitter
Twitter's 320 million users send an average of 500 million tweets every day, and in the U.S., 66% of companies with more than 100 employees use Twitter to market their products and services. Since each Twitter user has an average of 208 followers, brands can easily reach a wide audience with their 140-character messages. Customers also use Twitter to ask questions, give feedback, and interact with brands, and 78% of people who complain to a brand on Twitter expect a response within one hour.
A recent research project attempted to discover how long it takes for popular brands to respond to customers on Twitter. Users sent a total of 280 tweets to their favorite brands and measured response rates and level of interaction. Pepsi and Mastercard topped the charts with response times of 19 and 34 minutes respectively, while Starbucks, Visa, Apple, and Walmart left Twitter users hanging with no response.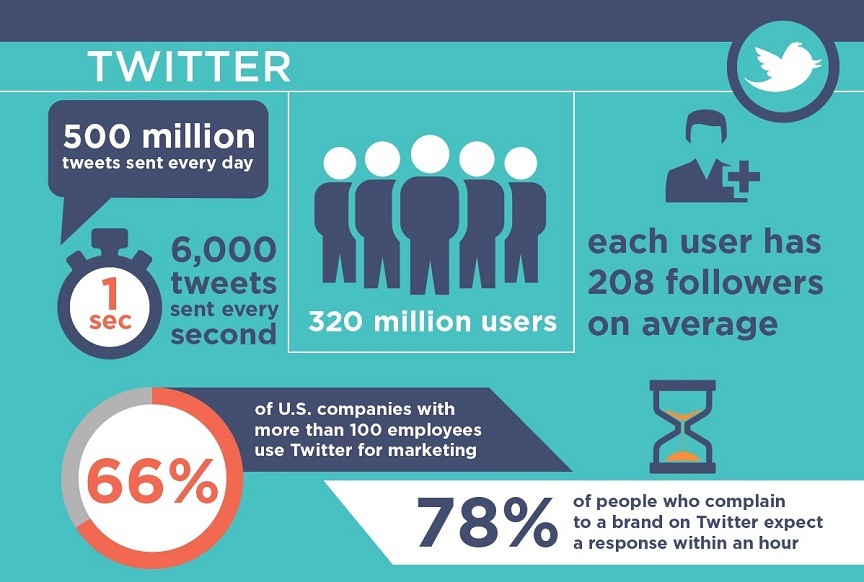 Instagram
With 400 million users, Instagram sees more than 80 million photos uploaded to the platform each day. Instagram is also a great way for brands to showcase their unique personalities with fun photos. After all, 50% of Instagram users follow brands, making it easy for companies to connect with followers.
In addition, 70% of the most used Instagram hashtags are branded, with #BMW and #Mercedes claiming the top spots. Users enjoy sharing content from their favorite brands on Instagram. So if don't have a creative hashtag for your brand, it's time to create one.
And be sure you use it consistently on your posts.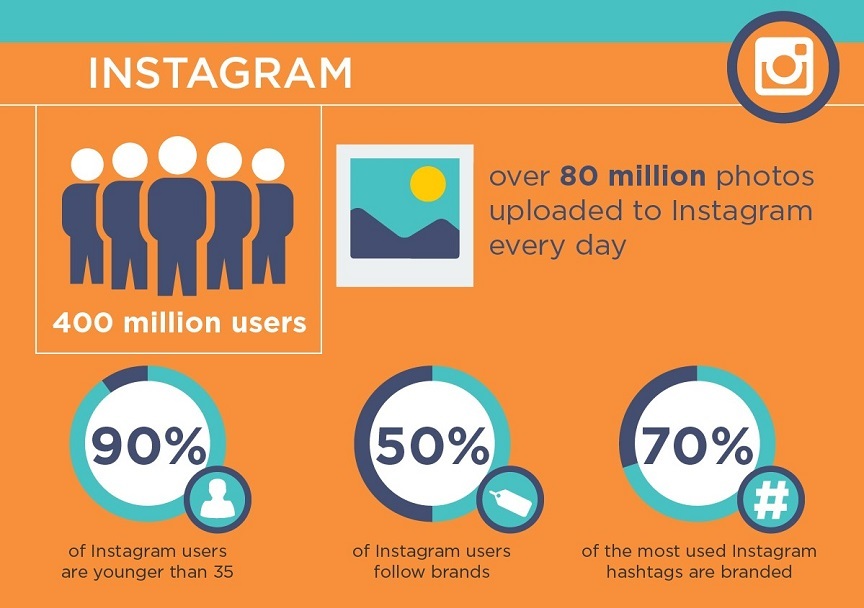 Pinterest
Across the globe, 100 million people use Pinterest, and 42% of all women online have profiles on the content sharing platform. Pinterest is also popular among mobile users with 75% of Pinterest activity taking place on mobile devices.
In addition, Pinterest users like to shop online, and 93% of pinners have shopped online in the past six months. Businesses clearly recognize the potential to drive online sales by advertising on Pinterest since 66% of pinned content comes from brand websites. Pinterest leverages the power of visual commerce, highlighting images of products and adding a shoppability component that allows users to click on photos to visit product pages and purchase the items.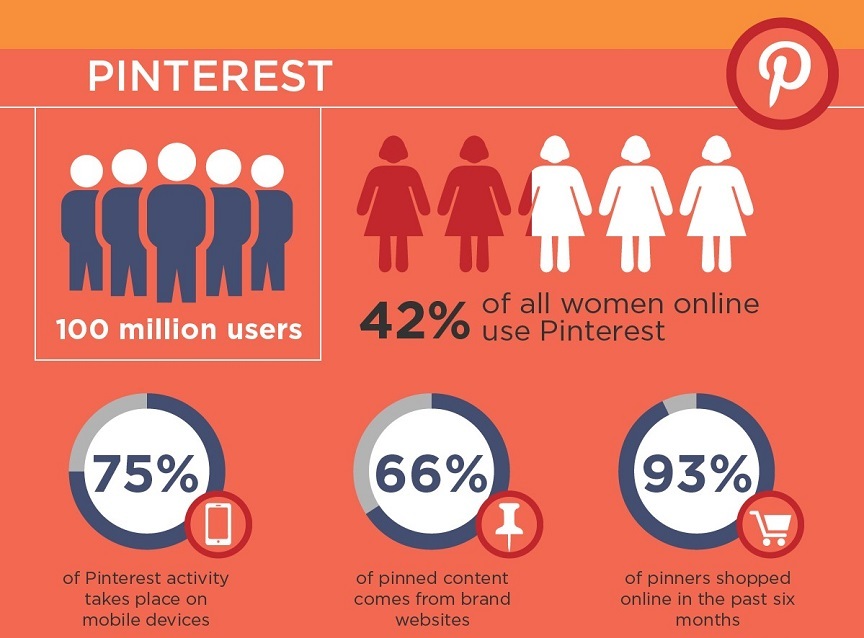 YouTube
With more than 1 billion users, YouTube is another powerful tool for sharing your content with potential customers. Each month, people watch 3.25 billion hours of video on YouTube, and a lot of that includes ads. Viewers who watch at least 30 seconds of a TrueView ad are 23 times more likely to visit or subscribe to a brand's channel.
In the U.S., 9% of small businesses use YouTube to share videos that highlight the products, services, and company culture. Video is a powerful tool for reaching and engaging your audience, and it allows you to showcase what makes your brand unique. In fact, videos can increase brand association by 139%!
Next, we'll take a look at how you can use these platforms to reach each generation on social media.
Generation Z (13-19)
Generation Z makes up more than 25% of the population in the U.S. and represents $44 billion dollars in purchasing power, making them a major target for marketers.
However, 25% of teens ages 13-17 abandoned Facebook in 2014, and only 33% of Generation Z want brands to reach them via email. The average Generation Zer has an attention span of eight seconds, so social media marketers have to quickly grab their attention with creative, interactive content. This is why visual social platforms like Instagram, Vine, and YouTube resonate with Generation Z.
When it comes to Gen Z marketing, marketers can create user generated content campaigns and incentivize participation. This is a great way to capitalize on Generation Z's talents and encourage them to interact with your brand on social media.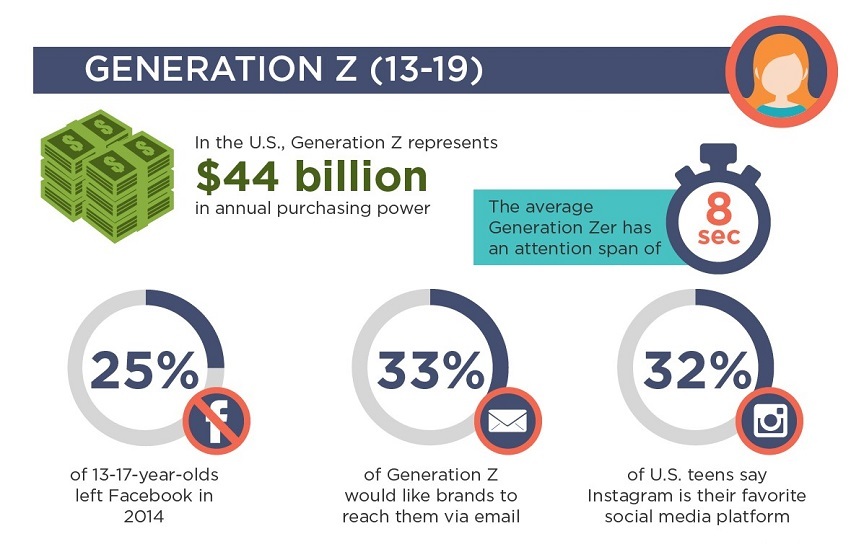 Millennials (20-35)
Millennials have the most Facebook friends of any generation, and 87% of millennials use the platform.
Like Generation Z, Millennials are also fans of UGC, believing that it is 50% more trustworthy and 35% more memorable than branded imagery. Not to mention, 42% of millennials think social media delivers the most relevant ads. If you're looking to reach Millennials on social media, consider creating a UGC campaign on Facebook or creating custom Facebook advertisements designed to reach your target audience.
It's also a good idea to link to your online store and products in your social media posts since each millennial spends an average of $2,000 online each year.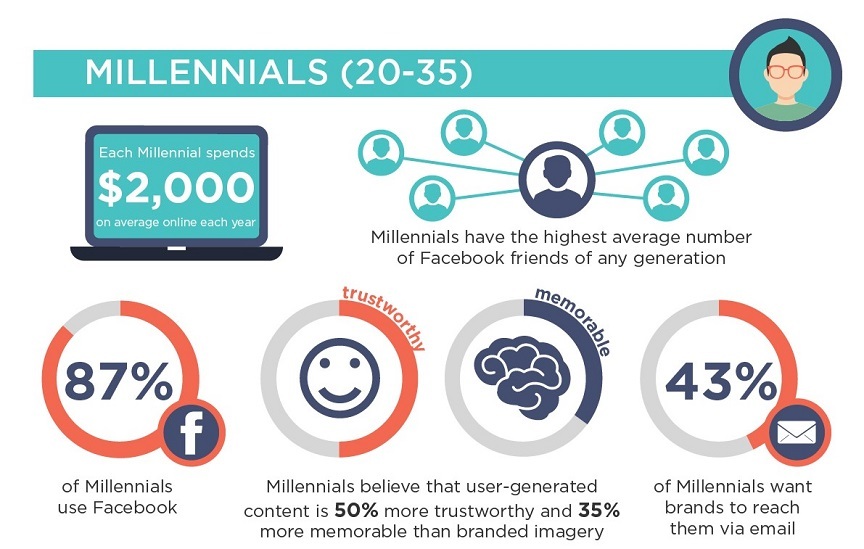 Generation X (36-49)
When it comes to social media, Generation X isn't very active on Twitter. Though 48% of Generation Xers have a Twitter profile, less than half of those users are active on the site.
However, Generation X loves online shopping, and Generation Xers make up 23% of all online shoppers. They're also big fans of Pinterest. 36% of pinners are between the ages of 30-44. So if you're looking to reach Generation X on social media, Pinterest is a great option. Creating links that allow them to shop directly from Pinterest can help you score more sales.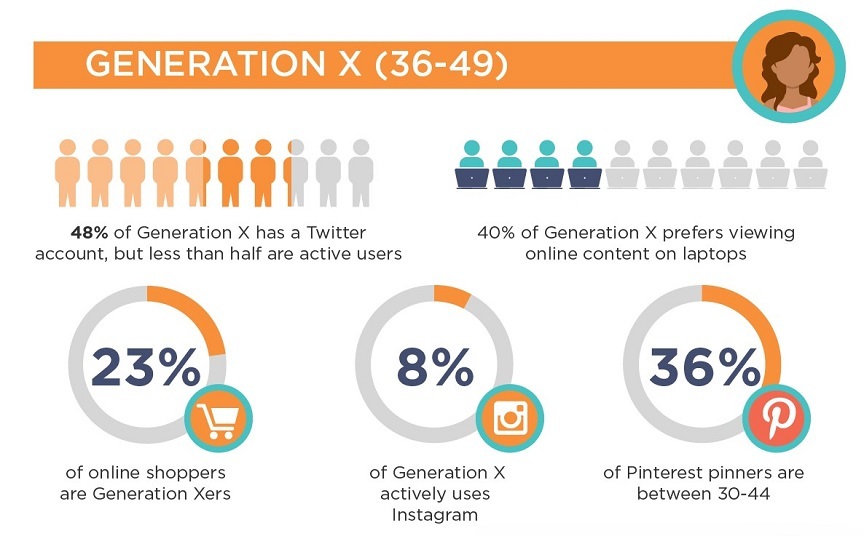 Baby Boomers (50-65)
Baby Boomers have access to 70% of the nation's disposable income.
This generation is also becoming more tech savvy with 54% of older Americans owning smartphones, up from only 35% in 2011. And 84% of Baby Boomers maintain profiles on Facebook. Thanks for the like, grandma! In addition, 58% of Baby Boomers are willing to visit a company's website after encountering the brand on social media.
So if you want Baby Boomers to visit your website, just include a link in your Facebook advertisements. While Boomers don't care for Instagram, 41% of Baby Boomers have Pinterest accounts, so you might consider Pinterest marketing campaigns as well.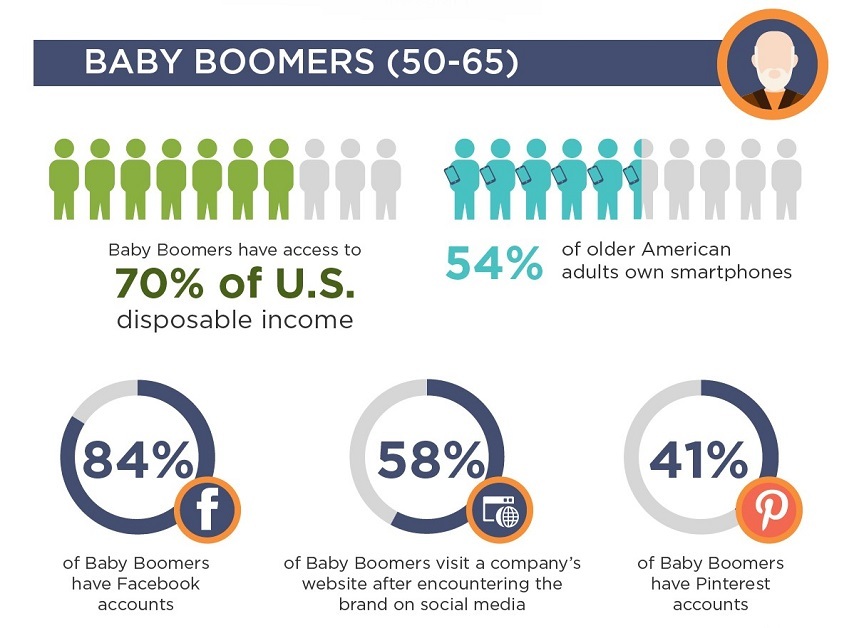 Want to learn more?
Interested in learning more about how to market to each generation on social media?
Check out our social media plans or contact us to talk with a social media specialist. We'd love to work with you!
How is your website's SEO?
Use our free tool to get your score calculated in under 60 seconds.
Get posts by email
Join 200,000 marketing managers and subscribe to Revenue Weekly!
"*" indicates required fields
WebFX Careers
Join our mission to provide industry-leading digital marketing services to businesses around the globe - all while building your personal knowledge and growing as an individual.