Twitter advanced search can help your business with competitive research, market analysis, and lead generation. It's an excellent tool for narrowing down your searches to get the result you want while analyzing your target audience's preferences.
With some tried and tested social media strategies, you can use Twitter's advanced search option to find qualified leads more likely to convert.
Keep reading to learn more about advanced search on Twitter!
And if you're looking for more helpful tips and tricks for marketing your business on Twitter, subscribe to Revenue Weekly!
What is an advanced search on Twitter?
Twitter has two primary searches — a general search feature and an advanced search feature. The advanced search feature lets you filter search results based on people, date ranges, and more. Using Twitter's advanced search feature, you can use your data to tailor your marketing activities and find specific tweets.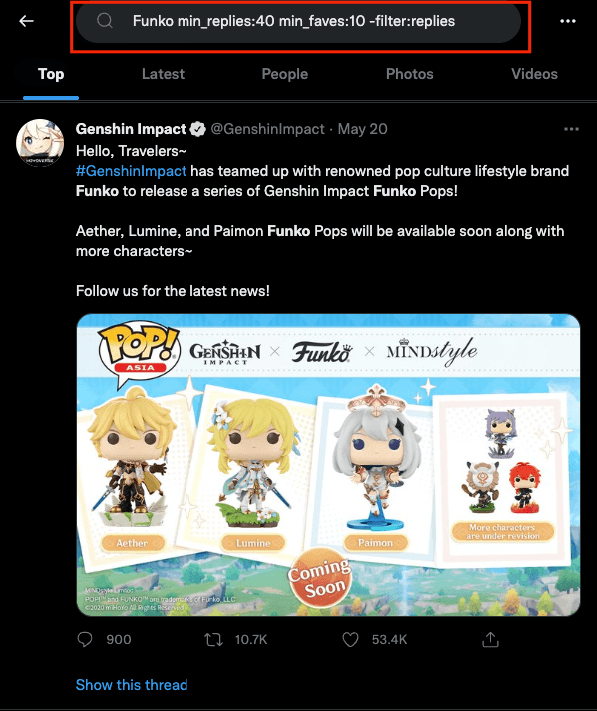 How to access Twitter's advanced search feature
To use Twitter's advanced search option, follow these steps on desktop:
Enter your search into Twitter's search bar.
Click the three-dotted line next to the search bar
Select Advanced Search
Enter information in the fields of your choice
Click Search
From there, you will see narrowed results that match your filters. You can change your search query at any time.
Why use Twitter advanced search?
Twitter's advanced search bar makes it easy to fine-tune your query, resulting in more pertinent information. To make Twitter an effective tool, you can structure your searches based on exact dates, location, accounts, languages, and phrases.
Using this advanced search can help you:
See who's tweeting about you and when
Find influencers that tweet about your products or services
See how events resonate with your audience
And more
How can Twitter advanced search help with marketing?
Twitter's social ecosystem can help grow your business in powerful ways. Twitter advanced search can help you:
Research competitors
Engage with audiences
Discover consumer needs
See what people say about your brand
And more
One of the biggest perks of using Twitter's advanced search option is connecting with influencers in your industry. Use the hashtag feature to find industry faces, narrow it to those with a genuine following, and highlight your company's message to consumers.
By implementing social media marketing strategies, you can leverage Twitter's advanced search option to:
Develop a relationship with potential customers
Understand user sentiment
Research competitors
Get to know your industry's prominent names
7 search topics for your social media strategy
Use Twitter's advanced search option icon to research the following factors.
1. Retweets
Discover what ideas are circulating the Internet and what's popular on Twitter when searching for retweets. You can discover patterns to craft content that leads to more retweets.
2. Specific keywords
You can filter out the number of keywords in your search using the Twitter advanced search. You can see who's tweeting the exact keywords of interest to your business. It's a great way to see what people say while using your keywords.
3. Questions
Answering customers' questions on Twitter is one of the best ways to build client relationships. Some people may ask you questions about your products, services, or competitors, and you can be the one to provide a helpful and detailed answer by doing and advanced search and finding questions.
4. Negative tweets
Learn where your competitors fall short by searching for negative tweets. By figuring out what customers in your niche want and don't want, you can become the solution while helping them find the products and advice they need.
5. Positive tweets
You can find followers who are likely to react positively to your tweets by searching for people who engage with other thought leaders on social media. Search for people who respond positively to other industry names — they will be more likely to respond positively to your brand.
6. People by location
If you own a retail store or restaurant, you can use Twitter advanced search to filter people by location and discover potential customers.
7. Specific languages
Searching for a specific language helps you focus on people who will understand your messages and your brand. Consumers are more likely to buy your products or invest in your brand if they speak the same language as you. You can quickly narrow your search and save yourself time.
Boost your Twitter marketing efforts with WebFX
Twitter advanced search helps you analyze your competitor's progress, research your market, and improve your geotargeting.
Ready to leverage Twitter and other social media platforms to generate leads for your business? With WebFX's digital marketing team, you can market your products across various digital sales channels.
We'll help your business impact the metrics that matter, from traffic to earnings. Contact us online to learn how our social media services can elevate your brand or chat with one of our experts by calling 888-601-5359!
WebFX Careers
Join our mission to provide industry-leading digital marketing services to businesses around the globe - all while building your personal knowledge and growing as an individual.