Whether you've been in the heavy equipment industry for one year or ten years, you know that your business is reliant on the customers you bring in to continue to succeed.
The slight snag here? Lead generation for heavy equipment companies needs to appeal to an entire team of decision-makers rather than directly to consumers. It's a challenge all business-to-business, or B2B, companies face.
With a strong lead generation strategy in place, you can start increasing your heavy equipment leads, so your business continues to thrive for years to come.
If you're ready to start working on your own lead generation strategy, give us a call at 888-601-5359 now, or contact WebFX online.
Read on to learn more about lead generation for heavy equipment companies, as well as some strategies you can add to your existing heavy equipment marketing plan to start attracting new clients.
37% of marketers say that generating high-quality leads was one of their biggest challenges.
We want to decrease that percentage.
WebFX can help you generate high-quality leads with a customized marketing strategy.
Learn More About Lead Generation Services
What is lead generation for heavy equipment companies?
Lead generation is the process of generating interest in your company and its products or services through marketing channels like your website, social media, and search engines. Ultimately, the goal is to attract people and convert them into prospects.
Your leads are the people you identify as potential customers who either are or may be interested in your business. In a nutshell, it's all about attracting loyal, paying customers to your business.
With an effective lead generation strategy, you can:
Attract high-quality leads: Lead generation helps you to attract qualified leads that are looking for a business like yours. Because of this, you'll earn leads that are more likely to interact with your business rather than cold call leads that may not give you much of a return on investment (ROI).
Increase sales: When you attract more qualified heavy equipment leads to your business, you can increase your sales and enjoy healthier business growth. The leads you earn with a lead generation strategy can bring more value to your business.
Gain valuable feedback to improve your website: The more leads you earn, the more traffic you'll bring to your website. With more traffic, you'll have more data related to user habits on your site. You can use this information to constantly make site improvements to offer your customers the best user experience.
But, to enjoy these benefits, you must have a good lead generation strategy in place. That's where WebFX comes in.
Earn heavy equipment leads with these 4 strategies
The following strategies are versatile marketing tactics you can use in your heavy equipment marketing strategy when you're not using them for lead generation. Take a look!
1. SEO
Search engine optimization (SEO) is an incredibly valuable marketing strategy that does more than just generate leads for your business.
SEO is the process of optimizing on-page and off-page website elements so your site shows up organically on search engine results pages (SERPs).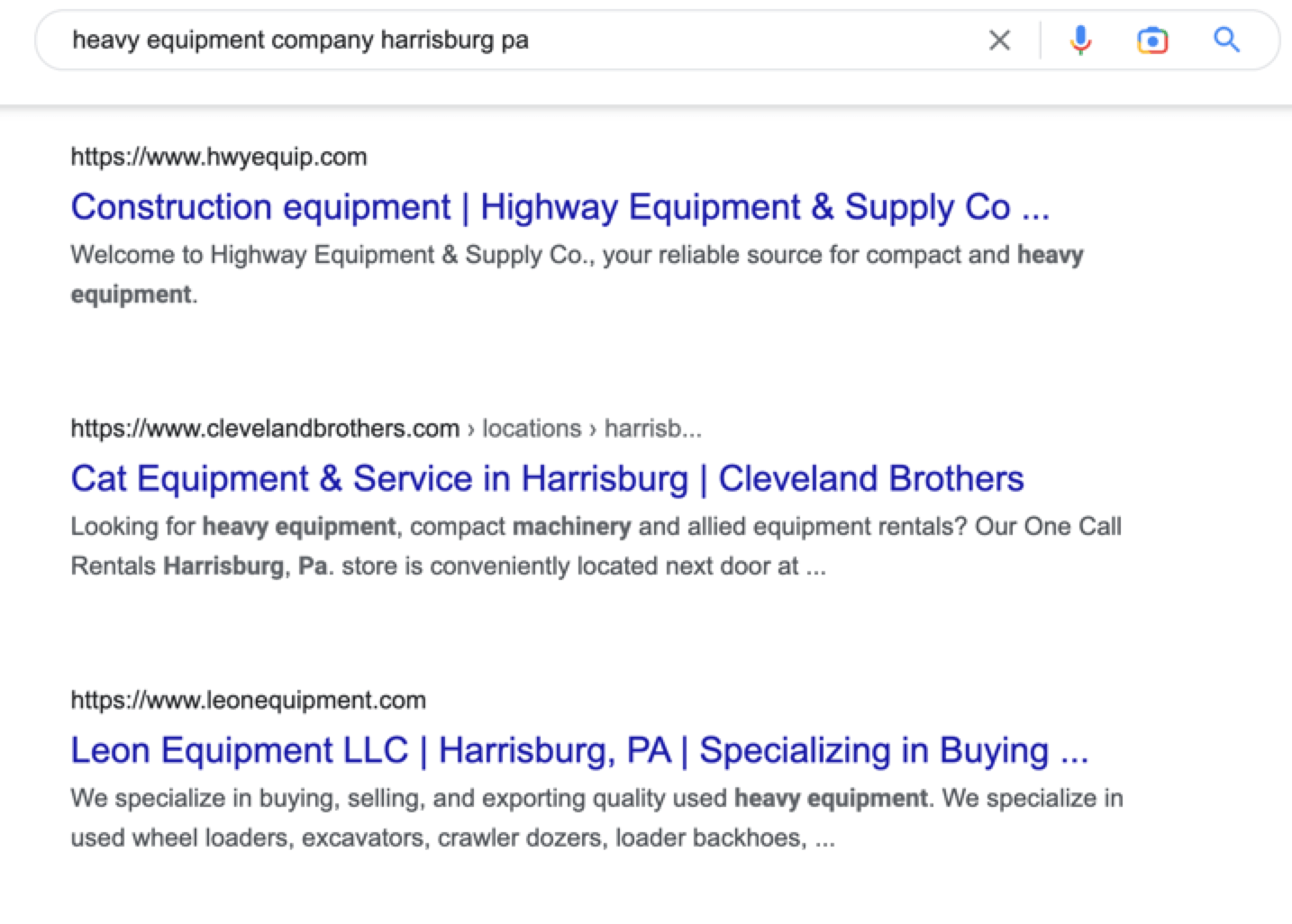 The higher you appear in the SERPs, the more online visibility your business will see. Plus, the increased visibility drives more traffic to your website, meaning more potential leads to nurture and convert.
With SEO as part of your lead generation strategy, you can increase your heavy equipment leads while also putting your website in a position for continued success on search engines.
SEO is an ongoing process, though. Make sure you're constantly monitoring your SEO performance and making improvements when needed. The hundreds of algorithms search engines employ to help rank websites for search results are constantly changing, so you've got to stay on your toes to stay successful!
2. PPC
Unlike SEO, pay-per-click (PPC) advertising is a paid advertising method that helps your website get to the top of SERPs. Don't let the idea of paying money to earn leads scare you, though — PPC ads are extremely helpful to businesses, especially when working with SEO.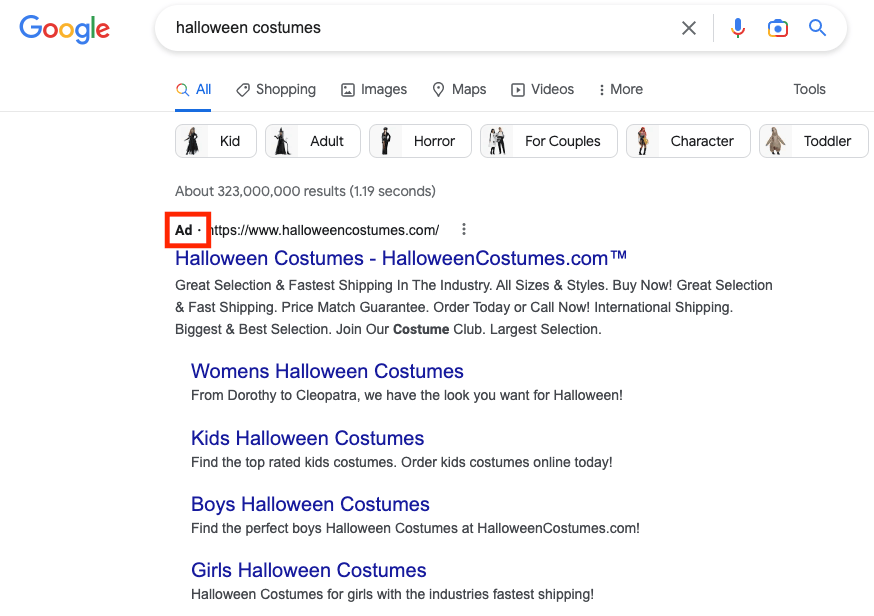 PPC ads appear at the top and bottom of the SERPs and are marked as "Ads." The placement of these ads is incredibly valuable because they're usually situated above top-ranked websites.
Advertisers compete for these coveted high-visibility ad spots through a bidding system. If you place a high-enough bid on a certain keyword you want to target and have a high Quality Score and Ad Rank, you could see your ad at the top of that SERP!
As the name suggests, you only pay for your ad when a user clicks on it, and you'll pay whatever your original bid was.
When they work together, PPC and SEO can help your business rule search engines and, ultimately, increase construction equipment leads.
3. Content marketing
Content marketing is an effective way to attract and keep users on your website. With content marketing, you can increase your leads and sales, all while showing off your industry knowledge and expertise.
Creating helpful content for your users is the name of the game for content marketing. Keeping your audience's problems, interests, and buying habits in mind, you want to create written content for your website that addresses any of those things.
Your content, whether it's a blog post or an informative article, should offer some kind of value to your audience. This high-quality content keeps users coming back to your site and raises your credibility in their eyes (not to mention Google's too!).
Outside of your usual site visitors, content marketing is great for lead generation for heavy equipment companies because it can attract new users to your business and who are interested in the insight you give in your written content.
View Our Content Marketing Services
4. Social media marketing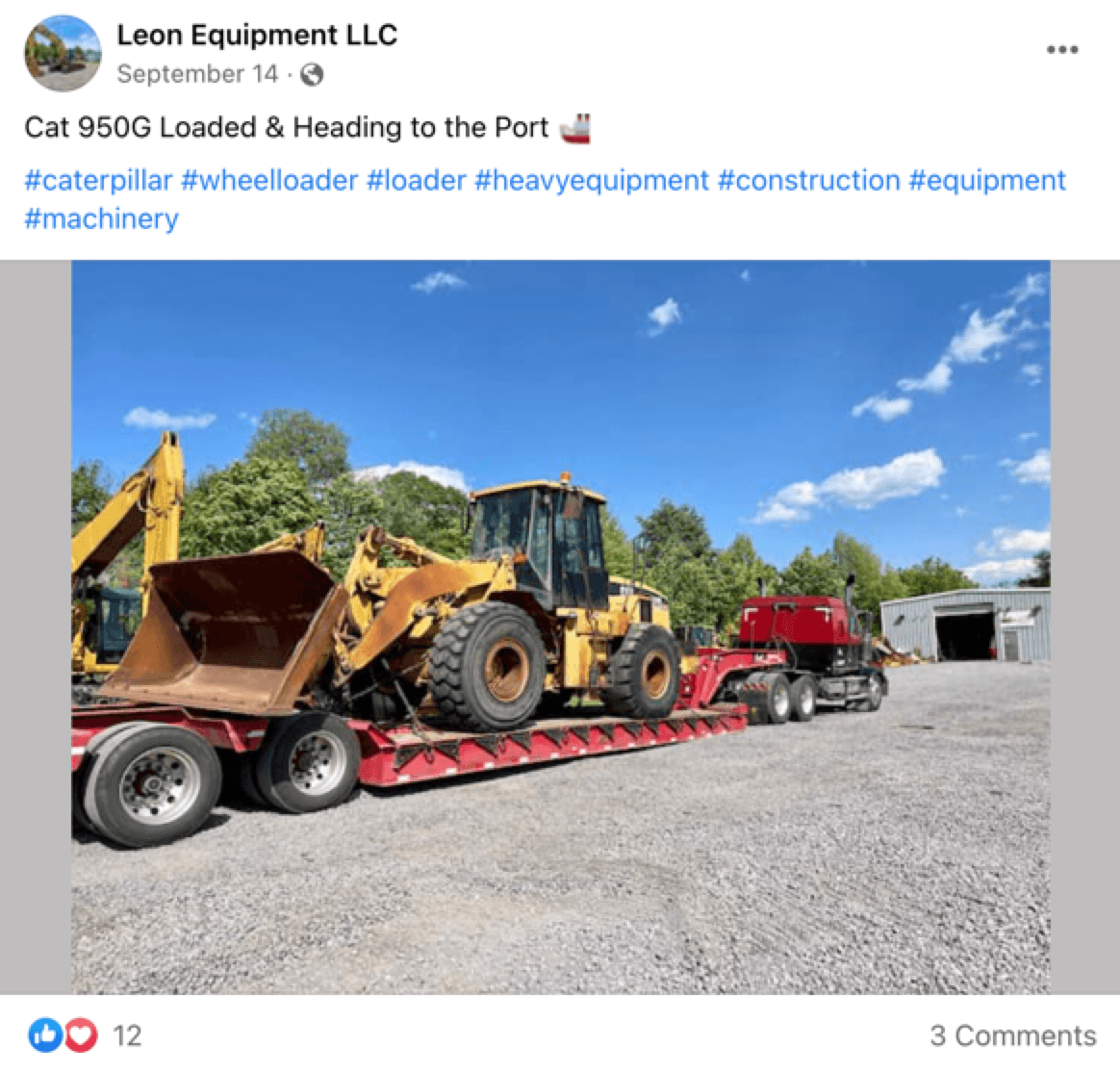 Nothing gets you in front of an audience like social media. We live in a digital age where there's no telling who you'll connect with when you log on to your favorite social media platform.
With over 5 billion users active on social media, you've got plenty of potential heavy equipment leads to reach!
Besides expanding your reach, social media gives you the chance to show off your business in a more casual (but still professional!) manner. You can interact with your customers on a more personal level and establish a stronger business-to-consumer (B2C) or B2B relationship that encourages customer loyalty.
As intimidating as social media can seem, with its changing trends and countless features, it's a great tool to utilize not just in your heavy equipment marketing strategy but your lead generation strategy.
View Our Social Media Marketing Services
WebFX specializes in B2B client success.
Wheeler Machinery Co., saw 82% higher average time on site after partnering with WebFX for SEO, CRO, web design and development, and website content services.
See Case Study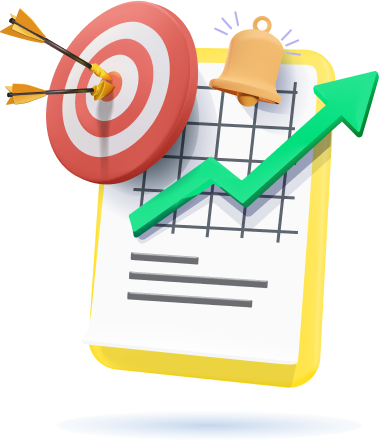 Improve your lead generation for heavy equipment with WebFX
WebFX is no stranger to working with businesses in the heavy equipment industry. We've helped businesses generate leads in over 154 different industries with our cutting-edge niche marketing strategies that drive real results!
Contact us online or give us a call at 888-601-5359 to start developing your lead generation plan with us today!
Earn a 20% greater ROI with WebFX
Increase your leads, sales, and revenue with digital marketing